DAMASK WALLPAPER
Damask wallpaper is an old-time design inspired by a woven cloth style. But unlike most other designs and fashion, the demand for damask wallpaper does not decrease with age, but also increases continuously.
It was once the design of choice for the ruling class. Everything about damask implies wealth and luxury. When you look at damask patterns, they are floral luxury, ornate lines, and clear geometry. This print has been used inside homes for more than two millennia.
Once upon a time, damask was woven in one of five unique techniques passed down through generations. But you will notice that modern damask designs are still popular in fabrics for furniture, curtains, bedding, and even clothing.
Some of the issues to consider when you select damask wallpaper designs include the following:
First, consider the size and shape of your room. A small room may be overwhelmed by large patterns, while delicate patterns may get lost in a larger space.  In addition to color, damask is largely defined by contrast.  Subtle colors and low-contrast patterns will create a very different effect from sharp contrast or highly saturated hues.  In the end, there's no right or wrong way to utilize damask wallpaper.  It's all about getting the look you want.  With hundreds of years of history at their backs, damask is more than ready to do its part for your home.
Wallpaper Kenya makes decorating with wallpaper approachable and accessible for everyone. You will find trends rendered in beautiful, budget-friendly designs that fit the bill for any of your decorating projects.
WHERE TO DECORATE WITH DAMASK
Damask wallpaper was originally used in place of tapestries and/or made to match upholstery fabric. Therefore the designs were created to imitate these woven patterns.
Damask fabric and its value came from the silk that was used to produce it. The weaving technique created a silk ground and a matte pattern. This was first done in one color, tone on tone.
Thanks to new production techniques there has been a growing demand ever since Victorian damask wallpaper boomed in popularity. Its enduring success continues today. Like pictured here above, today damask wallpaper designs mostly appear in metal look. Such as the the gold and brown damask. And as you may have heard, metal-look wallpapers are the big new craze when it comes to interior design.
They not only give your home an elegant shine of modernity, but also help your walls gain more depth. Such that even a small room can suddenly feel very big with optical illusion. Through accurate use and matching to the individual properties of your walls, wallpapers with a metallic effect can give every room a harmonious and enriching touch.
They are available in different Pattern Sizes and Styles
Depending on the color choices, the pattern sizes and style, you can use damask wall decoration in any room. There are no interior walls that cannot be improved with the Damask. In the bedroom, the wallpaper with this print will be set for a quality rest. The living room will create an atmosphere of grandeur and grandeur.
Even the bathroom will benefit if there is a Damask pattern on if only you waterproof the wallpaper. Waterproofing wallpaper is often necessary in washrooms and kitchen, or any wet areas. Not only where the wallpaper will be hit by water directly but also where there's excess humidity and moisture collect. To waterproof wallpaper apply coatings of water-based varnish. You can use either emulsion glaze or a primer on the wallpaper after installation. Do so ideally in seventy degree temperature with little to no humidity.
Damask is so powerful a decoration, you should rarely use it on all walls of the room. A more successful option is decorating a wall in combination with a smooth wallpaper in soft tones. Traditional damask is not only black and white, but also red and gold. There are options with the addition of silver and green.
Feature wall wallpaper
The most appropriate place for you to use most damask designs is on the feature wall. To pick the feature wall, also called accent wall, go for the most focal wall. The wall most prominent as you enter the room. They offer a quick and easy way to liven up the space. Feature walls can be high impact, but they do not have to be. Sometimes a subtle pattern can inject just the right amount of interest into a room without overwhelming the space.
If your room is already painted, make sure one of the colors on the feature wall wallpaper complements the rest of the room. Choosing a bright or bold damask can be great, but only if it fits in with the rest of the room.
TIPS TO CHOOSE PERFECT DAMASK WALLPAPER
First, consider the style of the room that you're decorating:
If it's romantic, try delicate damasks and floral with fine lines in muted, pastel colors.
And if it's casual, faux finishes such as breadboard and stucco are simple, casual options. Pairing breadboard wallpaper with organic, flowing floral designs also makes for an at-home, relaxed feel.
If it's contemporary/fashion forward, consider bold geometric with high gloss and metallic accents. Large-scale and bold floral also make a high-fashion statement this year.
On the other hand if it's traditional, check out intricate damasks and stripes, which coordinate perfectly with traditional furnishings and decor.
HOW YOU WILL USE WALLPAPER IN THE ROOM
Next, figure out how you plan to use the wallpaper in the room. All styles don't work in the same way. Here are the various options:
Cover all four walls. A classic, simple stripe design hung horizontally on all four walls gives a fresh contemporary look. Large-scale and simple designs will not overwhelm a room but add a trendy twist.
Feature one wall. Choose a dramatic, bold pattern to highlight an area of a room, such as behind a sofa or bed. Designs with a hint of metallic, mica, or gloss will give a classy, glamorous touch.
Wallpaper with a chair rail. If you are working with a chair rail that divides a wall, it is easy to bring unique interest to it. For a classic look, try printable breadboard wallpaper for under the chair rail. Above the chair rail, hang a large-scale floral or damask for an updated look. Another interesting way to work with a chair rail is to anchor the wall with a pattern below it, such as dramatic damask wallpaper, and paint a coordinating color above it. Adding wallpaper in this fashion creates a unique element of surprise not often seen in rooms.
Metallic Damask Wallpaper
When adding a second color to damask fabric first occurred it instantly became a trend. Adding gold to the weaving, in particular, was an extra mark of luxury.
The mix of metallic tones and damask has come back around as it's now a popular choice on damask wallpaper. There are subtle glints, metallic patterns, and full-on metallic backgrounds.
The choice of the metallic and the finish are what influences the impact of metallic damask wallpaper. Like all added elements, a hint of metallic is more of a classic style. Whilst, full on, glossy, shimmering metallic damask wallpaper is modern.
The current trend in interior decoration is now wallpapers with a metallic effect. Damasks with a metallic touch are absolutely popular. With damask wallpaper in metal look you have the choice: whether you prefer a clean and minimalist home or prefer to feel like in a palace surrounded by luxurious gold shimmer. Metal effects in wallpaper make everything possible.
Anyhow, the shine on your walls makes your home appear more dynamic and interactive, so that you can bring your room to life with your own light movements. This special magic of wallpaper in metal look also makes your rooms appear larger and brighter if you choose so.
Wallpaper Kenya collection of damask wallpaper will add a luxury touch to your home.
Damask Ceiling Wallpaper
Typically, wallpaper is applied to the walls, but hanging damask wallpaper on the ceiling is growing more and more popular. You can wallpaper your ceiling to match the damask wallpaper on your walls. Or you can wallpaper the ceiling exclusively to create a unique look.
In interior decoration, the ceiling is known as the fifth wall. And true to it, the application of ceiling wallpaper is no different from the application on wall. Simply apply paste to the back of your wallpaper for a secure hold, and smooth it onto the ceiling with a plastic applicator tool. But with the ceiling you need a friend to help, to easily wallpaper your ceiling.
Personally, flocking damask is one of my favorite patterns for the ceiling. Although the pattern varies from manufacturer to manufacturer, flocking damask almost always looks great. Throw it on a bare a bare slab or gypsum ceiling and you've already got a head-start on creating very elegant ceiling. Flocking damask is an absolute knock-out on the ceiling. And we're now offering flocking damask in four in a variety of colors. Including black, silver, fuchsia, and burgundy.
In today's interior decoration, accenting flocking damask with bright colors is on the rise.
Damask Textile Influences on Wallpaper
The first mention of "damask" in the West was in a document from 14th-century France. At the time, nations within the borders of modern France and Italy were the mercantile centers of the world. So most types of textiles were inspected and categorized by French merchants at one point or another.
Patterns can be printed or embroidered on fabric. But for damask, the pattern is woven into the fabric using a jacquard-loom. This reversible fabric can be made from a variety of fibers. From silk to synthetic, and its uses date back to the early Middle Ages. Damask is a fixture of many homes, as its durable and decorative nature makes it great for upholstery and curtains.
Textile wall hangings of various kinds were the precursors of paperhanging. So it is not surprising that the earliest and most consistent influence on wallpaper design has come from textiles. It is important to make a distinction, however, between wallpapers made to match fabrics, and vice versa, as is common practice now. And wallpapers which derived their patterns from textiles and were intended to imitate them.
It is evident damask fabric came before damask wallpaper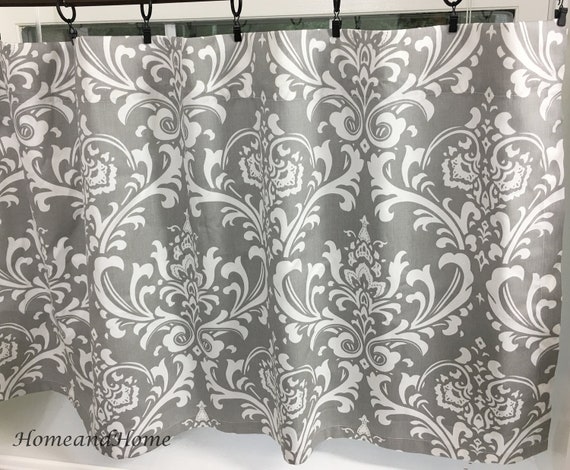 Ever since damask came from China to Europe via the Silk Road hundreds of years ago, it has been valued as an exclusive fabric. This is due to the elaborate weaving technique and the materials used for it. Only high-quality materials such as silk, linen or mercerized cotton are used in the production of damask. Damask fabric is a two-dimensional flat weave, the front and back of which are structured differently.
A number of the earliest wallpapers are described in advertisements as being 'after the manner of real Tapestry'. In the early 18th century the Blue Paper Warehouse was offering 'Forest-Work … after the Mode, of real Tapestry'. The term 'forest-work' implies a pattern of foliage.
In consequence, wallpapers were designed to look like the materials they were substituting. What is thought to be the earliest known wallpaper in England was found in the Master's Lodge in Christ's College, Cambridge. And has a formalized pomegranate design derived from a contemporary Italian velvet or damask. Although traditionally dated to around 1509, it is more probably late 16th century.
Embossed Pain-table Damask Wallpaper
Some types of wallpaper – such as embossed damask designs – camouflage bumps on the walls. Embossed wallpaper or textured wallpaper is three-dimensional, designed to hide imperfections with its slightly raised and textured effect. This wallpaper can be installed over damaged walls and can hide the wall defect such as cracks, scratches, wall roughness and small unevenness in walls.
Do you suffer from cracks or damaged plaster? You can easily get rid of that with the embossed wallpaper. Plus this type of embossed paper is pain-table. Because it is a thick embossed paper which is normally painted on. In other words, you can paint this wallpaper after installation. Embossed pain-table damask wallpaper can be made from various supportive materials such as paper, glass fiber, synthetic or textiles.