The Faux brick wallpaper should be left bold in interior decoration. There are different wall surface materials you can use to bring coziness and warmth to the room. But one of the best you will find is faux brick wallpaper. Another descriptive name for it is imitation brick wallpaper.
They imitate the look of real building brick. They look so realistic you can not tell wallpaper from the real brick unless you touch. And therefore you will find them an excellent material for interior decoration.
The faux brick wallpaper provides impressive, individual and durable surfaces as well as various design details. The current wide range of brick and stone designs also provides many options for individual implementations.
In plaster wall houses, for example, it is justified and elegant to leave the imitation brick wallpaper visibly bold indoors. In this way, the faux brick surface creates a connection between the interior and exterior of the house. At the same time, it enlivens and decorates the room.
Another benefit of using the faux brick is that it is is more dust-repellent, color fast and washable with a wet cloth. You can even use mild soap in the case of a stubborn stain. In a small room, a brick wall can form one wall of the entire space. In this case, however, it is a good idea to finish the other walls so that they do not compete with the brick.
Brick Wallpaper is an Urban & Modern Style for Home
To give your interior walls a special and unique touch, a good wallpaper is always a fantastic choice. But if you want to leave a big impression, choose an rustic or urban style with faux brick wallpaper, or imitation brick wallpaper. Let yourself be seduced and take some risk to create your perfect home.
It really doesn't matter what style of interior decoration you are going for. Different styles of decoration are possible with brick or stone wallpaper. Whether you prefer a vintage, minimalist or modern style decor and atmosphere.
If you are looking for a classic industrial look with a timeless design, we recommend that you look at Wallpaper Kenya Selected Stone Collection. These you can apply very well in modern interiors from living room, kitchen to bedroom.
Vinyl Imitation Wallpaper
Until a few years ago, traditional wallpaper was most commonly used. This consisted of two layers of paper glued together. The first formed the base of the product and the second, embossed and rotogravure, formed the decorative surface. Since the paper material is fragile by nature, this type of wallpaper tears easily once it is moistened with glue. That is why an alternative has been found: vinyl wallpaper!
Vinyl wallpaper is defined as a high-quality wall covering and you will find it much more robust than traditional wallpaper. The base is made of several layers of paper or a non-woven material. And this is much stronger than the traditional wallpaper. Second, the surface has a layer of waterproof PVC that you can apply to the walls of any room in the house. Finally, it is resistant to friction and light-fast, and washable. And you will find its texture and design suitable to hide small cracks or damage in the wall.
Structure stone and brick wallpaper
Structured profile vinyl wallpaper is an improvement over traditional wallpaper. Also on the basis of a paper backing, it is distinguished by its foam rubber-coated PVC surface. The impressive 3D wallpaper effect is the main advantage over the other types of wallpaper.
Non-woven brick and stone wallpaper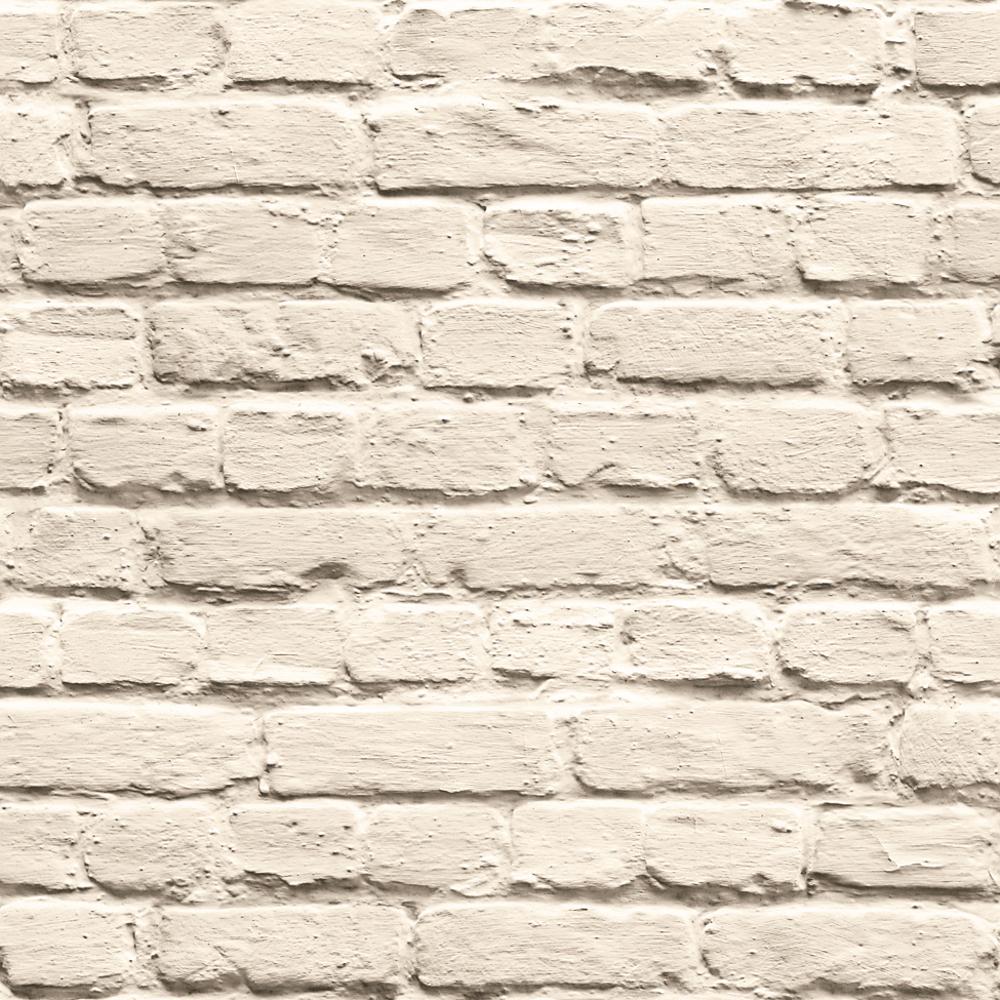 "What is non-woven wallpaper?" is a frequently asked question. It is simply a type of wallpaper that you can paint over and with which you can give spaces a new look every time. It comes in a many different designs including faux brick designs.
In addition to the fact that you can paint on your non-woven wallpaper in a new color over and over again, non-woven has a number of other important advantages:
Your wall in gyproc or gypsum plaster becomes a lot more impact resistant, and therefore more durable.
In faux brick or stone designs it hide small imperfections such as dents and cracks. Fine hairline cracks that are already in your wall, or that will come in the future, will not become visible. without a fleece, your paint layer will simply crack with the wall.
Your wall will have a much smoother look than without a fleece and a warmer appearance
Alignment between two colors becomes much easier.
Here are some of my favorite bricks and stones imitations designs
White brick wallpaper
3D White Brick Wallpapers , among all the finishes that are available, seems to be the option that is most liked globally.
So much so that, even if we do not have a real brick wall, several imitation brick techniques have come onto the market so that, if we want, we can enjoy this authentic way of decorating the walls.
So, if you do not have a brick wall at home to be able to paint it white and would like to wear one, there are several very successful ways to be able to make an imitation white brick wall at home.
Grey faux brick walls
When it comes to neutral colors , grey , with the permission of beige, has been the neutral color par excellence in interior design and decoration in recent years. And it seems that its popularity has no sign of ending. Grey 3D Brick Wallpapers
3D Slate Stone
Cornish Stone Brick
3D Industrial Brick. Take Industrial conversions as a fantastic opportunity to be imaginative. 3D exposed brickwork wallpaper present you who are settled in suburban homes an opportunity to be creative.
Imitation Marble Contact Paper
Navy Blue Brick
Faux brick wallpaper versus real brick
Faux brick constitutes wallpaper prints that are made to look and replicate real brick. The wallpaper have been developed to provide a faster and easier installation of an interior wall decor. Whether used for new construction or in a remodeling, faux brick provide the same look that real bricks do. And for a fraction of the cost.
Installing a faux brick wallpaper in your home can transform an ordinary room into a comfortable lodge setting. For some, however, nothing takes the place of a real brick wall. Knowing which to choose is a matter of taste and style than it is of which is better. Your budget, construction needs and time are some of the factors that will determine what is right for your project.
Advantages of faux brick wall-covering
You will achieve the same aesthetic with faux brick wall-covering as with real bricks, if not better. You may go for the real bricks but understand installing exposed brick wall isn't an easy task to perform. And can leave you with a sore back. You will find it more cost effective installing wallpaper-saving your back and additional costs of real brick.
Additional advantages of using faux brick wallpaper:
Wallpaper is Cost Effective– faux brick wallpaper enable you to create realistic environments at a fraction of the cost of real brick.
Weight – Wallpaper is weightless and therefore transportation cost for the materials is minimal.
Durability – Real brick can last for very long. But it's also vulnerable to chipping and cracking. And bricks that become damaged are difficult to replace. Brick wallpaper are far less vulnerable to such damage.
Easier Maintenance of wallpaper – Real brick can be dusty and messy, which is why using a special sealant is recommended. Left unsealed, porous brick walls attract dirt and can be nearly impossible to clean. On the contrary Faux brick wallpaper clean easily and require little to no maintenance.
More Color and Style Options in faux brick– Real brick, found mostly in shades of red, also comes in a few other colors that may or may not be easily available. Brick wallpaper is available in a much wider variety of styles. We also offers custom colors and color-matching capabilities.