flower wall mural versus wallpaper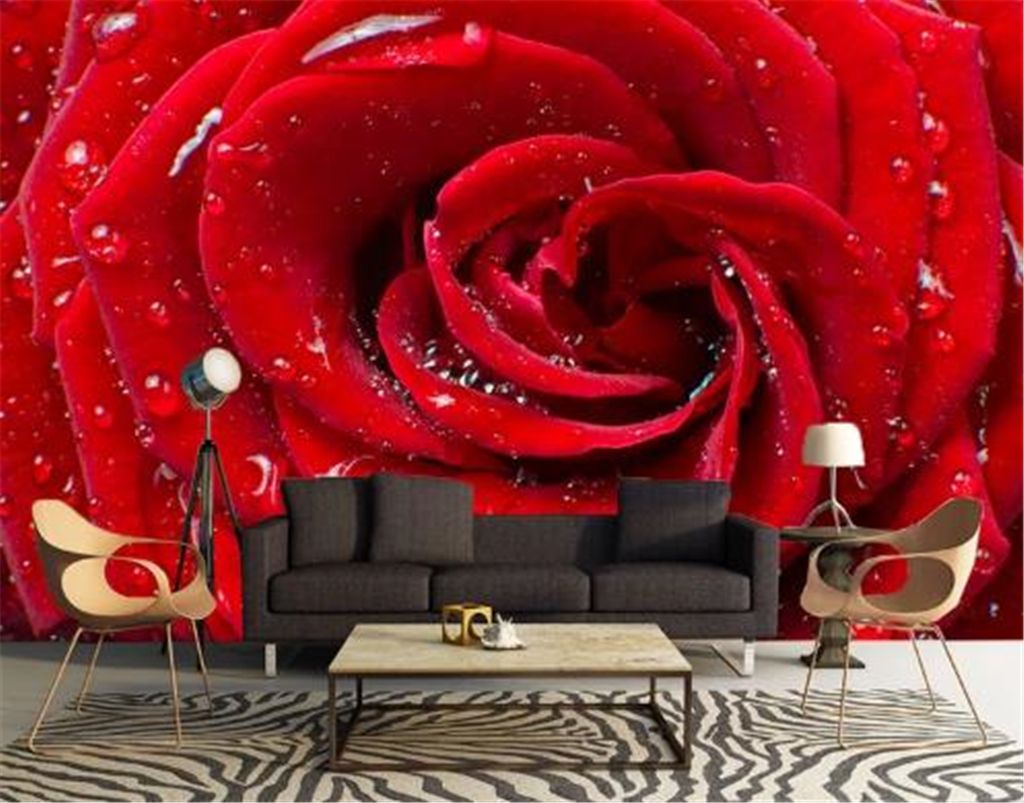 Our flower wall murals are custom made. Are you looking for a flower wall mural or for a flower wallpaper?
The difference between the two is that flower wallpaper comes in an universal standard size roll 53 centimeters by 10 meter and currently retails at KS 1500 per roll.
You therefore have limited choice of designs as wallpaper comes preprinted.
But for a flower wall mural you provide us with an image of your choice.
And the dimensions of your wall and we reproduce it for you on the full wall. You therefore have a limitless choice of flower designs.
The cost is KS 2000 per square meter.
Because flower wallpaper comes in an universal standard size of 53 centimeter, it means it has to have repeat patters. See the image here below.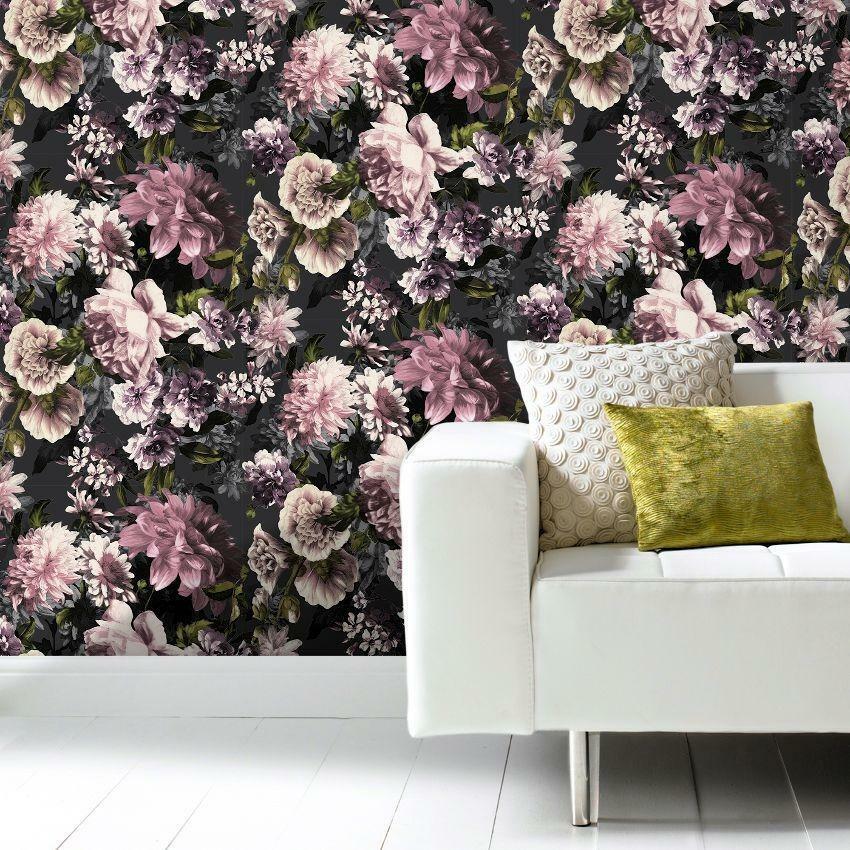 The pattern repeat is the vertical distance between where the pattern is identical again (repeats).
That distance can be less than an inch or as much as 53 centimeters for a standard size roll of wallpaper.
There are several kinds of pattern repeats: random pattern match, straight across match, and drop match.
Therefore it is impossible to achieve one huge flower to cover the entire wall with ordinary wallpaper. But you can do so with custom flower wall mural.
It is possible to achieve a flower wall mural with the design of a single flower without a repeat.
Because the mural is customized and printed on a single piece of cloth.
The Wallpaper Kenya raw material for wallpaper customization is silk cloth. It comes in a big roll of 3 meters by 60 meters.
That means if the height of the wall you want to decorate is not more than 3 meters high, you will get the wall mural in one piece.
Unlimited Flower Designs
In our collection you will find exclusive and beautiful flower wall murals designs with which to mark your own style.
Your walls will gain depth and you will feel better in your own home.
You will be able to discover various flower tapestry designs, all of them with flower patterns that will leave you stunned.
Therefore, you don't have to stick to traditional ordinary wallpaper to enhance the aesthetics and appeal of your home.
We have beautiful designs of lilies, among other types of flowers, and also in different shades.
Choose the one you like the most and do not hesitate to place it in your home so that it becomes part of you.
And you will revive the decoration of rooms in your house that you will not want to leave. In addition, day after day we work to add more designs. so do not hesitate to continue looking at everything we have to offer.
And we are sure that you will find the one that fits you and your home.
You also will find vintage florals, and mural designs with large flowers. Our catalog of decorative flower murals is suitable for any room in the home, so do not hesitate and buy your favorite now.  
All of our flower wall mural designs are of excellent quality. And are finished in matte to avoid light reflections.
To enjoy it in perfect condition, you can wash your design as many times as necessary. Its placement is easy, you can do it yourself by following the steps in the instructions.
Universal floral design: from the functionality of the room to the style of the interior
Poppies, lilies of the valley, daisies, 
roses
, tulips, of these and millions of other inhabitants of the beautiful world of flowers will aesthetically transform the interior compositions of residential premises and public institutions.
The coloring and characters of the plots on the mural are able to create the appropriate mood.
For example, murals with flowers in pastel shades are recommended for decorating the sleeping area.
It can be cream and milky roses, pale pink orchids and
peonies.
Traditional floral accent wall murals
Traditionally, floral accents are associated with romantic, classic and ethnic designs. And rightly so, because floral motifs were formed in the indicated directions.
 The artistic variety of photo wallpapers with flowers allows you to play with plant scenes in numerous styles.
Free-spirited boho and eclectic fusion, vibrant pop art and luxurious glamor, sophisticated classics and modern loft, romantic shabby chic and laconic minimalism – each of these styles can find harmonious inserts, such as flowers on the wallpaper.
It is important to choose the right color scheme and plot.
Stylized images, floral ornaments, made in warm colors, complementary ethnic trends.
Schematic drawings with flowers in discreet shades and black and white accentuate the aesthetic of minimalist variations.
Floral murals for all décor styles
Ornaments with flowers, decorated in sepia tones , create an original palette for interiors in the spirit of vintage, retro, modern.
Picturesque photographs are transformed into large-format volumetric decorative coatings and transfer the mood of wildlife to modern interiors of apartments, houses, restaurant halls and salons.
Varnishing panels, directional lighting will help to emphasize the realism of 3D photo wallpapers with flowers. Beat the composition with spotlights around the perimeter, wall sconces. Add flowers in pots and now the original design is ready.
The colorful palette of the collection of flower panels is juicy shades from all the gardens of the world on the walls of the bedroom, living room, kitchen … Buy photo wallpapers with flowers and be inspired by the beauty of the unfading riches of the floral kingdom 365 days a year!
Tips on how to decorate with flow wall mural
With well picked flower wall mural you will be able to create a special atmosphere and never get bored! Wall murals depicting flowers are able to visually expand the space, energize, and place bright accents. Because flowers are a symbol of beauty, spring and summer, sensuality and purity.
Let us look at what you need to pay attention to.
Flower wall background
The plot of the photo wallpaper should give the interior airiness, a feeling of flight, a mood of love. Look for a story that will inspire. Photo wallpaper is a great option for the bathroom too. Taking a bath you find yourself after the hustle and bustle of the working day in the realm of rest, relaxation and harmony.
In general, there are no postulates for tenderness, so such photo wallpapers will be appropriate in any corner of the apartment.
And it is not necessary to select pictures with large flowers.
Small flowers, the same work great for our idea.
To make the atmosphere more sensual, choose images with unopened buds, large shapes, alluring lines…
Based on our experience, we know that large images of flowers and their buds are suitable for creating a sensual atmosphere.
But as they say in smart books: do not be shy about your own feelings – experiment!
Visually enlarge the room
It is important to note that the uneven border of color transitions creates a feeling of space continuation.
Such plots perfectly fulfill a very important task: to visually enlarge the room – even a small room turns into a kingdom!
Flowers on the wall can become a symbol of comfort and family in your home.
Grown up children will always remember with warmth the cozy corners of your house and its love – these family values ​​will be passed on to their children.
And remember – flowers on photo walls never wither!