3D rainbow wallpaper mural
The best rainbow wallpaper mural are 3d photo murals.
And these there you will hardly find in the standard size preprinted wallpaper.
Simply because standard size wallpaper has repeat patterns.
But a rainbow is a natural phenomenon and has no repeat patterns.
Therefore a full wall rainbow wallpaper has to be a custom-made mural of the same size as your wall.
In other words, you can not walk into Wallpaper Kenya Store buy and walk out with a rainbow wallpaper. Nope, you have to order and have it produced.
But it takes only a day.
You start by taking measurements of the wall where you want us to install the rainbow wallpaper mural.
Then you choose a rainbow image from one of the thousands of rainbow mural images online.
And the rest you leave to Wallpaper Kenya.
We will reproduce your chosen mural image on your full wall on a smooth fabric.
The raw material fabric, with a somewhat satin finish, is installed directly more or less just like ordinary wallpaper.
But it can only be placed on smooth surfaces. You cannot place it on a rough wall. But you can install it on wood or PVC in good condition, besides concrete and drywalls.
Does a true rainbow mural have seven colors?
Although we depict the number of colors that a true rainbow wallpaper mural has with 7, in reality, in the decomposition of white light, a continuum of colors arises that forms the visible spectrum.
The false belief that 7 colors are part of Isaac Newton, his prism experiment, and his interest in alchemy.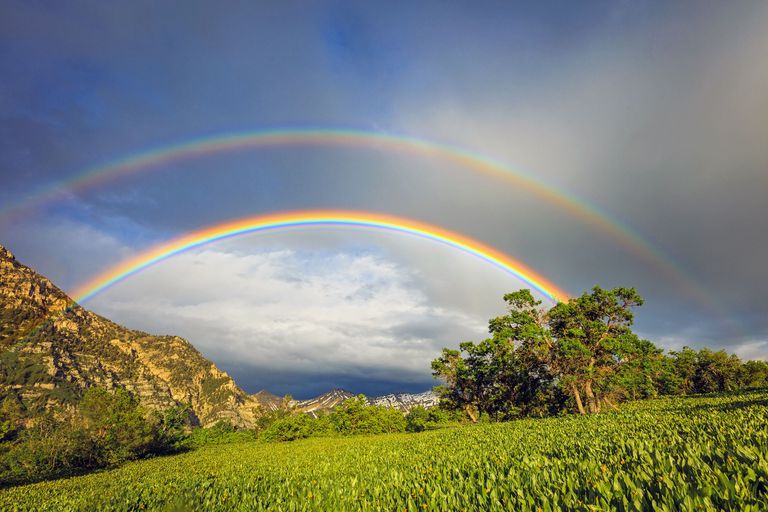 There are questions whose answer you quick in, without hesitation. One of those questions is the following: How many colors does the rainbow have? You must have answered 7;
You are sure you know how to list the seven colors.
And that is red, orange, yellow, green, cyan [or sky blue], indigo [or navy blue], and violet) in that order.
And you will surely identify them when you have the opportunity to contemplate a rainbow and enjoy that moment. 
Believe it or not, you and the rest of the people are suggested and we are victims of a false belief. Let's leave aside the causes that give rise to the rainbow.
And they are well established. Both by the fundamental laws of geometric optics and by physical optics (wave light). 
White light is decomposed into the colors that form the visible range of the electromagnetic spectrum when passing from one medium to another with a different refractive index.
In the case of the rainbow, the light, after traveling through the air (atmospheric medium), passes through the raindrops (aqueous medium).
And separates into the different colors, with the result that we see.
Custom made wallpaper murals
Therefore, being a custom-made mural, you have an endless choice of rainbow wallpaper images.
Go for particularly cute pastel unicorn rainbow wallpaper murals. Or for rainbow stripe wallpaper for bedrooms for children, rainbow sky wallpaper, and rainbow rose wallpaper.
And we can not leave out natural rainbow murals, rainbow abstracts, rainbow geometric wallpaper. And cute rainbow polka dots removable and reusable wallpaper.
However, keep in mind that at Wallpaper Kenya you will get any rainbow-themed wallpaper you want. Be it cartoon rainbow, white rainbow wallpaper, or pretty galaxy rainbow. 
This is because they are personalized and any picture, image, or artwork you give will be simply reproduced from a full wall.
With custom wallpaper murals, anything is possible. Any artwork your choose and give us we will reproduce for the full wall. You can even have your child's with Pastel Rainbow and Personalized Name.
Or choose a
delicate pink color to join the tones of the rainbow that rests on a soft white cloud. A simple wall covering that can bring joy and lightness to any space, especially those dedicated to little ones.
What makes this model particularly unique is the possibility of personalizing the design with the first name of your choice.
Try this personalized wallpaper mural with modern décor to create a playful style that's perfect for your children's adventures.
How it works
All you need to do is measure the wall and choose the image. Leave the rest to Wallpaper Kenya. And measuring your wall is easier than you might think.
We only need to know the width and height of the wall in its points of greatest width and height. And if you have windows on the wall, remember to measure as if there are no windows. 
Once you give us the measurements, we give you a price quotation. The cost is Kenya shilling 2000 per square meter. And this is all-inclusive of supply and installation. There are no hidden costs.
The only other thing you could pay for is transport and accommodation for the installation staff. But that is only if you live outside Nairobi. However, even then, you may choose to install the wallpaper mural for yourself. Because the installation is so easy. 
Once payment and your choice of the rainbow image are received, we will deliver your wallpaper to you in a maximum of 2 days. But usually, we deliver the following day. If you live upcountry, you will also receive an installation manual to facilitate installation. 
Kids Educational Rainbow Wallpaper for Walls
The rainbow wallpaper mural will not only fascinate your child but is also educational.
Are you ready to answer the questions that come with it? Here are a few explanations of the phenomenon to help you answer, how the rainbow is formed.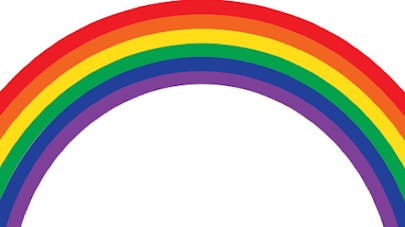 You must have already noticed that a rainbow appears when the sun's rays show the tip of their nose in rainy weather. These sun rays are white light. This light "contains" all the colors of the rainbow. 
When the sun's rays pass through the water drops, the different colors that make up white light separate. We use a slightly complicated word to describe this: refraction. This is how a rainbow is formed.
Do the colors always keep the same order in a rainbow?
Yes! The colors are in order: red (exterior), orange, yellow, green, blue, indigo, purple (interior). This distribution is because the sun's rays are refracted by all the raindrops. Each drop reflects all the colors, but our eye sees only one color per drop. Thus the highest drops allow you to see red only, the lowest allow you to see purple …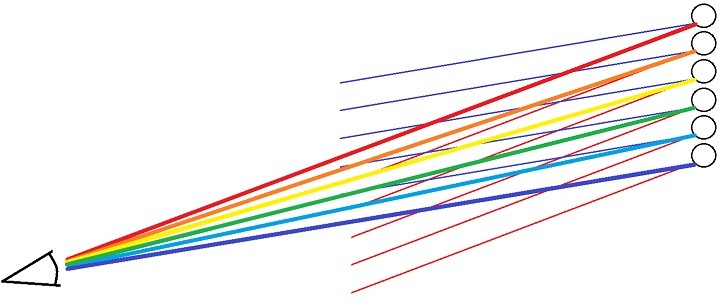 Can we find a treasure at the foot of the rainbow?
Oh no, unfortunately. Contrary to legend, leprechaun treasures are not found at the foot of the rainbow. 
And then anyway it is impossible to reach a rainbow foot, for the simple reason that the rainbow is only composed of light and is therefore not a solid object. The proof: if you move towards the rainbow, it will also move.
Abstract designs
You will find thousands of abstract rainbow mural designs at Wallpaper Kenya.