3D Wall Mural Wallpaper comes in as either nature, geometric 3D wall mural or modern graffiti. True 3D wall mural wallpaper are customized. It is hard to achieve a truly 3D wall mural in ordinary wallpaper. Because they are ideally large full wall or scenery. They are hard to achieve due to the standard size of ordinary wallpaper.
Standard size wallpaper has repeat patterns while a truly 3D wall mural wallpaper doesn't. The only way to achieve a true 3d wall mural wallpaper is to have it customized. This will cost you Ksh 2000 per square meter supply and installation. This cost does not include the cost of obtain the image. You may choose from our many designs of 3D mural images. Alternatively you can provide us with a high definition picture for us to enlarge and print for you.
Our 3d wall mural wallpaper, affixed to a wall or any other other smooth surface could be for decoration or informational purposes. You may choose to have your wall murals in only one color or you may have various images and colors printed upon them.
Create incredible visual effect of spaciousness with 3d murals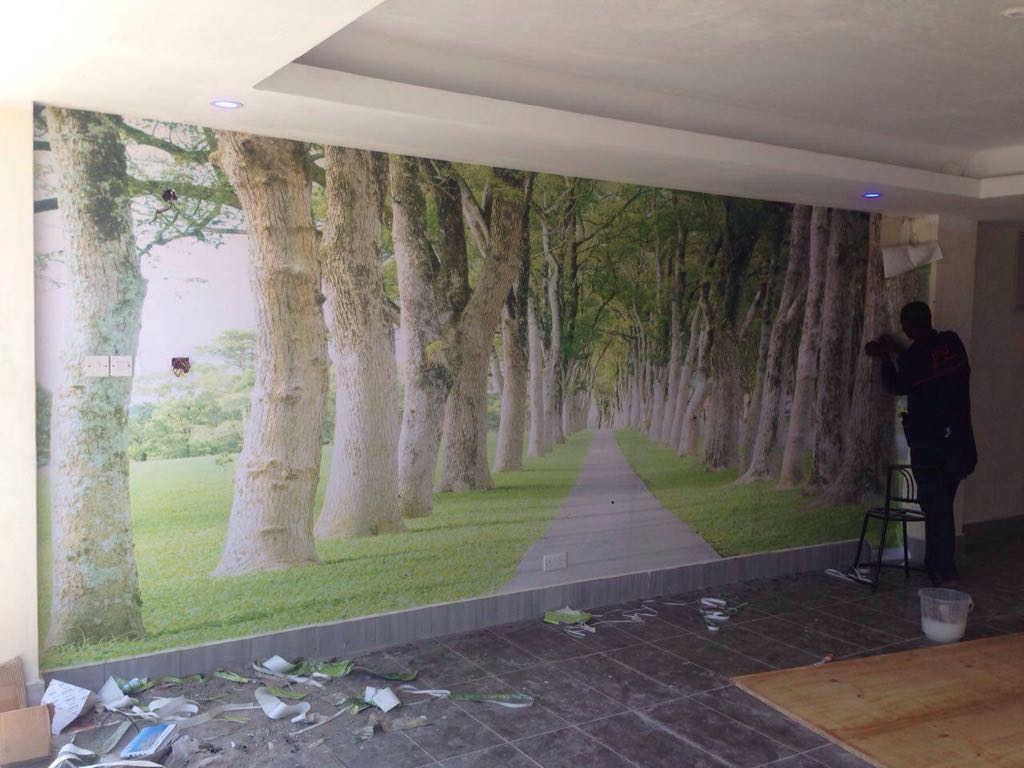 3D Wall Murals  delight with the incredible visual effect of spaciousness. Liaise with our interior designer for a well thought out and very original patterns that will allow for an interesting and modern decoration. One that will also expand your space optically. Our interior designer will guide you to thousands of designs that are attractive to the eye. This designs will suite any or your project as they are available in both multi-color and monochromatic. But always creating the 3D sensation.
These designs are available online in their tens of thousand. Whatever your theme, the original window effect or 3D tunnel wall murals, it all there. What these designs do is optically lengthen or increase the stay. Furthermore, they give a lot of joy and originality to the room. You can choose to have a 3d wall mural of nature and landscapes, or even mystical fantasy images.
All of this will work well in your child's or teen's room. And for those who opt for classic elegance, we have geometric 3d effect patterns. These are simple shapes suitable for a modern and stylish interior. Geometric 3d wall murals, with architectural or landscape motifs are some of the 3d designs available. And if you love decorations that use these themes, we also have them in other product categories.
Cost of a 3D Wall Mural Wallpaper
From time immemorial Murals have been important in that they bring art into the public sphere. In the past, due to the huge size, cost, and work involved in creating a mural, muralists were often commissioned by a sponsor. I remember one mural by friends of mine, Marry Ngoima and Mike Bugara that cost almost a hundred thousands in the 1970. That was a lot of money then. In those days, only the local government or a businesses could affords. Many any murals have been paid for with grants of patronage. Those days are long gone. Due to modern technology you can now have your 3D mural wallpaper at a cost of Ksh 2000 per square meter. Although that does not include the cost of obtaining the artwork, which you can download from the internet. With Ksh 20,000 you can have a full wall 3D mural wallpaper.
Customized Removable 3D Wall Mural Wallpaper
Wallpaper Kenya 3d mural wallpaper are customized of high quality Rex-in material. And are therefore removable and reusable.There is no better way, if you're looking for a unique way to add artwork to your walls than 3d mural wallpaper. With limitless choice of designs, Wallpaper Kenya gives you the best selection of artworks, photos, and patterns. Better still, provide us with your own selection of image or images or photographs. And you can choose the custom size you need. All at no additional charge. So you get the perfect 3d mural wallpaper that fits your application. For us 3d mural wallpapers are better than mural wall painting. First of all it works out cheaper. Also it takes less time. More importantly, you are able to visualize the end product right from the start of the project. It is worthy that the highly quality material we use is removable and reuse-able.
Different kinds of 3d wall murals
Murals represent lots of different things to different people. From simply art, to free expression, to propaganda, and more, they express many things. 3D Murals are often are the most expressive and have been seen playing an interesting role in the relationship between art and politics. This is because of their ability to truly depict the feelings and thoughts of different cultures. You also see them used in advertising.
The true definition of a mural is "any piece of artwork painted or applied directly on a wall, ceiling or other permanent surfaces'. It follows thus a distinguishing characteristic of a mural is that the architectural elements of the given space are harmoniously incorporated into the picture. As architectural elements are different, so are murals. Some indoor murals such as wallpaper can not withstand the elements of weather as out door wall murals.
3D Wall Murals in Advertising
The expressiveness of 3D wall Murals is also used as a form of advertisement for products and companies. Because of the human need to express, 3D wall mural advertisements resonate with people. Besides interior decoration and indoor wall murals we also do outdoor wall murals. Out door Wall Murals are advertisements painted directly on building surfaces or printed vinyl and attached to walls. Wall murals accommodate a wide variety of unusual creative sizes and shapes and have high exposure and visibility to vehicular and pedestrian traffic. You can see outdoor wall murals all over Nairobi Central Business District. They are also located on major highways, Mombasa Road, Thika Road, on commuter and tourist routes. Wall murals are custom-designed for long-term exposure.
In today's world of wall murals, things are a little more technologically advanced. There are now digital techniques of printing large scale 3D wall murals. We do these on huge wall-cloth like a modern wallpaper. They can be seen in all types of buildings, like homes, offices, cities, and more. 3D Wall murals are gaining popularity in their variety and ease of application. Unlike the wall murals of days' past, they are very easy to make when ordering from Wallpaper Kenya. You receive your 3D wall mural in only one or two days. No more long days of painting, or paying an artist to come paint for you.