Living Room Wallpaper Mural Designs for comfort and good health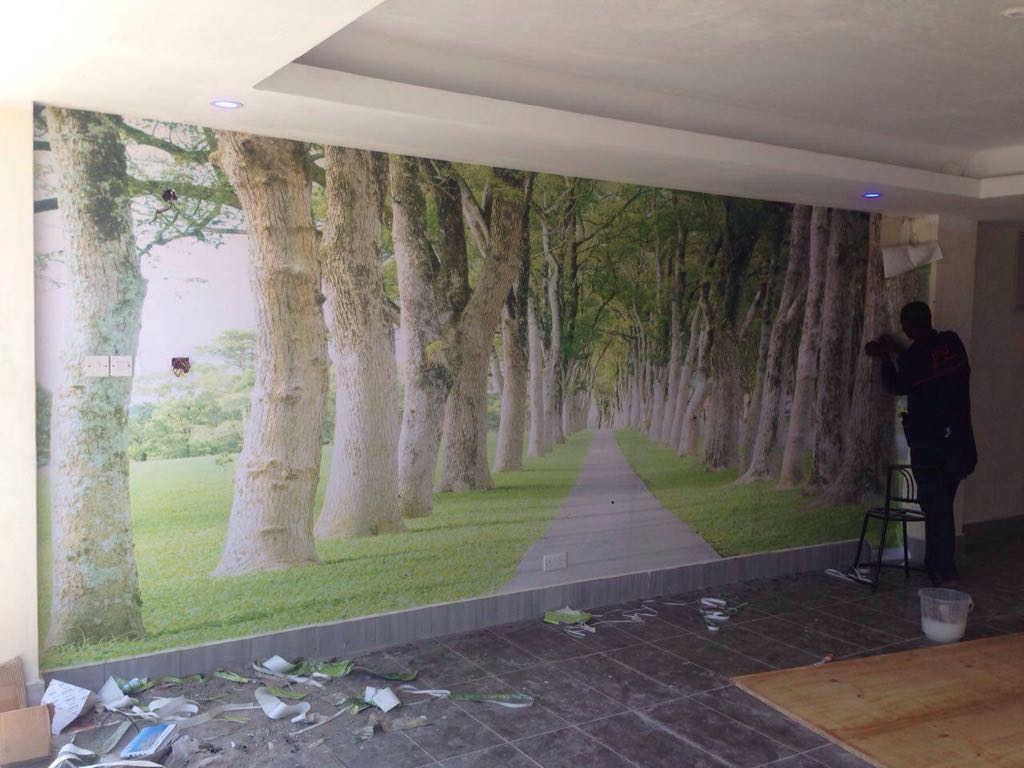 What should you consider when choosing the design of your living room wallpaper mural? How do you make your living room look its best with wallpaper mural designs while reflecting your personal sense of style? If you do it well you'll end up with a comfortable, happy living room. And if you do it poorly you'll end up with a confused mixture of walls that never congeal into a pleasing whole. But by following the same steps used by professional interior designers, you'll have a much greater chance of success.
Like in every other kind of decoration, consider how you will use the living room. And therefore decorate with different designs for the different audiences for your living room. Consider that it is the center where everything and everyone comes together. When choosing the wallpaper design for this space, it is important to first define its various functions. Very different needs come together in the living room. It is where you receive and probably entertain guests. If you have a child she or he want to play here. And the adults will relax and read a book or watch a film, drink coffee together or chat in a cozy atmosphere.
Therefore the different areas should be spatially and visually separated from one another and still form a harmonious whole. A consistent living room wallpaper color concept should be created. Because you want a common walls color thread despite the many components. Ideally, two to three main colors should dominate. Picked up the dominant wallpaper again and again throughout the room. The ambience foundation stone is provided by the wallpaper and floor color. Accents are best set with wallpaper and the other fabrics such as carpets, pillows and curtains.
Understand the effect of your living room wallpaper mural
Therefore it is good you understand what effect your living room wallpaper mural and the general environment will have. Your main aim should not be how it looks but how it effects your comfort and well-being. To quote Steve Jobs, "Design is not just what it looks like and feels like. The design is how it works".
So take the care to consider your living room as an important step in seeing how your familiar surroundings impact you. A well designed living room wallpaper mural can transform your house from a source of stress or isolation to a sanctuary for calm and comfort.
Start by paying attention to how you feel as you move your eyes about your living room. Where do you spend your most time looking? That is the focal point. How do you react looking at the walls and lounging in the living room? From the height of the ceilings to the presence of plants, subtle but pervasive factors can improve mood, focus, and alleviate anxiety. Humans intuitively respond to environments that promote productivity, intimacy, and efficiency.
The beautiful presence of living room nature wallpaper murals
The practice of Feng Shui, for instance, has a history going back thousands of years. By using the principles of Feng Shui it's possible to bring the five elements of a beautiful interior decoration inside your living room. As well as the beautiful presence of nature for folks who might be living in an urban area bereft of an uplifting view out their window. Or a living room without any windows at all!
For instance a forest scene living room wallpaper mural brings the Wood Element used in Feng Shui symbolizing new beginnings, growth, expansion and vitality.  If you're feeling lethargic and unmotivated, Wood can be a great friend to you.
Library book shelves wallpaper design
Apart from the nostalgic reading feeling created the full library book shelves wallpaper, they also cut a great figure as decoration in the living room. A well-filled bookshelf exudes coziness and warmth, conveys a cozy atmosphere and says a lot about its owner. The books wallpaper are particularly fitting at this time of coronavirus pandemic. Because you will at time be forced to hold virtue meetings from your living room. As the books in the background you will really look like you know what you are talking about. You will look like an authority of whatever subject of discussion.
Promote mental health and clarity using wallpaper murals
The word mural originates from the Latin word "murus", meaning wall. Today, we can define wallpaper mural art as any piece of artwork on a wall-cover  applied directly onto a wall, ceiling or other larger permanent surfaces, flat, concave or convex, to be precise. So it is Art. And Art as  a therapy is credited with improvements in self‐esteem and self‐confidence. It provided a safe space for reflection on mental health issues.
Just as promoting mental health and clarity through interior design goes back thousands of years. Color therapy (also known as color medicine) is as old as any other medicine, with a history going back centuries. There's research that points to spectrum of colors even affecting different parts of the body! It's physical and mental effects are essential.
Does this mean you paint your whole apartment blinding shades of sunshine yellow to spur energy? Not quite — in fact, research points to the contrary. Researchers at Logan Regional Hospital in Logan, Utah discovered that overly vibrant color schemes actually produce heightened states of unease and anxiety.
Look outside your house for inspiration
Splashes of your favorite color are a given within the home. But we can also look outside for inspiration. Thus you can use the natural landscape living room wallpaper mural as inspiration for a cohesive palette. Even visitors to the home are invited to a room that is earthy, grounded, and familiar. The prominent presence of green in the living room reflects the vibrant trees growing just outside with generous sunlight.
Meanwhile, natural dark wood wallpaper murals establishes a sense of warmth and comfort. Once again using the surrounding nature as inspiration. The consideration of all senses, particularly sight, creates a holistic and familiar space.
Investing in living room wallpaper mural as a part of mental health doesn't have to be a daunting task. Reach out to emphatic interior designers Wallpaper Kenya who understand the importance of the living room wallpaper murals in your health.
Feng Shui Living Room Wallpaper Murals
Custom Living Room Wallpaper Mural is a way to add a Feng Shui element to your living space without adding clutter. You may want a water element for healing or a boost to your abundance — but your tiny room or rambunctious toddler or pets make an indoor fountain off-limits. Try a wallpaper mural of a restful or vibrant waterfall instead. The best areas to place a waterfall mural, lake or ocean wallpaper mural are in the career, health and family, or wealth positions of the room.
A touch of fabulous wallpaper lining the inside of open shelves in the living room draws attention to important family photos in your family or children areas. When your living room furniture is deliberately spare and simple, change up a tired room or add some personality to a new residence with an elegant or colorful wallpaper that complements your very Zen furnishings.
Use Feng Shui Living Room Wallpaper Mural Materials
In feng shui living room wallpaper mural, natural materials rule: The energy of the living fiber complements the rest of the carefully selected elements you use to decorate your living room.
All our wallpaper murals are printed of silk fabric for a special living room
Elements and Colors
The five feng shui elements correspond to spatial directions and colors. One way to limit your wallpaper palette is to choose colors based on the element in your living room. Fire's colors are red, orange and yellow; water's colors are all blues; wood is nature colors, especially greens and browns, sometimes purples; earth's colors are brown, beige, terra-cotta, stone, some dull yellows and other muted shades; metal's colors are silver, grey, black and white. For example, a bedroom in the West or Northwest has a metal element and get good energy from a vertical pattern of stylized birch trees in grey behind a metal bedstead.
Formal Living Rooms
Formal living rooms are usually situated near the front of a home for receiving guests. A typical arrangement would include a sofa and two armchairs, or a sofa and love-seat combination. The formal living area can also double as a library for your home with the addition of bookcases to display favorite books and accessories.
Informal Living Rooms
If a home has a formal living room, there is usually a secondary, more casual space for the family to use on a daily basis. These informal living rooms feature a more relaxed seating arrangement which typically includes a television for the family to enjoy together. The furniture involved is similar to the formal living room, but features more casual fabrics, along with sectional sofas, chaise lounges and ottomans. This more comfortable furniture allows family and guests to kick back and relax.
A Single Living Room
Many homes feature only one living room that doubles as a formal and informal space. In this situation, it is a good idea to have a room that can be dressed up or down depending on the occasion. For example, a casual slipcover can cover your sofa on most days, but it can be removed to show off a designer fabric when guests are expected.
Even when you're designing for a small space, you can create an inviting living area for your family and friends. Small homes, lofts or apartments tend to have combination rooms where a small living area flows directly into a dining or office area. Due to their close proximity, the overall look and feel of these spaces should complement each other. You can use lighting, color or textures to either unite or distinguish each room.
Living Rooms Essentials
Must-haves for your living room include a number of elements.
Seating
Furniture that is upholstered with fabric or leather is the most comfortable, but mixing in some non-upholstered furniture, such as a wooden armchair or rocking chair, will create a more eclectic room.
Focal Points
Every living room needs a strong focal point. However, it's not uncommon to have more than one focal point, especially in large living rooms or great rooms.
Living room Fireplace Wall Covering
You can make your fireplace the focal point with your living room wallpaper mural. And there are several ways you can do so. Even with a simple brick wallpaper mural or a dramatic floor-to-ceiling stone wallpaper mural you will achieve an architectural presence that demands attention.
So if you have a living room fireplace it only makes sense to use it as the focal point. Start by arranging your furniture around the fireplace. And to further call attention to your fireplace, consider a wallpaper mural around it in a shade that contrasts with the rest of the room to really draw the eye.