Is Wallpaper for Walls better than paint?
Modern wallpaper for walls has so many advantages, there is no any other wall decoration you can compare it with. You can buy wall paper to hide cracks in the wall, dents and other imperfections on the wall. But probably the single most benefit of wall paper for walls it that you find such a wide variety of styles and designs that you will not know which one to choose. This is one of the greatest advantages of wall paper, its ability to broaden horizons and give your wall a new air through printing.
In fact, you can choose a classic and conventional wallpaper design for a feature wall. Or if you prefer, a paper with a more modern print or that allows you to fill any room with color and originality.
Also, if you are allergic to paint smells and fumes and waiting for the paint on the wall to dry, you will find wallpaper a pleasant alternative. Reasons for allergic reactions can be found more and more frequently in one's own home. Whoever is planning a renovation or refurnishing should, therefore, make sure to choose from materials that pose no health hazard. Most of the wall paints in our market contain an unacceptable amount of harmful lead.
The good news is that the decision for wall coverings free of harmful materials low in pollutants is constantly growing. This applies especially to ingrain and non-woven wallpaper as several manufacturers have expanded their range in this segment under consideration of allergy sufferers.
Cost of Wallpaper for Walls
It is probably best to calculate and compare the cost of wall paper to the cost of paint based on the professional charges per square meter of wall. But before I give you the figures, remember in terms of decoration you cannot compare wall paper with paint. Wall paper is superior in terms of wall decoration than paint. I will have time to explain that later. Nowadays, the averages professional charges for ordinary wallpaper installation, all inclusive is Ksh 500 per square meter. The last time I checked professional charges for painting it was also Ksh 500 per square meter.  Although, to be fair, I am sure you can get as low as Ksh 350 per square meter of wall with the much inferior paint.
Now special effects paints such as stucco and textured paint come closer to the beauty of wallpaper. But still you can not achieve the beauty of ordinary wall paper with any kind of paint. It will cost you about Ksh 2000 per square meter with special effects paint and still not achieve the beauty of wall paper.
Let me tell you what you can do on your walls with Ksh 2000. At wallpaper Kenya, for Ksh 2000 you can get customized mural wall paper. And what do we mean by customized mural wall paper?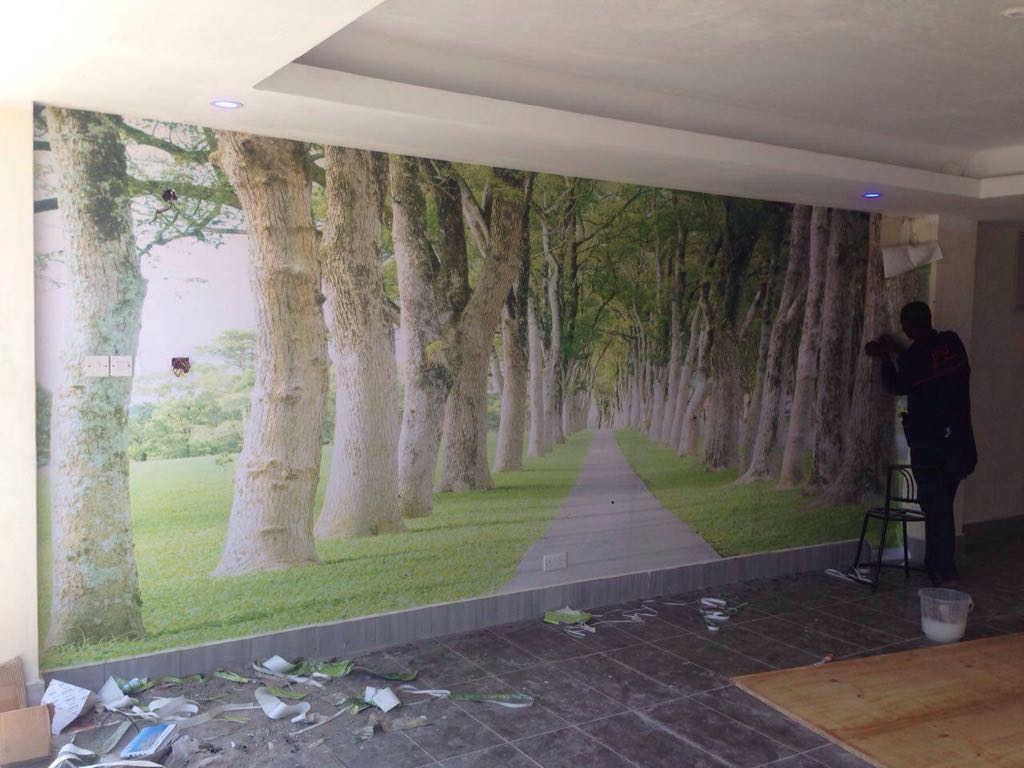 Customized Mural wallpaper for walls
With customized mural wall paper you give us a picture of your choice in soft copy hd and we reproduce it for you on your full wall. The picture could be anything you like, be it your family portrait, scenery, abstract, animals or any other kind of artwork or image. These we will reproduce for you at a cost of only Ksh 2000 per square meter. And we do it on silk fabric that is both removable and reuse-able. That means, unlike the expensive special effects paints, you can move house with your wallpaper for use on the walls of the new house. Fathom that.
Although there are hundreds of beautiful images you can get from online for free for your custom mural wall wallpaper, some are for sale. One of our customers recently bought an image for his small wall 8 square meters. He therefore paid us Ksh 16000 for producing the mural for the wall. But guess what? He bought the image, an elephant for Ksh 4000 from a designer. Whether you get your artwork for free or for a million shillings, our cost for reproduction is constant. The good thing is, our designers can help you get a fitting theme and image for free or for a very small cost.
How to choose a wall for wallpaper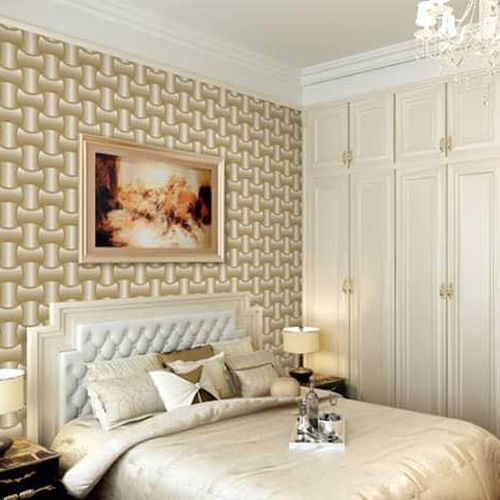 It is of-course best to wallpaper all the walls in a room for maximum ambiance or decor effect. But if they are rooms you are already living in and you are under budget you can wallpaper one wall in each room. The question is, how do you choose the wall to wallpaper? And the answer is feature wall.
Also called a focal wall or accent wall, a feature wall is a wall that adds interest and energy to a room through texture, color and contrast. And of-course there is no any other wall decoration material other than wallpaper that combines all these elements in one. Because wall paper has it all, texture, color and contrast. It's like standing out from the crowd. A feature wall can impact how the space looks and feels, reinforcing your design style and creating a visual impact.
A room with all the walls decorated in one color or pattern can create a sense of unity and cohesion.
Feature walls are becoming one of the most popular options for decorating rooms. Absolutely all rooms consist of several walls. The simple thing is to wallpaper them in a uniform wallpaper. This is an option that must have other decorative elements that contrast and give presence to the space.
But an accent wall greatly simplifies the task of decorating very meticulously. But how do you know which wall to choose and what wallpaper design to use?
Create a point of attention
Ideally, the wall you want to highlight is a space that draws all eyes when you enter the room. Walls with fireplaces, or design elements like shelves, also work well. If you can, avoid walls that have doors or windows. Because these usually counteract the effect you are trying to create.
If the room is painted in a neutral color , choose a stronger tone than contrast to add depth and a scenic touch to the space. If the walls are already painted a cool color , try a complementary wallpaper  with darker or lighter hues to highlight the wall.
Dare to make the accent wall a space full of shapes, geometric  wall wallpaper are back in fashion.
At Wallpaper Kenya we offer you a range of possibilities ideas to achieve that effect you are looking for with our selection of geometric wall wallpaper.
Geometric circles, points, modern rhombuses and other multiple figures make up an unusual world in which the balance between contrasts of shape and color predominates.
Reinvent yourself and discover a new way of perceiving the space around you, betting on sensational colorful designs or the antithesis of black and white
Join this decorative trend, and get a dreamy atmosphere. Live originality in an ordinary world.
A good tip to choose the wallpaper for the accent wall is to first observe the colors that predominate in the space. Remember that the balance of the decoration is based on 3 colors or one color in various shades. If you have any doubts, know the 60-30-10 rule here
Use wallpaper to cover walls decoratively and hide blemishes
The effort of a wall renovation is not always worthwhile. In rental properties or less frequently used adjoining rooms, some optical flaws can be hidden by covering them them with attractive wallpaper. Creativity replaces work and some undesirable traces such as cracks, stains, tears or holes in the wall disappear behind the decorative wallpaper.
If you have a functionally perfectly preserved wall that you view as pathetic ugly, cover it up with decorative wallpaper. Dried out ancient stains, slight cracks in the plaster or patterned wallpaper from ancient times are among them. Since renovations are not always worthwhile or involve a lot of effort with limited benefits, simple and effective ordinary wallpaper will do the trick.
Embossed wallpaper or textured wallpaper is three-dimensional designed so as to hide wall imperfections. This is enabled by the wallpaper's slightly raised and textured effect. You can install this embossed wallpaper over damaged walls and can hide the wall defect like cracks, scratches, wall roughness and small unevenness.
How to repair damaged wallpaper on the wall
Although wallpaper hides defects on the wall, even the wallpaper itself can get damaged. No one likes them, but even with the utmost care, they are unavoidable: damage of all shapes and sizes, of many different types and to varying degrees. And if that wasn't enough, the wall with damaged wallpaper is almost always in plain view. The damaged area appears to be eye catching as if by magic. It soon becomes a source of irritation and will constantly annoy us.
But there is no need for alarm, with our practical advice you will immediately take charge of the situation.
Basic tools to repair wallpaper
You are probably aware that it is always a good idea to order a little more of the chosen wall paper. An extra roll will come in handy if you need to do any repairs. Once the wall paper paste is mixed, it can only be used for a certain time, and if you need it for repairs months or even years later, you certainly won't be able to use it. Ready-to-use repair adhesive is available at DIY stores in tubes or liquid concentrate made especially for those cases.
Soft, lint-free cloths and rags, fine brushes, a joint roller, and a cutter are essential tools for repair. Have everything at your fingertips and always make sure you have enough time and not be in a hurry or stress.
Peeling Joints
This is not damage in the strict sense. But it is one of the most frequent problems after wall papering. Armed with a special glue tube for special wall paper and a fine brush, the peeled joint can be fixed in no time. First, lift the wall paper along the joint as carefully as possible. So that you can treat all the dry areas underneath. Next, apply the glue to the wall or the underside of the wallpaper. And use a clean cloth to carefully smooth it out and glue it back in place. Then remove the excess glue with another clean cloth.
When the top layer is damaged but the wallpaper has not come off the wall
Sometimes only the top layer is slightly damaged, but the strip has not come off or come off the wall. In these cases, adhesive wallpaper paste can be used to re-glue the top coat to the base material. Take special care when pressing the top layer against the base material, as it could tear once wet.