Wallpaper Designs carry the highest number of elements of interior design or interior decoration. Because in wallpaper you will find colors, depth or texture, optical illusion, and patterns all in one. Therefore wallpaper is a versatile, less-expensive way to give your rooms a touch of style. No wonder wallpaper is back in a big way. And leading the way is Wallpaper Kenya where we have wallpaper designs for every room.
From bedrooms and hallways to living rooms, bathrooms, and kitchens. Sure, you heard me right. Yes, even in an extremely wet and moisture full room you can now flaunt some striking style via wallpaper. Some of these are Marble and granite contact paper which are 100% waterproof.
Often people ask me for wallpaper designs for living. Or wallpaper for bedrooms, dining room hallways, etc. I will show you why we don't classify wallpaper that way. Because wallpaper suitable for living room might be also suitable for other rooms. A good example is plain solid color wallpaper. Just like plain color paint, you can use it in any room. So let me classify wallpaper according to patterns, composition, geometric shapes, and visual motifs.
Old versus New Wallpaper Designs
New wallpaper designs, because of taste and advancement in technology, are limitless. And there is both in designs and functionality.  Whether your tastes are floral, geometric, or industrial, you'll be able to pretty much find anything you're looking for.  In the age of the internet, your taste is a few clicks away. Wallpaper Kenya will even create custom murals that will fit your wall's exact dimensions.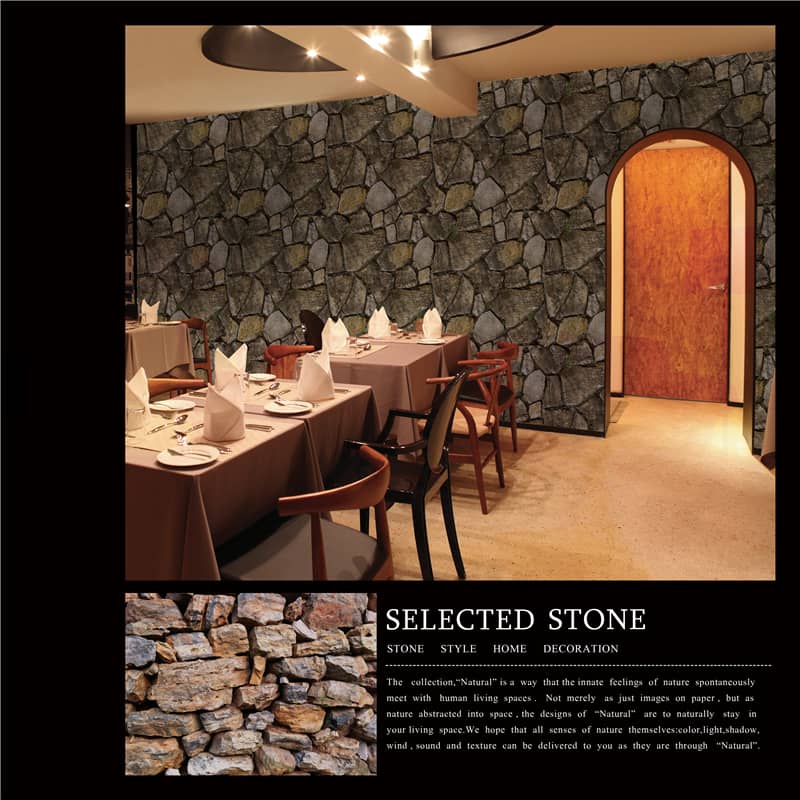 However, another difference between Old Wallpaper vs. New Wallpaper is you can now find wallpaper that mimics other popular decor trends. Whether it's the timber tones in ship-lap, the bathroom marble or granite tile look, or the appearance of a 3D brick wall.  New wallpapers offer such realistic-looking designs that the appearance is identical to the actual thing.
The purpose of Old Wallpaper was largely aesthetic and mostly floral. The function wasn't a consideration. Today wallpaper is designed to meet the needs of interior designers. It has been purposed to make narrow rooms feel wide, short rooms feel taller and shallow rooms feel deeper.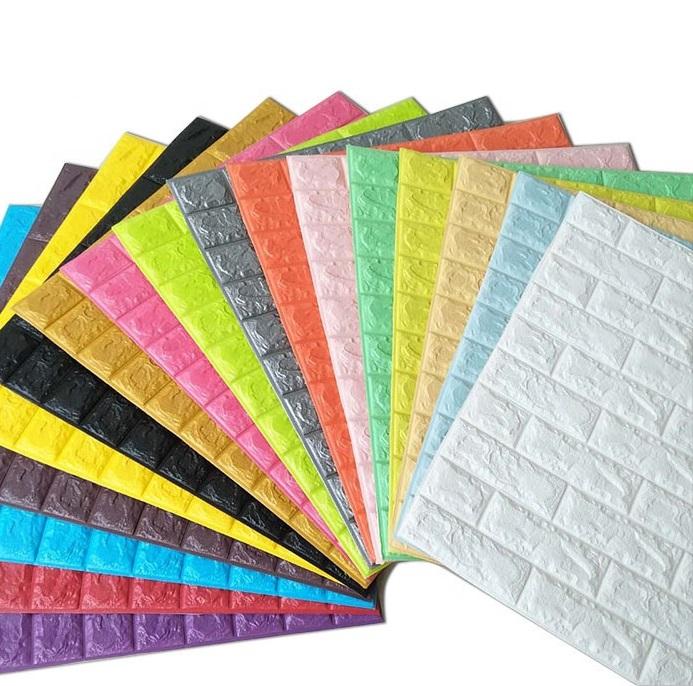 Wallpaper designers today focus on accent walls, where one wall has wallpaper setting it apart from the rest of the room. Or cleverly using horizontal and vertical stripes wallpaper to change the feel of a room's dimensions.  Now new wallpaper boasts designs that give the impression of other materials like granite and marble, 3D bricks, or wood effects.
Therefore the purpose of wallpaper design can change the entire aesthetic of your home.
Types of Wallpaper Designs
There is much different Wallpaper. Therefore Wallpaper Designs can be classified in many different ways. For instance wallpaper for the living room or wallpaper for the dining room. Similarly wallpaper for bedroom, Nursery wallpaper, wallpaper for children's room and so on.
However, Interior designers will classify wallpaper in more technical terms. Possibly you are aware of most of the terms. They are such as 3D brick Wallpaper, Damask Wallpaper, Plain Color Wallpaper, and Floral Wallpaper. Others are 3 Dimensional Optical Illusion Wallpaper, Mural Wallpaper, and many more. Including Geometric Wallpaper, Striped Wallpaper, Textured Wallpaper, Cartoons Wallpaper, and Customized Wallpaper.
A guide to most common wallpaper patterns and designs
Wallpaper patterns come in all kinds of colors, shapes, sizes, repeats, and schemes. That's why picking the right wallpaper pattern—and mixing prints—can be tricky. Here are the most common;
Basket weave
 Wallpaper Designs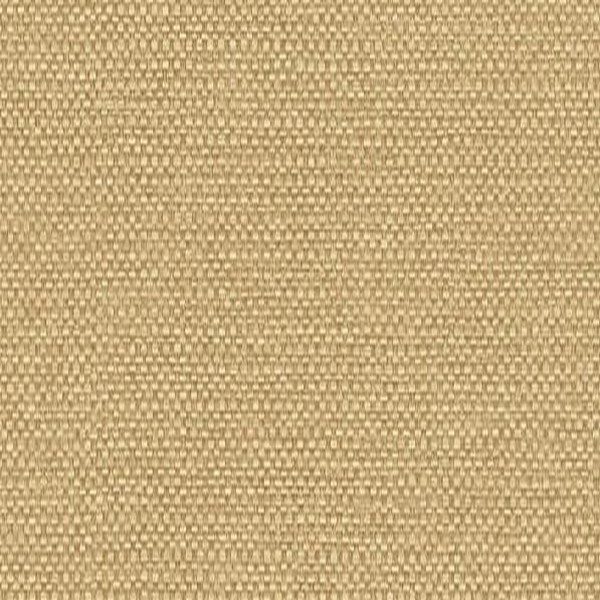 Designed to resemble the crisscross weave of a basket, basket weave wallpaper patterns are printed onto to create a symmetrical effect. As a traditional woven, a basket weave wallpaper can introduce warmth to a room to balance out more neutral and subdued tones. When used correctly, the texture is a great contrast to a muted palette and can also complement a minimalist style.
There are many different weave patterns out there, all of which create different wallpaper designs.
Plain weave is the most fundamental type of wallpaper weave design. In plain weave, the warp and weft are interlaced in a basic crisscross pattern resulting in a checkerboard style appearance.
Then there is twill among the most widely used weaves in wallpaper designs. You can easily identify this pattern by its diagonal lines. Twill weave an alternating sequence which creates a diagonal ribbed pattern.
Jacquard weave wallpaper design creates a bespoke wallpaper pattern or image, allowing patterns of endless complexity of woven-like design on wallpaper.
Dobby weaves are those which contain small geometric patterns. The Dobby loom is almost like a simplified Jacquard loom.
Brocade Wallpaper Designs
A typically shuttle-woven or printed wallpaper most commonly in silver or gold thread. Brocade has an embossed appearance similar to embroidery.  No surprise then you're most likely to find brocades in more traditionally designed spaces.
The ornamental features of this wallpaper pattern bring a rich and elegant touch to accentuate classic furniture pieces.
Plaid or Checkered Wallpaper
Checkered wallpaper is one of the most popular and instantly recognizable patterns. It features a simple checkerboard-style design with alternating colored squares like the Masai Shuka. "Checked wallpaper has traditionally worked well in farmhouse modern and country design. But a more contemporary twist has recently brought the countryside to more urbanized spaces.
A pattern of zigzagging stripes, chevron wallpaper has long been a favorite of designers looking to infuse contemporary flair into a subdued space.
Modern interpretations of the chevron motif have brought new life to the classic that can sometimes feel overwhelming.
Drawing from traditional Chinese motifs, chinoiserie wallpaper designs often feature elaborate scenes of floral, animals, pagodas, and children.
Chinoiseries is a romanticized print that adds a level of sophistication to wall decoration.
Ditsy Designs
A ditsy print wall has flowers (but not always) that are small in scale and is an all-over pattern with a random repeat.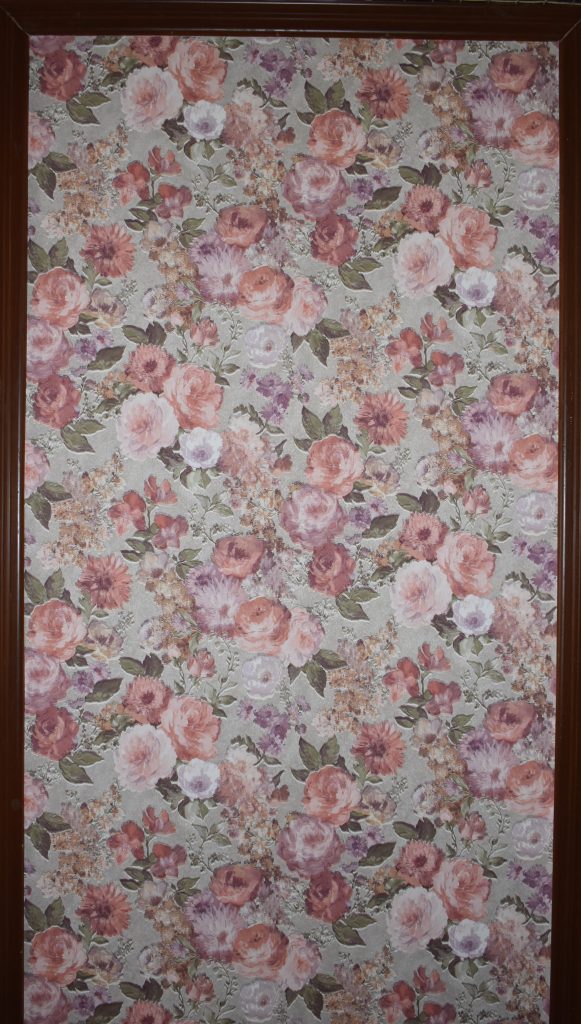 The ditsy print is a timeless pattern style in fabrics that dates back to the 1920's era. It is a tight, all-over pattern composed of tiny motifs scattered in every direction. This makes for a lively print even with more subdued color palettes. Although floral motifs are most commonly used, you will find a ditsy print can in geometric and conversational motifs as well.
There are four common characteristics found in most ditsy patterns:
use of small-scale motifs
tossed, all-over pattern
liveliness is actual or implied
prints are multi-directional, meaning ditsy fabric can be seen in any direction
Wallpaper Murals
Some of the most alluring wallpaper is wallpaper murals. A mural is defined as any piece of artwork painted or applied directly on a wall, ceiling, or other permanent surfaces. Wallpaper murals mainly refer to scenic wallpaper such as forests, waterfalls, wildlife, and portrait. A good number of people erroneously refer to them as 3d wallpaper. Whereas 3d wallpaper could be even brick wallpaper or geometric wallpaper. While ordinary wallpaper such as brick wallpaper comes preprinted and in a universal standard size. And thus has repeat patterns, mural wallpaper is customized. For instance, you can give us a picture of your family or your favorite football team and have it reproduced on your house's interior wall. Mural wallpaper is also useful in commercial, business, branding.
There are two types of wallpaper. Wallpaper for walls and wallpaper for computer screens. When searching online for the latest wallpaper for walls, it is good to specify. While we are always updating our catalogs with the latest wallpaper designs, we also do customize wallpaper. Therefore you can search for the latest design and we will customize it for you. While ordinary wallpaper will cost you around 2500 per standard size roll 53 cm by 9.5 meters, customized wallpaper will cost you 2000 per square meter. Customized wallpaper is much more expensive than ordinary wallpaper but you get exactly the images you want.
Damask Wallpaper Designs
To understand Damask Wallpaper we need to define "Damask".  Today, the word damask refers to a certain design whether on wallpaper or fabric. But this has not always been the case. Damask wallpaper, derives its name from the fine patterned fabrics produced in Damascus (Syria) in the European Middle Ages. True damask was originally wholly of silk, but gradually the name came to be applied to a certain type of pattern whether on fabric or wallpaper regardless.
In fabrics, single damask has a single set each of warps and wefts or fillings. And maybe woven in one or two colors; a compound or double damask has a greater number of fillings. Damask is woven on a Jacquard loom, the satin field being produced by floats of warp that pass over from two to seven and in some instances nine fillings. The design is a plain or taffeta weave, the warp and filling being at right angles that create less luster than the satin areas.
Damask
is defined as rich, heavy silk or linen fabric with a pattern woven into it, used for table linen and upholstery. You can have walls covered with a damask. At the moment we don't have real linen damask wall coverings in Kenya.
Damask wallpaper
is available at Wallpaper Kenya and is one of the most popular wallpaper designs.
Glitter & Metallic Wallpaper Designs
Glitter and metallic wallpaper designs for interior walls are the easiest ways for you to add a bit of sparkle to your room. As opposed to other products that will give you glitter effects, wallpaper is ready-to-use and can be applied on walls directly instantly. Furthermore, wallpaper is the most budget-friendly solution in comparison to other products– and they are easy to use.
Use glitter and metallic wallpaper to add some sparkle to the walls. And create a shiny cladding that resembles a starry sky. However, Glitter for interior walls looks awesome, but not on all walls. While a starry ceiling looks awesome, you will find that this finish doesn't look exactly flattering in the kitchen. Use glitter wallpaper designs sparingly, just one feature wall in the living room.
Another environment where a glitter wallpaper gives its best is the kid's room. Glitter wallpaper is particularly suitable to use in the bedroom of a young girl; silver glitter wallpaper can also complement the ceiling in a master or kid's bedroom. We wouldn't recommend using it in other environments at home other than those mentioned above. Despite the trend, you can get tired of the sparkles quickly.
Brick wallpaper designs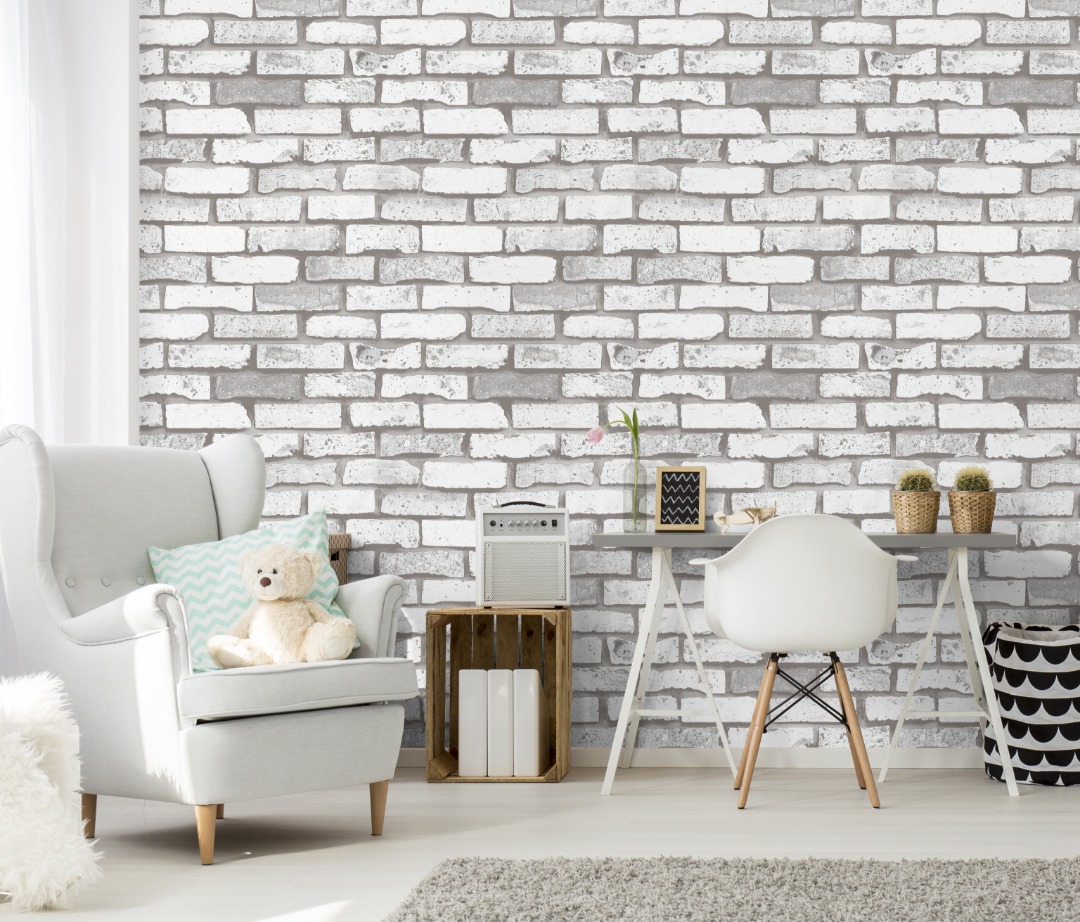 The most popular of wallpaper designs are brick wallpaper. Regardless of whether you prefer a modern style or a classic and elegant one, you will find a brick wallpaper design suitable as a combination with anything. Exposed brick wallpaper has become famous in Kenya and the world over. Brick wallpaper looks amazing and adds character to interior walls. Rustic brick wallpaper is charming in a bathroom, bedroom, or living room doesn't matter. With our collection of over 50 different designs of brick wallpaper, you can create home décor that looks quite industrial, creating a spirit of old presented with modern. Modern lofts interior design makes exposed brick wallpaper even more popular.
Contemporary vs Modern Wallpaper Designs
Are you at a loss considering the difference between contemporary wallpaper and modern wallpaper Designs? Though even interior designers confuse contemporary wallpaper as being in sync with modern wallpaper, the two are very different. When it comes to interior decoration, contemporary wallpaper vs modern wallpaper each stand on their own. The same as Contemporary and Modern Interior Design styles each stand alone.
So what is a contemporary wallpaper design? By definition, contemporary refers to "living or occurring at present." Contemporary, at its core, refers to "of the moment," which illustrates that contemporary wallpaper design refers to current wallpaper design.
Another important aspect of contemporary wallpaper design styles is that they're constantly evolving. Unlike other designs that are usually devoted to a particular look, time, and spirit. When looking at contemporary wallpaper designs today, you'll notice neutral palettes, curved lines, and prominent geometric.
Modern Wallpaper Designs
The phrase "modern wallpaper" is one of the most misused phrases in decorating. Often confused with contemporary wallpaper. Today's modern wallpaper designs are based on a design movement that was born around the turn of the 20th century. Modern wallpaper design styles and decor celebrate nature designs, neutral or earthy colors, and the elimination of unnecessary detailing. While you may see a range of colors in contemporary wallpaper styling, modern wallpaper would have monochromatic colors.
 Modern wallpaper designs are simple and unadorned. The modern wallpaper trend continued to grow in popularity throughout the first half of the 20th century, and later derivatives of this style are known as mid-century modern wallpaper. One of the key beliefs behind the modern design movement is the idea that "form follows function." In other words, the design of all furnishings and decorative objects should reflect its intended purpose, and if a furnishing, décor, or decorating detail does not have a practical purpose, then it can be eliminated. The most modern wallpaper design, therefore, is Contact Paper which emphasizes function more than they look.
Latest wallpaper designs
We strive to bring you the latest wallpaper designs in the world. What do we mean by the latest wallpaper designs? These include 3d geometric wallpaper. 3d geometric wallpaper designs are available in ordinary wallpaper size 53 centimeters by 9.5 meters. You can buy these off the counter. We work with international wallpaper partners to stay updated with the latest wallpaper designs to ensure our clients get access to the world's most loved displays.
4d wallpaper designs are not available in ordinary wallpaper. They are customized. You give us an image in HD and we reproduce it on canvas as a full mural.
In all categories of wallpaper, including damask and brick wallpaper, we stock the latest wallpaper designs. Large stocks of latest wallpaper designs in our Nairobi Go down, best wallpaper prices, on-time delivery & wallpaper Installation.
Latest wallpaper designs for bedroom
Variations of white are the most common paint colors painted throughout a new house or a renovated house. Give a change from the usual stereotype. Shade one of the bedroom walls with a contrast wallpaper design which enhances well with the bedding and the curtain colors.
3-D wallpaper is an excellent wall décor idea for the bedroom wall where the wall is wide and long. The wallpaper can be of any nature or aqua theme. The blue color gives a better feel and positive vibes which helps in getting a good sound sleep. It helps you to wake up rejuvenated and relaxed.
Latest Wallpaper Designs for Living Room
There are wallpaper designs suitable for a small living room. Likewise, there are wallpaper designs suitable for wallpaper designs for living room large walls. Although much more expensive than ordinary wallpaper, customized wallpaper will give you the best effects. Customized Wallpaper you start by gathering photos of the images you prefer.
How should you begin gathering photos for your living room wallpaper? Simply use your HD camera. It is one of the great developments of our digital age. Because now certain products that were once reserved for professionals or the affluent can be accessed by the average person. You can use your favorite amateur photos from memories and experiences as your living room wallpaper. This is a great way to display your most treasured times of days gone by. Alternatively, you can choose images online as long as they are of high definition.
Usage of different Patterns and designs
Different wallpaper designs are suitable for different effects. For instance, let us say you have a low ceiling. Vertical stripes on the walls and plain white textured or patterned wallpaper on the ceiling will make your ceiling look not only beautiful but higher as well. A small room will look larger when brightly lit and therefore light-colored but textured wallpaper will do the trick. In addition to light-colored wallpaper using mirrors for additional light, natural light reflection add a feeling of additional space. Just like a 3D wallpaper will give you an optical Illusion to see in three dimensions even though the image hitting your eyes is only two dimensional.