Custom Photo Wall Murals at Wallpaper Kenya are of the highest quality. These are photographic murals on Silk fabric that you can both remove and reuse. In other words, you can move house with the custom photo wall murals from Wallpaper Kenya.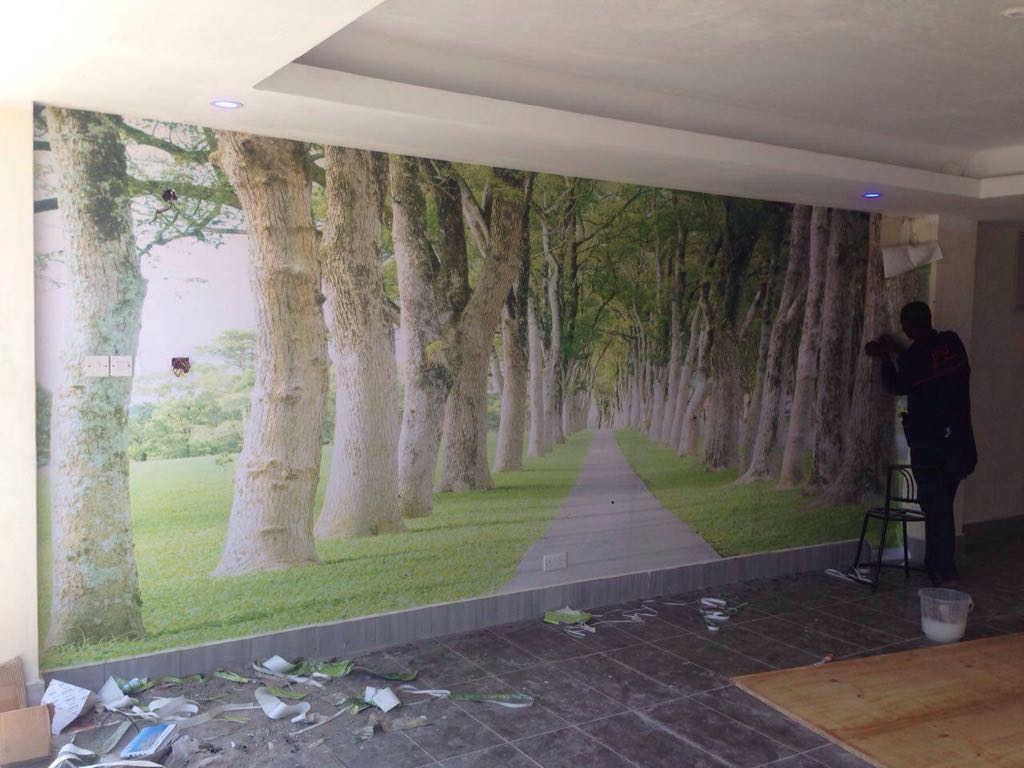 Mind you they are all custom photo wall murals made from pictures or images of your own selection. Meaning we enlarge the picture or photograph to your exact wall size. Or to the custom size you want to cover on the wall.
We offer you wall murals with images of great photographers or totally personalized with your own photographs. And with the measurements you prefer.
Photographic wall mural is a fantastic way that you can pack a huge visual impact in the living room. It's available in a seemingly unending variety of photographs and colors. And depending on what you choose, it can be either big and bold or soft and subtle. What's also great about photo wall mural wallpaper in the living room is that it can be used in many different ways. If you want to incorporate wallpaper but aren't sure how, then consider one of these ideas here below.
Cover one feature wall with photo wall mural wallpaper
The most classic use of photo wall mural wallpaper is to cover one feature wall in the living room or bedroom. The key to making it work is to erase the memories of the garish patterns of the 1970s and the delicate florals of the 1980sd. And think in terms of contemporary photography, and plain textured patterns and styles for the other 3 walls. In certain rooms, a bold, graphic paper can look fabulous covering all the walls, while in other rooms a simple pattern or texture can create subtle interest.
Wallpapered feature wall is a great way to either create or enhance an already existing focal point. It draws the eye in and creates a striking feature. When it comes to this use of wallpaper, you can go bold or you can go subtle, just make sure you're not competing with any other focal point in the room. (When there's more than one focal point, the eye gets confused and it creates a sense of chaos). Try installing wallpaper on the wall behind the TV or fireplace, or any other spot the eye is naturally drawn to.
Cover Half the Wall
Covering either the top half of a wall with photo mural wallpaper is a great way to get the look without overwhelming the space. (Ideally, separate the papered and non-papered halves with some time of architectural molding such as chair rail.) This is another look that was popular in decades past. But it still appears regularly in living rooms that lean towards traditional styles. A particularly popular approach is to cover the top half of the wall with the photographic mural and have paneling on the bottom half. It's a very classic look that will never go out of style.
Install Two Papers on One Wall
A really interesting and bold look involves covering the top half of a wall with one paper and the bottom half with another. (Again, it's best to separate them using chair rail.) This is a tough look to pull off but when done right it can look amazing. If you want something really strong, consider contrasting patterns such as stripes and toile, or chevron and damask, in strong colors. For something more subtle, look for tone-on-tone patterns and keep them simple and similar in theme. Since this is a strong look, be cautious about what other colors and patterns you put in the room. All the patterns should complement rather than fight with each other.
Wallpaper the Ceiling with photographic wall mural
So often people forget to look up the fifth wall. Usually, ceilings are painted a simple white and then left alone until there's a leak or crack that needs to be dealt with. But the ceiling, or fifth wall as some call it, provides a great opportunity to have some fun with photo wall murals and create a unique look. If you're going this route, you may as well go all the way and choose something highly decorative or bold. Don't waste the effort on something subtle. However the installation is awkward and you should ensure it doesn't bubble or peel. Therefore get it done right the first time and hire professional installers from Wallpaper Kenya.
Photo wall mural wallpaper is becoming a favorite choice for interior designers and home owners. Because it is a very attractive and eye-catching accent to bring the ceiling to life. In addition to this, photographic wallpaper is one of the easiest and fastest coatings you will ever find to apply on the ceiling. And is very durable depending on the quality and the room in which you decide to place it.
Photo wall murals works in all decorative styles and is also a means of personalized artistic expression. Because you get to choose the option of customizing designs. This offers you an option to spark your creativity and accentuate your personality in home decor.
So if you are thinking of giving a new air to your spaces or you need to cover some imperfections in the ceiling, the photo wall mural is a great option.
Hang Photographic Mural Wallpaper as Art
If you want to use a really special photo wall mural but can't afford to do a big project, consider having a sample piece framed and hanging it on the wall. This is a great way to incorporate picture mural as art without the effort or expense of traditional applications. Another similar approach is to hang a long piece and install dado rails at either end so it looks like a scroll. These types of picture wall murals are very pretty and require minimal effort.
Do you want to personalize the wall of your house? Order a custom mural ! Get a wall paper that adapts perfectly to the size you need. Also, choose your favorite photo and give it a unique touch. At Wallpaper Kenya we offer you the possibility of enjoying an exclusive wall mural with the size and photo you choose .
Quality Custom Photo Wall Murals at the best price
Being specialists in wall murals and printing in large quantities, allows us to offer you the best prices on the market. In addition, we use the specifically silk material for wall murals of the highest quality, resistance and easy placement. Get your wall mural now for Sh 2000 per square meter (VAT included). The minimum price is corresponding to 3m 2 .
I know it is difficult to compete with stock image platforms, where you can buy any photo for very few shillings. But if you want a truly local or personalized photo wall mural, it is not on the stock platforms for Being "homegrown" is when you can take your own photo.
Nowadays most photos, even those from your smart phone, are perfectly valid for printing in large format photo wall mural. For instance to print a photo of 2 mx 4 m with a 8 megapixel camera you will achieve high quality. It is always important to calculate the print measurements well with the resolution of the camera, to avoid pix-elated photos.
How to choose your photo?
For a personalized photo wall mural,  you select the photo you want yourself  Choose a photo of yourself that you like. Or choose from the many options online. Remember that the quality of the photo is essential for your photo wall mural to look good. It is recommended that the photograph have a minimum of 800 pixels per meter of surface to be covered. The higher the quality of the photograph, the better the image will look on your wall.
If you are going to take a photograph especially to turn it into a mural, do not forget to take it with your camera at maximum resolution! If you doubt the quality of your photo, send it to us specifying to what extent you want the mural, and we will tell you if it is suitable.
You choose the measurements! Make your wall mural the size you want. We cover even the largest walls! We recommend that, if you are not completely sure that the measurements of your wall are regular at all points, add 2 or 3cm to your measurements to avoid that the mural falls short at any point.
Material and placement of wall murals
We use the best material on the market, silk fabric. It is a fabric base with a surface layer of acrylic vinyl, with an impeccable matte finish. Strong, washable and very easy to put on! Being a fairly thick paper, its placement is very simple. With silk, the glue is put directly on the wall, which increases the practicality of the wall mural. In addition, we deliver it to you in on piece, so you can put it on your wall in the most comfortable way. The custom photo wall murals are designed so that you can place them yourself in a practical and simple way. But if you are in Nairobi, we will hang the mural for you at no extra cost.
Do you like to change photos or your wall decoration regularly? I think we all would love that. And it is now possible with the silk clothe photo wall mural. Because you can  remove it and reuse it. So you can change the wall mural according to seasons. Do you have delicate walls? Are you worried about your landlord's reaction? Here is the perfect solution: create your own removable and reusable photo wall wall mural. The adhesive at on the back of the mural can easily be wiped off the wall. Make your photos the center of all eyes without having to make a hole in the wall.
The steps to follow in photographic paper mural perfectly placement
If you are in Nairobi Wallpaper Kenya Installation Staff will gladly help you with the installation at no extra cost. However if you are upcountry there is no need for you to worry. The mural comes in one piece on silk fabric and you can therefore easily do it yourself. It is easier to install than ordinary wallpaper.
1. Tools
Make sure you don't start until yo have the correct tools; you will need:
1. Meter, pen and level for marking
2. Spatula and plaster or pore putty for the preparation of the bottom
3. Sharp scissors to cut the photo wall
4. A wide brush to apply the glue
5. Foam roller to push it over the photo wall
6.A suitable cutter to cut out the plug and switch areas
 Preparation of the adhesive
While it is true that the silk material mural is relatively strong, it cannot be expected to perform miracles when irregularities are to be covered. Therefore we recommend that you plaster any holes on the wall, and the areas covered by latex or oil paints must be sanded well. Make sure you leave the base in suitable condition as perfectly smooth and uniformly absorbent. That is in order to receive the glue and guarantee a good complete drying.
Next place spread the mural on the floor before proceeding with its placement. In some extremely rare cases it may happen that there is a color difference when printing the images. if so, you must place the claim before pasting the mural.
With the Wallpaper Kenya photo wall murals we supply the necessary glue. See the ratio of glue to water mixture as indicated on the packaging. And after having established the exact place where you plan to place the photographic mural, you will mark with a level and a pencil a vertical line. Then a horizontal line on the background in the center of the mural.
If  you work like a true professional, you will go around the level once to see if the bubble is exactly the same in both directions. If not, you will drop the level and start afresh.
Next glue the back face of the photo wall mural silk fabric evenly and not too thickly. And take care to glue the edges well. It is important that the glued element must not swell. And therefore you should place it on the wall after about a minute.
The optimal drying temperature is around 20 °. As in all wall-papering work, there should be no air flow inside the room.  Even if the air is charging, the windows should be kept closed! The protruding edges you will cut the with a cutter and in this way the mural will be perfectly finished.