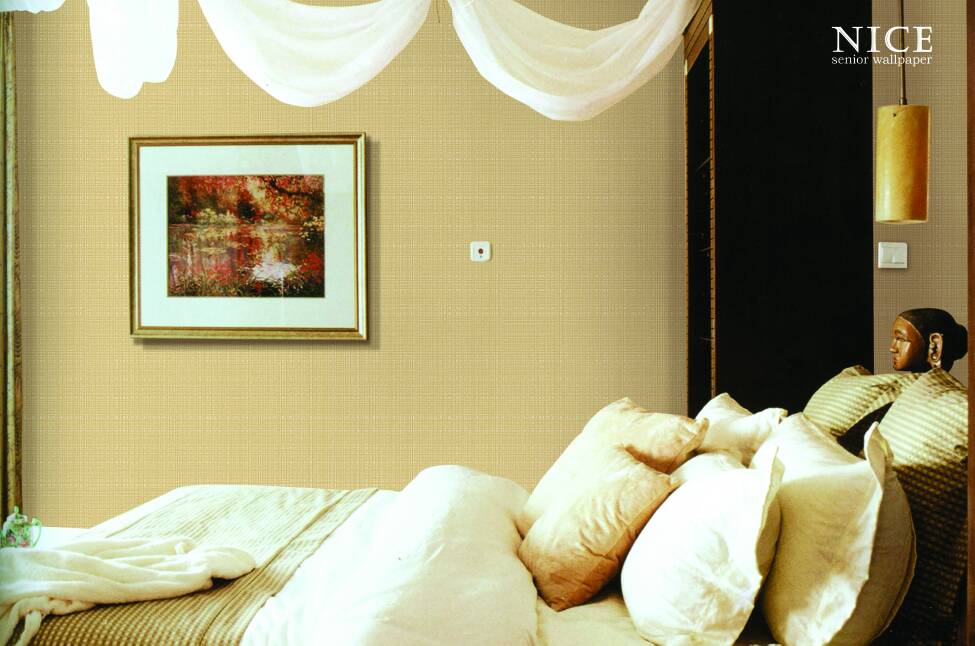 More of plain color wallpaper should used when decorating all the walls in a room. And remember you can get all plain colors wallpaper from Wallpaper Kenya. We will either have one on our shelves ready for you to pay and collect or we will customize the color for you.
This is because we have both plain white pain-table wallpaper as well as plain color printable wallpaper. This ensures that you will get the exact color hue you require. You might ask yourself why paint on the wallpaper instead of painting directly on the wall?
As they say, seeing is believing and a picture speaks a thousand words. The picture here below explains more than words can.
When you paint on wallpaper you get the best of both worlds. This being the exact color hue you want and texture. What makes the plain color wallpaper above pictured so striking, is the wallpaper texture.
But for elegant wall decoration, plain or solid color wallpaper is a resource we shouldn't forget. Always remember that, especially if what you want to achieve is an elegant decoration.
For those in the know, and prefer solid or  plain color wallpaper, you sometimes face the problem of your walls being lifeless or flat. Because it is just a plain color wallpaper. But you can avoid that by developing a color scheme for the room that uses the "60-30-10 rule."
Even then, there are a few things you should understand about colors.
Wallpaper colors affect our emotions and are closely linked. Warm colors will evoke different emotions from cool colors.  And bright wallpaper will create different feelings from muted wallpaper colors. In fact every color has a different psychological effect.
However, I do hasten to say that the psychological effects differ from community to community. It all depends on the biological conditioning and cultural background.
Plain color wallpaper Versus Paint
I hope you are not one of those people who ask why use plain color instead of paint. Because you can not compare wallpaper with paint. Wallpaper is far more superior than paint.
Besides the added beauty of texture of plain color wallpaper, it is more economical in the long run.
I changed wallpaper for company in Nairobi's Industrial area called Carton Manufacturers. They told me the wallpaper had been on the wall for thirty years. And it still look very good.
Because unlike paint, which gets dull with age, wallpaper does not. Paint gets dull with age due to oxidation. But wallpaper does not oxidize and is therefore colorfast.  It is true Interior walls do not need to be repainted as often as a home exterior. But even the highest quality interior paint can become dull, faded, or begin to show obvious signs of wear and tear.
In fact today it is possible to find various models and styles of plain color wallpaper that will surprise you. For instance solid color contact paper which is 100% waterproof.
Secondly, there are different types of wallpaper, long lasting, scratch resistant and easy to clean.
Third, unlike paint, they are easily removable when you want to redo. As for paint, you paint over the old paint and in time these layers start cracking.
Simple solid color wallpaper is the ultimate elegance
Plain wall paper never goes out of style. And it offers  a multitude of possibilities because you can use it alone, as well as combine it with other designs and prints. You can as well as use it in any room in your home or workplace.
Plain wallpapers are very easy to combine with the styles and types of furniture you want. And depending on the color you choose, you will achieve a certain environment.
Orange or red tones transmit strength, passion and intensity. On the other hand shades of white emit light and give a feeling of spaciousness. But colors such as violet or indigo blue bring calm and serenity. While others such as beige or black wallpaper always give the atmosphere a touch of elegance.
At Wallpaper Kenya we offer you a wide variety of textures and plain color wallpaper. So that you achieve exactly what you want with the walls of your house. In addition, we offer you the best brands on the market at incredible prices.
Further Advantages of wallpaper
There are very original models. Wallpaper has options in both solid colors, and patterns. It is also possible to select fabric, textured, and cloth options. You may also choose a wallpaper that has intricate designs and effects to pair with your plain color wallpaper. Such as foil and glitter, pearls, and grass cloth.
Wallpaper hide skirmishes on the wall. Such as small cracks and dents that  paint cannot hide. Embossed wallpaper is basically an embossed plain color patterned with a decorative finish. Embossing is a process of imparting a specific pattern or raised effect to the surface by pressure or embroidery. Thus it name itself explain its type. Because of its patterns it can be installed over damaged wall to hide defects.

Embossed Plain Color Wallpaper

Wallpaper is long lasting and durable. It usually lasts up to 20 years and over. Even in high foot traffic areas of the home. It is true wallpaper typically has a greater upfront cost for the paper and installation materials. However, wallpaper lasts that much longer than paint, which reduces the costs of future investment.
You can use vertical embossed lines to give more height. Vertical stripes create the illusion of height by drawing your gaze upward. Have you ever hears that you should wear vertical stripes to look taller? Well that same concept applies to this bit of interior decoration.
It is easily washable, so it is great to use in areas such as the kitchen and bathroom. Although it is possible for wallpaper to peel over a long time, touch ups can be easily done by using a small amount of wallpaper glue.
There are 3D models. Even solid color wallpaper comes in real 3d embossed designs.
By now you must have realized that even plain color wallpaper have versatile designs.
Easy removal composition. If you are looking to get the most out of your investment, removable wallpaper is an obvious choice. You can take it down easily. And even save it to be used again in the future or on a different wall completely.
Soundproof wallpaper
The thing behind soundproofing wallpapers is that it is not just made of paper with nice embossing and colors. It is made with some special layers that are crafted to dampen the noise by a little. If you are wondering whether wallpaper dampens sound, the key word here is layers. They are always your friends in soundproofing business. These materials can be either acoustic panels or slippery latex, and the top layer would be made of plain old wallpaper. Just like the one you are used to. Even though the process of making and the "ingredients" used in making these wallpapers differ from the regular ones by a lot, you wouldn't even notice the difference between the two.
Wallpaper consists of a backing, ground coat, applied ink, and sometimes paste on the backing used to adhere the paper to the wall. Non-woven backings can be of ground wood, wood pulp, or wood pulp with synthetic material. Woven backings are those made of sturdy woven textiles such as drill (heavy woven cotton much like jean material). The woven backing is then coated and printed.
Textured Solid Color Wallpaper
The beauty of plain color wallpapers, also called solid color wallpaper or one color wallpapers, besides the color itself, is texture. With hundreds of shades of plain color wallpapers to choose from, go straight to the best for your particular room.
The grey, beige or cream colors allow to create distinguished and sophisticated interior decoration. Along these same lines, wallpaper in pastel colors are ideal to give a more pleasant touch to any room in the house.
Our tried plain color wallpapers work for the pros. So they're sure to hit the right note in your home and office as well. In most cases patterned wallpaper does not go very well on all four walls of a house. Use patterned wallpaper for one feature wall and use plain color wallpapers on all the other three walls. plain white but textured wallpaper goes well with the ceiling.
Textured solid color ceiling wallpaper
One of the most challenging jobs in decorating homes is choosing the best texture for ceilings. It's because when deciding what type of texture to use for a new house, there are a lot of options to choose from. And all of them very difficult and messy to do using traditional methods.
But texturing a ceiling using textured wallpaper is much cheaper, much easier and neater compared to drywall finishes.
If you want to texture your ceiling but you haven't decided yet about which ceiling texture you should choose, Here are the different types of ceiling textures. And all of them are available in both plain color textured wallpaper as well as in drywall options.
These options are not just for ceilings because they are also applicable to walls.
Stipple Brush Solid White Textured Ceiling Wallpaper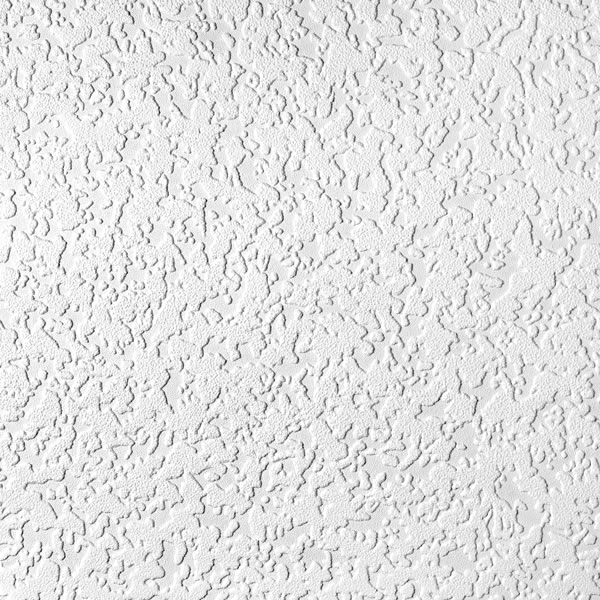 If it were not for textured wallpaper, this ceiling texture requires more skill because it can be quite challenging. You can imaging creating this texture by using a roller and slap brush in dry wall finish. This wallpaper is not a smooth type of texture, therefore, you can use it to cover imperfections on your ceilings such as holes, giving more attention to the texture.
Swirl Textured Solid White Ceiling Wallpaper
The challenging part of applying this texture using dry wall finish is that you need to create the pattern before the mud dries out. If you have a wide ceiling surface, that would be a task and a half. But you can overcome all these trouble by using the ready made ceiling wallpaper.  
Tree Bark Solid Grey Ceiling Texture
This plain grey colored wallpaper texture resembles the tree bark look. It  is a simple but artistic texture that can draw attention more to your ceiling. If your home has a farmhouse style, this can be a perfect texture for your home.
Plain color 60-30-10 rule
What is the 60-30-10 decorating rule? 60% of the walls in the room, to represent your dominant color choice. This is where you can use the plain color wallpapers.
The 60% is the main color for your room. You intention is that the 60% color to anchor the space and also serve as a backdrop for what comes next. Choose wisely as this dominant color can be used to change the create the desired room feeling.
It can make make the room look small or bigger. You can also use it to change the perceived room temperature. For instance blue is associated with a cool, calm feeling that you can use for bedroom walls. On the other hand a yellow wallpaper invokes feelings of friendliness and optimism suitable for your open kitchen.
30% Secondary color
Apply 30% for a secondary color wallpaper. The idea is that the secondary wallpaper color supports the main color. But make it different enough to set the two apart and give the room interest. Let the secondary color wallpaper represent 30% of your color scheme.
Being a secondary color means it has only half the amount of color saturation as the main 60% color wallpaper. Therefore the secondary color doesn't compete for attention in your overall design. Furthermore the secondary colored wallpaper creates depth and interest.
10% Accent Wall color
The remaining 10% is for the accent color. A feature wallpaper mural is a perfect choice to add a bit of drama and interior flair to your home. For me I would prefer a patterned wallpaper here. Damask, floral or even geometric patterned wallpaper can be a great foundation for your color scheme. But it should contain a well-balanced combination of the colors on the other walls. To avoid monotony, different variations of the dominant color interior decor colors should be carried here.
Having an accent wall is quite bold, but achievable for anyone with any type of space. You can test three accent wallpaper colors by fixing them in three-by-three foot squares on the chosen wall. Then watch them in the changing light of day to choose the one that suits you and your best home. We are here to offer you another option for design and that is plain color textured wallpaper. Textured plain color wallpapers can do wonders to a room upon selection of the most appropriate one for your room.
Psychology of colors to aid you in wallpaper selection
Color psychology is what interior designers are live for, says a senior editor at Health Nerdy, Bella Hardy. Psychology of color can influence people's purchasing decisions
Bathroom style and matching toilet color also important, and it indicates your taste.

Colors affect the bodily functions, mind and emotions with the energy produced by light. Studies conducted clearly demonstrate the benefits of colors where the development of the brain, creativity, productivity and learning are concerned. The effects of color on human beings can be varied; causing excitement, lending calm, giving inspiration, raising anxiety or tension or giving peace are some of these effects. These effects can be observed more distinctly in children. Children can be more sensitive to colors.
When decorating your sewing room, be sure to take into account the overall color palette of the room – minimal whites with subtle pops of color will be sure to fit in well with your sewing machine and fabrics.
3 tips to consider when choosing your color: from the designlike.com blog 
1. We take each camera and think about how long we'll spend in it and what times of day, what activities will take place in that room and the mood we want to induce the colors used.
2. You have to see if the sun entering the room and what times of day, morning, afternoon, throughout the day or at all (it depends on the room position).
3. See how big is the room. According to this, use lighter or darker colors. Bright colors give the feeling of more space and the darker or warm colors makes the room look smaller.
People perceive colors differently. Generally, they respond to colors in the same way, but the effects will not be the same for every person. For example, one certain color can unconsciously awakens you some memories or feelings, this can happen with someone else but sensations and memories being different. Another example would be black color which many associate it with mourning or something sad, while others may like and feel good surrounded by it. Using color psychology in interior design doesn't guarantee that every person in the house will see and feel exactly as you want.
I'll describe some psychological effects of colors like brown, white, grey, black, yellow, orange, red, pink, purple, blue and green.
The Psychology of Color may help you lose weight, colors plus a specialized site can give good results.
In a nutshell
While picking your wallpaper colors, remember the objective of the space and color psychology. The wallpaper color will affect your room and people living or working in there. As well as how the wallpaper looks, think also of how it will affect your audience's mood. That means you choose a wallpaper to influence the atmosphere you want to create. It is therefore important to know what this atmosphere should be before you pick the wallpaper.
The wallpaper color and finish you choose will determines the feel of you room. Use neutral colored wallpaper with a matte finish for a sophisticated space. On the other hand use bright color wallpaper with a glossy finish for a youth-eccentric space.