3D Wall Mural Wallpapers are customized and made to measure.
Technically, there is a big difference between 3D mural wallpapers and regular vinyl wallpaper.
However, different people mean different things by the term '3D mural wallpapers'.
And many people use the two terms interchangeably.
At Wallpaper Kenya, we offer both options.
Difference between Murals and Wallpaper
As aforementioned, our 3D mural wallpapers are custom-made and come in one seamless piece.
They are also about 4 times more expensive than regular wallpapers. And they are generally applied to just one feature wall in a room.
On the other hand, you will buy ordinary wallpaper off the self in a universal standard size of 53 centimeters by 9.5 meters.
You can apply wallpaper to more than one wall, sometimes all four walls.
But both murals and wallpapers are even applied to ceilings.
3D Photomural wallpaper will help you create an unusual atmosphere in the room and make the interior memorable.
With them, you can create a modern design anywhere, be it a living room, kitchen, bedroom, or even bathroom.
Sometimes, once you have taken a step forward and decided to decorate the walls of your home, reasonable doubt may arise.
Did you opt for decorative vinyl, or perhaps a 3D mural wallpaper would be a better choice?
Or maybe you are not fully aware of the difference between decorative vinyl and mural.
Therefore, today, from Wallpaper Kenya, we are going to get you out of any doubt.
And explain to you the differences between both formats so that your choice is the most successful for your needs and decorative intentions.
A 3D mural is a large print of a photo or artwork
First of all, let's say that a 3D mural wallpaper is nothing but a large-scale reproduction of a photograph or artwork.
The material Wallpaper Kenya uses to make a mural is silk cloth.
And that is more durable than the material of which a vinyl wallpaper is composed, more resistant, for example, to humidity, wear, and tire.
With just the gesture of having a mural on the wall of one of the rooms in your home, you will be able to transform it completely.
Why choose 3D mural wallpapers
The obvious advantage you will get with 3D mural wallpaper is its aesthetic characteristics.
A 3D wall image will become an exclusive and striking element of your interior.
However, in addition to external aspects, you will get the following advantages:
– They are easy to clean because of the silk fabric and the coating they are made of.
Making the mural wallpaper dirt-repellent and water-resistant, so you can wash it with water;
– And they are as durable as the silk fabric they are made of.
The strength of the silk mural wallpaper is manifested in resistance to exposure to sunlight and mechanical damage;
– As you know silk is environmentally friendly. The composition of photomural does not have allergens or other harmful components.
Which makes them safe for the environment and your health.
 Therefore, more and more designers are advising to make 3D photomural wallpaper for the decoration of premises for any purpose.
Tips on choosing 3D photomural wallpaper for the interior
You can enhance your mural's 3D effect with fluorescent lighting for greater depth and brighter visuals.
This is especially noticeable from a distance, so it is better to glue 3D mural wallpapers in spacious rooms.
In small rooms, this finish may not fully manifest itself.
When it comes to choosing, consider these design guidelines:
– Murals with a forest or seascape will help you create a relaxing atmosphere in the bedroom.
And you should use calm panoramic images.
– In the bathroom, you will give an organic look with photos of the underwater world or beach theme murals.
– The nursery should reflect the interests of your child. Choosing 3D wallpaper for the wall gives preference to his favorite fairy-tale or cartoon characters.
For your toddler child, give pictures with cute animals or calm natural landscapes;
– For wall decoration in the office, dining room, or public places, you can choose urban motives for a moderately relaxing effect.
But remember that due to the nature of the pattern applied, any irregularities will be noticeable.
Therefore, you should first align the walls to apply the wallpaper on a flat surface.
Design Range
If you want to use 3D photo mural wallpaper in the interior of your room, then our range of designs will help you find a solution.
We offer design from trusted stock image suppliers for every taste. Order murals from us in one you call! Diversify your interior with our wallpapers.
Wallpapers' overall décor effect is a combination of the elements of design, color, and/or texture.
They provide unique decorative opportunities and personal expression.
On the other hand, 3D mural wallpapers are generally a single photographic image (such as a forest, waterfall, or tropical beach scene) that covers the entire wall area.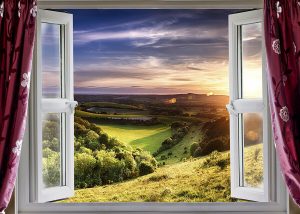 Some ordinary Wallpaper designs can be installed on a large wall to give a 3D mural effect.
For example brick and wood effect wallpaper designs.
Sources of 3D Murals for Wallpaper Customization
To have truly unique 3D mural wallpapers, you need to provide us with a high-definition picture, image, or artwork.
And you can source online for such images. You can get perfect pictures from such sites as shutter-stock, big-stock or Unsplash
Alternatively, you can also provide us with pictures from your camera. Also as long as they are of high definition.
Such pictures could be of you and your family. Or anything you like.
Add an extra dimension to your space
Our 3D mural wallpapers add that extra dimension to your space, creating a fun optical illusion on your wall.
These vibrant and eye-catching 3D effect designs are sure to be a real conversation piece in any room, adding depth and bold modern flair.
Designs range from psychedelic spiral murals, to geometric puzzles, and tunnel views to head-scratching cubic patterns.
Choose your 3D mural from our vast collection and see how it can transform any wall space in the living room, bedroom, or office.
3D painting mural wallpapers  
The painting of 3D mural wallpapers often shows the concerns, hopes, values, and memories of the community where the murals are painted.
These Murals are not like other paintings.
They have a different purpose and a different kind of effect on the lives of those who see them.
Your choice of the mural, therefore, says this is who you are. Or, this is what you think, this is where you came from, this is what you want.
And it says these things in a way that everybody can understand and enjoy.
With the 3D wallpaper murals, you will "deceive the eye".
What we call in French trompe l'oeil, is a painting technique that, through the perspective and play of color, creates a virtual reality. 
Abstract 3D wallpaper murals
Enhance the look of your walls with 3D abstract mural wallpapers.
You can be chosen according to the aura and atmosphere of the space in which you want them to be displayed.
You will choose from 3D abstract painting mural wallpapers of bold and bright colors or soft and sophisticated shades, depending.
At Wallpaper Kenya they are made of the best quality materials and are durable.
Also, you will find unusual shapes such as longer circles or rectangles, in addition to traditional sizes and shapes.
Modern 3D wallpaper designs
Today, modern 3D mural wallpaper designs can be attributed to all the trends that originated at the end of the 20th century.
This period is associated with the desire of people to regain their dreams and start creating something new.
Tired of the rules and requirements, the young designers want to create something new, which was not there before.
Now the designer and his idea have come to the fore.
And not the result of his creative activity, and this is how new genres have appeared in modern 3D wallpaper.
Nature 3d wallpaper murals
Beautiful, high-quality wallpaper with a realistic image of nature is always an up-to-date and appropriate solution for wall decoration.
They look spectacular and fill the interior with a certain meaning.
3D wallpaper murals, which depict nature, become the central design element, which decorates the room in itself. And does not need additional details. 
That is if you need to decorate the interior of a bedroom, nursery, living room, or any other room brightly, stylishly, and concisely. And this, without spending a lot of money, and saving space.
3D wallpaper with nature is an ideal option for you. And if you want to get chic quality for a little money, welcome to the Wallpaper Kenya.
Why you should order photo wallpapers with nature from Wallpaper Kenya
Several objective reasons distinguish our wallpapers from competitors: 
All 3D nature wallpapers are made of high-quality materials.

The image on the wallpaper is clear, and bright and retains its appearance for a long time.

Paints and materials are environmentally friendly and safe for health.

The plot of the wallpaper not only gives comfort to the room but also corresponds to modern interior trends.

The favorable price of photo wallpapers with nature makes them affordable for everyone.
Thanks to the latest printing technology, the subtle colors and shades of nature will be displayed as realistically as possible on the walls of your home.
Thus giving it an atmosphere of relaxation and tranquility. And the Wallpaper Kenya team will be happy to help you choose the right size and place an order!
Peculiarities of contemporary 3D wall mural wallpapers
Let's start the glory of modern 3D wall mural wallpapers with 3D graphics.
And which was developed thanks to the capabilities of computer technology.
Or rather, thanks to the ability to model objects in three-dimensional space.
If you look at the number of wallpaper mural designs in the 21st century, 3D graphics are already quite common.
Three-dimensional graphics are also found in street murals today.
3D wallpaper includes a variety of graffiti, three-dimensional computer graphics, and realistic drawings that create the illusion of a three-dimensional scene.
Wallpaper designers have always strived for a believable representation of nature and surrounding things. In our modern age, this is easily achieved with the help of advanced devices.
However, something is charming and especially appealing about the many 3D images created by the human hand.
After all, the 3D drawing technique requires great skill and patience, not to mention talent.
We offer you the to admire the creations of different masters, whose works are made in a realistic 3D genre.
How to create a 3D wall mural wallpaper
Your brain follows a set of guidelines when it interprets the signals your eyes send out.
Therefore, objects that are further away appear smaller. And those closest to you appear larger. 3D wallpaper designers trick your brains by drawing objects that are seen farther away and smaller up close.
3D wallpaper is a combination of science and fine art. Designers sometimes use a grid to visually stretch the image of objects, creating the stretched look needed to achieve illusory deception.
Alternative methods involve using a projector pointed at the viewer's height and distance. And then tracing the outline of the spilled light image to the camera to recreate the image on the ground.
3d Geometric wallpaper mural
Unlike ordinary photo wallpapers, Geometric 3D wall mural wallpapers appear three-dimensional.
In other words, the drawing on them seems to have geometric depth.
So, for example, if it is an image of a geometric path, then it looks like a real path going into the distance.
The features of the image are visually at different distances.
Some objects may seem convex, and the drawings seem to flow from the wall into the space of the room.
This unique effect is actually a successful play of light, which is achieved by applying special light-reflecting particles to the wallpaper.
That is why the choice of lighting in a room with 3D geometric wallpaper is far from the least important.
As for the placement of the wallpaper itself, it is not always glued to the wall. They can become an original decoration for the ceiling or, for example, a wardrobe.
Silk fabric wallpapers are considered some of the most environmentally friendly. Which is why they are the best option for the bedroom and children's room.
As for the decor, you should first of all start with personal preferences. But at the same time, do not forget about the purpose of the room where they will be placed.
KSh

2,000.00

The 3D effect is the main advantage of 3D wallpaper. In an attempt to surprise and captivate customers, interior designers promptly take into account the trends of modern design fashion. And offer new products that quickly become popular. Wallpaper Kenya offers iconic 3D effect wallpapers. And these can transform the space of a room, filling […]

Add to cart

Quick View

Quick View