The best nature wallpapers you can get are photo mural wallpaper. In this category of nature wallpapers also falls in photo wall mural wallpaper.
And you can achieve practically endless images of nature on your wall. From beaches to sky wallpapers, the galaxy, flowers, forests, fields, waterfalls, lakes, wild animals, deserts, and everything in between.
You cannot buy truly nature wallpapers off the shelf. It is not achievable in ordinary wallpaper. The best approach is for you to take a picture of your ideal nature scene. Do so with a processional camera. Give that to us, in soft-copy. And we will customize it for you. Alternatively, you can download your desired nature scene from the millions of pictures and images online, and we customize for you.
If you like, brick wallpaper, wood effect wallpaper, floral wallpaper and a few other ordinary wallpaper can be classified as nature wallpaper. It is easy for you to understand why you can't buy a truly nature wallpaper off the shelf. Off the shelf wallpaper are ordinary wallpapers. And because they fit in shelf, then they come in a certain size. They actually come in an universal standard size roll 53 centimeters by 10 meters. But nature has no size.
Custom Wildlife Wallpaper
In this category you will get either real photo wildlife nature wallpaper  or abstract animal paintings so that each animal gets its very own personality. And you will find these photos and paintings online from artists inspired by by the nature of wildlife.
The photos and painting thus becomes a magical and colorful pictorial universe with fantasy animals nature wallpaper. It is exciting to explore the expressive and colorful photos and paintings online. Or you can take your own picture or painting and we will reproduce it for your wildlife nature wallpaper on your full wall.
As different animal species have different personalities – you can often recognize some of these natural traits in ourselves. We can think that dogs are curious and reliable, the cat is agile and resourceful, the elephant has strength and wisdom.
Make Nature Wallpaper from Photos
What are nature photo wallpapers? It is a complete collection of all kinds of nature wallpapers, where you can find photographs of landscapes, such as flowers, forests, skylines, among many other types of images that will capture your attention? The answer is Yes.
Discover the novelties of nature wallpaper from photographs. These are ordinary photographs of real nature such as waterfalls, forest paths, birds, wildlife and all other flora and fauna. And are the latest trends for 2020.
Photos of natural environment wallpaper will help you give depth to the rooms in your house and create a relaxing atmosphere. From your sofa you can imagine that you are next to some spectacular waterfalls and relax with the sound of the water. Or lose yourself in the African Savannah, the bamboo forests and the Dutch tulip fields. Do you miss the heat? Move to the most paradisaical beaches and arid deserts with photo wallpaper.
Universal standard size nature wallpapers
In this category of the universal standard size wallpapers is where you will find the most affordable wallpapers. The only problem is that it is not everything that you would want that can be found in this category. But you will find such wallpaper as bricks and stone, flowers, animal skins, abstracts, all of which have repeat patterns.
In this category you can not find such realistic diction nature as forests, oceans, realistic mountains and so on. The reason is simple. Take for example a forest scene. No single tree looks exactly like the another, in terms of size, number of branches and every other big or small details.
Therefore, the only way for you to achieve the closest depictions of the forest scene on your wall is through a photo mural wallpaper.
Affordable brick wallpapers inspired by nature
The designs inspired by natural materials is a trend in wallpaper . Wallpaper can imitate a natural bricks wall, a wooden wall, or a jungle plant. At Wallpaper Kenya you will find original designs that give the environment a natural look.
A practical and economical solution at Wallpaper Kenya to simulate a brick wall in the house is rustic brick wallpaper. It will avoid you getting into expensive and annoying works and the decorative image will be similar if not better.
And if you like natural stone effect, you also have several options to dress your walls with faux stone textures and shapes. Here are some ideas that you can find our Selected Stone Catalog. These are wallpapers that mimic natural materials with surprisingly maximum resolution.
Wood effect nature wallpapers
If you are looking to Buy Wood Wallpaper you are in the right place. Because Wallpaper Kenya has for sale Wood Effect Wallpaper at the best price in town. So, discover our collection of imitation natural wood effect wallpaper.
You probably have noticed that faux wood wallpaper to cover the walls is a growing trend in the world of decoration. This is due to its versatility and to the multitude of possibilities it offers. If the wood was previously confined to rustic spaces, not anymore. And not with the inclusion of a variety different wood effects wallpaper in the field of interior design.
For instance white wood wallpaper in Wallpaper for wall decorations.
Floral wallpapers
Is there really anything really in wall decoration more vivid and colorful than a wall full of flowers? So give color to your room and cause that joy to spread to the rest of the home.
Since ancient times, flower wallpapers motifs have been designed not only for the wall but also for the fabric.
Flower wallpaper can be colorful or one-tone, and countless decorative elements can be coated or lined on this much-used and valued wallpaper.
"We are here for a limited time. So you don't be in a hurry and smell the flowers along the way." ~ Walter Hage
We can not talk about nature wallpapers without talking about floral wallpapers. Because one major inspiration of any kind of wallpaper for walls in to beautify the spaces we live in.  And there is nothing in nature that better represents beauty than a flower.
Looking at a flower reminds us of the best work in the world ever done: Mother Nature. So take a break and enjoy these flowers.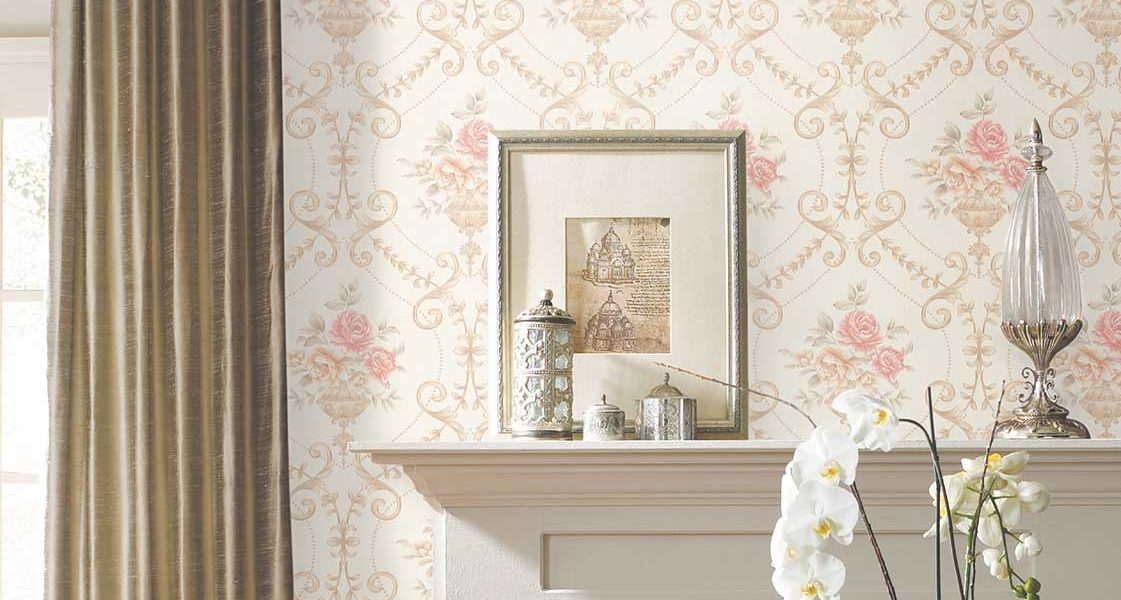 Large flower nature wallpapers have that ability to impress and create a fragrant, springy, landscaped room. The nature wallpapers have always had as a reference, in the past and in the present, in flowers.
Large flowers wallpaper are associated with good humor, joy and peace. Ultimately, large flower wallpapers are a dose of energy, vitality, and color to any room where it is placed.
The great variety that exists of large flower wallpapers is wonderful and can be perfectly combined with stripes. Wallpaper Kenya offers a selection of overlays filled with large flowers with the least disparate styles.
Customized 3d Nature Wallpapers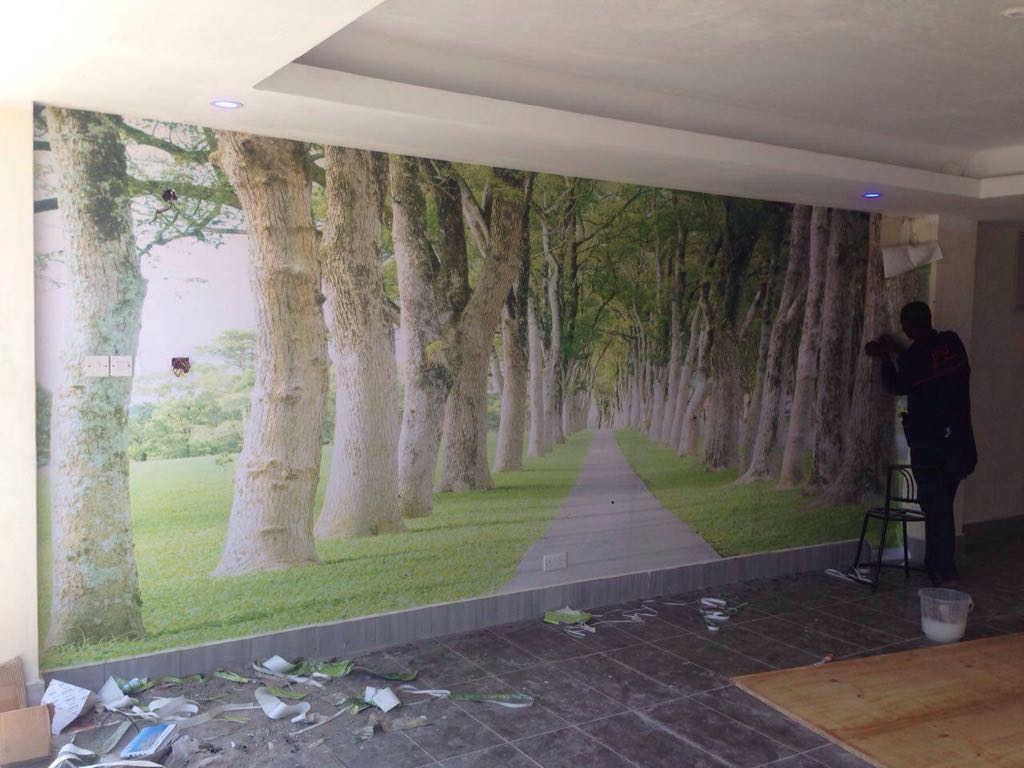 In this category, you can achieve any image you want. Because the wallpaper are large-scale printed photographs. You can also define both the width and the length of the image or cut to size to only the piece you want.
All of Wallpaper Kenya Nature images are printed in high resolution, the end result will always be of high quality.In this way you can create environments and decorations based on the Nature photos with a unique designs that provoke sensations in your mood. And make you feel that you are in that place that you like so much.
At the same time they serve to hide flaws in the walls of your home or office or give greater sensations.
Dream beaches, rain forests, exotic landscapes, high mountains or dazzling photos of the cosmos. These are just some nature images that you can buy on download from online for free and have Wallpaper Kenya customize for you. In this way we diversify the offer as much as possible so that you and everyone can choose something to their liking.
Both mountain lovers and beach lovers will find a landscape to decorate walls with a personalized motif. Landscapes will work well especially on large surfaces. Some landscape on interior walls, motley and in high resolution, will suit you in the living room, office or bedroom. And the smaller sizes can work as posters, pasted on the sofa or bed.
Sale!

A22-20P17 Textured Stone Wallpaper A22-20P17 Textured stone wallpaper is in neutral colors which are easy to live with and coordinate with other colors. But neutrals can be rather dull unless different surface finishes, texture, were introduced. What makes this stone wallpaper aesthetically so appealing is texture. Do not forget the element of texture when planing […]

Add to cart

Quick View

Quick View