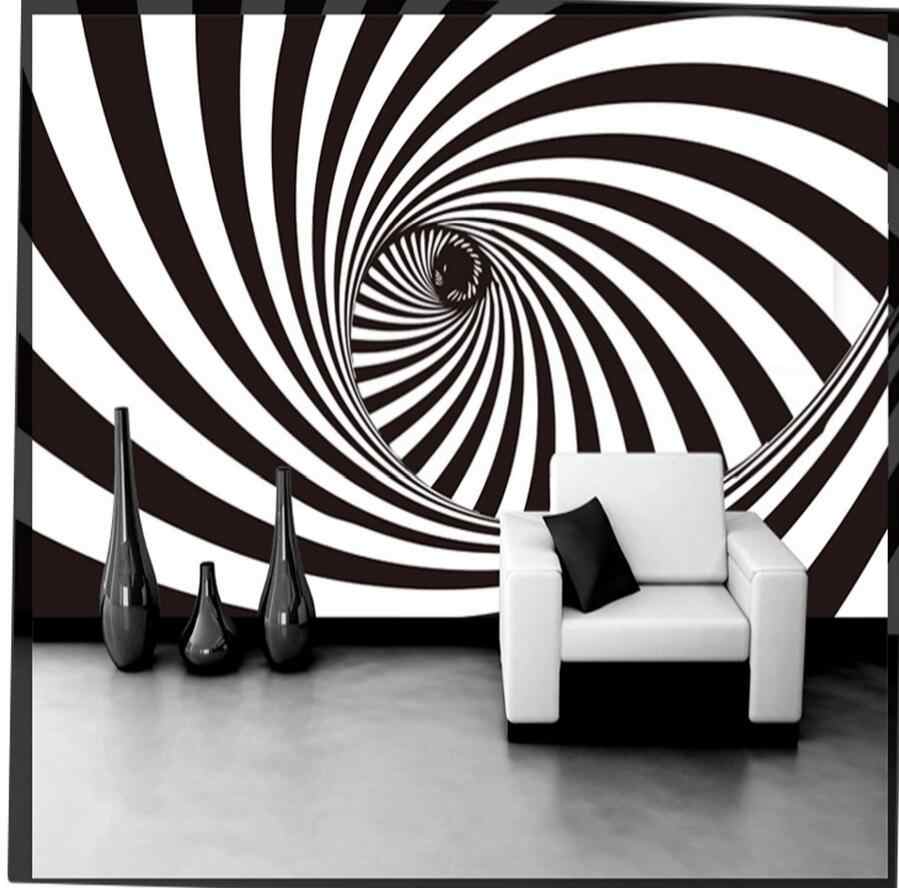 What exactly are 3D Wallpapers for wall decoration?
3D wallpapers mean wallpapers with three-dimensional images.
That is images with perceivable wall width, height, and depth.
Please note my choice of words, perceivable images, and not actual objects.
The vast majority of wallpapers for wall decoration on which the 3D image is printed are 2D.
Meaning that they have two dimensions. Namely width and height.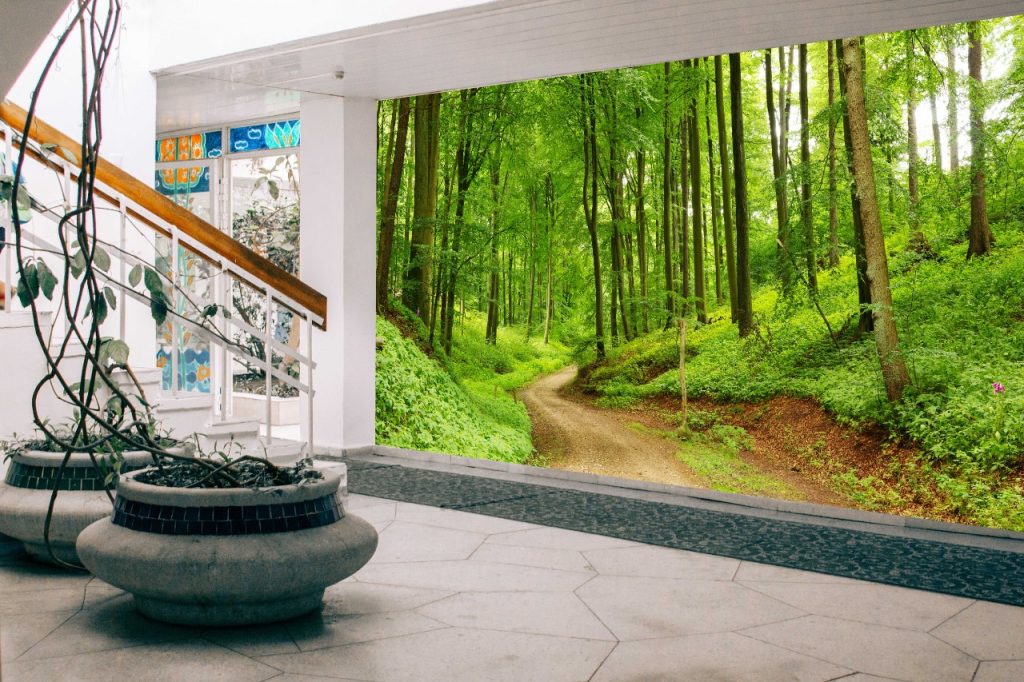 The vast majority don't have the third dimension depth.
Therefore the third dimension of the images on these wallpapers is an optical illusion.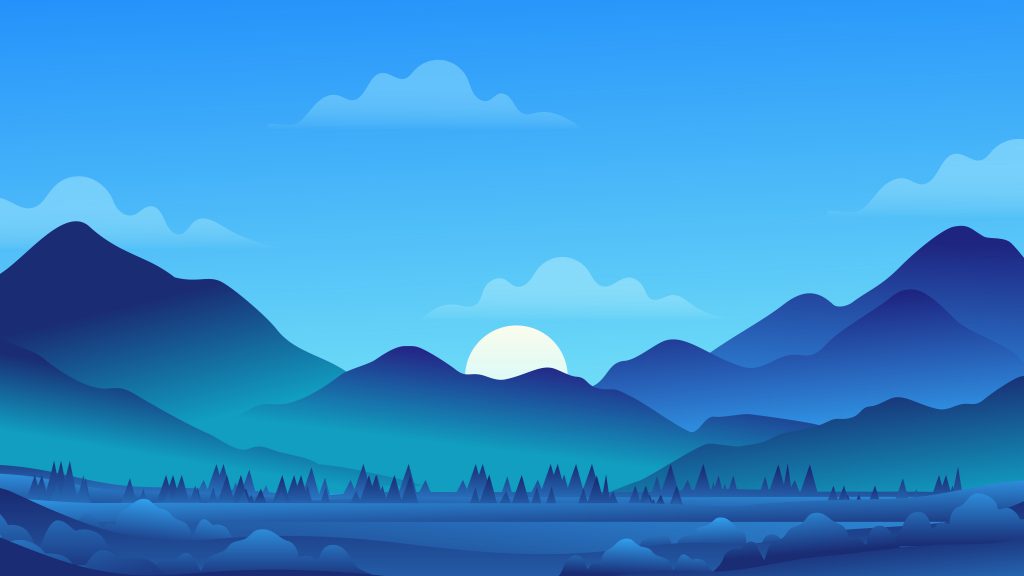 However, you will also find real 3D wallpapers at Wallpaper Kenya.
These are the 3D foam wall panels or stickers.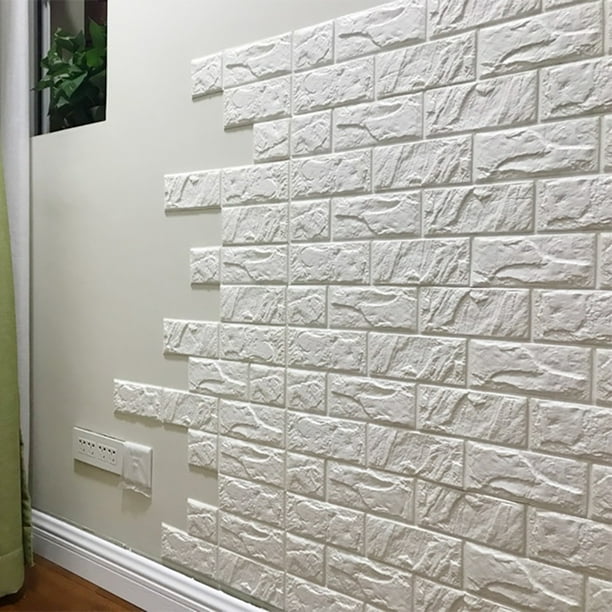 Broadly speaking, you will find 3 categories of 3D wallpapers at Wallpaper Kenya.
The regular preprinted wallpapers.
self-adhesive, water, and sound-proof 3d foam wall panels.
3D wallpapers for walls are the current trend and will not leave anyone indifferent, not even you.
And they are suitable for any room in your home or office.
It is also an ideal decoration to place in stores and businesses since it will allow you to create stupendous effects that will leave your customers stunned when they enter your work area.
Volumetric wallpaper mural art techniques
Portraying depth in 3D wallpapers refers to creating the illusion of three-dimensional space on a two-dimensional surface.
Wallpaper designers use several techniques to create depth, some of which are simple and others that are more advanced.
In wall art, depth refers to the perceived distance between the background and the foreground of a wallpaper design.
It is a way of manipulating space, which is a key element in design that refers to the distance around and between subjects and aspects of a composition.
Techniques that create the illusion of depth on a flat wallpaper help your image look more three-dimensional and lifelike.
Wallpaper designers use varying tools of perspective, lines, colors, and shading to create the illusion of space and give your landscape, portrait, or still-life paintings an added layer of realness.
Techniques to create depth in 3D wallpapers
There are many different ways wallpaper designers represent space in 3D wallpapers to give their works the illusion of depth.
Here are some of the most popular and easy techniques to create the illusion of depth on a two-dimensional paper.
Shading and contrast
Shading is a technique used on wallpapers to represent light and shade by varying the color.
This helps create the illusion of depth and shape on an otherwise flat surface.
The shading technique is a method used to give a flat object a three-dimensional appearance.
The way that you shade and color your wallpaper illustrations—like with chiaroscuro or levels of saturation—can also contribute to a feeling of depth by showing your viewer where your light source is.
Dark and warm colors will also seem much closer than lighter colors and cool colors, which are used to enhance the perception of distance in wallpaper artworks of art.
Every color has what is called a tint and a shade.
A tint of a color is a lighter version of that color, and a shade is a darker version.
The tone is a general term to describe the lightness or darkness (tint or shade) of a color.
Overlapping and layering
Overlapping and layering the objects in your wallpaper design illustrations can help to create a sense of depth.
With this technique, smaller, farther objects in the background are placed behind larger objects in the foreground, making them feel like they are a greater distance away from the viewer.
Through a variety of techniques including drawing, and painting you can repose the color theory to improve the movement within the form.
By applying painting references found in abstraction, surrealism, Orphism, and futurism, with a keen interest in expanding this aesthetic from a two-dimensional plane to a three-dimensional space.
And thereby creating a tangible and more visceral experience, through dynamic superimposition and layering of materials and media.
Size and detail
The size of your objects or subjects can heavily contribute to the illusion of depth in your wallpaper design drawing.
Smaller objects with less detail are perceived as being farther away.
The smaller an object is, the farther away it is perceived to be.
Distant objects are also lighter and have less detail than nearer objects, which are more saturated and detailed.
Aerial perspective
Also known as atmospheric perspective, this technique uses the value to create depth perception.
Value is one of the elements of art that dictates how light or dark a color appears.
In this technique, a basic tonal shift in the value of a color can communicate light source, focal point, and depth.
Objects that are close to you will be more sharply defined, whereas objects in the distance will appear less detailed.
Linear perspective
3D Linear perspective is another useful tool for creating depth in 3D wallpapers.
With a linear perspective drawing, two parallel lines converge at a vanishing point on the horizon line.
And this gives you the illusion of distance in a seemingly infinite capacity.
Isometric perspective
The isometric 3D wallpaper design represents a three-dimensional perspective on a two-dimensional surface.
Objects in an isometric drawing appear as vectors on an isometric grid in which vertical lines remain vertical and horizontal lines slope at an angle of 30 degrees.
Isometric perspective shows the subjects and aspects of your composition tilted on a slight angle from the viewer's point of view.
And shows subjects on a separate plane that follows the three-dimensional rules of depth.
Custom-made 3D wallpaper murals
Unlike regular wallpaper, custom-made 3D wallpaper murals have no repeat patterns.
But are photo mural wallpaper that comes in one design on one side. We have a lineup of unique designs from Shutterstock.
And we do it on silk fabric that is both removable and reusable. Few other places in Nairobi, if any, will find this.
Because it is removable and reusable you can install it even in rental housing.
It is also recommended to be installed on the accent wall only, or the ceiling.
You will also find it handy if you are a do-it-yourself lover who likes to change the wallpaper by yourself.
With digital technology and large-scale printing, you can create a unique 3D wallpaper for your walls.
The list of design and image possibilities is a clear indication of this.
Before you start choosing the right option, you must familiarize yourself with custom-made wallpaper's benefits and properties.
You have the widest variety of thematic solutions: abstracts, still life, landscapes, and portraits – you can choose an option for any interior decoration style.
3D wallpaper mural designs
Modern 3D wallpaper designs look quite expensive and extravagant on the interior walls.
The special effect that 3D wallpapers create on the wall makes the room more homely and gives it a new look.
That's why the 3D wall design wallpapers fit into every room, whether it's a bedroom, living room, or kitchen.
But the motif needs ample space to be effective.
Therefore, open living spaces and walls that are not interrupted by a window or furniture are particularly suitable for installing 3D wallpapers.
The wallpapers are best shown off when used as an eye-catcher on large walls.
Cover the rest of the walls in the room with plain wallpapers or a matching wall color.
In any case, the 3D wallpaper designs should be the main focus of the room and not be distracted by the other walls.
If you take up the pattern or the shapes in decorative elements or furniture again, the result is a coherent overall picture.
Properly selected designs and colors that are in harmony with furniture, lighting, and the overall style of the interior, allow you to fill the room with a completely new atmosphere.
There are several designs of 3D wallpapers:
3D photo mural wallpapers
Bespoke 3D photo wallpapers contain universal, voluminous geometric shapes and patterns that do not form a single, complete picture (correct geometry, abstraction, graphics, balls, squares).
With photo mural wallpapers, also known as murals, you place impressive lights on the wall, giving the room more depth and ensuring a change of perspective.
If the motif is sharp, high-resolution, and colorful, it becomes an eye-catcher that is guaranteed to cast a spell over every visitor.
Photo motifs or abstract motifs are available to you when selecting the wallpaper.
Murals consist of one large image, which requires space accordingly.
Due to the large selection of patterns and motifs, there is the right wallpaper for every furnishing style.
3d panoramas
Panoramic 3D wallpapers for an apartment are made to order.
And so they take into account the actual dimensions of large areas and your personal tastes.
The wallpaper comes in a single sheet of the exact size of your wall, so installation is easy.
A 3D panoramic wallpaper has a long photograph that encompasses a wide (or tall, if working vertically) area.
There are specialty cameras that are made to capture a broad scene. But any professional camera can be used to produce stitched panoramas.
We have a wide collection of spectacular 3D panoramic murals.
You no longer have an excuse to decorate your walls with wonderful scenes of nature, flowers, textures, geometries, and even tartan paintings.
Standard size rolls
Single, meter-long 3D wallpapers for an apartment are small in size and are used as a separate décor. Standard-size 3D wallpapers can be used to decorate corners, and partitions, imitate zone separators, and doors, and be framed in the form of exclusive paintings.
3D stereoscopic wallpaper murals
Stereoscopic murals with a 3D effect allow you to see a three-dimensional picture that can be viewed from any angle, any angle.
The stereoscopic wall coverings can show the images most realistically.
And so it seems that you can touch the inhabitants of the sea with your hands.
As if you can touch the delicate rosebuds with your fingertips, or touch the powerful neck of a noble horse.
But there are also different ways of classifying the 3d wallpapers. Such as by the area you want to decorate, or by the image on the wallpaper.
Some of these most sought-after are:
3D nature mural wallpapers
You like to feel as good as nature does. Are you a fan of outdoor getaways and want to enjoy that good feeling in your own home? Choose 3D nature wallpaper, you will feel good.
You need a vacation! So good that you are in the middle of nature enjoying the outdoors and leaving the asphalt of day-to-day well behind.
Did you know that if you are a nature lover you can create your natural, warm, and comforting environment in your own home?
Bring nature home with these wallpapers that we recommend.
3d nature wallpapers of different designs, and shades, and easy to install and are capable of transforming any corner.
Now put some relaxing music on, sit back, and enjoy…
Bedroom wall 3D wallpapers
3D bedroom wallpaper murals are ideal for giving a new atmosphere full of life and color to the walls of a place where you spend a lot of time.
With bedroom wallpaper, you will not only be able to change the decoration, but you will also give yourself an important detail, attracting a lot of positive energy to your new decoration.
3D bedroom wallpaper murals will mark your personality in your home. It is a mural that will look great in bedrooms of any style.
Wallpapers with 3D images and motifs invite you to dream, stimulate the imagination, and awaken memories.
They allow for a creative way of wall design that makes decorating with wallpaper superfluous.
Those who crave images that evoke wanderlust, create a Christmas mood, or have a relaxing and calming effect are advised to use photo wallpaper.
Like no other type, they know how to evoke emotions with their motives. In the bedroom, it is best to use motifs that have a calming and cozy effect.
Floral patterns, nature motifs, or beach pictures are suitable for this.
If you use patterned wallpaper with a 3D look, then make sure that the bedroom is decorated in light colors or pastel tones.
Wallpaper with ornaments is also suitable for the bedroom.
Living room 3D wallpaper mural designs
A 3D living room wallpaper will quickly and easily change the decoration of your home, improving it surprisingly.
And it will allow you to enjoy the soul of your home much better.
At Wallpaper Kenya you will find a 3-page to enjoy the living room wall decoration you want, an exclusive, unique, and different product.
We have thousands of great 3D living room wallpaper murals with which you can decorate your house, filling it with color and life.
With our designs, you save having to do work or large financial outlays to get the decoration you want.
Because our designs are fantastic and with them, you can have a more successful decoration that you will love and you will not be able to stop looking.
In the living room, you can also choose more abstract motifs and darker colors if they match the interior style.
Wallpaper with a tunnel motif visually enlarges the space and looks interesting to the viewer.
Large animal motifs, geometric shapes, or a window motif with a view of a skyline also create an eye-catcher in the living room.
Large 3D flower wallpaper murals
Our 3D flower wallpapers, as you can see, transmit life and freshness.
And that is what you will feel when you apply one of our flower and bird wallpaper or any other floral designs to your wall.
At Wallpaper Kenya you will be able to discover various large 3D flower wallpapers, all of them with flower patterns that will leave you stunned.
We have all the 3D flower wallpaper designs you can think of, among other types of flowers, and also in different shades.
Choose the one that you like the most and do not hesitate to place it in your house.
So that it becomes part of you and you will revive the decoration of rooms in your house that you will not want to leave.
3D geometric wallpapers for wall decoration
Benefits of using custom-made 3D photo wallpapers.
Custom-made 3D wallpapers on the wall will allow you to change the dull design of the room.
These designs look great in spaces with a large surface area. But choosing the right texture, photo, and color palette can be applied in a small room. 
And you can achieve all interior décor styles.
The country style and classics can be designed using different still-life pictures.
For instance old houses on the Streets, and Nautical themes.
On the other hand, three-dimensional images, and abstract floral, animal, and space patterns are suitable for a high-tech room.
Wallpaper with various Imitations of nature is considered an interesting solution. These can be pictures on a brick wall, Cork, or natural stones.
3D foam wallpaper panels.
If you are looking for 3D wallpapers to mask defects on walls, then textured 3D foam is the best solution.
Because they are made of two layers, which makes them easy to attach and form an embossed pattern.
Anti-collision properties.
Waterproof and washable.
And also hides wall defects.
Can be used in wet areas such as bathrooms and kitchens.

It has excellent durability, and safety, and is made from environmentally friendly raw materials.

High-quality 3D foam wall panels are characterized by resistance to temperature jumps, ultraviolet rays, and high humidity.

You can easily wash off dirt with soapy water.

3D foam wallpaper panels decorate the home and create a real 3D rough texture.

Such tactile texture gives depth to help you hide some layout flaws. 
Regular preprinted 3D wallpapers for wall
Low cost.
Good for small patterns such as brick.
Also hides blemishes on the wall.
Easy installation.
And easy to remove but not reusable.
KSh

2,000.00

The 070505 3D bedroom wallpaper design is suitable for bedroom headboard walls as well as for other walls and rooms. Because a bedroom is a personal getaway, a sanctuary, that expresses your favorite colors and feelings, bedroom wallpaper could be masculine or feminine. And it could be boy's or girlish, floral, plain, geometrical, damask, or […]

Add to cart

Quick View

Quick View