In modern interior decoration, geometric wallpapers play an important role.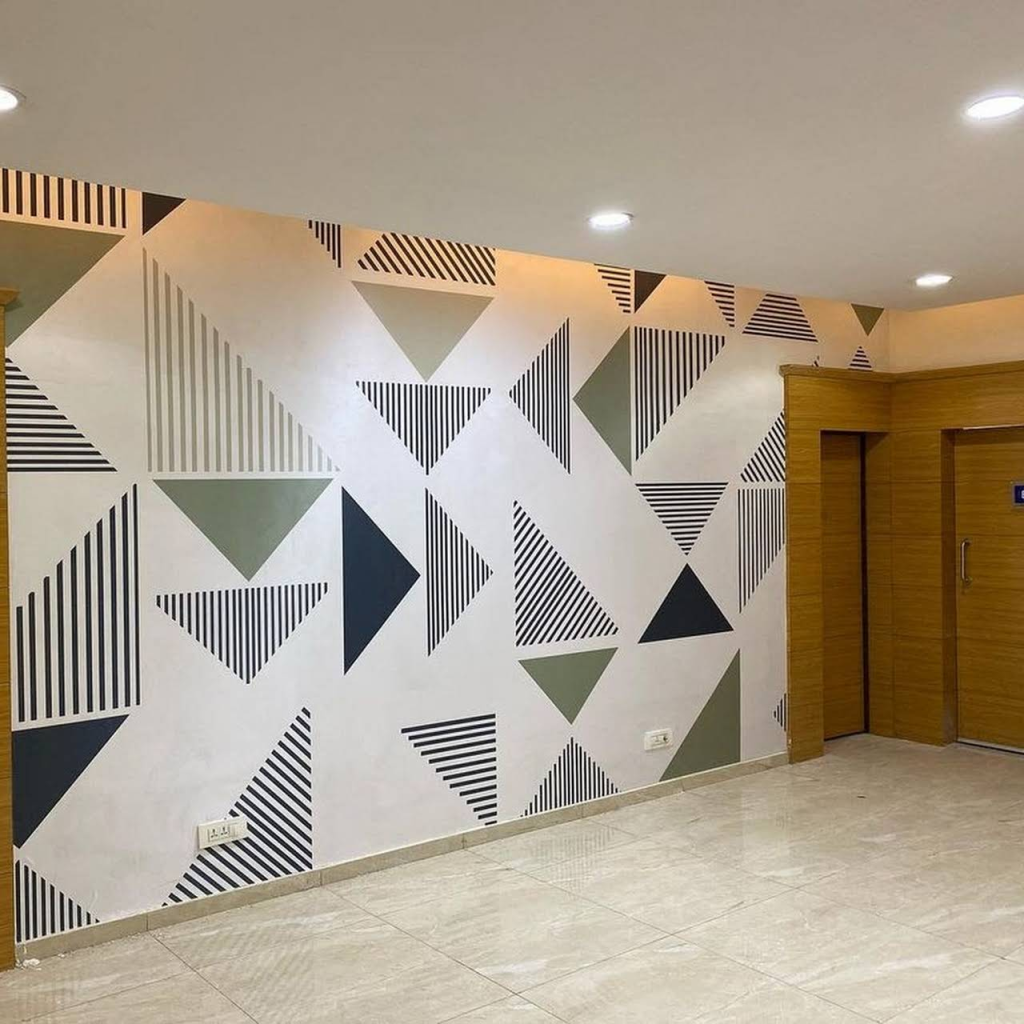 This is because the geometric wallpapers help with meaningful patterns, colors, and image placement.
Without geometry, interior decorators couldn't do their job very well.
Wall Interior decoration is a job where the decorator places and arranges images, colors, and texture in a professional manner where it looks best.
They are in charge of coordinating what looks best and where.
When so doing, we consider the shape and size of a layout.
At the same time, we consider the other articles that the space will be occupied and decorated with.
Geometric wallpapers, the science of shapes on the wall, play a very basic role in planning interiors.
While most rooms are shaped as rectangles, the width and height of the enclosure do decide the accessories and their dimensions.
For instance, Geometric Wallpapers can make a low ceiling look and feel high.
The overall atmosphere in the bedroom, kitchen, living room, or nursery largely depends on the decoration of the walls.
Geometric wallpapers can become the "highlight" of the design, making the interior dynamic, original, and modern.
You have scores of interesting options at their disposal, differing in design, size, and other characteristics.
All that remains is to determine your preferences and place an order.
The Rationale of Geometric Wallpapers
The beauty of geometric shapes and patterns is they can have so many different effects on the overall room.
If you want all-out drama to come from the walls, then a bold, graphic wallpaper is the perfect thing.
Over-scaled patterns are great choices with lots of impact.
Specific geometrical patterns can also influence the feel. Vertical stripes or architectural elements like columns can actually give a room with low ceilings a sense of height.
What if you have a room with strange angles? Choose a small pattern over a distinct pattern.
Because the latter will get distorted with the irregular lines of the room.
Original wallpaper with a geometric pattern for walls effectively sets the rhythm of the interior and makes it more dynamic. 
Such coatings allow you to influence the perception of space, beneficially expand or narrow it, and mask imperfections and uneven surfaces.
Squares, circles, rectangles, ovals, triangles, pentagons, hexagons, octagons, diamonds, and stars are commonly used shapes in both complex and simple geometric pattern designs.
However, a wide variety of shapes and designs can potentially be used.
As long as the elements can be repeated in some way (even if that repetition is irregular or not immediately obvious.
Geometric wallpapers are a modern trend
Instead of boring plain walls, you can choose interesting wallpaper with a geometric pattern.
Which will help create a unique interior and will be suitable for people with an active lifestyle.
Diamonds, stripes, squares, zigzags, herringbones, small circles, and other elements can transform a room.
But it is important to combine colors correctly so that your eyes don't get tired.
The geometry with intersecting stripes looks original, creating the illusion of continuous space.
In the store catalog, you can choose models in different variations and styles.
How to choose geometric wallpapers for any interior design style
Geometric shapes are appropriate in the interior design of any style.
The main thing is to choose the right combination of colors and shapes.
A characteristic feature of geometry wallpaper is that it allows you to reduce, enlarge, and visually "stretch" the space.
While hiding the existing shortcomings of the room.
If you want to use wallpaper with geometric shapes in the design of your kitchen, living room, or other room, follow these simple rules:
Companions
Firstly, do not allow complex patterns to be adjacent, otherwise, the space will be very heavy.
Color selection
Secondly, consider color combinations and how would you feel in a room with turquoise hexagon wallpaper if there was only an accent wall.
What if the whole room?
General interior
Thirdly, choose pieces of furniture and decorative elements that are less aggressive in appearance.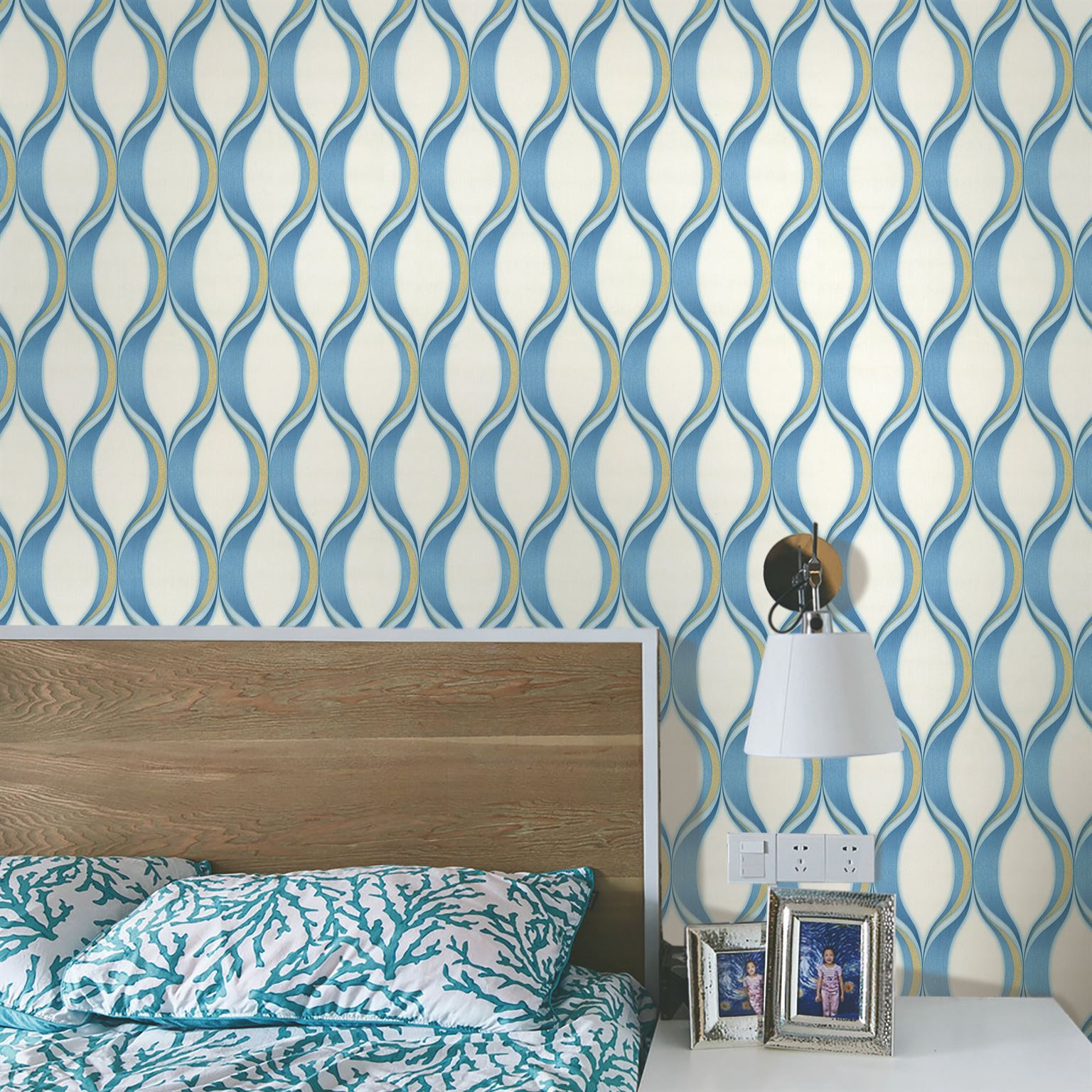 It is better to give preference to laconic finishing touches.
With an accent in the interior
Making an accent wall in the interior with geometric wallpaper is very beautiful, stylish, and much cheaper than buying some piece of art.
Of course, ideally, there is both an art object and an accent on the wall. But even if there is one thing, the interior will not become dull, but interesting.
If the wallpaper is scary, then we will make curtains for you.
Great variety of geometric designs
stripes (horizontal, vertical, diagonal),
waves, zigzags, jerky geometric shapes,
rectangles, diamonds, and squares arranged in different relationships to each other (for example, tartan),
circles of different sizes and shapes (for example – polka dot wallpaper),
a geometric ornament located chaotically and consisting of several shapes.
The emphasis in this design will be on the simplicity of forms, as well as on the abundance of shades used.
We are ready to share with you the intricacies of using wallpaper with geometric patterns in the interior.
Features of geometric wallpapers
Geometry wallpaper has won the loyalty of consumers for a reason. In rooms with different designs, shapes, and layouts, they can create the most unusual effects.
Let's look at their capabilities:
Wallpaper depicting straight lines or stripes is most often used to change the parameters of a room.
Vertical lines allow you to raise the ceiling level, creating the effect of additional free space.
The horizontal direction of such elements contributes to the visual expansion of the walls.
And this effect is especially relevant in narrow kitchens or corridors.
Circles, squares, diamonds, and large geometric patterns
All the above create accents on the walls.
That is why they are most often used in the design of residential premises, where it is necessary to highlight the main area.
In addition to this effect, large figures contribute to the visual approximation of the walls and reduce the space;
Small geometric pattern
Wallpaper with a small geometric pattern has the exact opposite effect. Because it makes the room wider and more spacious.
Often, prints of these sizes are used to reflect country-style design features;
Bright circles wallpapers
Coverings with scenes in the form of bright circles help emphasize the dynamism of the interior.
Polka dot wallpaper symbolizes cheerfulness and optimism.
Large circles around the entire perimeter of the room help create a mysterious atmosphere and promote concentration.
Squares and rectangles
Restraint and simplicity are represented in squares and rectangles wallpapers; they will not emphasize dynamism in the interior.
But will help you concentrate, relax, and unwind. Thanks to the orderliness of such motifs. The effect of a calm interior is created, which is not disturbed even when using bright accessories.
Such motifs look best in modern designs.
Waves and zigzags
Wallpaper in the form of waves and zigzags can provide effects similar to straight lines. But is most often used exclusively to create a bright and creative environment
Cage wallpaper
The cage is an excellent option for antique interiors and rooms in the English style.
Thanks to the embodiment of checkered motifs in a variety of shades, you can emphasize the calmness, brightness, and unusualness of the design;
Diamonds
It is advisable to use diamonds in spacious rooms.
The key role of such motifs in space is to create an energetic, cheerful, and bright environment.
Placing geometric wallpapers on the wall
Various geometric wallpaper figures in the rooms are capable of performing unusual functions, namely:
vertical straight lines visually raise the ceiling level, horizontal lines expand the walls;
Large-format ornaments (circles, squares, diamonds, etc.) are used to create accents and narrow the space;
Geometric wallpaper for walls with small figures visually increases the area of ​​​​the room.
In addition to the actual parameters of the room, the relevance of the geometry is determined by the chosen interior style and the purpose of the space.
In the recreation area, calm tones and ornaments should prevail. But in the kitchen or living room, dynamic figures in bright colors are acceptable.
Living room: current trends in geometric format
A characteristic feature of geometric wallpapers on the wall can be considered their ability to fit into both modern and antique living room interiors.
In modern designs (such as modern or minimalism), wallpaper with circles and polka dots is appropriate.
In addition, small circles on the walls symbolize the simplicity and sophistication of classical and provincial styles, and will also harmoniously fit into a country-style interior.
Another good option for a modern living room is squares and diamonds. When placed correctly, such figures elongate the room and make it feel freer and more spacious.
Accents of bright colors in such prints allow you to highlight the main zone in the interior: as a rule, the area with the TV is chosen for these purposes, as well as the area near the window.
Classic, Provence, and country style
If your living room is decorated in an old style (classic, Provence, country), less strict forms are allowed: waves, circles, and vertical and horizontal lines.
With the help of each of these motifs, you can emphasize the charm of the style.
For example, stripes will symbolize a discreet and luxurious classic theme, and simple circles, which are depicted on wallpaper without following a specific trajectory, will symbolize provincial design.
Geometry on the kitchen walls
When decorating a kitchen interior, it is better to give preference to geometric wallpaper that can emphasize a cozy home environment.
For example, in kitchens decorated in the country or Provence style, you can stick light-checked wallpaper or coverings with circles and squares in bright and warm shades.
If your kitchen reflects classic design features, look for wallpaper with custom geometric or diamond patterns.
Such wallpaper will look more impressive in neutral colors: blue, green, grey, white, or brown.
It is advisable to hang curtains for such wallpaper in a single color: since the kitchen is not always large, patterned textured fabrics will make the window area rough and less expressive.
Against the background of similar wallpaper, you will not be able to create the desired contrast, and the windows will blend with the background wall.
Bedroom in geometric wallpaper style
The most suitable wallpaper for the bedroom will be a wallpaper with thin lines, restrained geometric motifs, and small prints.
For example, wallpaper with squares or triangles will balance the design: using such coverings as a background, you can emphasize a calm atmosphere, and if you choose bright patterns with squares to decorate the bedside area, you will create a sophisticated accent.
Orderly motifs that do not interfere with relaxation and create a harmonious atmosphere in the bedroom interior include rhombuses.
But, since such prints are most often large in size, give preference to light or neutral shades: blue, greenish, gray, turquoise, beige, yellow, and others.
A checkered pattern looks quite interesting and impressive in a bedroom: such a pattern not only has a calming effect but also allows you to refresh the atmosphere and keeps it new and relevant for a long time.
Benefits of geometric wallpaper patterns
The geometric pattern will look harmonious in the bedroom, kitchen, hallway, or children's room.
Lines and stripes are classics of the genre and can change the dimensions of a room: vertical ones elongate the height, and horizontal ones expand narrow spaces.
Zigzags will help create a creative environment.
The buyer receives the following benefits:
the ability to disguise surface imperfections;
Diagonal lines can add dynamics and movement to space;
unusual visual effects that will help change the size of the room;
Wallpaper with geometric patterns can be used in different styles.
For canvases with large and complex patterns, you need to properly glue the wallpaper end to end so as not to lose the design.
For small rooms, you should not take canvases with large patterns. Surfaces with fine texture or smooth ones will look better.
The theme of the ornament should correspond to the interior style. In the online store, you can order paper, textiles, vinyl, non-woven, and photo wallpapers with different geometries.
We guarantee the high quality of our products, their durability, and practicality.
Our 3D geometric pattern wallpaper intricate designs work so well to draw in the eye of your guests. 3D geometry gives you amazing emotions. The effect of a three-dimensional geometric drawing will be able to bring all your fantasies into reality, relax, or tone down the body. Mesmerizing 3d geometric patterns help relieve fatigue, and […]

View products

Quick View

Quick View