3d bedroom wallpaper has recently taken on a leading role in bedroom walls decoration.
And it is eating more and more ground from painting when it comes to dressing bedroom walls. An option that allows you to give a new air to any bedroom in a simple, very original way. And you achieve simply spectacular results that adapt to all tastes.
Broadly speaking, there are 3 types of 3d bedroom wallpaper. And these are:
The regular, traditional 3d wallpaper
The bedroom wallpaper design you pick will entirely depend on your style and tastes. Our collection of 3d bedroom wallpaper is to help you relax, unwind, and rest. After all, bedroom interior decoration aims to create a serene mood that you desire.
Therefore, the better decorated and designed your bedroom is, the more you will enjoy every moment you spend there. We show you a large number of photos and ideas for decorating bedrooms in 3d wallpaper. And some of the most important trends for 2022.
Modern 3d foam bedroom wallpaper
I find the self-adhesive soundproof 3d foam one of the best 3d wallpaper for the bedroom. Both for its aesthetics and functionality. Because, Unfortunately, modern apartments in Nairobi have a low level of sound insulation. That is why the private life of individuals becomes public.
Loud music, fighting and yelling, construction work, even footsteps from the floor above – all can disrupt your life. And make it impossible to relax and unwind, and have a good night's sleep.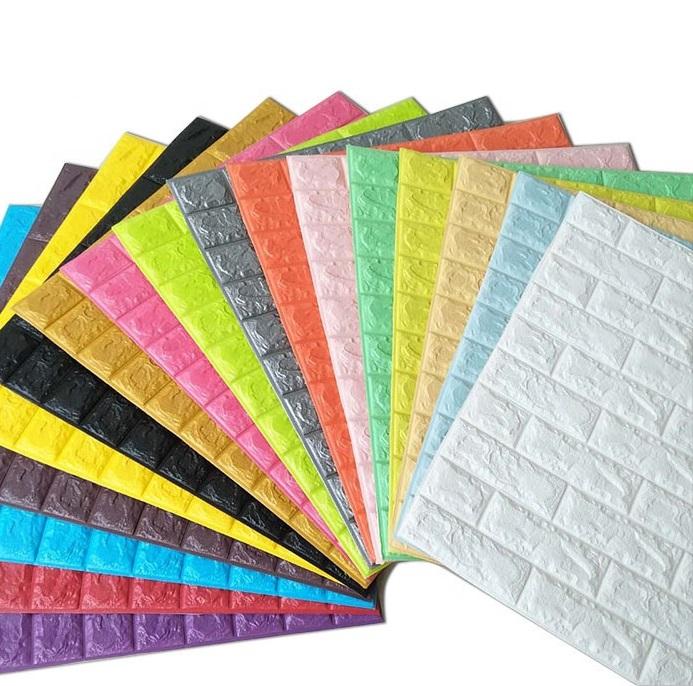 You can get rid of some of this noise with 3d soundproof bedroom foam wallpaper. Note that it has three complete functions. And these are soundproofing, sound absorption, and aesthetics.
Soundproofing will help protect you from the outside world and noisy neighbors. And sound absorption will keep everything that happens in your apartment inside your apartment. At the same time, the 3d wallpaper has the elements of interior decoration. 
This effect can be achieved using various materials. Advances in technology mean you no longer have to sacrifice valuable square footage and downsize your apartment to improve soundproofing. And you don't need carpet on all the walls, either.
3d foam wallpaper for children's bedroom
There is suitable 3d wallpaper for children's bedrooms in all the three aforementioned categories. But here I want to emphasize the DIY 3d foam wallpaper for its functional child-friendliness. And they come in different designs and patterns but mostly bricks of different colors. 
The 3d brick XPE foam wallpaper for children's bedroom décor is a self-adhesive wall sticker of the following description. And it comes in size  70 cm by 77 cm panels for KS 550.
You will find it attractive for your child's room because it is a three-dimensional soft foam decoration, for beauty and children of anti-collision. And also because you can easily install it yourself and thus save money.
Ideas for 3d bedroom wallpaper designs
From our online Shutterstock library, you will find thousands of  3d bedroom wallpaper designs.
But it is unto you to choose the one that best matches your room and the one that best suits your style. While the Shutterstock library is unlimited, the designs are for wallpaper customization only.
The library has designs suitable for any type of room. And so you can discover products for both your children and your room. You will also discover a wide range of wallpaper for women's bedrooms in this library.
The raw material and the designs Wallpaper Kenya uses for 3dwallpaper for bedrooms are excellent. And, where necessary, we use a matte finish to avoid light reflections. Therefore you can enjoy your incredible design without any hassles.
Master bedroom
There are special considerations to be for 3d Master Bedroom Wallpaper. Because the master bedroom is recognized as the main bedroom in the house. It's where the parents or the owner of the household typically sleep.
The master bedroom is the largest in the house and often has a master bathroom. The master bathroom typically has a bathtub, shower, vanity sink as well as a large mirror. And these are wet areas and therefore require waterproof wallpaper.
For the master bathroom walls, you have the 3d foam wallpaper as the most practical because they are resistant to humidity. You also have contact paper, which even though it is not of 3d design is waterproof.
KSh

2,000.00

The 070505 3D bedroom wallpaper design is suitable for bedroom headboard walls as well as for other walls and rooms. Because a bedroom is a personal getaway, a sanctuary, that expresses your favorite colors and feelings, bedroom wallpaper could be masculine or feminine. And it could be boy's or girlish, floral, plain, geometrical, damask, or […]

Add to cart

Quick View

Quick View

The need for custom bedroom wallpaper murals No doubt the best bedroom wallpaper murals are custom-made. Because sleep is not the only function that a modern bedroom should provide. You read in it, watch movies, enjoy food, and even work. The times when the bed served only for sleeping are long gone. And the functionality […]

View products

Quick View

Quick View

The couple's wall art is not ready-made, you should provide the artwork as personalized wall art for couples. After all, it is your bedroom. And we may not know your personal preferences for a romantic mural. However, if you like you can use any of the images on this page. Or you can use the […]

Read more

Quick View

Quick View