Description
The 09 kitchen wallpaper be so classified according to the design on it. There are two ways you may classify kitchen wallpaper. One way is according to the design on the wallpaper and the other way is according to the material and functionality.
And I will hasten to tell you that the best kitchen wallpaper, according to functionality, you will ever find is self-adhesive contact paper. It is becoming increasingly important to decorate your kitchen as it plays a leading role in the house. And you can do so using ordinary wallpaper such as the 09 kitchen wallpaper, contact paper, or custom-made wallpaper. 
Our modern kitchens have become the flagship and hub of the house. It is now not just the place you cook in, but you also dine in the modern kitchen. As well as you having coffee in the kitchen in the morning, you also have long Saturday talks with a glass of wine. Or creativity sessions in which to experiment with new recipes and dishes that become expressions of affection. Therefore make this space a place to enjoy the little pleasures of life elegant contact paper kitchen wallpaper. 
Because it is essential to design the kitchen in a way to makes you feel comfortable. And then you can prepare the recipes that you like the most in a comfortable and relaxed way.
For this reason, kitchen wallpaper is an ingredient that cannot be missing in the decoration of your home.
Moisture, Grime & Cooking Odors Concern with Kitchen Wallpaper
There are moisture, grime, and cooking odors concerns when hanging wallpaper in your kitchen. While you're trying frying eggs and bacon in a pan, grease is splattering all over the walls and everywhere. Over time, grease splatters build-up and leave a residue over all your kitchen surfaces. Ordinary wallpaper such as the 09 Kitchen Wallpaper cannot withstand this. The solution that makes cleanup as easy as wiping, washing, rinsing, and done is marble contact paper.
Unlike ordinary wallpaper that is textured and will collect grime and absorb cooking odors, contact paper is smooth. Few other materials withstand behind cooking areas possibility of stains from cooking spatters and other damage. Moisture around sinks can not cause contact paper to come loose like it would with ordinary wallpaper.
When kitchen wallpaper is installed correctly, you can look forward to many years of easy-to-clean, good-looking walls.
Marble Contact Paper Kitchen Counter-tops
Replace timeworn ordinary 09 kitchen wallpaper or bathroom tiles with peel-and-stick marble contact paper. Marble contact paper is so versatile it will even work on kitchen countertops.  These lightweight, self-adhesive kitchen wallpaper need no tile cutters or messy grout. And they stick to drywall or existing tile. Marble contact paper comes in a variety of colors, patterns, and sheen. They're perfect for anything from a multicolored mosaic kitchen back-splash to a black-and-white kitchen sink surround.
You will use marble kitchen paper in a multitude of ways. One transforms your coffee table using stylish marble contact paper and your whole living room will look different. That way you make it elegant, chic, and refined.
Use marble kitchen wallpaper or any other contact paper on kitchen walls. Whether or not there's a lot of kitchen wall space, you'll want your walls to attract. When decorating you'll be pleasantly surprised at how much of an improvement new marble kitchen wallpaper will make.
Coordinate your kitchen wallpaper color with your kitchen cabinets. Or, if you are not replacing your kitchen cabinets, consider cladding them with matching contact paper.
Color schemes for kitchen wallpaper
Get better color schemes and decorative patterns from kitchen wallpaper than paint. Interior designers use kitchen wall-coverings for dimension, warmth, and eye appeal. With it, you have surprisingly easy wall care.
Our, kitchen wallpaper is as beautiful and subtle as traditional wallpapers for other rooms. But they're not just washable, they're scrub-able.
Kitchen Wallpaper must be easily wipe-able. Of course, all Vinyl wallpapers can be used as kitchen wallpaper. There is no difference in texture between vinyl kitchen wallpaper and other Vinyl washable wallpapers. Perhaps the most important thing in selecting Vinyl Kitchen wallpaper is the wallpaper design.
Questions on Kitchen Wallpaper
I will answer some of the frequently asked questions on Kitchen wallpaper. What does kitchen wallpaper look like? Is contact paper waterproof? Does it leave any sticky residue when you remove it? Does marble kitchen wallpaper look like granite?
Kitchen wallpaper, smooth on one side and sticky on the other, is loved for its practical purposes like lining drawers and shelves. But the material's popularity has brought about an incredible range of patterns offered. These include very realistic faux-marble and bold colors in a super high-gloss finish. Plus plaids and polka dots and all that—the kind of patterns that inspire home makeovers.
Note that you can kitchen wallpaper. It's sticky enough to stay put for a good long time and then will peel right off when you're ready for it too. There's also a whole world of "temporary wallpaper," which is extra-thick contact paper in designer patterns. So the options certainly abound to beautify your house. No need to worry about what your landlord might say if he or she sees it.
Vinyl contact wallpaper for kitchens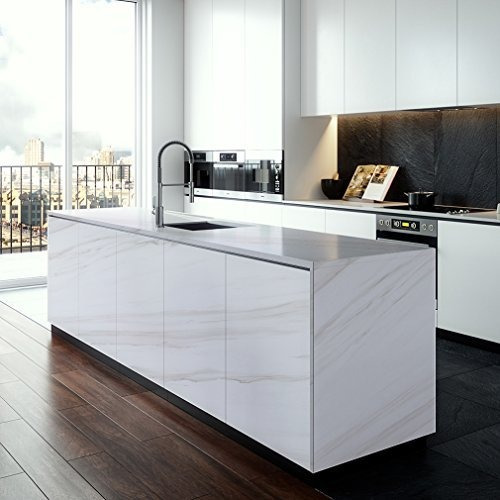 Vinyl kitchen wallpaper is an ideal element to transform this unique space. And to give your kitchen an attractive and personal touch. As well as being contact kitchen wallpaper being resistant and easy to wash it is also scrub-able and heat resistant.
About style and design, vinyl kitchen paper adapts to multiple styles. For instance, classic kitchen décor, modern or retro, offers a wide variety of possibilities.
Make custom kitchen wallpaper from photos
Wallpaper Kenya has extensive experience in both digital printing and the design to custom make your kitchen wallpaper. and placement of wallpaper. In our workshop, we produce all kinds of digital printing jobs in large formats, on silk fabric.
We offer endless ideas so that you succeed by making original and unique kitchen or other custom wallpaper designs.
By installing an appropriate kitchen wallpaper design you can give a different kitchen without having to change the furniture.