Description
3d brick wall stickers are your perfect choice to change the decoration of an office or give your house a very personal change without wasting time. And in so doing, hide a crack in the wall, a stain, or any other defects. When you get bored of them, you can easily remove them.
The waterproof and self-adhesive 3d foam brick wall sticks adhere best to smooth walls. And if you have an old stubborn to remove wallpaper, peel and stick the sticker over it. Being 100% waterproof, it is the perfect decorative vinyl to place in your kitchens and bathrooms. Because the wallpaper sticker is made with a material that supports humidity and makes it impossible for them to fall off.
There are also 3d tactile brick wallpaper designs with cartons ideal to install in your children's room.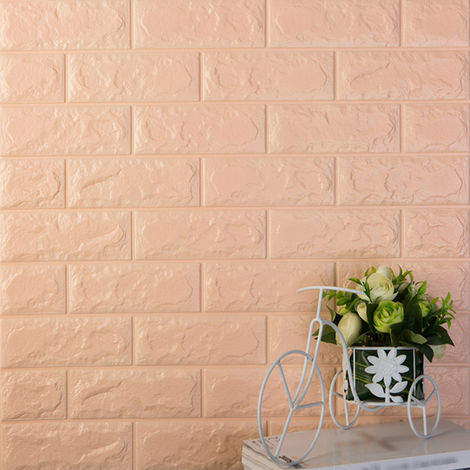 One of the most significant advantages is that you will be able to choose between many colors and different styles. The children's style ones are the favorites.
They are very phenomenal and, when your children grow up, you easily peel off the stickers and replace them with others.
3d brick wall stickers versus regular wallpaper
One major difference between the 3d brick wall stickers and regular wallpaper is shaped. The world around us is full of shapes. While some shapes exist only on flat surfaces, others exist everywhere else. These shapes are classified as either 2D or 3D.
Regular brick wallpaper is 2D. 2D refers to the term "two-dimensional." And 3D refers to the term "three-dimensional." And because of this, the stickers are thick and more expensive.
While regular brick wallpaper comes in standard size rolls of 53cm by 10m, the stickers come in panels usually 70cm by 77cm.
Regular brick wallpaper (2D shape) is a figure that has only length and height as its dimensions. Because regular brick wallpaper shapes lie on a flat paper surface. Such images are also known as plane figures or plane shapes. While they have areas, 2D shapes have no volume.
Apart from length and height, a 3D brick wallpaper sticker also has width or depth as its third dimension. You can compare regular wallpaper (2D) with a circle, triangle, square, or rectangle, as some of the most common examples of 2D shapes.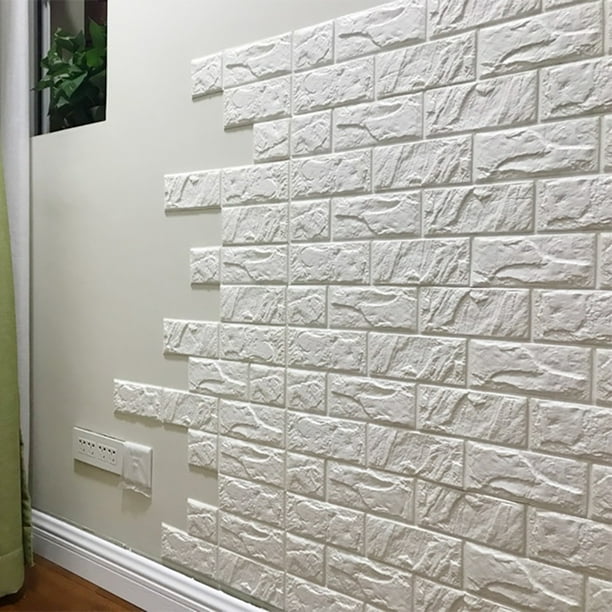 Cylinders, pyramids, cubes, and prisms are some of the most common examples of 3D shapes. Then you can compare 3d foam brick walls stickers with a cylinder, pyramid, cube, or prism, as some of the most common examples of 3D shapes.
3d PE foam brick wall stickers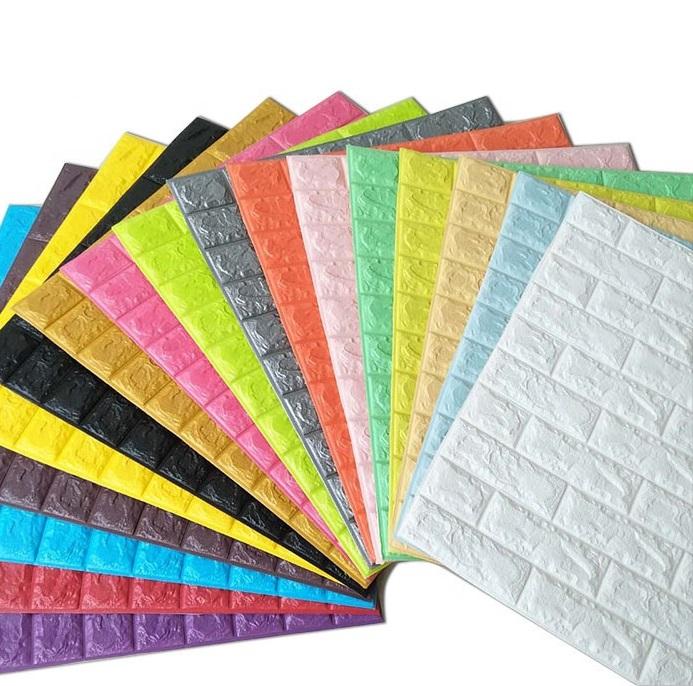 The 3d brick wall stickers made from self-adhesive PE foam are one of the best alternatives to enrich the image of a wall. And their design, textures, formats, and colors, have become a decorative element to shape any space.
Decorating or redesigning a space, with 3d peel and stick brick wallpaper, will achieve a unique and original style that is not only striking. The 3d tactile brick texture allows you to combine much broader designs, colors, and patterns than regular wallpaper allow.
Because it is made of PE foam, the self-adhesive sticker can be better anti-aging, insect-proof, non-toxic, and pollution-free. And for the same reason, the surface of the 3d foam wallpaper is easy to clean. Thus becoming a home improvement trend.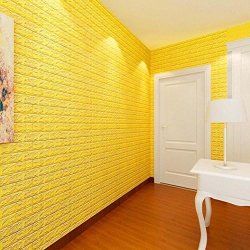 The 3d brick wall stickers are for you to give your home a completely renovated air spending little and with little effort. Because you can do it yourself easily peeling and sticking the wallpaper without the help of a professional. And therefore these stickers are an economical, comfortable and original option.
There are many benefits you will accrue by installing PE foam 3d brick wall stickers:
They are biodegradable, fire retardant, quick, and easy to install. And for cleaning you require only a damp cloth or duster.
You will transform interior spaces with a spectacular and dramatic touch.
Add an important property of 3d wall panels made from environmentally friendly materials that do not release hazardous substances. Therefore, this wall finishing method is safe for any installation.
They are easy to care for, as the wall panels are easy to clean and are resistant to household chemicals.
You can install them on kitchen walls as they are highly resistant to moisture and are environmentally friendly materials.
The use of decorative PVC panels contributes to the implementation of the most daring ideas in the design of any room and gives it a unique interior.
They help to hide various defects in the walls and ceiling. You can hide electrical wiring and pipes from the eyes
DIY self-adhesive 3d brick wall stickers
But you have to know how to do it yourself (DIY) to take advantage of the 3d brick wall stickers.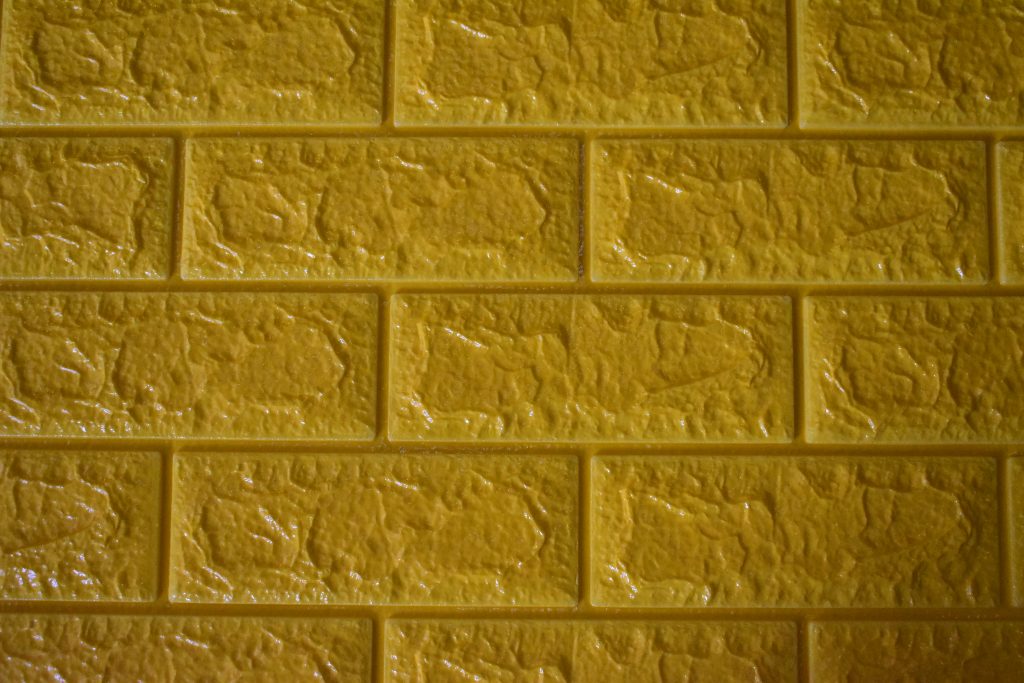 The 3d soft foam with which they are made is flexible vinyl. And so you can place them on all types of surfaces and walls. From bedrooms, the living room – dining room, kitchen, bathroom… etc. But please note that the wall sticker adheres better to hard and smooth surfaces.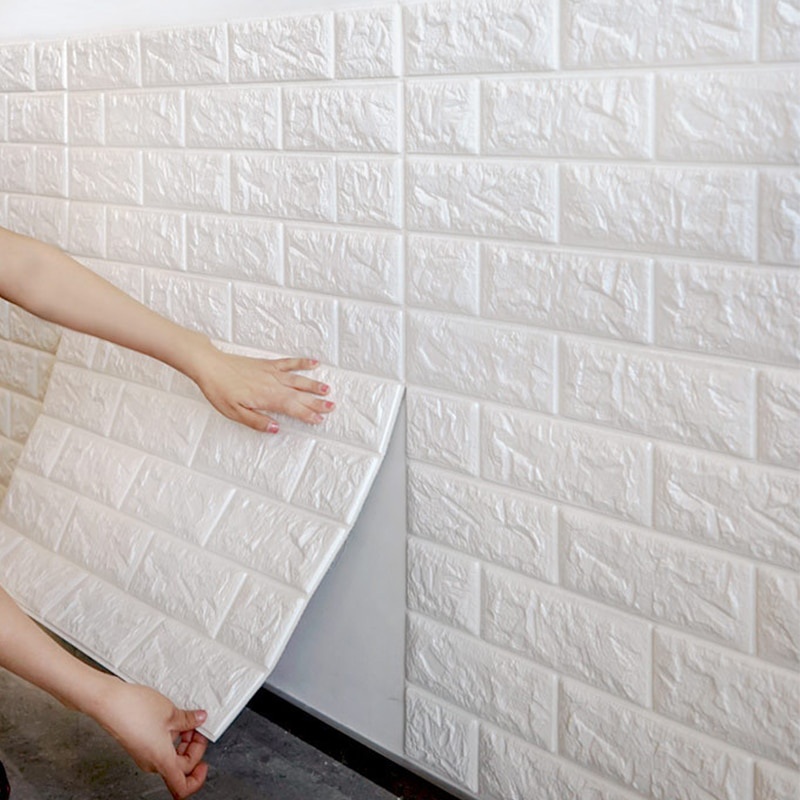 You can even peel and stick the wallpaper on top of another wallpaper, as long as it does not have a rough structure. Also, again bear in mind that the smoother the surface, the better the result. And also make sure that the bonding surface is completely free of dust.
You can paste the 3d brick patterns as a mural on the walls, and anywhere else that the imagination can reach. But avoid sticking them on rough surfaces, because they might not hold. At any time, if you can not stick or remove the sticker on or from the desired surface, use a little heat using a hairdryer. 
You can easily cut with scissors and design your creative wall, creating more vitality with a beautiful DIY design. Compared with regular wallpaper, it has a better noise reduction effect.
The universally applicable 3d brick wall sticker emphasizes your walls in the bedroom, living room, dining room, and kitchen.
Waterproof Peel and stick 3d brick wallpaper
The waterproof 3d foam brick wall stickers are most suitable for kitchens and bathrooms.
The stickers come in many different bricks and other representations designed for the kitchen for you who want to customize your kitchen.
Avoid using regular wallpaper on damp walls or in wet areas like kitchens and bathrooms. Because sustained exposure to moisture may cause the wallpaper to peel off. But make use of the waterproof 3d foam and self-adhesive contact paper.
The 3d foam brick wall stickers are made of vinyl. And are therefore very strong and durable, printed with a quality superior to other materials. So for your kitchen walls, choose this most suitable adhesive to give them a nice extra touch of style.
The special thing about today's ranking comes from the fact that you will only get kitchen wall stickers for people who like to style their walls. We certainly do not have to dwell on it. The quality of the stickers for kitchen walls is a decisive aspect.
Our experience will help you to spot the best 2020 trends, thus tracing to satisfy your demands.
Child-friendly Anti-collision foam 3d brick wall sticker
All PE decorative soft foam 3d brick wall stickers are waterproof, anti-collision for children, and care for your family safe. If your child accidentally hits the wall, the sticker absorbs the shock.
PE foam absorbs shock and compresses at a slower rate to prevent your children from hurting by banging the wall. This material allows you to decorate foam in children's rooms while at the same time protecting them.
When this material is compressed and then released, it returns to its original form. So, you may want to consider using PE foam due to its durability and superior resiliency.
We present some collections of wallpaper in the tactile three dimensions, to create a pleasant atmosphere and be at the forefront.
The brick design that you use for decoration can have old or rustic air. This type of decorative 3d foam brick wallpaper is distinguished by its texture.
But there are some specifically designed also with child-friendly cartoons and colors. Even then take care to only use these cartoons for the very youngest, otherwise, they will soon outgrow them.
Apply to any clean, dry, smooth surface such as wood boards, glass, ceramic tile, etc. Perfect to decorate any place, such as bedroom, living room, kitchen, balcony, etc. Made of XPE self-adhesive removable foam, they are non-toxic, eco-friendly, and odorless.
Peel and stick easily and cut according to your needs.
Acoustic effects of 3d foam wallpaper
The thick design of 3d brick wall stickers is not only safer but also has a good sound and noise reduction effect. Because of the raw material, Polyurethane foam that makes it is an excellent solution for absorbing noise and soundproofing walls. 
Why is that, exactly? It's because the foam absorbs sounds. And by so doing, the sticker gives you the noise reduction qualities you want. These heaven-sent pieces absorb sound so any noise you generate inside stays inside, while external noise stays outside.
You must understand that the foam absorbs sound instead of blocking it. Air movement, also known as molecular velocity, is what typical insulators and absorbers use to reduce sound. This process consists of the movement of air through the sound-absorbing material that processes heat and essentially absorbs noise. The sound amplitude decreases and weakens the noise reflection and causes a muffled sound effect in the sound reduction process.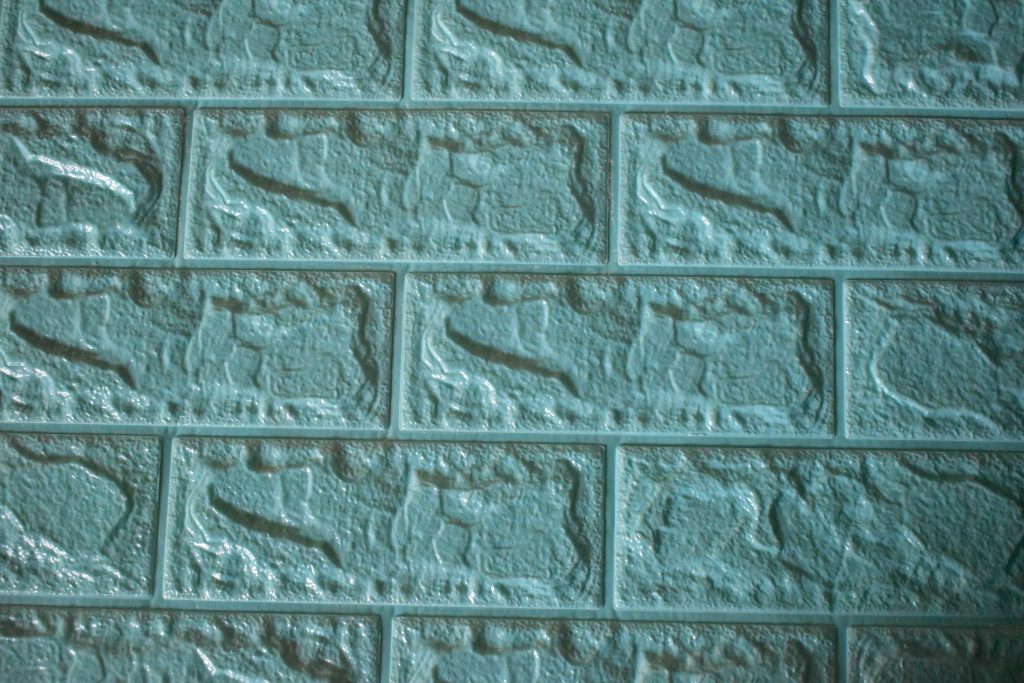 What you then experience is less unwanted noise within a space, leading to more comfortable acoustics. And all thanks to the foam's ability to absorb sound and convert it into heat.