Description
The 3D effect is the main advantage of 3D wallpaper.
In an attempt to surprise and captivate customers, interior designers promptly take into account the trends of modern design fashion.
And offer new products that quickly become popular.
Wallpaper Kenya offers iconic 3D effect wallpapers.
And these can transform the space of a room, filling it with freshness, bright colors, and the smells of nature.
Thanks to the three-dimensional effect, geometric shapes, lines, and thematic images seem to come to life, increasing in volume.
And expand the boundaries of the room.
Wallpaper Kenya's range of product lines allows you to choose the ideal option for any design project.
Original 3D floral-themed wallpaper with a large pattern is appropriate primarily in living rooms and bedrooms.
Small rooms such as a nursery are suitable for small images.
Textured coverings like canvas, brickwork, and geometric abstractions look perfect in an office or hallway.
Custom-made 3D wallpaper for walls always evokes the most positive emotions, lifts your spirits, and adds uniqueness to the interior, regardless of the design.
The aesthetic component is the main advantage of the 3D effect wallpaper, but not the only one.
Features
The main feature of wallpaper with a 3D pattern is exclusivity due to the volumetric realistic image that seems to invade your reality.
This effect is achieved by creating and selecting an image in a computer program by the designer, then high-quality printing of the wallpaper using special equipment.
In addition to the pronounced texture, 3D effect wallpaper attracts buyers with:
multilayer structure with a practical base;
moisture resistance;
the ability to maintain a visual effect throughout the entire period of operation;
wide thematic range;
interesting color solutions.
In addition, you can profitably order 3D wallpaper produced on modern equipment using innovative technologies and undergo strict control at enterprises.
3D effect wallpaper is a relatively new type of wall and ceiling covering that has recently appeared.
This practical, original, and beautiful 3D wallpaper for walls is somewhat reminiscent of photo wallpapers that are more familiar to the eye.
A distinctive feature of this coating is the exceptional realism of the image.
These are practically "living" landscapes, photographs of animals, fish, and planets, and very clear and precise ornaments and patterns.
Transformation of space and realism with 3D effect wallpaper
You may wonder what size rooms it is worth covering with three-dimensional visualization of space.
As experience shows, 3D effect wallpaper for a small room is usually ordered to expand its boundaries.
What could be simpler and cheaper than modeling without interfering with the layout of the room?
On a large area, such wallpaper can be used to zone the space, emphasizing harmoniously selected furniture.
Wallpaper Kenya always has a good assortment of 3D wallpaper artwork available to suit any need.
An individual approach from professional managers will allow you to order wallpaper with a 3D effect that will perfectly decorate your interior.
Durable coloring, high-quality texture, and thematic variety – these advantages of the wallpaper make it in demand at any time of the year.
An excellent service is a guarantee that your order will be quickly processed and delivered.
Order for 3D wallpaper and get a high-quality coating that easily creates the effect of presence.
By purchasing high-quality modern 3D wallpaper for walls you can highlight the house interiors and emphasize the individuality of the apartment design.
The 3D effect has many advantages:
Wallpaper with this effect is a practical finishing material – the coating does not fade in the sun, perfectly resists moisture, and does not require special care.
You can easily wash the wallpaper with a soft sponge and soapy water.
The high-tensile properties of silk fabric wallpaper contribute to its comfortable use.
Principles of selection depending on size
If you want to expand the space of a small room, you need to choose a photo with a perspective effect, rather than a bright large picture.
The choice of pastel colors will reduce the "oppressive" effect, and in interaction with dark shades the effect of space will be created.
It is important to choose a glossy or matte effect.
Otherwise, glare from the window will distort the image.
For large spacious rooms, there are almost no restrictions.
You just need to take into account the style of the room.
And be able to select colors and shades in the interior.
If you want to use zoning in a room, then you should carefully consider how the image matches the location.
Feature of stereoscopic wallpaper
These wallpapers seem to immerse you in another reality.
This type of decor can be used not only for residential premises but also in restaurants and cafes to attract attention.
This type of wallpaper is most often used in small rooms.
If in a small cafe, you decorate just one wall with stereoscopic wallpaper with the effect of extending the room.
This will create the effect of a free, spacious cafe.
On the contrary, 3D wallpaper is selected for a large restaurant, which will create a unique atmosphere of comfort.
It seems that this is not just a photo.
This is reality next to you.
The jungle, the sea coast, or space – all this can be in your living room.
Exclusivity and originality are the main advantages of this choice.
Photo wallpaper with abstraction effects
Versatility is the main advantage of wallpaper with an abstraction effect.
The best option for any type of premises: they will perfectly enliven the living room and hallway, and any workspace will acquire its own style.
Abstraction in the interior will set you up for work and business communication.
A large palette of colors and a wide selection of curves, waves, and shapes will allow you to use wallpaper in any room.
Photo wallpapers are suitable for interiors in art, techno, modern, minimalism, and hi-tech styles.
It is important that the wallpaper gives an unusual zest to the interior, without in any way weighing down the space.
To do this, you need to choose the image and the place where it will sparkle with new colors.
Where exactly will you benefit from the effect?
If you want to buy 3D wallpaper and paste it into a house, cottage, or apartment, it is best to focus on the following recommendations.
Such wallpaper is suitable for any room where you can get the maximum desired effect.
It is rational to buy such coverings for those who have spacious cottages, houses, and apartments with an improved layout.
You can also consider the option of gluing beaded wallpaper.
They will also perfectly decorate your room.
In small rooms, even the most beautiful 3D wallpaper will look like ordinary photo wallpaper without volume or presence.
Let's look at how you can use 3D wallpaper in different conditions. For example – for the living room.
This is the room in which the whole family spends their free time and where guests are usually invited.
3D wallpaper in this room can create a real sensation if placed correctly.
You should not decorate the entire space with three-dimensional images – this can make your eyes dazzle.
It is enough to use 3D wallpaper to highlight just one wall. And you are guaranteed enthusiastic responses from guests about amazing taste.
Photo printing will allow you to obtain a unique finishing material. And the 3D effect, quite rarely used in design, will become an original interior accent.
All together will allow the owner of the apartment to be known as a person with very refined taste.
When choosing wallpaper for the bedroom, you should avoid too active, bright, and flashy designs.
Let it be calm art wallpaper, not with a dynamic, but with a static plot.
These could be landscapes, city views, or paintings illustrating different seasons in nature.
Also suitable here are 3D wallpapers on the wall with abstract illustrations that will expand the space.
Choose the right image
Nowadays, you can order 3D wallpaper for walls with any image, so they are used for interiors of any style.
It is important to choose the right image theme and color scheme.
In the bedroom, wallpaper with calm scenes – sea and sunset landscapes, and finishing in a discreet shade will look good.
But the dining room, spacious and wide, requires images of a different kind. 3D wallpaper with large images of still lifes, fruits, flowers, and dishes can increase your appetite.
You can order positive and bright wallpaper for a child's room. But be sure to take into account the child's color tastes and preferences.
You can also choose 3D wallpaper for the walls in the bathroom – the catalog will offer a wide variety of marine themes.
A living room or office can be decorated with wallpaper with three-dimensional images of hunting, sea, and retro scenes.
You can also decorate with wallpaper with geometric ornaments and patterns.
3D effect wallpaper designs
The 3D effect wallpaper designs are images that are distinguished by wide-format designs.
It's hard to imagine, but their peculiarity is to obtain a three-dimensional effect.
That is, the elements acquire volume and look like a "living" part of the surrounding space.
Undoubtedly, the use of this material expands the boundaries of design solutions. Most often these are geometric or abstract patterns. Others are:
3D wood panel wallpaper:
Our Wood effect wallpapers with wood panel effect, bark effect, and plank effect give a naturally rustic and extremely cozy feel to the bedroom, living room, or any other room at your home.
Whether you're going for an on-trend Scandinavian style or a traditional feel, our selection of wood-effect wallpaper will help you get the look you love.
Floral 3d effect wallpaper:
Being one of the most popular designs, the floral wallpaper group has one of the largest selections.
The most characteristic mood element of a floral wallpaper is romance.
Today, however, designers boldly use geometrically precise minimalist motifs.
Allowing this classical pattern into a more modern interior. The use of color combinations is the most varied for wallpaper with floral patterns.
Patterns range from monochromatic black and white to patterns in all the colors of the rainbow.
Basically, however, it can be said that floral wallpaper favors a vintage and romantic interior.
With flower patterns that come to life in different sizes, we can very easily influence not only the atmosphere but also the sense of the size of a room.
With a smaller-scale pattern, we can increase the sense of space, but at the same time, this type of pattern can easily become lost and characterless in a larger room.
A large-scale floral wallpaper can emphasize the romantic or vintage feel of the room. Nowadays, designers like to combine the flower pattern with the tropical leaf pattern, thereby introducing modernity into our homes.
As we mentioned, the range of color combinations is almost endless.
Nowadays, everything can be found, from deeper shades to a combination of two very restrained colors.
It might be worth mentioning that thanks to the development of technology, the so-called metallic effects also appear on floral wallpaper.
By using such a metallic effect, designers help to create a sense of elegance.
brick 3d effect wallpaper:
Brick effect wallpaper is an imitation of natural brick interior walls. And until you touch it, you can not tell the difference between a natural brick wall and a brick effect wallpaper.
One would be forgiven for thinking a brick effect wallpaper is a real brick wall. But alas, it's a brick-effect wallpaper.
There are several ways you can achieve a brick effect wall. However, the fastest easiest, and most economical way to achieve it is to use wallpaper.
Stone 3d effect wallpaper:
Stone effect wallpaper adds a natural feel to your walls.
Added to a chimney breast or feature wall in the living room, stone wallpaper adds a cottage and rural home feel. Stone wallpaper effect is neutral earth colored adding character and charm.
Creating a warming and calming atmosphere. Wallpaper Kenya has a wide selection of stone wallpaper.
From textured Moroccan stone for a more traditional feel to grey slate stone for a more contemporary take.
3D slate effect wallpaper
brick effect self-adhesive wallpaper
Scope of use of 3D effect wallpaper
3D wallpaper in the interior is used everywhere.
In each room they will be able to take their special place:
Kitchen 3d Effect Wallpaper
A three-dimensional product will be an excellent solution for the work area. Or rather, it will take the place where the apron is located.
Of course, the tabletop and lighting should be chosen based on this unusual approach.
Volumetric 3D wallpaper for the kitchen with flowers, plants, and close-ups of vegetables and fruits is an ideal solution for large spaces. You can safely use bright colors and contrasting shades.
If the room cannot please you with free square meters, pay attention to landscapes and panoramic vistas. Preference should be given to warm pastel colors. If there is little light in the room, pay attention to motifs with a lot of sunlight.
A universal solution is 3D photo wallpaper for the kitchen depicting compositions of geometric shapes, abstractions, and ornaments.
The smaller the space, the lighter the color scheme. Although a small image can be chosen in contrasting and rich colors even with modest room dimensions.
When choosing 3D photo wallpaper for the kitchen, pay attention not only to the plot but also to the texture of the canvas itself.
An unusual effect is achieved by using textures that imitate the folds of natural canvas, silk, or velvet. Fabrics that create optical illusions are a popular choice.
Dining room 3 wallpaper
Often it is combined with the kitchen. Placing such photo wallpaper next to the dining table will create the effect of presence.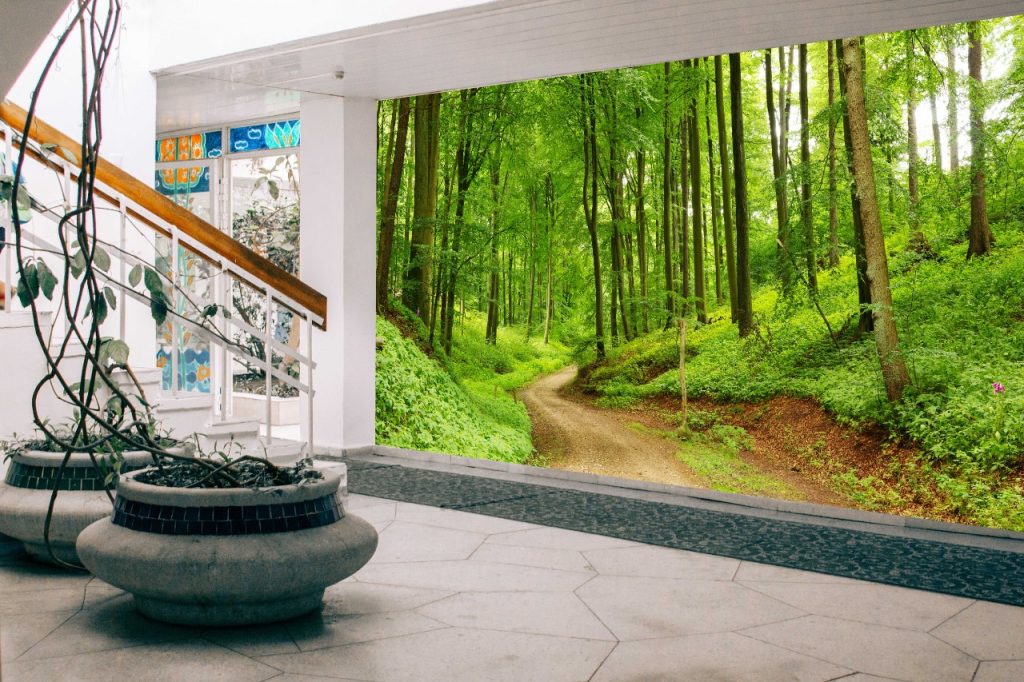 That is, food can be taken literally in another place.
Hallway 3d wallpaper
It all depends on its size. Volumetric options are suitable for large rooms.
And with a simple graphic design – for objects with limited space, creating a visual increase.
Bedroom 3d wallpaper
It will be perfectly decorated with calm motifs that are reminiscent of walks in nature or the starry sky.
Living room 3D wallpaper
3D wallpapers are suitable for any living room.
To make the room beautiful, pay attention to the color scheme.
For a small and darkened room, a light and deep abstraction is suitable, but the drawing should not be too large.
For a large and bright living room, you can experiment. Any large or small abstractions, single drawings, light or dark backgrounds – everything is suitable.