Description
What 3d wallpaper for home does to walls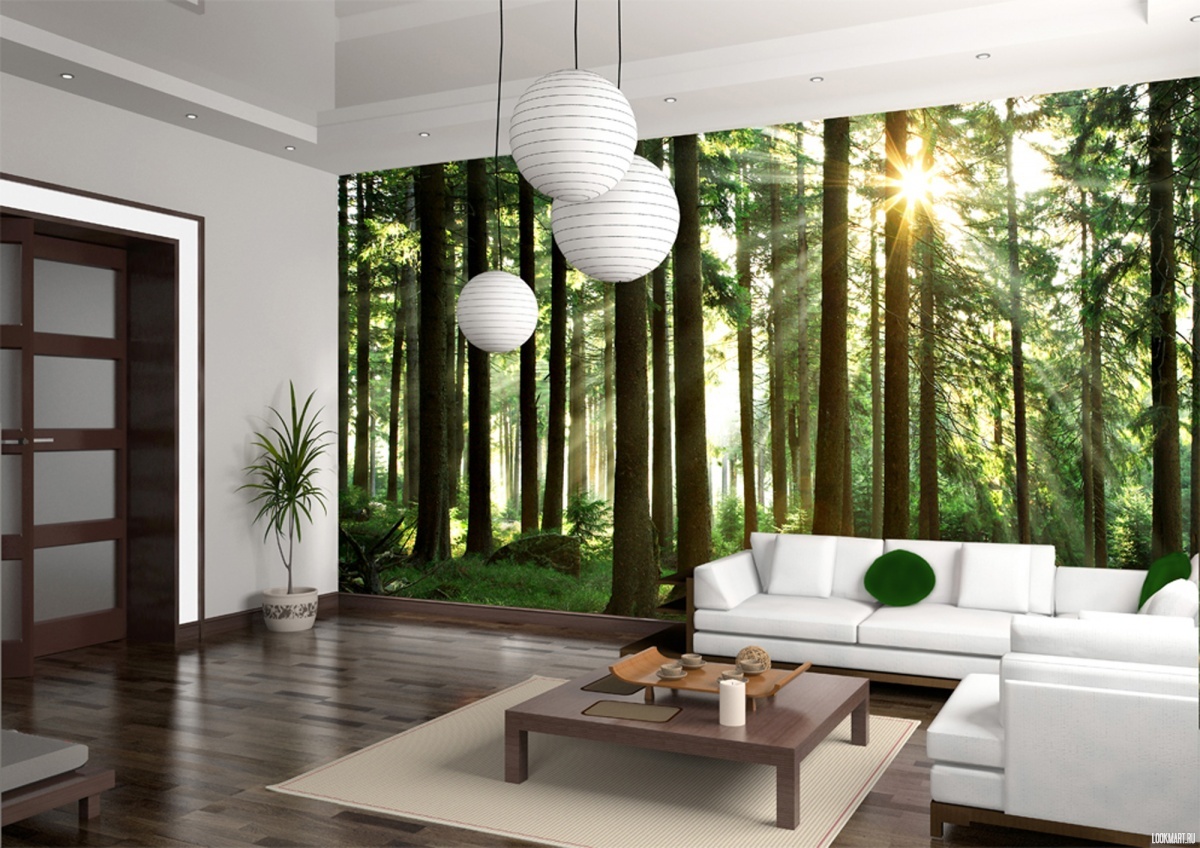 3d wallpaper for home is the most suitable wallpaper for home because they make a two-dimensional wall surface appear to be three-dimensional.
And also appear so true to life that one could reach out to touch it on your wall.
For instance, use 3d wallpaper on the living room TV wall to make it look padded.
That is why the most commonly used wallpaper for home decoration is 3d wallpaper.
Particularly 3d brick effect wallpaper.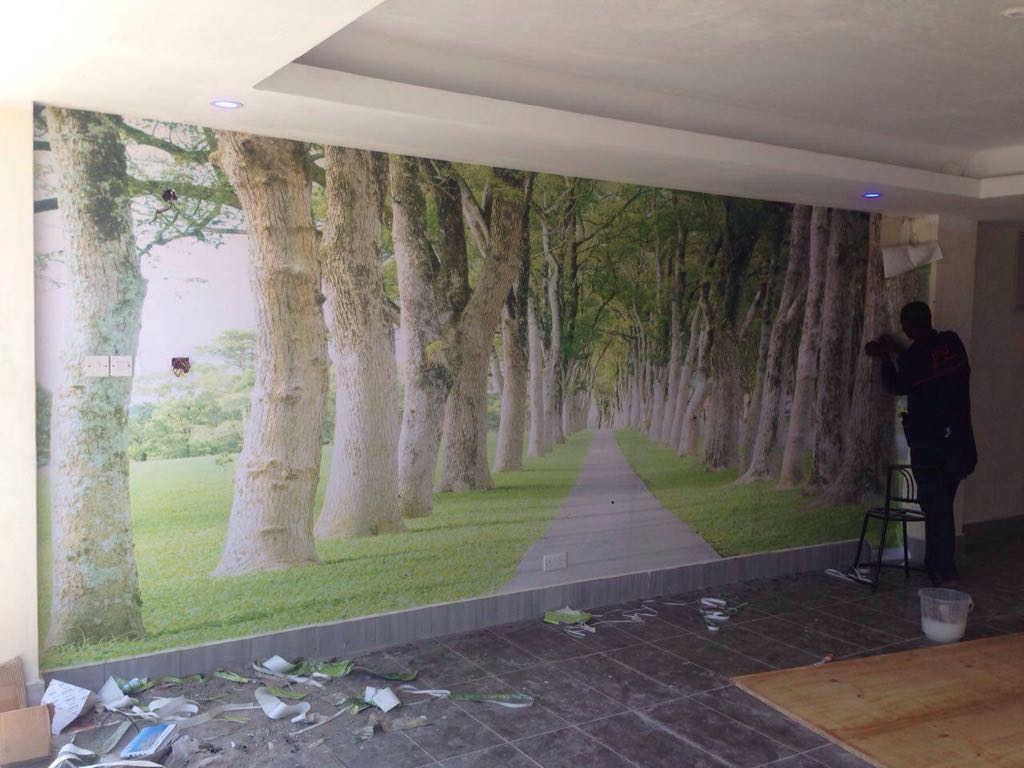 Wallpaper designs may be divided into various categories based on focus and specialization.
Some of the distinctive categories are
wallpaper for home designs as opposed to
commercial wallpaper.
Separating wallpaper designs for residential walls and commercial spaces isn't always as easy as it may appear.
Simply stated, you are either looking for wallpaper for a new construction home or to redecorate the walls of an existing home.
In addition to the simple distinction of home vs. workspaces, house, and commercial wallpaper are largely based on needs.
Therefore decide what kind of atmosphere you want to create in the room: a relaxing or invigorating atmosphere?
For recreational atmosphere use pastel shades wallpaper or decorate the wall in blue or maroon-brown tones.
And for an invigorating atmosphere, you will use more vibrant colors like red, orange, etc.
Clients for wallpaper for home walls are individuals or families.
And the decorator has to take into account the client's personal needs and desires while decorating the living spaces.
Characteristics of 3d wallpaper murals
Different people mean different things by the term 3d wallpaper for home.
And they are all right.
Because there is 3d foam, 3d regular wallpapers, and 3d custom-made wallpaper.
However, at Wallpaper Kenya we deal in the regular wallpaper type and the custom-made type.
By far the most popular is 3d custom-made wallpaper.
But each has its advantages and disadvantages.
While the custom-made wallpaper brings out the optical illusion or 3d effect better, it is a bit more expensive than the regular wallpaper.
In choosing a wall for 3D wallpapers, you should take one feature taken into account.
And that is the stereo effect manifests itself at a distance of several meters.
But on a closer examination, only a flat image is visible.
Volume or depth is achieved through the use of special techniques: the image is layered, the reflection of light, and the sequence of tones is taken into account (the dark color is automatically relegated to the background).
Characteristics of 3d regular wallpaper
The regular wallpaper is limited in its achievement of the 3d effect because it comes in a universal standard size roll.
Namely 53 centimeters by 10 meters. And therefore it is several panels joined on the wall.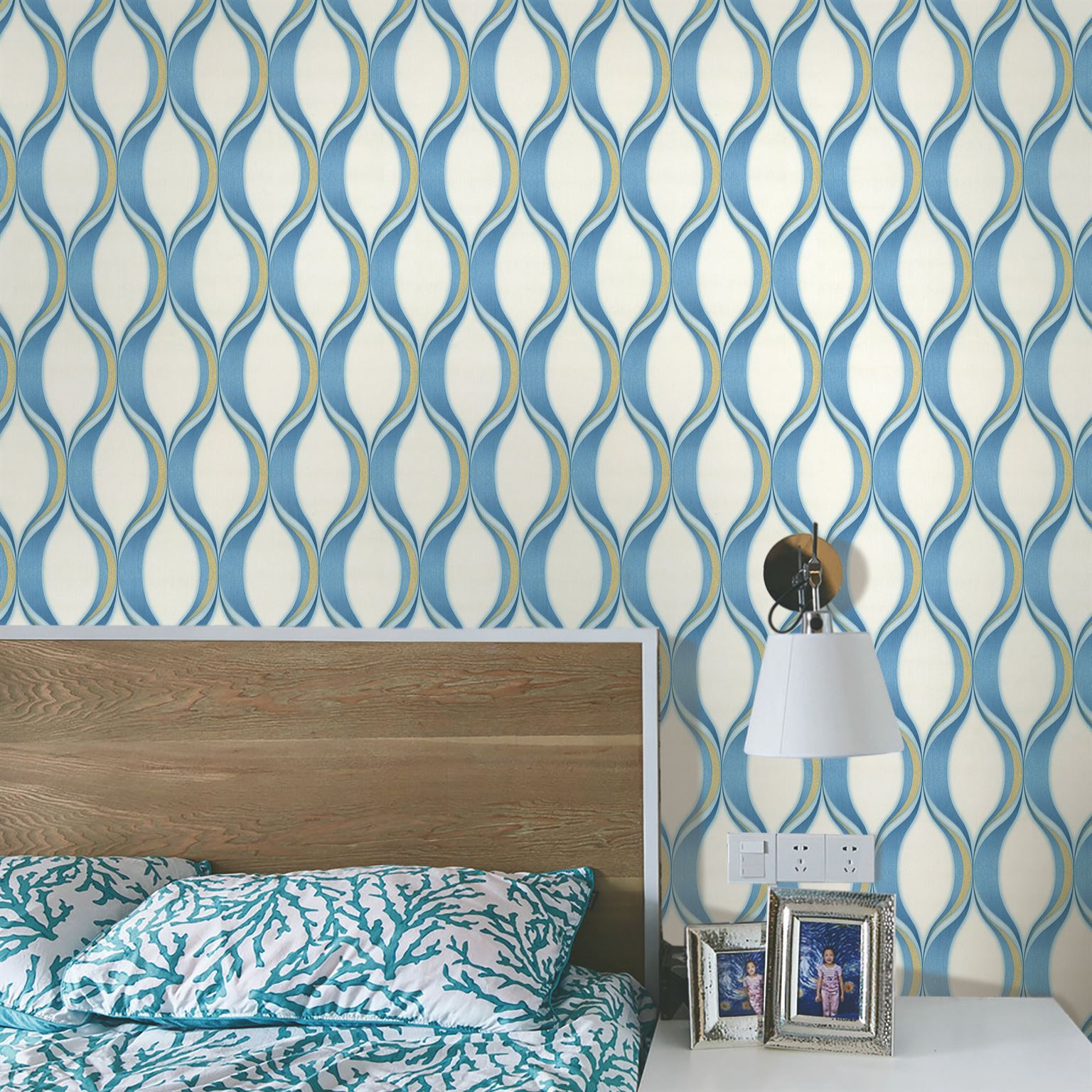 It means that for every 53 centimeters across the wall the regular wallpaper has a repeat pattern.
And for that reason, it can not have a larger than 53 centimeters wide image.
This limits the 3d effects you can achieve such as brick wallpaper.
You can have 3d geometric wallpaper in the regular type.
But this is also limited to a design image not exceeding 53 centimeters width.
Common characteristics of both custom made and regular 3d wallpaper
3D wallpaper is a coating on the surface of which there is a special type of digital image printing with the effect of light distortion.
Due to this quality, a three-dimensional feeling of volume is created.
By choosing this type of wallpaper in your apartment, you can be sure that the design will not fade with time or exposure to the sun.
Such a coating differs from the traditional canvas by the presence of special paint.
The coloring pigment contains micro granules responsible for the reflection and refraction of the sun's rays.
The surface of the walls no longer looks flat, showing a three-dimensional image.
You can apply three-dimensional wallpapers to the walls of your apartment or private house.
The coating is versatile and suitable for any type of room.
Advantages of modern house wall-covers
3d wallpaper for home interior decoration not long ago appeared in Nairobi and the Kenya market.
The unusual three-dimensional images immediately attracted the attention of homeowners.
But many Kenyans were stopped using them because of their high cost.
At present Wallpaper Kenya is printing custom-made stereoscopic in the country.
And this has led to a decrease in the cost of wallpaper and growing interest from consumers.
What is stereoscopic 3d wallpaper?
The prefix "stereo" is often referred to as sounds when they are heard from different sides and fill the air.
But the stereoscopic wallpaper image also adds volume, but only visual.
Nature has endowed us with a three-dimensional perception of the world. Each eye covers its part of the inspected plane.
Because the volume image is converted only when looking at the object with two eyes.
Using this characteristic of human vision, wallpaper designers have learned to use the latest technologies to create three-dimensional images.
For example, when you enter a narrow hallway, you expect to see a blank wall. But instead, in front of you, a fairly realistic staircase may be located that leads to a flower garden. Or a hole in the wall, and beyond it – space.
The brain remembers that it is on the eighth floor, but does not immediately understand why the stairs lead from the apartment to the garden.
I can assure you that you will find nothing better than wallpaper in decorating your home.
And I will show you amazing ways you can use wallpaper to your advantage when decorating your home. Hopefully, you will take advantage.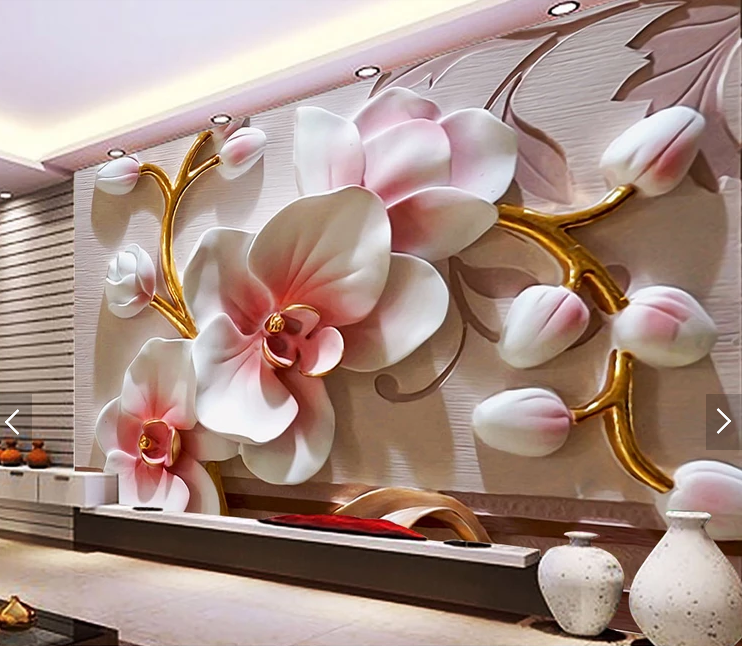 Designers who usually work in homes may specialize in a particular area of residential design like kitchens, bathrooms, home offices, and specialized workspaces.
You want your home to be reflective of your tastes and expressions of personal uniqueness. To achieve these better use 3d wallpaper for home designs.
You can use wallpaper to brighten up your house
We all love bright environments, but you might be limited to it by not having large enough windows.
When our space lacks good lighting, or you want to highlight an effect, the best way to reflect light is by taking advantage of the mirror effect that satin makes on a wallpaper.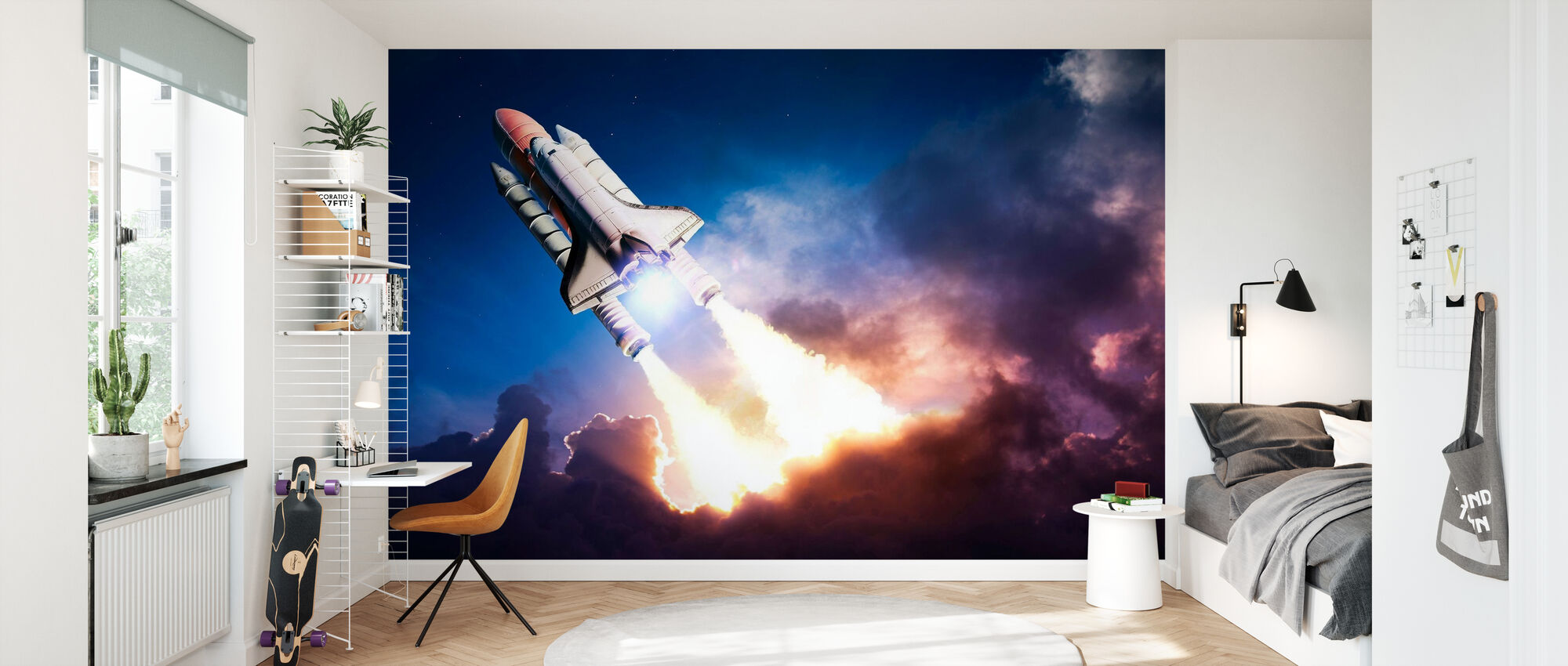 The subtle mix of matte and satin effect on the wallpaper will give you the flash of light that will visually open your home.
This will give a greater sense of clarity, even when dark tones are used to decorate.
Create the feeling of greater floor to ceiling height
One of the few things that cannot be changed in a room is the height of the ceilings.
If the ceilings are low, we can only hide the feeling of overwhelm with decorative resources that help us to clear the environment.
Experienced interior designers easily create the feeling that a room is taller than it is. They use vertical stripes wallpaper.
Customized 3d Wallpaper for small and big homes
When we talk about small houses, it is essential to highlight that the 3d wallpaper for home designs are those for the efficient management of dimensions and functionality.
Your wall's interior decoration will impact the perception and comfort of the space, which generates sophisticated and highly attractive structures.
For this reason, at Wallpaper Kenya we are a firm of innovative professionals who are highly knowledgeable in everything related to Wallpaper.
In our projects, we implement the latest technology in 3d wallpaper customization, to project avant-garde and elegance in each design.
We understand that decorating a small space is usually a complex process.
However, we have all the necessary tools to make your 3d wallpaper for the home project a success.
Modern Interior Design Styles
At Wallpaper Kenya we know that, in recent years, the increasing use of technology and social media has allowed you to know, quickly and easily, modern wallpaper for home trends and styles.
And for that reason, the wallpaper for your home, large or small, must reflect a style similar to your taste.
Custom removable and reusable wallpaper is the one trick we at Wallpaper Kenya use to transform the look and feel of any home.
You can order a blend of colorful 3d wallpapers to induce character to featureless home walls.
Rented houses and small rooms are challenging to decorate due to rental constraints. It is difficult to exert the look you want.
Because you aren't even allowed to repaint the walls in some cases.
Small spaces, on the other hand, leave very little room for decoration and this makes most spaces feel closed in and uninspiring.
Removable Wallpaper offers an excellent way to add life to your home without losing your deposit. You will instantly transform your home and enhance the ambiance around.
Custom made 3d Wallpaper for Residential House
Within the 3d wallpaper for home category, you will find endless designs and possibilities to create different moods and atmospheres.
For instance, you will want wallpaper that promotes appetite for your dining room. And you will want a calm and peaceful wallpaper to promote relaxation and sleep in your bedrooms.
There is nothing better than custom-made 3d wallpaper for creating mood. But apart from the mood, you will want functional wallpaper for the different rooms and room uses.
Because you can not use ordinary wallpaper in your bathroom, or kitchen for that matter. You will want 100% waterproof contact wallpaper for all the wet areas in your home.
Where to find great 3d wallpapers to spice up your home walls
The 3d wallpaper for home you choose for your walls can make a real difference in your mood and happiness at home.
You can opt for subtle gradients to relax you, sweeping landscapes to inspire you, and yes, you can also go for a massive picture of your favorite football team.
If your children have grown up and are tired of your current cartoon wallpaper, you can find a huge number of top-quality, high-resolution wallpapers on the web there's no excuse not to change them.
Shutterstock is a leading global provider of high-quality licensed 3d wallpaper images, videos, and music.
And whether you are a residential interior designer, graphic designer, or another creative professional it provides diverse content to businesses, marketing agencies, and media organizations around the world.
Content creators contribute their work to Shutterstock, where end-users buy and use it in a diverse array of creative personal and business projects.
It's a two-sided marketplace that empowers the world's storytellers. But worry not about this, we will handle it for you.
But you may also source images for your 3d wallpaper for home walls from Unsplash, pixels.com, Google Play, Alamy.com, and many other sites.
Wallpaper for bedroom
In the category of 3d wallpaper for home use, you can see a wide variety of bedroom
wallpaper designs
. And these are Residential Bedroom Wallpaper with fantastic designs to have an original and exclusive decoration. And with which you can give 3d depth effect to your home.
So that you can choose the one that best suits your tastes and personality, and thus be able to mark your style.
You will be able to radically give the decoration of your residential bedrooms 3d effects without major remodeling and great expenses.
Now you can leave behind the boring and monotonous monochrome bedroom walls that usually do not arouse any type of interest.
Wallpaper your home with one of our pretty 3d custom designs and create an exclusive atmosphere.
But if you like, you will find designs of imitation stone or wood, ornamental, abstract, modern, geometric, with phrases, retro, striped, among many others.
You can choose your favorite and use it to decorate your bedroom and have a new space with a decoration full of color and life.
The fantasies of 3d murals for nursery & play areas
Making with 3d wallpaper for a home nursery in a private house is worth considering many different parameters.
For finishing, you need to choose the highest quality and harmless materials for health. And that is why at Wallpaper Kenya we use silk fabric. And it is also worth choosing the right color scheme. Because it will in one way or another affects the psyche of your child.
Therefore, the choice of wallpaper for a girl or a boy's nursery is not an easy question. Everything is important here. The material of the canvas, the color, the ornament, as well as the appropriate style.
You can use cartoon 3d wallpaper for home nurseries such as Disney Characters to quickly and effectively decorate children's bedrooms. It is the tool par excellence to recreate imaginative and fun settings at home, capable of stimulating the imagination of children.
Besides cartoons, one of the most popular wallpaper patterns in recent years is that of the tropical garden. and it is characterized by warm and lively colors and elements typical of the savannah.
Other motifs recall dreamy and spatial atmospheres, re-proposing starry skies, spaceships, galaxies, and planets. For the bedrooms of very young children, however, we advise you to use wallpapers with simple textures and with soft colors, so as not to confuse them.
In this case, opt for simple subjects such as flowers, clouds, toy cars, kittens, and stars.
Strength
Wallpaper Kenya 3d wallpaper for home nursery is sufficiently durable and practical in everyday life. The raw material, silk fabric, is high wear resistance, as well as resistant to all kinds of damage.
Children are very active, and making repairs every couple of months or years is too laborious and not always painless for your budget. 
The walls should be easily washable and the coating itself should withstand accidental hits from a ball or other toys.
Hygienic
This is an especially important factor for little boys. When the room requires special cleanliness – babies do not yet have the same immunity as older children.
Therefore, the selected wallpaper must withstand not only dry but also wet cleaning with detergent solutions. 
Also, the coating should not promote the growth of bacteria or mold. And that is why you should choose our silk fabric for your wallpaper customization.
Because the surface is covered with natural silk fabric fibers to give people an elegant, soft and comfortable feeling. Good texture and good air permeability.
Custom made breathable 3d wallpaper
All our custom-made 3d wallpaper for home are breathable. This is important because issues concerning mold and mildew are gaining increased attention.
From both residential and commercial property owners as well as the public at large.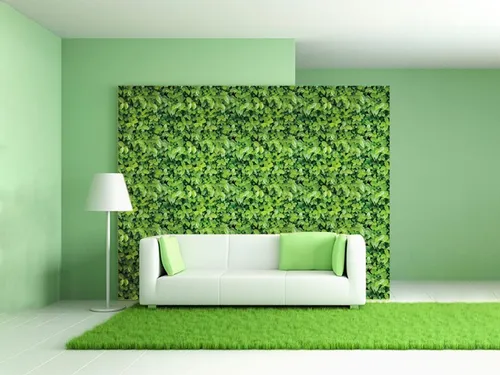 Although wallcovering is often cited in connection with mold and mildew growth, you must understand that wallcovering does not cause mold and mildew.
In virtually all cases, the mold and mildew growth is due to excessive moisture. For you to prevent or eliminate mold and mildew you must identify and eliminate the source of the excessive moisture.
In unusual cases where you can not eliminate moisture or moisture infiltration from the wall cavity, use wallcoverings with higher permeability ratings should be considered.
The silk fabric we use for customization of 3d wallpaper is one of the higher permeability materials.
Wallcovering discoloration or wall deterioration caused by mold is an indication of a moisture problem.
You must immediately find and eliminate the source of the water or excessive moisture.
Although Removing mold from wallpaper is not usually difficult, it's best done as soon as this scourge is spotted.