Description
What 3d wallpaper for home does
Which are the most suitable wallpaper for home designs? It is 3d wallpaper for home because it makes a two-dimensional surface appear to be three-dimensional. And also appear so true to life that one could reach out to touch it on your wall. For instance, use a 3d wallpaper on the living room TV wall to make it look padded. That is why the most commonly used wallpaper for home decoration is 3d wallpaper. Particularly 3d brick effect wallpaper.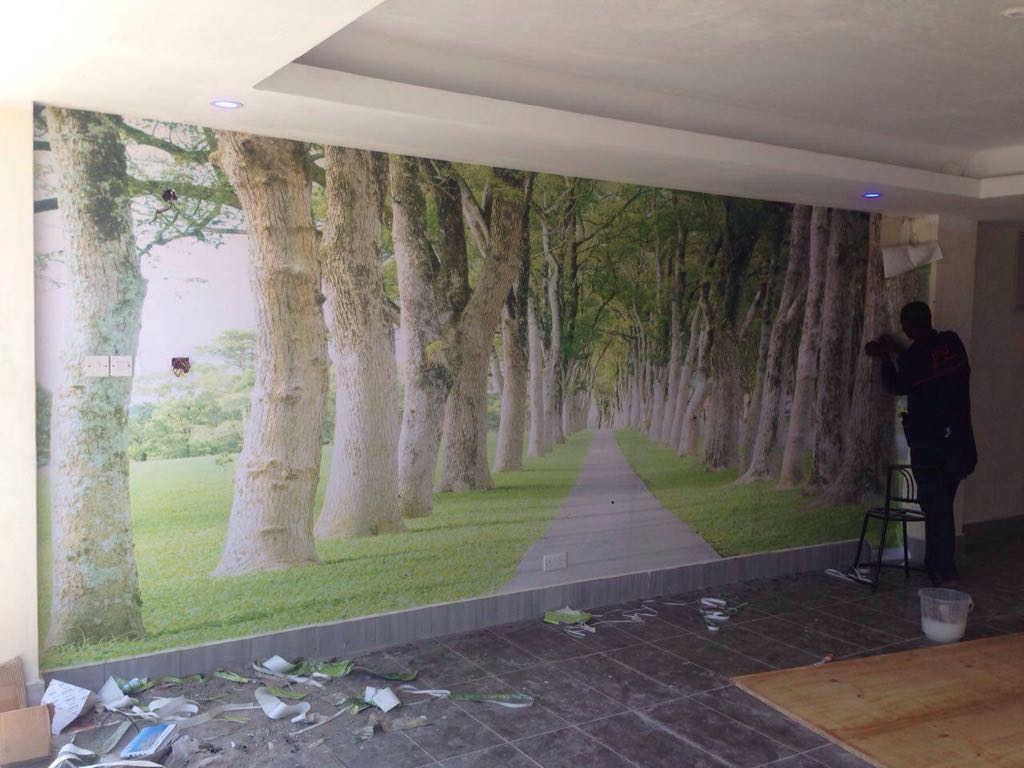 Wallpaper designs may be divided into various categories based on focus and specialization. Some of distinctive categories are 1. wallpaper for home designs as opposed to 2. commercial wallpaper. Separating wallpaper designs for residential and commercial spaces isn't always as easy as it may appear.
Simply stated, you are either looking to for wallpaper for a new construction home or to redecorate the walls of an existing home.
In addition to the simple distinction of home vs. work spaces, house and commercial wallpaper is largely based on needs. Therefore decide what kind of atmosphere you want to create in the room: a relaxing or invigorating atmosphere? For recreational atmosphere use pastel shades wallpaper or decorate the wall in blue or maroon-brown tones. And for an invigorating atmosphere you will use more vibrant colors like red, orange, etc.
Clients for wallpaper for home are individuals or families, and the decorator has to take into account the client's personal needs and desires while decorating the living spaces.
Designers who usually work in homes may specialize in a particular area of residential design like kitchens, bathrooms, home offices, and specialized work spaces. You want your home to be reflective of your own personal tastes and expressions of personal uniqueness. To achieve these better use 3d wallpaper for home designs.
Advantages of Wallpaper in Home Décor
I can assure you that you will find nothing better than wallpaper in decorating your home. And I will show you amazing ways you can use wallpaper to your advantage when decorating your home. Hopefully you will take advantage.
You can use wallpaper to brighten up your house
We all love bright environments, but you might be limited to it by not having large enough windows.
When our space lacks good lighting, or you want to highlight an effect, the best way to reflect light is by taking advantage of the mirror effect that satin makes on a wallpaper.
The subtle mix of matte and satin effect on the wallpaper will give you the flash of light that will visually open your home. This will give a greater sense of clarity, even when dark tones are used to decorate.
Create the feeling of greater floor to ceiling height
One of the few things that cannot be changed in a room is the height of the ceilings. If the ceilings are low, we can only hide the feeling of overwhelm with decorative resources that help us to clear the environment.
Experienced interior designers easily create the feeling that a room is taller than it actually is. They use vertical stripes wallpaper.
Customized 3D Wallpaper for Small and Big Homes
When we talk about small houses, it is essential to highlight that the wallpaper designs are those for the efficient management of dimensions and functionality. Your walls interior decoration will impact the perception and comfort of the space, which generates sophisticated and highly attractive structures. For this reason, at Wallpaper Kenya we are a firm of innovative professionals who are highly knowledgeable in everything related to Wallpaper.
In our projects we implement the latest technology in 3d wallpaper customization, in order to project avant-garde and elegance in each design. We understand that decorating a small space is usually a complex process. However, we have all the necessary tools to make your 3d wallpaper for home project a success.
Modern Interior Design Styles
At Wallpaper Kenya we know that, in recent years, the increasing use of technology and social media has allowed you to know, quickly and easily, modern wallpaper for home trends and styles. And for that reason, the wallpaper for your home, large or small, must reflect a style similar your taste.
Custom removable and reusable wallpaper is the one tricks we at Wallpaper Kenya use to transform the look and feel of any home. You can order a blend of colorful 3d wallpapers to induce character to featureless home walls.
Rented houses and small rooms are challenging to decorate due to rental constraints. It is difficult to exert the look you want. Because you aren't even allowed to repaint the walls in some cases. Small spaces, on the other hand, leave very little room for decoration and this makes most spaces feel closed in and uninspiring.
Removable Wallpaper offers an excellent way to add life to your home without losing your deposit. You will instantly transform your home and enhance the ambiance around.