Description
A 3d white brick wallpaper puts your interior space into the 21st century. With the chase for natural light in the last several years, we've seen color trends moving towards bright whites.
A room with a real white brick wall or white brick wallpaper can be bright and airy. Also, the wallpaper reinforces the contrast between light and dark. Some people opt for actual white bricks while others choose 3d white brick wallpaper. This way they avoid real brick wall installation costs and still get the look. 3d white brick wallpaper will not overpower your space in any way.
Furthermore, it adds a characterized amount of texture and rhythm in a contemporary space. There are many ways to get the look. Whitewashed bricks, painted bricks, faux bricks, white installed bricks, white brick wallpaper…the possibilities for reveling in white brick wall fatuousness are endless.
Make use of  3d brick wallpaper in any room. The reason is, there's something very stylish and very enjoyable about white brick walls.  Whether it's in your bedroom, a living room, or any other space. White brick walls are refreshingly simple and really beautiful and timeless decors. Think about it. Whether it's just one wall or all four walls, they always come out with an important design feature.
White brick wallpaper is super chic and works well with the ever-popular minimalist interior decoration. But a 3d white brick is elegantly textured and great really for all types of décor and furniture. The realistic tonal value creates the illusion of mild faux embossing just like real brick. If you are striving for a clean base for your bedroom or living room, white brick wallpaper is a subtle way to brighten up a room add powerful character.
What colors go well with 3d white brick wallpaper
Nothing says bright, fresh, and clean like white brick wallpaper. This versatile neutral works well in a variety of color schemes and design styles. When you have an all-white brick wallpaper room, it's best to go for earthy shades elsewhere in the space. That is how you will achieve a neutral bent in the room.
The more neutrals you add to your white brick-walled room, the more collected and layered your look becomes. You will find shades of brown together in curtains, upholstery, wood furniture, and rugs. These will help you create a relaxed feel, while shots of black will give the room an upscale edge. Again you may use multicolored accessories to keep the vibe solidly casual.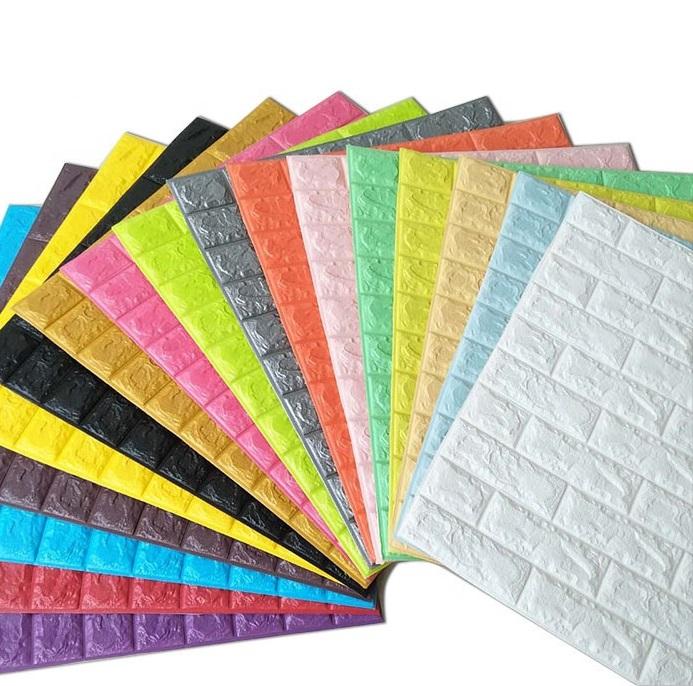 In years past, brick walls were seen as old-fashioned. And people concealed with more polished, modern finishes. But today they are no longer viewed as an eyesore, with designers and homeowners keen to showcase the home's historic past while adding an intriguing textural element. Despite this growing popularity of exposed brick wallpaper, most of us are far more comfortable with using them in bedrooms and living rooms than in modern kitchens.
But the fact is, 3d white brick wallpaper in the kitchen creates a cozy, inviting ambiance. And offer a beautiful backdrop that still lets the various elements in the kitchen shine through. Plus they work with all kitchen designs styles, depending on the wallpaper design you choose to match.
Our E foam white 3d wallpaper panels measure 77 cm x 70 cm, along with a thickness of 5 mm. It looks like real brick. And you will find this satisfying the vision without looking too heavy. 
Having a waterproof character, it absorbs water and prevents them from peeling off or yellowing due to humidity. These decorative wall panels have extremely high adhesion. Therefore you don't have to worry about them falling off.
The Versatility of  white interior décor
White is arguably the most versatile of colors. Especially when it comes to interior walls. White brick wallpaper can be seen as one-size-fits-all. Serving as a backdrop for spaces overflowing with interest and personality. No matter what the interior style. From classic and cozy to clean and contemporary, white brick wallpaper just works
Thinking of traditional homes, country houses, or classic homes. White isn't the first shade to spring to mind. But white brick wallpaper can look great in an old home. White is neutral and brick is natural, fit for any style. Have you ever wondered why all art gallery walls are white? There's a reason art gallery walls tend to be white. All art looks great up against white.
Do not think that trendy exposed brick walls aren't for kids' rooms or nurseries. Yes, they are not in real bricks because they are too harsh and rough. Nevertheless, more and more interior designers use this trendy feature in kids' rooms in 3d white brick wallpaper and it looks hot! The textural beauty and visual contrast in all brick wallpapers are perfect for any décor style.  From shabby chic to industrial, and for a wide range of décor themes, which are so popular in kids' spaces.
But do not use just any real brick for children's rooms because of health issues. But if you do, then clean the bricks and use a proper sealant, so that the real brick won't be a problem. A cool idea is 3d white brick wallpaper that looks similar to real brick but is absolutely no fuss and is eco-friendly.
Brick wallpaper will look natural and perfectly blend with various hues and materials you used in décor. And do you think that brick wallpaper is only for the boys? The white brick wallpaper will look amazing both for girls' and boys' spaces. And also for gender-neutral nurseries, too.
Literal & Psychological Effects of White Brick Wallpaper
White brick wallpaper does not just work in a
bathroom
. It feels clean and nearly sterile and refreshing. Bathrooms are usually small spaces and white has an optical illusion.
Reflecting light
 and making the room look larger.
White as a color, on brick wallpaper or otherwise, is associated with light, goodness, innocence, purity, and virginity. It is considered to be the color of perfection.
White brick portrays safety, purity, and cleanliness. As opposed to black, white usually has a positive connotation. It can represent a successful beginning. In heraldry, white depicts faith and purity.