Description
The best Bathroom Wallpaper in Kenya
Undoubtedly the best Bathroom Wallpaper in Kenya is Contact Paper. Bathroom wallpaper can be contact paper as seen in this picture. Or it can be Vinyl washable wallpaper. So, which is better?
While vinyl wallpaper can be damaged by water hitting it directly, contact paper is 100% Waterproof. Contact paper is usually categorized by the kind of surface that it is supposed to stick to. Use Marble Contact Paper for your bathroom sink surround.
Each has its advantages and disadvantages. Both vinyl wallpaper and contact paper have the advantage of being moisture-proof. And contact paper is more expensive than vinyl wallpaper. On the other hand, Contact paper has the advantage of not only being moisture-proof. It is 100% waterproof. In that account, it has an upper hand. Washable vinyl wallpaper will work well for the bathroom only in areas traditionally painted. The area above the tiles. But you can use contact paper instead of tiles. The reason, It is waterproof.
Contact paper: Bathroom wallpaper
The new Contact Paper, used as bathroom wallpaper, is not restricted to some areas and others not. Though a little bit more expensive than vinyl wallpaper, it is the most ideal bathroom wallpaper.
For the areas in the bathroom that are traditionally tiled, you use contact paper as bathroom wallpaper. It can also be used in the kitchen as well as in all other rooms. Contact paper is a self-adhesive wall sticker. It comes mainly in marble patterns waterproof self-adhesive paper suitable for the bathroom.
The bathtub, the sink, and the toilet are the main elements of the bathroom. You cannot use any other wallpaper except contact paper around these areas. It is only contacted paper that will withstand water 100%. We have no problem with you using any other wallpaper as bathroom wallpaper in others areas. But not in the too wet areas.
Contact Paper vs Other Bathroom Wallpaper
Peeling wallpaper is a common problem in bathrooms due to the high humidity and moisture found there. To keep bathroom wallpaper from peeling, run a bathroom fan that's vented to the outside every time you shower or bath. And keep it running for 10-15 minutes after you're through to expel as much of the moist air as possible. Alternatively use contact paper as the best choice of bathroom wallpaper. It has no issues with high humidity or moisture.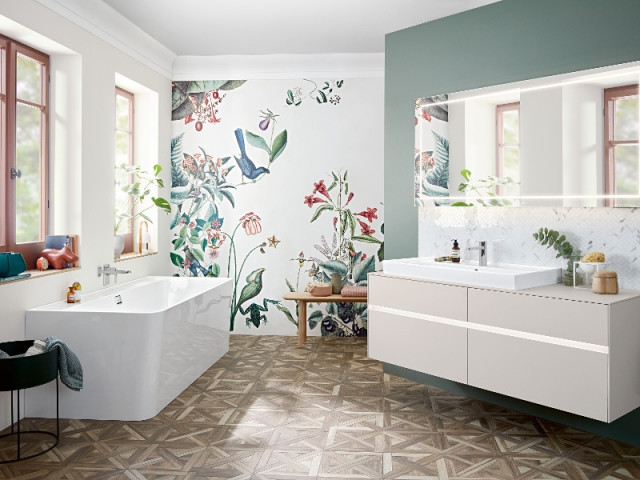 Contact paper is much easier to hang than other wallpaper. You can do it yourself. Contact Paper has a decorative surface on one side and a highly adhesive material on the other side. The paper wallpaper sticks to the desired bathroom surface with minimal effort. And not only on wall surfaces but on all desired surfaces.
Washable Vinyl for Bathroom Wallpaper
Not every kind of wallpaper can be installed in a bathroom. However, a properly ventilated bathroom, with a window and extractor fan, will happily accommodate Vinyl Wallpaper. Even then make sure to keep it away from direct contact with water. Do not install it touching a bathtub, basin, or shower. In other words, do not install vinyl wallpaper in the areas traditionally tiled in the bathroom.
Use contact paper for such wet areas. Different use Contact Paper is available Wallpaper Kenya Shop.
Sinks counter-top décor wallpaper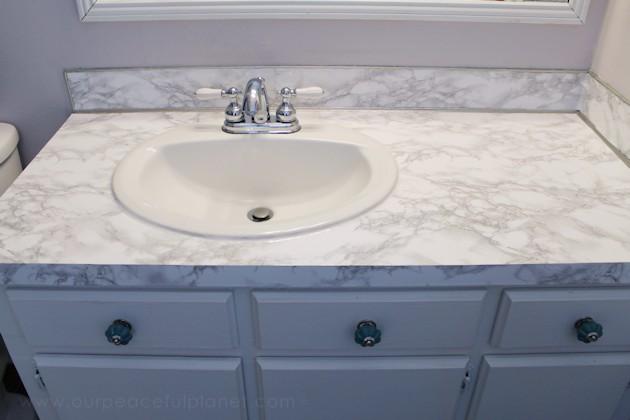 Something is satisfying and comforting in having your very own sink with plenty of counter space around it. One of the most ideal bathroom features is granite countertops. Where counter-tops are concerned, there is little more sought after than granite. This is not beyond you to attain.
Even the most luxurious of options can be attainable by simply getting creative. Not only is it hard-wearing and easy to clean. Granite countertops are by far the most professional-looking worktops on the market. By swapping granite contact paper with granite, you can fast forward your bathroom right into the 22nd century.
All of this may make you think it's also going to be expensive. But that is not the case. After all, granite contact paper lasts for a very long time. So it is more of an investment than a simple purchase. Plus, there are alternatives such as marble contact paper or quartz on offer if you are considering a slightly different look or price.
Contact Paper Variety of colors for small bathroom
Contact paper is available in different designs and colors. We have white marble and granite contact paper. These two work great for a small project like a bathroom sink. They are just the thing for a quick change for your bathroom counters. White marble and granite contact paper works great and looks good in smaller bathroom areas.
It's always exciting to move into a new apartment. Sure if we had our way, we would love a HUGE walk-in closet. And standalone bathtub, white marble kitchen, the best appliances, perfect location, and the smallest rent. But let's face it, that isn't easy to find. Unless you're purchasing your home, you can't make too many changes once you move in. Contact paper is the best option. It is also removable once you move out.
Open Shower Contact Paper Walls Décor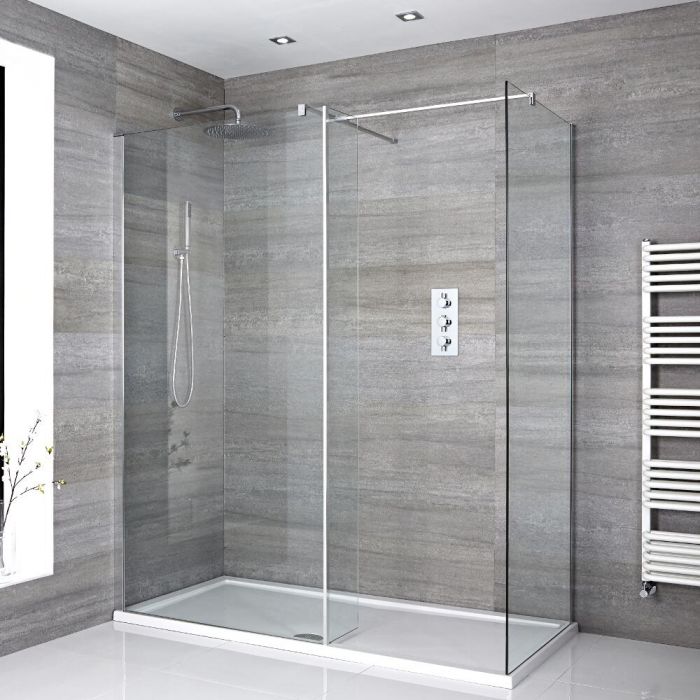 Open Shower lack any sort of traditional door. Also known as walk-in showers. They are far larger than the traditional corner showers. Instead, feature wide, open spaces that are generally longer than 6 feet or feature custom walls. They are normally reserved for master bathrooms, where there is plenty of space available.
Shower Splash-back and drainage are two important elements to consider when designing an open shower. Because if there isn't enough space, the water from your showerhead will be splashing off the walls. However, with contact paper wall decoration this is not a problem anymore. They serve both Intrinsic and Aesthetic values. This reminds us of Steve Jobs, "Most people make the mistake of thinking design is what it looks like. People think it's this veneer – that the designers are handed this box and told, "Make it look good!" That's not what we think design is. It's not just what it looks like and feels like. Design is how it works."
Open Shower Design Wallpaper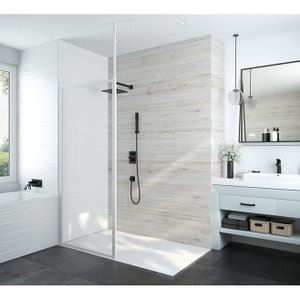 Open showers can be seen by anyone entering the room. Unlike traditional showers, which are often hidden by a shower curtain or a door of some kind. As a result, the look, the design, and the décor of your shower are just as important as the functionality. Including special elements, such as colorful patterned contact paper gives the aesthetics of the design.
Why? Because the open shower will be visible from the open doorway to anyone who walks by. And as the doorway to the bathroom is in a visible area of the home, take special pains to create an attractive, elegant design.
Contact Paper & Vinyl Bathroom Wallpaper together
In conclusion, you can use both vinyl wallpaper and contact paper for your bathroom makeover. That way is not only the most economical way but it is also the most decorative one.
While you use contact paper for the wettest areas, use vinyl wallpaper for the areas traditionally painted. Visit Wallpaper Kenya for the best of the two worlds.
It is now easier than ever to create vibrant bathrooms, Wet rooms, and kitchens with contact paper. That brightens up your home. Marble and granite bathroom wall-coverings are an affordable alternative to tiles. And are completely grout-free, making them the simplest way to keep wet environments hygienic and clean. With a variety of choices of colors and finishes to choose from, our contact paper bathroom wall-coverings are designed to suit any room.