Description
Say it with Beautiful flower wallpaper
Beautiful flower wallpaper is a safe choice. How we decide to look at life affects each of its areas.
And it is that when we live drawing optimism and flower colors, everything is simpler and more pleasant.
If you want to live every day with illusion, contagious joy, positives, and naturalness, decorate your walls with beautiful flowers.
Thus endowing the space around you with color, well-being, and vitality.
You can't go wrong with a floral accent wall or two in a room.
Of course, too much flower wallpaper can sometimes feel a little too saccharine or too busy.
And you don't want to go overboard with beautiful floral wallpaper on all the walls in a room.
But generally speaking, a beautiful flower patterned wall covering can be a classic item that will have tons of decorative bangs.
Beautiful floral motifs and wall coverings have evolved quite a bit over the years.
Of course, you know that flowers have meanings, do you?
Most people regard the rose as the most beautiful flower wallpaper.
You may have heard that "a rose is a rose is a rose" — but according to floral experts, that's not quite true.
The most popular flower has many different meanings, depending on the color of its bloom.
Of course, you know that flowers have meanings associated with them, don't you? And, that flowers are befitting specific occasions?
It is like flowers talk, the language of flowers. So, say it with floral wallpaper. Flowers are a part of the most important occasions in our lives.
That is why they are conspicuously present on birthdays, funerals, graduation, weddings, etc. forming an integral part of our lives.
Some flowers have religious significance too. No person can be completely unaware of flower meanings. Everyone knows that a red rose stands for romantic love.
You also know that one does not send yellow roses to anyone in mourning. However, meanings are associated not only with roses but also with other flowers.
That is why you should consider flower meanings before gifting flowers. And before choosing your flower wallpaper.
Similarly, people who receive flowers may not know their meaning and hence miss the underlying message.
Do you know which flower stands as the national flower of what country?
How Beautiful flower wallpaper has evolved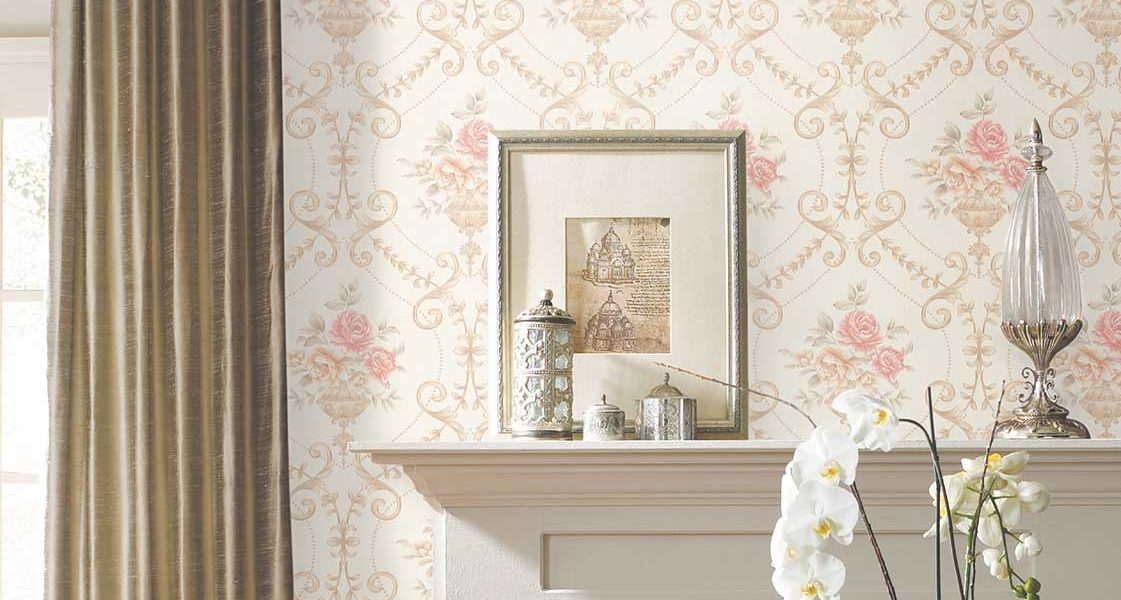 In the 1960s the stuffier, prim-and-proper beautiful flower wallpaper became liberated in this era of "Flower Power."
Large-scale beautiful floral wallpaper started trending in the 1960s.
And you could find them on walls throughout homes, even in kitchens.
Quieter ditsy flower prints started gaining in popularity around this time as well.
By the '70s, things started getting super groovy in fashion and interior design.
Think even bigger, bolder beautiful flower wallpaper in saturated colors.
Especially the big hues of the decade: Mustard, orange, and avocado.
On the whole, the flowers of this decade appear to be more stylized than realistic.
Probably owing to the '60s Pop Art influence.
The '80s floral wallpaper motifs were used very liberally at this juncture in time—it wouldn't be uncommon to see floral bedding, floral drapery, and floral wall coverings all in the same room.
By the time the early 2000s rolled around, beautiful floral wallpaper trends were kind of a mix of everything from decades past, which still feels like the case today.
The language of flowers
You give beautiful flower wallpaper on cards or otherwise, or bouquets on special occasions to express something specific to you or the receiver.
The bridal bouquet is also significant in this context.  Because the floral composition reflects the special characteristics of the bride.
With flowers, you can communicate what you feel or wish non-verbally. Because the flower language is understood worldwide.
The language of the flowers is handed down from the old Orient and the Far East.
In the early days, people developed a kind of flower writing by assigning a certain meaning to flowers and plants.
In Europe in the Victorian era, this floral language advanced to a new bloom. It became the secret language for lovers. Since then, the flower language has expanded significantly.
Flower types, flower combinations, flower colors, flowers count or numbers, vegetable additions, and decorative details can be interpreted in themselves and form an overall statement.
The way of holding a bouquet can also be defined. But it should be mentioned that the flower language is not only positive. You can also say no by using flowers.
Beautiful Floral Wallpaper Affects Mood and Style of a Room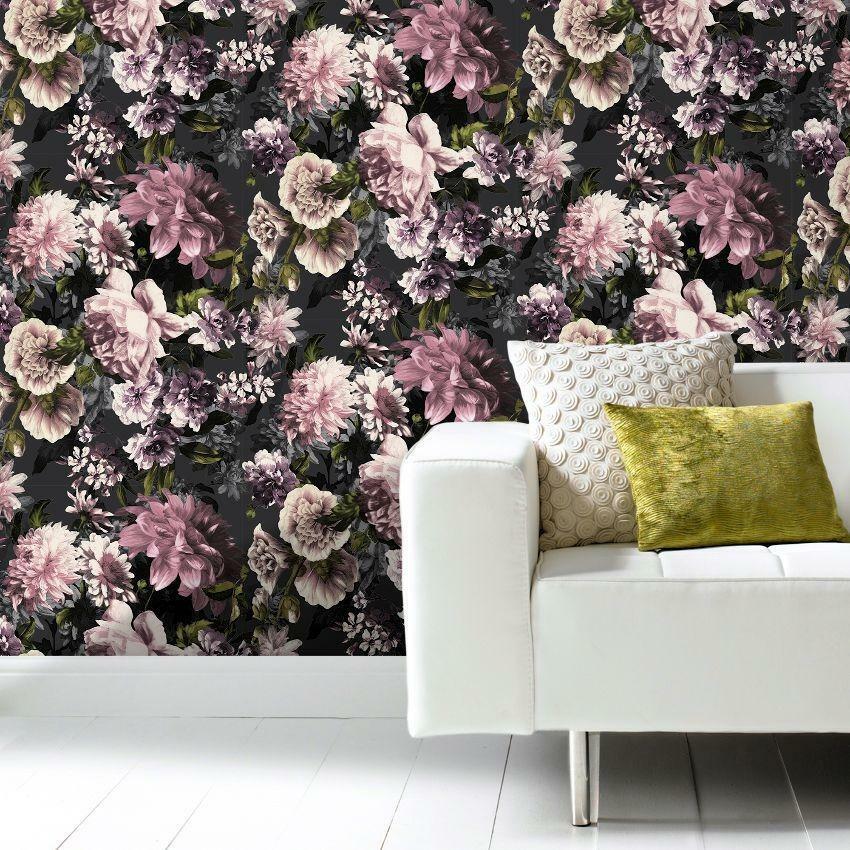 The role of beautiful flower wallpaper in the overall interior decoration scheme is vital. This is because your choice of wallpaper will affect the mood and style of your room.
It's no secret, across the world, people have enjoyed the gift of flowers for as long as time immemorial.
In psychology, new research shows that flowers, specifically the sight as well as the smell of them, can change your brain chemistry.
This leads to more positive feelings and emotions.
You can use floral wallpaper to create a happy environment at home or office. Because flowers are linked to a person's happiness, both immediate and long term.
They can relieve stress, lift your spirit, and ease away depression symptoms and anxiety.
The reason why flowers can do this is that it gives you a connection to nature, to something beyond your normal, fast-paced environment.
Colors also make you happier through chromotherapy, which uses color to balance "energy" lacking from a person's body, whether it be physical, emotional, spiritual, or mental levels.
Nature provides us with a plethora of beautiful flowers. Floral wallpapers certainly bring that brilliance of outdoor nature into our home.
Select your favorite floral designs at Wallpaper Kenya. From themes using vibrant colors to add a fresh pop to your walls. Or choose more muted choices such as black and white flowers.
Regardless of what your style is, you're sure to find a wallpaper design that will enhance your chosen rooms for years to come.
If you're looking for Wallpaper for sale online, Wallpaper Kenya has several options sure to satisfy you. We have a myriad of styles of floral wallpapers.
How Flower Wallpaper affects our mood
Being surrounded by a beautiful flower wallpaper improves our good cheer.
They relax us, soothe us, and inspire us. And even improve our emotional health through the joy they bring.
In a hospital, they alleviate the ills of the sick, in professional offices and schools, they neutralize stress. Numerous studies have shown that flowers and colors influence mood.
Color therapy is considered a natural alternative therapy since it does not meet all the criteria enabling it to be recognized as conventional medicine.
Indeed, it has not been possible to demonstrate scientifically that colors are a key element helping healing.
What is certain in any case is that even if flowers and colors are not a determining factor in the treatment of a disease, they have the power to change our emotions.
DESIGN OPTIONS WITH FLORAL WALLPAPERS
You can create a nostalgic, dreamy mood with beautiful wallpaper in muted colors. Opulent floral bouquets or orchid murals do not look exaggerated or restless, but let your thoughts wander into distant dream worlds – the perfect accent in the bedroom.
Simple floral wallpapers can also be perfectly integrated into any living style, as the entire interior does not have to be changed.
The non-woven wallpaper with muted colors adapts to every room and enchants him in his way.
And the wallpaper can easily awaken memories of your last vacation.
Whether with palm trees and Caribbean mood on a photo wallpaper with sunset. Or French flair on a pink wallpaper with lavender field – you have the choice!
An ideal resource in interior decoration
Beautiful flower wallpaper is more than just a decorative element. Because a beautiful flower wallpaper is capable of transmitting life and changing our mood. In this way, flower wallpaper is a good resource in interior decoration as they gently and delicately decorate the room they are in. Creating an atmosphere of harmony and tranquility.
In addition, these nature jewels bring elegance and great luminosity to the home. Being suitable for multiple decorative styles such as classic, romantic, or vintage. Also, other styles such as the modern have managed to incorporate floral designs in a more current way.
Wallpaper Kenya's range of beautiful flower wallpaper brings freshness and beautifies every corner of your room. You can use it for the living room, the entrance, the bedrooms, the bathroom or the kitchen, or the office.
Breathe in the smell of spring, walk through a field of sunflowers, let yourself be seduced by the red poppies, and feel the calm that the green of nature transmits to you. Because the environment around you affects the way you see life, choose a design that contributes to your well-being every day.
Picking the right flower design
Not every beautiful flower wallpaper pattern is suitable for every home. The size of the flower design, the type of flower, and the color make the difference and should suit your style of furnishing.
With a petite floral pattern, you can create a playful and romantic mood. Many small flowers form a blossoming meadow and are connected with a pastel background. By using wallpaper with a small flower pattern, you make your room appear larger.
By choosing a wallpaper with large flowers and blossoms, in soft tones, you create a harmonious and calming atmosphere.
The combination of muted colors with delicate flowers gives rooms a soft and elegant flair. When choosing a large floral motif, the individual flowers come into their own particularly well.
The attractive mix of patterns
Not all wall surfaces have to be covered with floral wallpaper. You can find a good introduction to the world of flowers by conjuring up optical highlights on your walls. 
Wallpaper with a floral pattern lends itself well to such an accent. Simply combine a floral wallpaper with a plain-colored copy and you will have a colorful eye-catcher.
Designing your walls with floral borders offers another alternative. Use the trimmings to add small floral accents.
Cute bunny in Spring Bloomy garden with Lilies of the valley florals and white butterfly vector seamless pattern.
Vintage romantic nature hand drawn print. Cottage core aesthetic background. are also ideal for determining clear boundaries between different areas of the walls.
You will find a large selection of floral borders in a few other places other than at Wallpaper Kenya.
If you would rather embellish your premises more unusually, there is a sample mix. The combination of two different floral wallpapers is ideal for this. For a restless picture, the basic colors should harmonize with each other. When choosing a motif, care should be taken to select flowers of different proportions. 
A good combination is to choose a large flower pattern and one that consists of many small flowers. One floral wallpaper thus optically takes the lead while the other rather withdraw. You create visually exciting contrasts by combining different motifs.
Choose two different motifs. The mix of wallpapers with flowers and stripes can be very appealing here. But be sure to use wallpapers from a family of colors. With this selection, you avoid a troubled image and the different patterns harmonize better with each other.
Abstract beautiful flower wallpaper
The Abstract Floral Wallpapers are back in fashion and we help you customize your space to the maximum. Take advantage and change your interiors easily, choose the design, size, and scale you want your decoration to have. Your walls will look amazing!
Anyone who thinks that floral wallpapers always have to show real photos is wrong. Although real flower photo mural wallpaper is extremely good for customization. But graphically designed floral arrangements are also convincing at first glance. The wealth of details here is almost unlimited.
The graphically designed floral wallpapers get their very own touch through fabulous structures or unreal coloring. Enchant your white wall in an imaginative flower garden or give the room structure through a floral arrangement as photo wallpaper. Whether vintage or modern: a floral wallpaper succeeds in underlining and completing your room concept.
Wallpaper Kenya products are easy to hang, or if you prefer, or if you like we also have installation staff in major towns in Kenya. The material is matte finish, durable and washable, so you can decorate any space. Except in too-wet areas.
All you need are walls or the surfaces where you want to hang the wallpaper to be smooth, without porosity or texture. As these would affect the adhesion of your wallpaper to the surface. This particular beautiful floral wallpaper design comes in numerous colors. Look at some elsewhere on this same page you are reading, and visit the Wallpaper Kenya store for more.