Description
The need for custom bedroom wallpaper murals
No doubt the best bedroom wallpaper murals are custom-made.
Because sleep is not the only function that a modern bedroom should provide.
You read in it, watch movies, enjoy food, and even work.
The times when the bed served only for sleeping are long gone.
And the functionality of the bedroom and also of the bedroom wallpaper is gradually expanding.
You relax in bed, have fun and even work.
In a word, the choice of your bedroom wallpaper mural is now determined also by the presence of these additional options.
Most of them are in modern furniture. 
For example, if you like to relax in bed with a glass of wine and a plate of light snacks, furniture makers make beds with a special space in which you can put dishes.
And this calls for a special waterproof contact paper for furniture. 
Another very interesting solution is a bed with bookshelves. It is designed for you if you fall asleep only after enjoying reading.
But despite the abundance of options, you still consider the bedroom only as a quiet and secluded place to sleep.
In it, you want to turn away from life's problems, just close your eyes and not think about anything.
In this case, you will choose from soothing nature wallpaper murals. 
Out goes the traditional preprinted wallpaper
Most of the bedroom wallpaper at Wallpaper Kenya is custom-made wallpaper.
You will get a few ordinary bedroom wallpapers for KS 1500 per standard-size roll supply only.
I call them simply because as you can see the pattern is one repeated many times over.
But you can have customized bedroom wallpaper murals of any design you want.
You may want a beach scene, a forest, or a sunset.
Or even a picture of your family, without repeat patterns, and that we will achieve.
The repeat pattern bedroom wallpaper, though beautiful, is relatively low cost. Because they are reprinted and reproduced in bulk.
On the other hand, a customized bedroom mural will cost you 2000 shillings per square meter.
In other words, roughly 20k to KS 40k for one feature wall. But for this, you get the best of the best.
With that, all you have to do is give us a high-definition picture or the image you want to appear on the bedroom wall.
Also, give us the height and breadth of the wall. And we do the rest.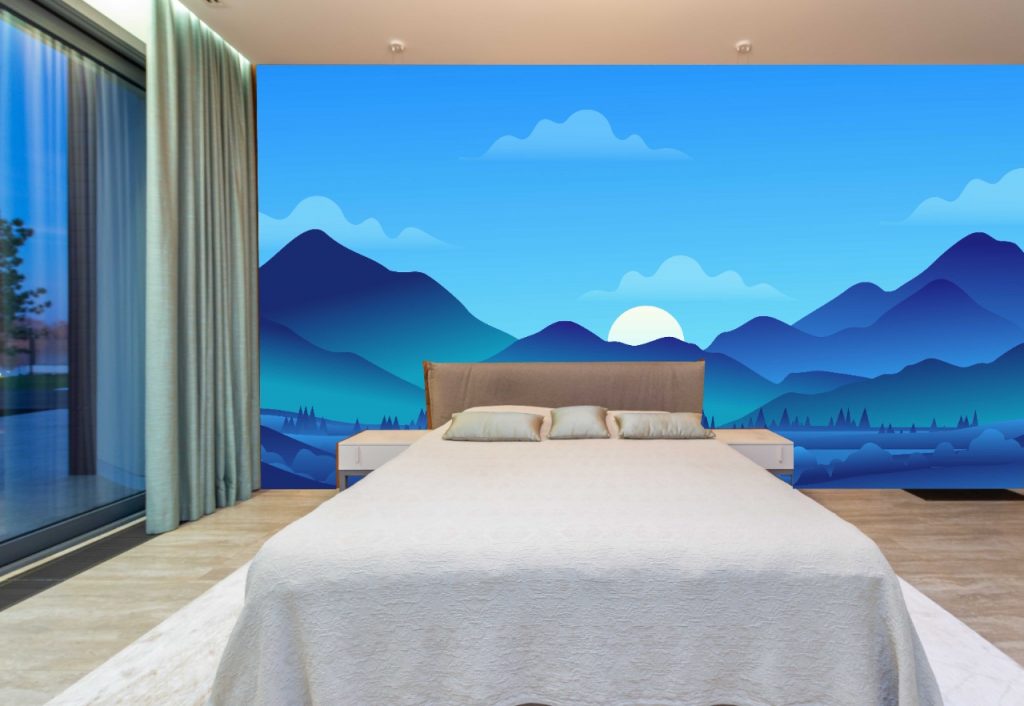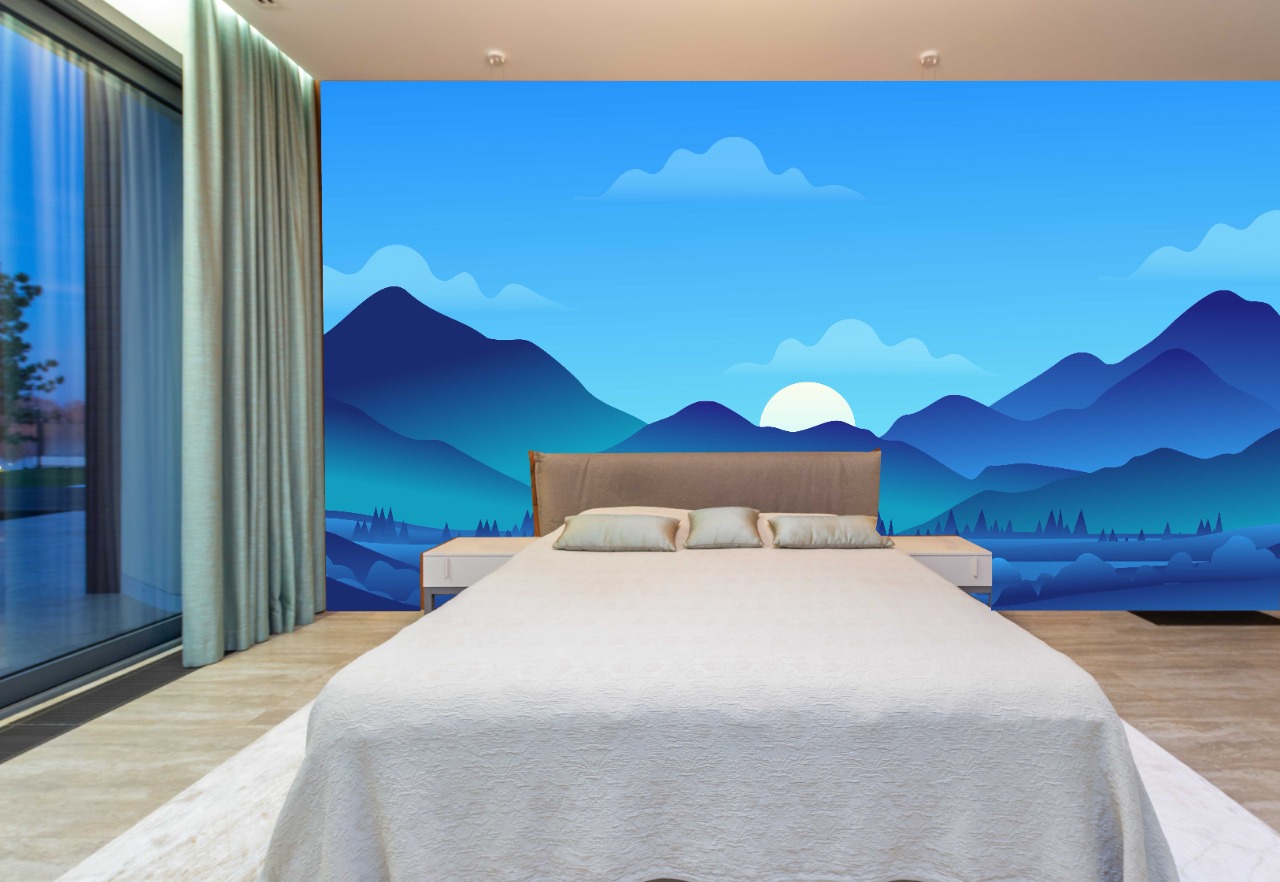 With an unlimited catalog of bedroom wallpaper murals, you can change the style of your rooms with the themes and elements that most interest you.
Wallpaper Kenya has put a little effort to offer you a magnificent variety of designs that will satisfy even the most demanding.
Therefore you'll find this interesting section of murals for bedroom wallpaper to suit all tastes.
These include habitation of cities, landscapes, flowers, nature, sunset, maps, and bedroom walls of city photo murals.
In addition to many more designs that will surely surprise you.
We offer Free consultation on Bedroom wallpaper and murals ideas
An ideal product to decorate rooms and create a comfortable space in which to spend time without getting bored with your new decoration.
And one which will be great and exclusive.
And also reflect on how you are and your personality. So you must have it to your liking.
And you can feel much more comfortable.
For this, forget about making renovations or having to spend a lot of time or money on it.
Wallpaper Kenya offers you a much more effective and efficient solution.
Because by placing one of our designs you will have the bedroom to your liking.
Custom Bedroom Wallpaper
Wallpaper Kenya is your master or marriage bedroom wallpaper decoration store par excellence.
That's why we do everything we can to decorate your favorite space and make it more special.
The reason why at our store you will find the possibility of the storm configuration of your bedroom's wallpaper.
And having thus the possibility of choosing the colors, finishes, s, and measurements of the wallpaper you want.
Which will allow your decorations to be customized to each bedroom and its needs.
Decorating your bedrooms with our bedroom wallpaper will give you the possibility of having a different and harmonious bedroom.
And this is with-quality materials in both finishes and designs.
Therefore your night rest will be more pleasant in coming and warm with these fantastic decorative elements.
With this great range of bedroom wallpaper designs, decorating your room will not be a difficult and exhausting job.
Because of this wide range of options, you will have fun choosing the best designs for your walls.
And by having these murals in your room you will rest differently.
That is more comfortable and relaxing. Don't wait any longer.
Wallpaper Kenya invites you to take advantage of this incredible selection of designs.
And change your bedrooms in a very original and fun way.
We have bedroom wallpaper murals for every taste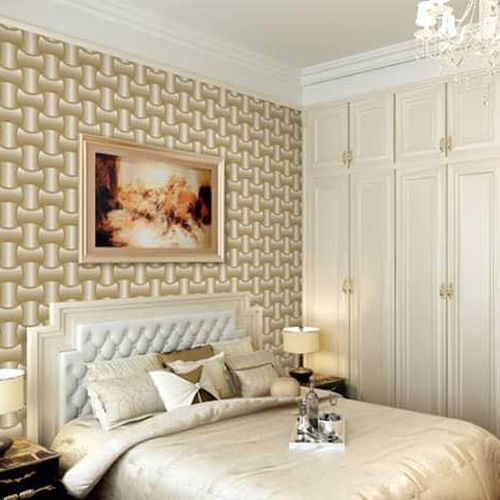 Wallpaper Kenya has bedroom wallpaper
murals for every taste
. So you can pick your favorite and wallpaper it on your wall.
Take your time choosing. Because we print it on a silk cloth that will last a long time on the wall.
It is up to you but we can also help you discover which one best reflects your personality and stamp it on your bedroom wall.
Your visitors and audience will be too tongue-tied. Because they will be extremely impressed.
And you will love to boast of a room.
Measure your wall and choose the measurements you need.
We will be able to apply it to your full wall and you enjoy a magnificent and original decoration.
Our bedroom wallpaper murals are top quality and highly durable.
You can even remove them from the wall, wash them like normal clothing, and move house with them.
In other words, our bedroom wallpaper murals are removable and reusable.
In addition, you will also be happy to know that our printing is finished in matte. This avoids light reflection.
Ideas for Bedroom wallpaper murals
We all look for the same thing in our bedroom wallpaper- that it makes a sanctuary that isolates us from the wear and tear of our daily lives.
And a pleasant and refreshing place where we can recharge our spirits.
But, as one of the most private rooms in our house, it is also a place where we can reflect our individual preferences.
This is to create the perfect setting that allows us to enjoy a happy and restful sleep.
Of course, there is no one correct answer in this regard.
But before weighing in several ideas, it is necessary to take into account, to begin with, the size and shape of the bedroom.
As well as the style of our home.
For example, a country-style bedroom is unlikely to work very well in a small-bedroom modern apartment.
Then there is the question of our own needs: do we sleep lightly and do we need a very relaxed atmosphere?
Or, on the contrary, do we find it difficult to wake up in the morning, and do we need a very bright and happy stay?
You should ask yourselves this kind of question.
Since they could influence when deciding how to make a makeover of your bedroom.
Tips for decorating
The bed is the center point of the bedroom. Place it on one side of the window; so the light won't bother you.
Another important element is the wardrobe. And we have wardrobe wallpaper.
If you have enough space, you can leave an entire wall to place it.
If you don't want the vibe to look visually ornate, cover it with white contact paper.
In addition, you could complement it with a chest of drawers, always useful to have easier access to your clothes.
As for its doors, we recommend that they be sliding.
They are a little more expensive but you will gain space.
However, if you choose a wardrobe with swing doors, consider that you should leave about 80 cm free so that it can be opened comfortably.
White bedrooms
A white bedroom wallpaper guarantees 100% serenity.
And it is also a safe option if you are decorating a home that you plan to sell shortly.
You can introduce in this white bedroom wallpaper some subtle variations.
Playing with different shades of magnolia and cream or resort to a wide range of textures.
And add cotton sheets and pillows that contrast with a knitted quilt, for example.
Or a glossy dressing table that counteracts the effect of a fluffy rug.
In this way, a normal white room can become a much more original room.
What colors and types of wallpaper should you use?
If we have trouble falling asleep at night, perhaps we should resort to neutral tones – they help us relax – combined with soft lighting.
If, on the contrary, we find it difficult to set foot out of bed in the morning, then it would be a good idea to opt for a bright and cheerful color that makes us start the day with energy.
Pale shades can be used to create a greater sense of space in a small bedroom, but if the room is cold or north-facing, blues-greys should be relegated in favor of warmer shades.
If we choose wallpapers with dense motifs or raucous colors, we could disturb the relaxed atmosphere of our room, so it is better if we stick to more calm and subtle designs.
Choose a wallpaper that isolates street noise
Apartments in Nairobi, Kenya, particularly need bedroom wallpaper.
Because One of the disadvantages of living in an apartment in the city is its high exposure to outside noise.
And, if yours is a neighborhood with a lot of nightlife, you spend some nights awake.
If you want a more effective alternative to buying earplugs, we recommend that you opt for acoustically insulating the walls. And windows of your bedroom.
Although it is always appropriate to consult a professional, if you are a handyman you can carry out the reform yourself by following these steps:
Insulation of the walls
First, remove the skirting boards and plaster moldings.
And then put memory foam on all the walls of the room, making sure they are well secured with adhesive tape.
Then, put metal profiles leaving an air chamber with the original closure (there you will introduce the insulation, you can use fiberglass, polyurethane, expanded polystyrene, or mineral wool).
Lastly, secure the new drywall to cover the walls and finish up with acoustic bedroom mural wallpaper.
Insulation of windows
There are two options here: installing a double window or installing a double-glazed thermal window.
In the double windows, the windows must be at least 4 mm thick, and, as for the second windows, there must be two windows with a dry air chamber several millimeters thick.
In this case, the frame and the window must be correctly joined, with elastic strips that block the passage of sound.
However, if you don't have a big budget or don't want to start construction at home, there are some very simple ideas to isolate your bedroom from outside sounds.
For example, you can place a carpet (preferably high-pile wool or thick, as they are effective) or place large fabric tubes with a sponge or fiberglass inside the room.
In addition, if you like the back of the frames with this last material you will also be able to reduce noise considerably.
What are the most popular styles for the bedroom?
Modern bedrooms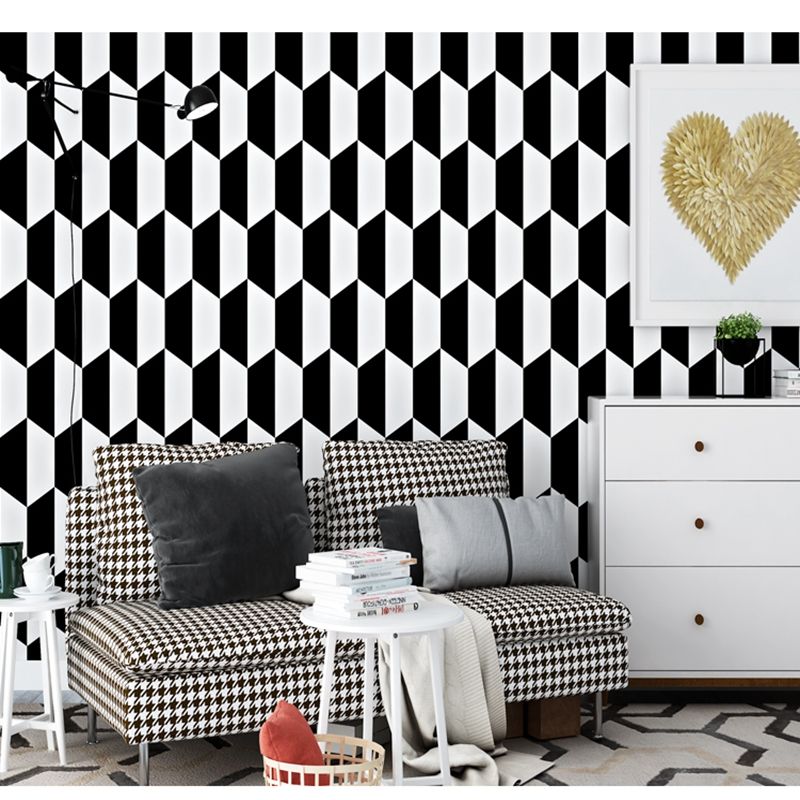 To be fashionable and follow the latest trends,  a modern bedroom Standard has to be light and fresh. And in most cases, it has a wooden floor, elegant cabinets, and all its elements in order.
If you are redecorating following this style, you will not be mistaken if you opt for black & white walls. While bedding and curtains should generally be in neutral and plain tones.
Avoid strong patterns or colors. Furniture and accessories, such as lamps, should be discreet and practical. So that they match the general pattern of the room.
This is a style that most contemporary a home lends themselves to, making it practical and easy to achieve as well as pleasing to the eye.
However, it is necessary to keep the order of the day,  to maintain that aspect always.
Rustic-style bedroom wall
There's a classic, understated elegance to rustic wood bedroom wallpaper décor. Often synonymous with farmhouse decor. These rooms are homey and welcoming.
The rustic style offers a relaxed, authentic, and comfortable environment. Complemented by stone and exposed beams, It is a style that brings out the best in older homes.
But can also be used to endow modern homes with individuality and flamboyance.
Ideally, it should give the impression that everything has been gradually assembled over time, or that it has been inherited.
A wrought iron bed, a flowered bedspread, or a tartan blanket. A dresser that has been repainted, or maybe a lot of old suitcases for storage.
And a  fireplace with a pile of logs next to it, to give the finishing touch to make our bedroom chicer.
Scandinavian style bedrooms 
The Scandinavian style is characterized by its cleanliness, light woods, and neutral tones – to the detriment of homemade touches – to create a serene and hospitable environment.
Her favorite colors are soft: in shades of magnolia, gray-blue, and olive green.
The Scandinavian style is also associated with pine since it generally brings freshness to this style of decoration, but you can also opt for bleached furniture or wood finishes.
A ball of wool, a rocking chair, or a wooden trunk at the foot of the bed can help give the room an air typical of Hans Christian Andersen's fairy tales.