Description
We are frequently asked for the best soundproof wallpaper. And yes we have it. Many people are skeptical about whether there is such a thing as soundproof wallpaper. And you might also be asking yourself "Does soundproof wallpaper work?" But it does work well.
In the past, people used regular but textured wallpaper for soundproofing. And I think this is why there is a mistrust of soundproofing wallpaper. Because even though textured wallpaper diffuses noise or sound, the difference is hardly noticeable.
The visual aesthetic of textured wallpaper will likely have a bigger effect on the perceived sound than any diffusive characteristics. And this begs the question, is soundproof wallpaper possible? 
Well, today there are soundproof wallpapers. There are a few different brands on the international market to choose from. And they are nothing like the traditional wallpapers that you need to decorate your home or office. In this category, at Wallpaper Kenya, you will find 3d foam soundproof wallpaper in stock.
These new wallpapers are made with soundproof materials and are designed to prevent noise from entering your home.
Soundproof wallpapers not only reduce noise levels in your room but also add to the visual appeal of your room walls. In addition, you can easily remove them at any time and they are easy to clean and maintain. At Wallpaper Kenya you will find soundproof wallpapers in different designs, colors, and thicknesses.
If you are interested in getting soundproof wallpaper and you don't know which one, don't worry because you will find the best at Wallpaper Kenya. And I will let you know why it is the best.
The best soundproofing wallpaper is made from some special layers of materials that help dampen the noise a bit. And at Wallpaper Kenya you will find them in 3d foam wall panels.
3d foam: One of the best soundproof wallpaper
One of the best soundproof wallpaper is made of soft PE foam and is 1/3 inch thick. With only 10 pieces of this wallpaper, 70 cm by 77 cm each, you can cover about 5 square meters. And each one covers a space of 5390 square centimeters.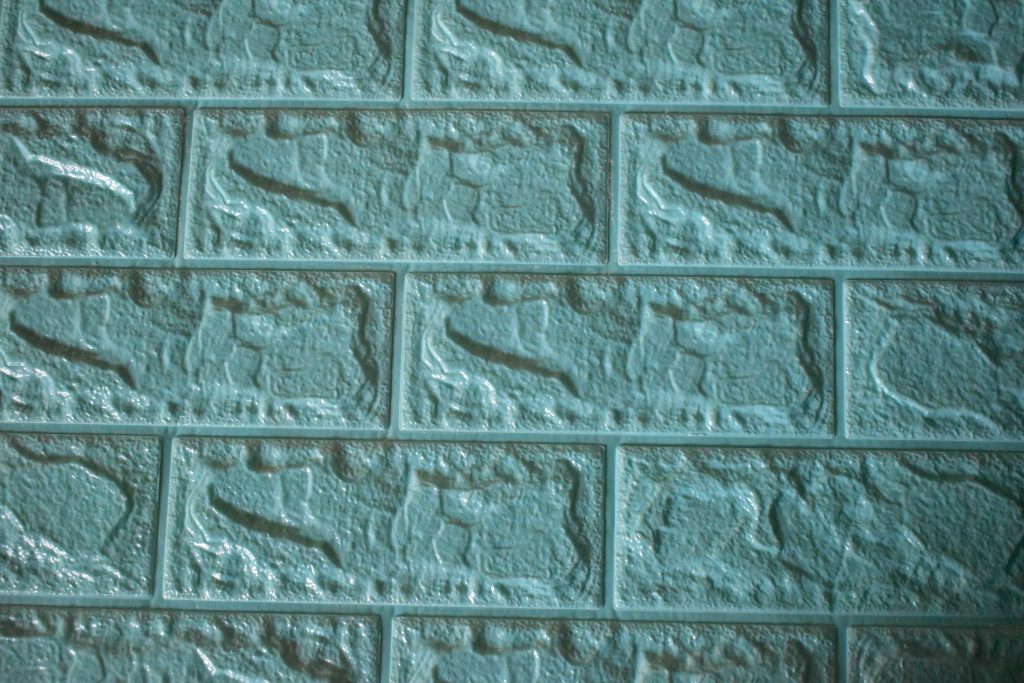 These soft soundproof wallpapers are suitable for the baby's play area. Because they play the role of sound insulation and anti-collision, providing a safe and quiet space for your baby.
They come in different decorative designs. But did you know that brick wallpaper is the best seller of all time? Soundproof or otherwise. The use of brick design in it is beautiful to behold. If you like brick walls, this acoustic wallpaper is a great option.
They can be applied to any wall and room of your choices, such as the kitchen, living room, or bedroom. The 3d foam brick wallpaper panels are made to look as realistic as possible. Adding them to the wall of your home or office will give you an urban loft style. Just peel it off and stick it wherever you want.
The 3d foam material and thickness help reduce low background noise. As I write this article, the current price is an introductory offer of KS 550 per panel 70cm by 77cm.  3d foam acoustic wallpaper is designed to be anti-collision, lightweight, durable, waterproof, and easy to clean.
Like most wallpapers, this one isn't invasive either. This means you can easily remove it at any time if you don't want it again or if you're moving house.
Sound absorbing PE acoustic 3d foam wallpaper: Does it work?
3d (PE) foam is among the best sound-absorbing and sound-proofing wallpapers. A big advantage is that it is also waterproof. Furthermore, it is of high stability and strength and has high weathering and aging resistance.
Polyurethane foam is not only used in acoustic wallpaper. It is also used in other soundproofing respects. Because the raw material of the wallpaper, Polyurethane Foam, is a good acoustic insulator. It is usually used to insulate walls in other ways too. Injecting the foam inside the air chamber that is usually inside a wall. There are many varieties of foam and they have the advantage of being a non-flammable material.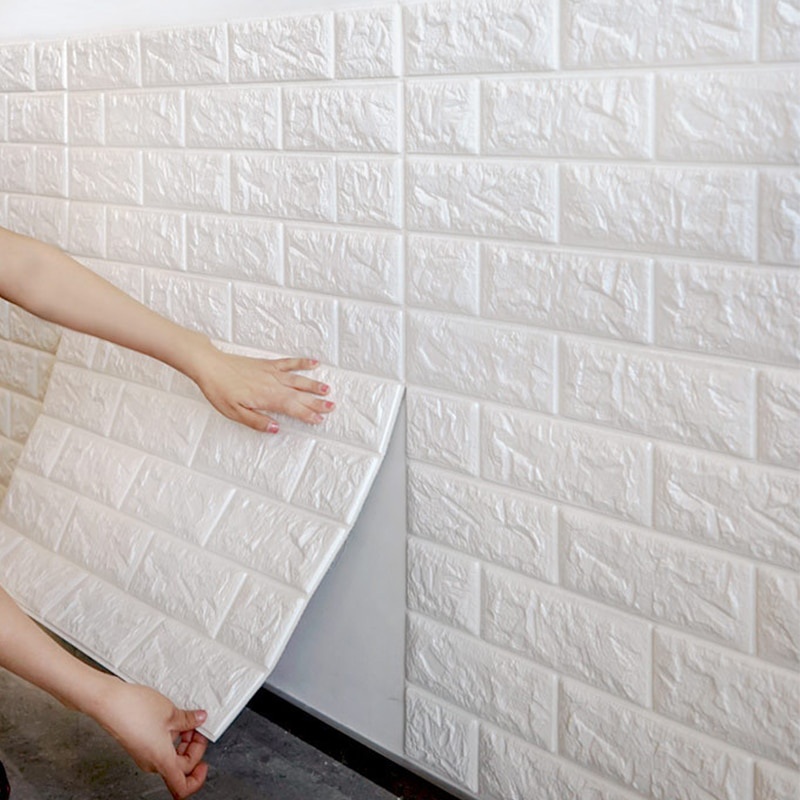 The best way to soundproof the wall and ceiling of a room is to build a double partition. To ensure insulation, the absorbent material is placed between the two chambers that form the two partitions or, on walls facing the outside, solutions with façade cladding are sought. But if you are already in an existing house or office, then that is difficult. And this is when you need soundproof wallpaper, which will give you both acoustic properties and pleasant aesthetics.
Polyurethane 3d foam wallpaper panels are one of the options you can use if you want to insulate the ceiling of your home. And thus reduce noise from your neighbors above. These acoustic wallpaper panels are perfect for noise absorption. Therefore, you can use them to soundproof ceilings and walls to renovate.
They not only perform a function of acoustic insulation, but also thermal, and aesthetic. 
The answer: Does soundproof wallpaper work?
Even the best soundproof wallpaper will only work in unison with other soundproof works. Because the noise getting into your rooms might not be passing through the walls only. The noise could also be passing through the windows. As well as through the door and the ventilation spaces.
So you need to identify all the other places that the sound is passing through and soundproof these as well.
But how does soundproof wallpaper work? Unlike regular wallpaper, usually one or two thin layers of paper, soundproof wallpaper is made up of several layers.
Included in these layers will is a layer of acoustic foam. If you know anything about soundproofing, then you'll already know that acoustic foam isn't designed to block noise. But it controls echo. And the density of the materials has a small difference in noise pollution, but this isn't its main purpose.
The bottom line is that while it doesn't block noise, soundproof wallpaper is useful for managing acoustics in a room. Particularly if you're looking for a more aesthetically pleasing option than acoustic foam.
The best soundproof wallpaper does not work alone
You may require more than the best soundproof wallpaper. Because sound does not pass through the walls only.
To eliminate noise from outside, you must carry out soundproofing work more than just on the walls. Soundproofing a room will require some financial costs and skills more than wallpaper only.
To begin with, let's figure out how noise penetrates your apartment and what are its sources:
restless neighbors (both from above and from adjacent apartments);
high traffic or a busy avenue where the windows of the house go;
sounds from the entrance (intercom, slamming door);
noise and extraneous sounds from the rooms of your apartment (when you want complete privacy).
In all the cases noted above, sound insulation methods will be different.
Consider how to deal with sounds coming from the street. If your apartment is located with windows on a busy avenue, it is of course possible to make it quieter. You install double or triple glazed windows. Dense blinds or curtains will drown out sounds from the outside a little. This method is especially relevant for the hotel in downtown Nairobi. Or for people living on the first or second floor.
What are the types of soundproofing?
– rolled soft: soundproof membranes, fiberglass, mineral wool, and polyester sheets – everything that does not require a frame and is attached mainly with an adhesive layer or is used for frame insulation.
– solid insulation – panels, various plates, foam.
– improvised soundproofing – as a rule, the most used methods include carpets, curtains, or voluminous pieces of furniture such as cabinets.
It is worth considering this moment: the thicker your soundproofing option is, the smaller the area of ​the apartment will become.
What specialists can do: paid services for the best soundproofing
You can hire sound engineers who will competently make soundproofing, and at the same time, you will save your time. It will cost more than a simple purchase of consumables since you will also have to pay for the work of professionals.
There are many nuances in soundproofing, and one of them is that materials often weigh a lot. Despite this, they must be adjusted so that there are no gaps where sound waves can penetrate. It is quite difficult to cope with this for an ordinary unprepared person. But a specialist, due to his experience, will cope with the task faster.
In addition to laying the sound-absorbing material itself, the wall requires preparatory work. Of course, you can make them without skill, but if you hire professionals, it will be better and faster.
Separately, it is worth mentioning frame sound insulation, which requires many hours of work and certain knowledge.
Experts will also help you choose the material that is right for you, and will not be too bulky.