Description
Brick effect wallpaper is an imitation of natural bricks interior walls. And until you touch it, you can not tell the difference between a natural brick wall and brick effect wallpaper. One would be forgiven to think a brick effect wallpaper is a real brick wall. But alas, it's a brick effect  wallpaper.
There are several ways you can achieve a brick effect wall. However, the fastest and easiest and most economical way to achieve it is to use  wall paper.
No matter how you look at it.  See the harmony between the wooden table, the stools and the wallpaper here below.
Here we want to share some of the options open to you with high quality brick effect wallpaper. These are the most realistic brick effects:
3d brick effect wallpapers
Textured brick effect wallpaper
Rustic brick effect wallpapers
White brick effect wallpaper
Brown brick effect
3d slate stone brick effect
Grey 3d brick wallpaper
Light brick effect
Brick walls date back more than five thousand years. Building onto this ancient tradition is wall paper. The basics of the ancient brick and mortar are easy to understand. But achieving a professional quality wall takes planning and practice and a lot of hustle. Why not simply use wall paper?
Other ways of achieving the effect include but is not limited to 3d form. We also stock 3d form and is several times more expensive than the wall paper for the same effect. Another way and even more expensive is brick wall tiles. Tiles are much more expensive as they are ceramic material.
If you admire the cool and untamed look of an exposed brick wall, you can imitate that with Wallpaper Kenya brick look wall paper. You will definitely find one suitable for your living room or any other room in the house. Wallpaper Kenya incredible collection of realistic brick designs offers high quality prints in different earthy colors, red, black, brown, slate, white and more. Imitate a brick wall in your interior and create your desired look look within no time.
Decorating with brick effect wallpaper is in fashion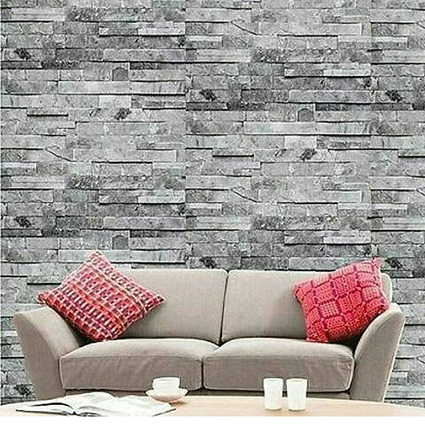 Decorate your interior spaces with brick effect wallpaper and create surprising environments full of personality. In interior design, brick wallpaper has become synonymous with avant-garde and is perfect for decorations in rustic, industrial, minimalist or vintage styles. Because when you use brick wallpaper in decoration you achieves a surprising effect. From a conventional element, a fresh and innovative aesthetic is achieved.
With the trend in Kenya of renovations and bare brick walls, the houses are highlighted with a natural side. You can see it in the lofts with the industrial side which brings an old factory touch to the house.
Brick effect wallpaper sticks to the wall and will give the appearance of a real brick wall. This trompe l'oeil allows you to bring a "true" dimension of a living room or a bedroom. The appearance is particularly well rendered. Because the wallpaper are made of vinyl. Vinyl offers the advantage of a very realistic graphic rendering while being washable if necessary.
In addition, it presents a multitude of finishes both in texture and design and color. Therefore you have a great choice to achieve a variety of totally different results.
Industrial and farmhouse interior decor
With the industrial and farmhouse trends in the world of interior design today, the appeal of having a brick effect wall has never been stronger. Having real bare brick in a bathroom, kitchen, living room, dining room or bedroom is not achievable for everyone. That's where these brick wall paper new technology comes in handy. With their realistic brick effect design, wall paper allows you to create the illusion of a real brick wall where there isn't one. Made from vinyl, you can use them to inject some rustic, industrial appeal into any room or throughout your home.
With the exposed brick wall paper you will easily set a rugged and classic tone in your home. It takes on the appearance of an aged brick wall. The beauty is in the detailed rough colors and patches of peeling paint. Wallpaper Kenya has the perfect naturally aged look wall paper. It will work best with earth-toned home decor or wooden furnishings to instantly create a cozy atmosphere in your living room, bedroom, or study area.
Wide catalog of brick effect wallpaper at the best price
At Wallpaper Kenya we have made an exclusive selection of brick wallpaper. These you can use in in any room such as the living room, hall, bedrooms or kitchen.
Likewise, you will find a wide variety of  designs and textures. These includes but is not limited to exposed bricks wallpaper. And also rustic-style bricks that present delicate imperfections controlled to the millimetre at their edges. Or brick designs that reproduce more refined bricks formed from thin stone plates. These are some just a few of the possibilities we offer you so that you can get the design that best suits your style.
For example, if you are a lover of minimalist style, the combination of faux brick wallpaper together with white Nordic style furniture produces excellent results.
Are you one who prefers giving a vintage look to your home or work environment? If so, you can combine brick wall paper with classic wooden or iron furniture, whose traditional aesthetics create a perfect counterpoint.
Discover the elegance of brick effect wall paper and create atmospheres with character.
3d brick effect wallpaper
Brick wallpaper is an all time best seller. And they are all 3d effect (or trompe l'oeil) ideal for an industrial style. Trompe l'oeil, (French: "deceive the eye") in painting, the representation of an object with such verisimilitude as to deceive the viewer concerning the material reality of the object.
In other words, the 3d brick effect makes you perceive and the wallpaper as real brick works.
Depending on your desire for wall decoration, you will find new, natural or painted bricks but also old bricks with incredible realism. In true trompe l'oeil, the 3d brick wallpaper will give any room character and a strong personality.
Textured brick effect wallpaper
It is not for nothing that textured wallpaper is becoming increasingly popular these days. Because such wallpaper brings a very special ambiance into a room. Such as relief wallpaper or textured brick effect wallpaper.
You can recognize the structured wallpaper by its unmistakable tangible, special surface with slight elevations. With it you will create dynamics on the walls and make them appear almost three-dimensional. In this way, structures such as brick, wood or other building materials can be imitated wonderfully without actually having to deal with these materials.
Rustic brick effect wallpaper
There are many different finishes that lend themselves to traditional rustic effect. Especially natural stone wallpaper. In this category you find unique shape of these stones, which often have an uneven edge. They provides a certain charm that works well in rustic spaces.
With some products such as rustic red bricks you can achieve the desired effect while requiring less maintenance than with natural stone. Take this into account if you prefer convenience over authentic materials.