Description
In most cases, brown marble contact paper is used in kitchen and bathroom interior decoration.
And is usually combined with white and black. However, the choice of brown marble contact paper is in most cases a win-win situation. Especially where it is necessary to emphasize solidity.
Brown marble is a precious natural stone, very often used in the creation of truly chic and exclusive interiors. Spaces decorated with it are distinguished by solidity, gloss, and respectability.
In addition to its high aesthetic value, the brown marble contact paper has the utility value of being 100% waterproof. And is also heat resistant. Therefore you should find it particularly useful in wet areas such as the kitchen and the bathroom.
I am sure you are aware that colors do affect our mood. And this is the essence of color in interior decoration. Brown marbles are cozy and natural like life itself. They are associated with stability and security. The wallpaper and furniture wrap is ideal for use in any room, provided you combine them well with another color. But, due to its neutrality, it can be combined with almost any other color.
You can combine it with other shades of brown. And you can also combine it with other colors such as beige, and white. Or contrast it in a spectacular and very attractive way, with colors such as green or blue. Also, you can take advantage of yellow, red, pink, and light blue, which look fabulous combined with brown marble.
The combination of brown and beige gives room warmth. If you apply dark shades of brown make sure you have ample natural light. And if you use a combination of lighter shades, we recommend using a warm light for a more welcoming touch.
Brown contact paper for countertop and other furniture
When using this brown marble contact paper on the countertop, or other furniture decoration, know that it is versatile. And you can easily combine it with other colors in interior decoration. In different magnificent earth tones, brown marble is the most delicate and versatile combination, for all possible tastes.
This relatively new marble self-adhesive wall and furniture covering has many applications and is highly appreciated for its beauty and quality. This is why it is known throughout the world and is used in every corner of the planet.
Although contact paper is used both indoors and outdoors, the elegance of its shine makes it widely used, mainly for interiors.  On walls, stairs, columns, and kitchen and bathroom cabinets and countertops. It is also widely used around sinks, showers, and backsplashes because it is waterproof.
Elegance, charm, and high cost looking interior decoration
When you decorate with brown marble contact paper you give out an impeccable sense of taste. Because the look gives the interior unobtrusive elegance, lightness, charm, and an impression of high cost.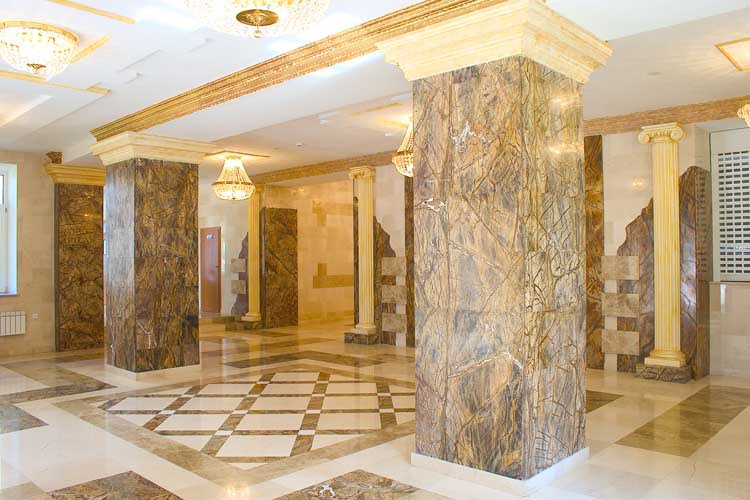 The uniqueness of the self-adhesive, waterproof, and heat-resistant contact paper is reflected in the original unsurpassed patterns. And these are pleasant textures, colors, and shimmering brilliance. It will help to translate into reality all design ideas, despite their originality.
The imitation of natural marble not only captivates with its beauty but also with interesting uses.
Brown marble contact paper as wallpaper
We highly recommend you use brown marble contact paper as wallpaper for your walls. Because among the many colors for interior walls, brown is one of the most elegant you will find. If you know how to use brown marble contact paper well; In addition to being warm, it also adapts to any decorative style. And is the color you will best combine with the typical colors of wooden furniture.
You will find different varieties of brown marble, including a rich chromatic range of earth tones. Take, for example, sequoia brown marble, a unique crystalline brown marble. It presents a particular striated aspect due to its marked bands in brown, earth, and grey tones.
The brown marble on kitchen walls, bathroom, or living room has all the advantages of a natural stone look and adds color. It is not only used on the kitchen countertop. You can use it as a wallcovering. The resistance of contact paper, its polished finish, and richness of color are some of the advantages of this material. 
Perfect in areas in direct contact with water
You can use the brown marble contact paper in bathrooms without any problem. And you can use it in the shower area too as it supports direct contact with water. Of course, if you want, you can use the real marble stone.
Both options are possible! Because natural stone is perfect for covering an area of ​​a wall.  But you will find on the market since marble is one of the decorative trends of 2022, contact paper that imitates this finish. And with it, you will visually give a lot of play.
You do not have to cover an entire wall with contact paper. But, you can create areas to highlight a piece of furniture. Or you can lighten a wall that would otherwise be very heavy.