Description
Children's wall murals should not only be filled with vibrant colors and energy. But they should also inspire your child to learn and develop in an artistic nature.
Developmental benefits of art include motor skills, visual learning, inventiveness, cultural awareness and improved academic performance. You can identify how these benefits are important in your child's life and it's growth. Once the child's room reflects such inspiration then rest assured the rest will make its mark.
Since children are by nature imaginative use creative imagery for their wall murals. Scenes of animals in the wild, prehistoric adventures with dinosaurs, to favorite sports or journeys through space. These and endless more now are easier than ever to transform your child's bedroom.
A playful environment beyond your children's wildest dreams with our children's wall murals aids in emotional strength. Such wall murals allow children to use their creativity while developing their imagination, dexterity, physical, and cognitive strength.
All true wall murals customized. That mean every one wall mural is unique. Therefore there are endless spectacular children's wall murals to choose from. You can create something truly unique to your little boy or girl that they will love for years to come. No matter what they enjoy, we will help you find a kids wall mural to suit them.
These are the perfect gift to any child. You provide a high definition of your child's favorite. These could be a fairy tale castle, their favorite video game characters, pirates or a princess castle. Regardless of what it is we will reproduce it using the highest quality wallpaper.
What to look for in Children's Wall Murals
Cartoons are an inevitable part of every child's life and make for good wall mural when well picked. A multitude of girls have fantasized about being princesses and boys have imagined themselves to be valiant knights after watching classic animated tales like Peter Pan, Aladdin and the Magic Lamp, Cinderella, Beauty and the Beast, etc.
However, cartoons can have both positive and negative effects on the cognitive development and behavior of a child.
The importance of cartoons for children's wall murals can be seen from the various positive effects that cartoons have on child behavior and development.
1. Early Start on Learning
Cartoons nursery wall murals can help kids get an early start on learning. The positive influence of cartoons wall mural on children can be seen especially in the case of educational cartoons that teach shapes, numbers, and colors. Such cartoons teach children in a fun and interactive way, thus making learning an enjoyable activity.
2. Enhanced Creativity
It's important you understand why you need to choose the right design. Different murals suit different child environments, such as for laughter or educational or creativity. Therefore you need to think about your children and their needs when selecting a mural for their room. Some murals are perfect for toddlers and babies while others are designed for older children and teens.
Children's Wall Murals with a fair amount of detail and bright colors can help encourage creativity and create a positive environment. The color green is associated with a sense of calm and can encourage learning. So, keep these points in mind when a design.
Cartoons wall murals can help increase your child's imagination and creativity. The child can think of new ideas inspired by the cartoons in the wall mural and come up with new stories or artwork based on cartoons that they have seen.
5. Laughter and Stress Relief
Amusing cartoon wall murals that make children laugh out loud at the antics of relief stress. Laughter is a good stress buster and a confidence builder. It also boosts immunity and causes the release of endorphins that cause us to have positive feelings.
6. Educational
Educational murals are drawings, billboards that are in the room or at home for and learning. Human communication through graphics is part of our history.
Boys and girls learn to read figures before they finally learn to read text.
The educational murals are intended for the Preschool Level and First Basic Cycle. With the educational murals the children receive many benefits; among them: They diagnose the cognitive structure of the student.
Watching cartoons in any form, wall murals or otherwise, is a great way to teach your kids about local customs, traditions, history, and mythology.   "They facilitate vocabulary development."
Therefore use cartoon wall murals help your kids get an early start on learning. And for this purpose choose educational cartoons that teach shapes, numbers, and colors. With such children's wall mural cartoons you can teach basic things to children. And this is a fun and interactive way, thus making learning an enjoyable activity.
Ideas to enhance kid's spaces
Let your creativity run free with children's wall murals. Whether it's a fancy pattern, a cartoons or educational mural – we show you how to wallpaper a child's room like a pro.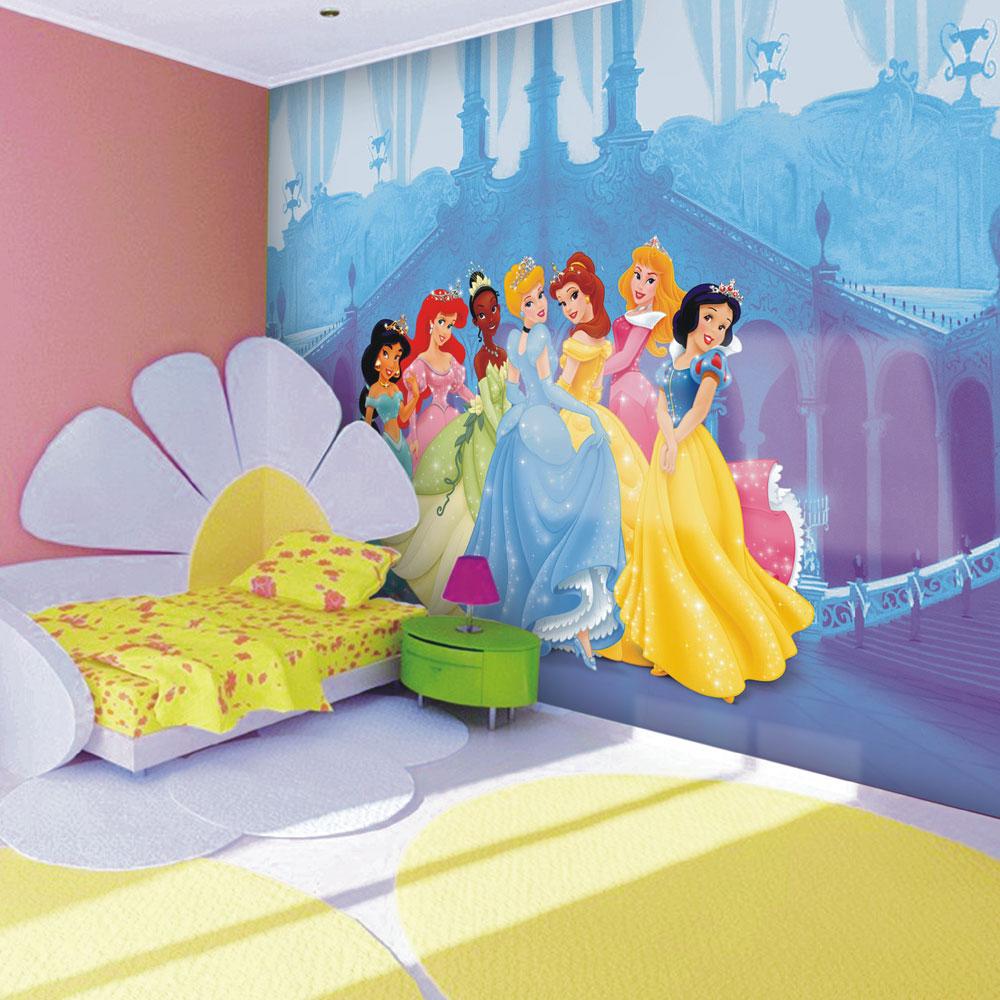 In the children's room, you can let their creativity run free. With a little imagination, manual know-how and time, the children's room is adorned with new colors and designs. We help you choose the right mural for your child's needs.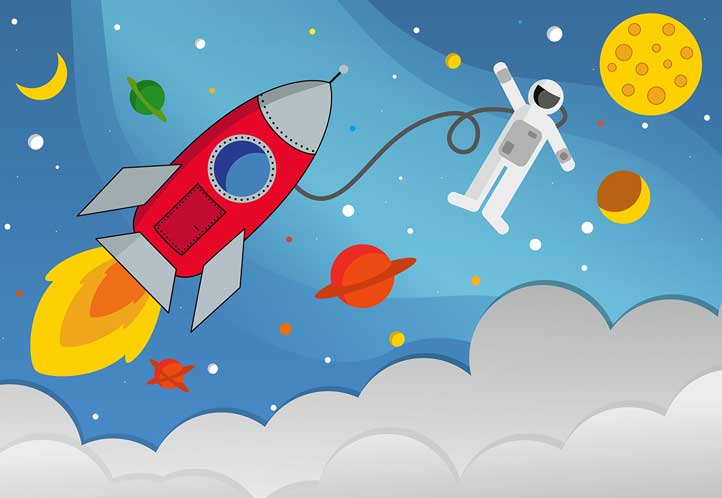 Pastel colors are often the first choice for a child's room mural. This is not without reason. They have a calming effect.
A pastel color is any color that has just enough white mixed into it to look pale and soft while maintaining its colorful personality. The most common pale colors we've seen this year are soft millennial pink, light azure, creamy mint, and whimsy yellow.
But it is not only the effect of color that influences the choice of wall mural. Also you must take into consideration the size of the room.
Discover in a practical guide on the theme of the effect of colors. For example, how to visually enlarge a low room by bright color murals.