Description
The decorative and protective use of self-adhesive contact paper for cabinets in the kitchen and bathrooms is well known. People prefer to use contact paper decorating bathroom and kitchen cabinets and walls for their décor and protection against water.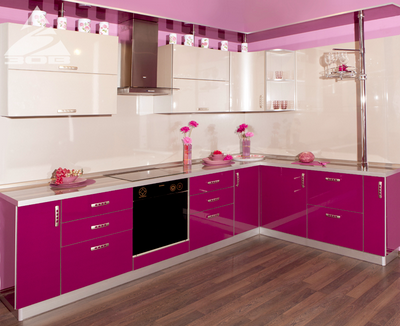 But there are other cabinets outside the kitchen and bathroom where contact paper is very useful. Both in decoration and protection against dirt, water, grease, wear and tear. Cabinets provide useful storage and appeal to any room in your home – not just the kitchen.
Take for example office cabinets. Office furniture determines the status of the company and also affects the productivity of employees and the safety of the work process. Therefore, the choice of contact paper for office cabinets is thoughtful. Because it is made of polyethylene, in a wide variety of designs and colors.
Self-adhesive contact paper sticker is soft, extrusion resistant, tensile resistant, water-resistant, and is oil resistant.
If you're choosing new finishes for your office cabinets, then you'll want to ensure that it matches your office's overall vibe and theme. Our cabinet's contact paper should match the overall interior design of your space. And create a workplace culture that makes the most sense for your company.
When you finish your office cabinet, you have a better chance with contact paper for cabinets:
To get what looks best with your theme
And to save money
To harmonize realistically regarding lighting, other fabrics in the office, and other considerations
Spice things up and change up designs in a time-saving manner.
Qualities of contact paper for cabinets
Contact paper for cabinets is a self-adhesive vinyl sticker that is durable and waterproof, which makes it very versatile. You will find it particularly useful in kitchen furniture decoration. Because it does not absorb unpleasant odors, is resistant to chemicals, dyes, detergents, abrasive, and caustic agents.
The sticker comes in many designs; glossy, matte, glitter, metallic, and patterned, just to name a few. And it is also easily removable at will.
This vinyl contact paper is ideal for decorating or protecting cabinets, counters, shelves, and drawers. Because it is sturdy, durable, and stain-resistant. And you can also wipe it clean easily using kitchen soap and water.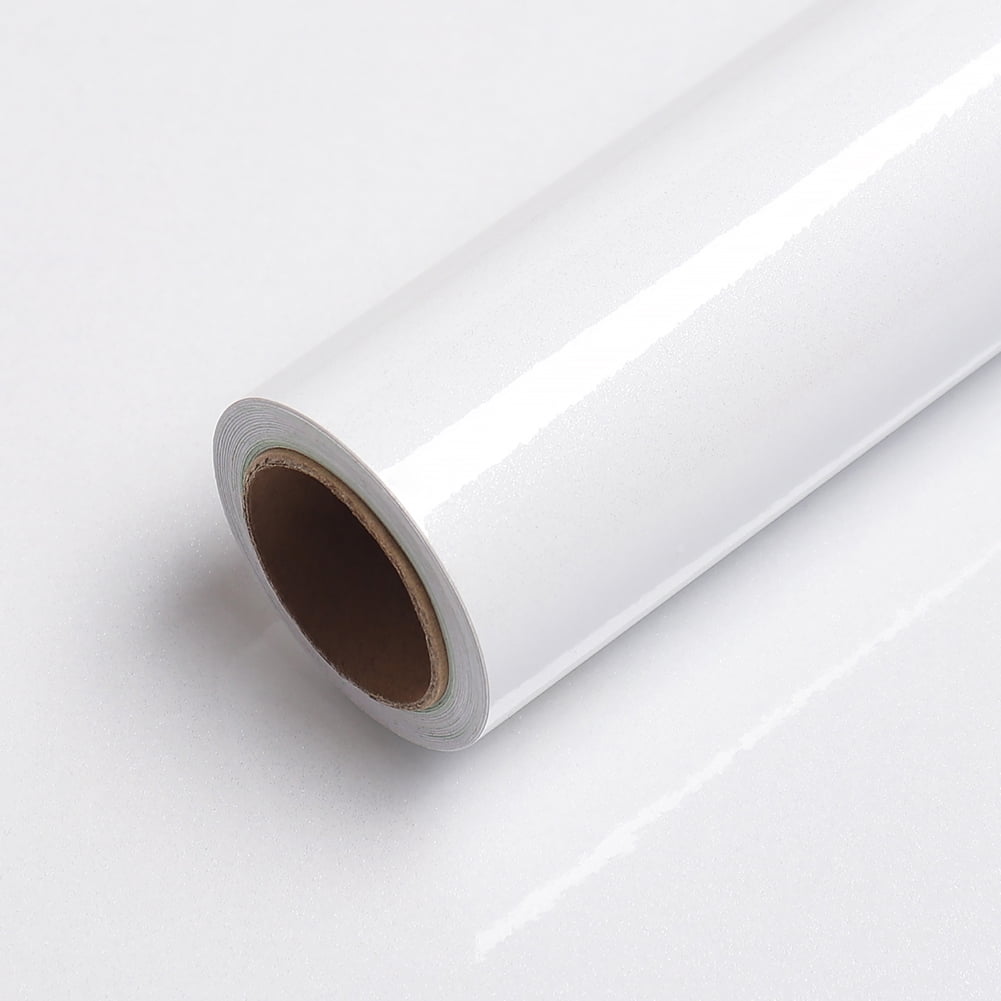 You can use it for a variety of décor projects. Because it has an easy-to-clean liner and glue that allows you to reposition during installation without leaving a sticky residue. It is easy to apply, easy to remove, and easy to keep clean.
The advantages of buying vinyl contact paper for cabinets include low prices, a variety of colors, and easy maintenance.
Faux wood contact paper on cabinets
Some of the most favorite designs of contact paper on cabinets are faux wood. And this should not surprise you. Because the elegance and warmth of wood finishes can hardly be found in other designs. And also these designs will harmonize with almost any décor style in your office, kitchen, or bathroom.
Take for example a kitchen with wooden finish cabinets and furniture. Kitchens with wooden furniture never go out of style. Some are updated and others remain faithful to tradition. All with the comfort of this natural material. But a wood kitchen does not mean that it is such.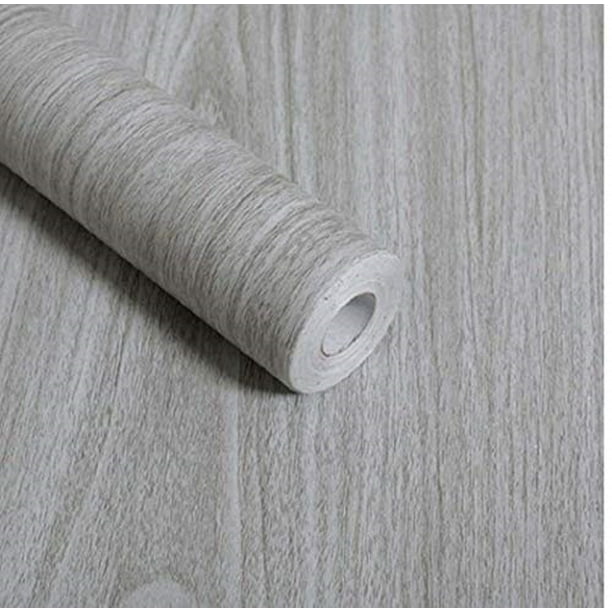 The different types of materials in which the furniture is manufactured allow you to enjoy this finish without being natural wood. And with the advantages that it entails in maintenance and price. Thus, solid wood and wood veneer kitchens use natural wood, while contact paper imitates colors and textures extraordinarily well. Including the relief of the grain, but they are not wood.
Faux wood contact paper offers you a great repertoire of tunes. And so you can choose between darker woods such as oak or look at other lighter and more dynamic ones such as pine.
And contact paper may have some advantages over real wood. The main drawback of a wooden kitchen is that depending on the type of wood it resists more or less moisture. But this does not happen with vinyl contact paper finishes that imitate wood. Ideally, natural wood should not be in contact with water for too long.
Installation of contact paper on cabinets
Just cut to length or shape for your custom application. Contact paper is easy to measure, cut, and install. You simply roll it out to a size that will fit your cabinets, shelves, or drawers, then cut it out with scissors and put it where you want it to be.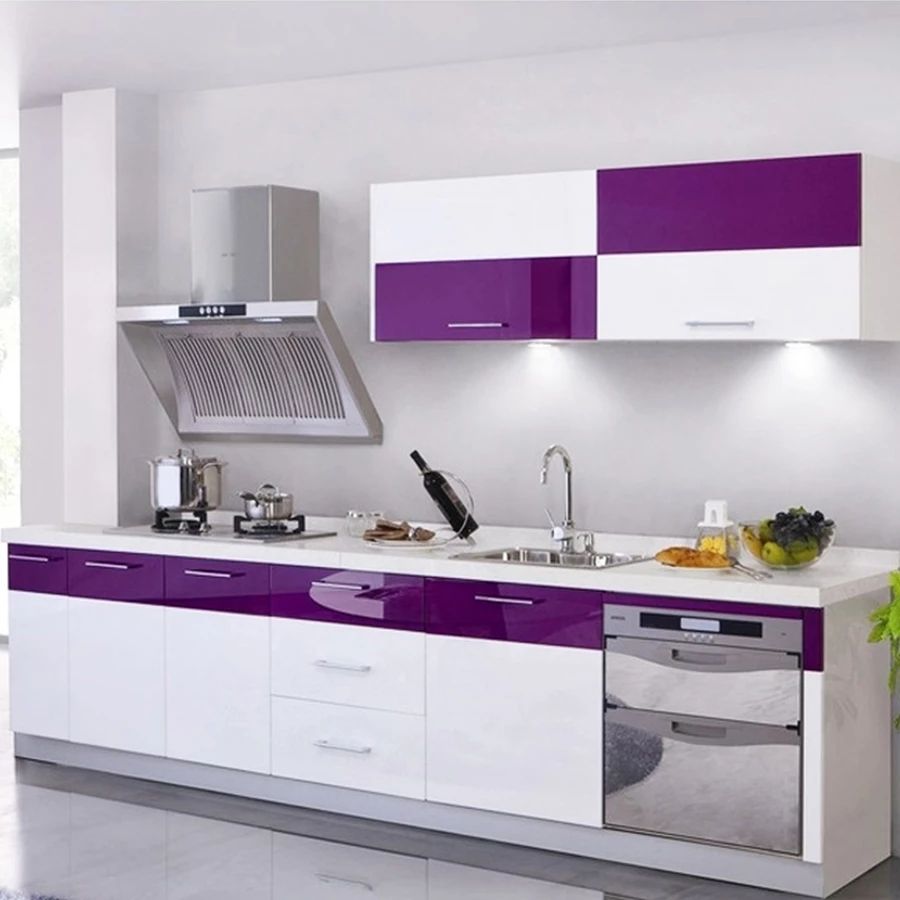 When it's time for a new look, remove it cleanly without leaving a messy residue. With the latest innovative and fashionable products in sophisticated colors and patterns, self-adhesive contact paper continues to lead them in furniture decoration. Whatever the project – covering cabinets, shelves in a pantry, or closet; lining boxes in the kitchen, or bedroom; counter or workplace coverage; contact paper has colors and patterns to suit your décor.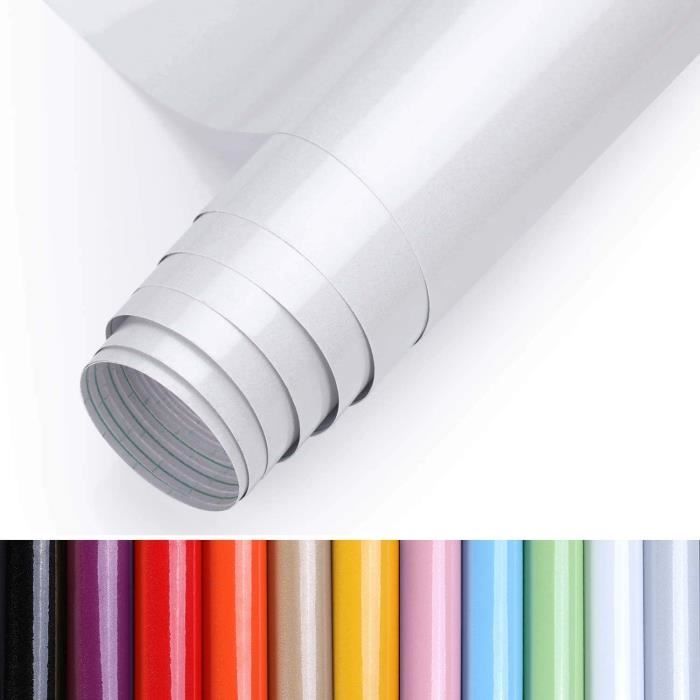 There are some cabinets that you should never apply on vinyl contact paper. And these are such as cement and bricks, as they are too porous and rough to give adhesion. Leather tends to absorb the adhesive deeply, leaving nothing on the surface to secure the film. You should also stay away from oxidized and faded paints and peeling paints. Because they do not promote good fixation.
Cabinet surfaces suitable for applying vinyl contact paper
One major advantage of self-adhesive contact paper for cabinets is the possibility of applying it in a do-it-yourself way. And it is ideal for all those situations where you need to refresh the design of your furniture and fittings on a limited budget.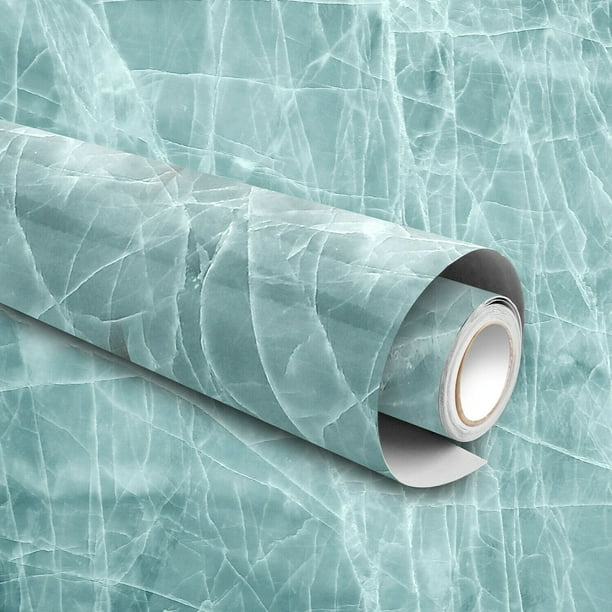 Traditionally, the cabinets have been made of wood. Those from the grandfather's house, those from the cabinetmaker or the carpenter. But the range of decoration materials opens up in a surprising and hopeful way.
And now you find cabinets made from methacrylate, polycarbonate, glass, and, why not, various metals. And not only covered with these materials, but as the main raw material. Thanks to this trend, decorative styles have multiplied.
You might have a cabinet that is made of wood but you want to give it a metal finish look. This is the perfect way you can create an informal, youthful environment. And, of course, in a fashionable decorative industrial style interior decoration.
At Wallpaper Kenya you will find contact paper that looks like iron, steel, aluminum, stainless steel, bronze, or brass furniture.
By using metal contact paper on your cabinets you will visually lighten the space. And you will give your home a modern look, without going overboard. Furthermore, you get the metal finish with nothing cold. And its maintenance is very simple. With little more than a rag, the cabinets will look sparkling clean.
Decorative contact paper is available in various faux finishes –
Wood-grain
Stainless steel
Granite
Translucent
And many other patterns.
All of the above are also further available in various colors making for hundreds of choices!
Make sure you have suitable cabinet surfaces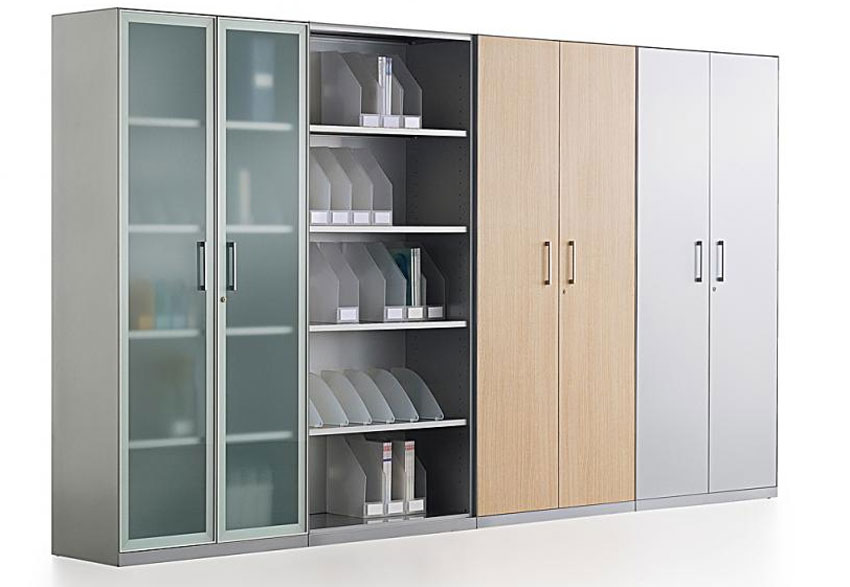 Before applying the self-adhesive contact paper to your cabinets it is necessary to follow these three points:
1 check the surface (it is advisable to work on a smooth surface, without holes or imperfections);
2 and remove the dirt, waxes, and any grease.
Ensure the sticker does not have wrinkles folds or deformations. And if it does, remove them. To smoothen the vinyl contact paper iron it on the paper side by placing a cloth between the paper and the iron. But do so at a minimum temperature and without steam.
To ensure a better grip on the surface, use an application spatula or something similar.
You can apply vinyl contact paper can on wooden cabinets if it has been painted with high-quality glossy paint that promotes adhesion. Lack of paint results in low adhesion or short-term adhesion.
Glass cabinets are quite vinyl contact paper friendly. But bubbles between the sticker and the surface can arise due to the release of gases or due to the vaporization of a solid or liquid. Metals and fiberglass are suitable as long as they are painted with glossy enamel-based paints.
As a general rule, never stick vinyl contact paper on rough, stained, porous, and dirty cabinets. Always apply on smooth, clean surfaces for long-term adhesion. It is recommended you carry out tests before applications. Simply use a small piece of vinyl in an inconspicuous place on the surface of the cabinet before starting work.
How to remove bubbles
If there are some bubbles after installation, you can apply a little hot air with a hair-dryer. And at the same time smooth the bubble with the spatula. If despite the hot air there is still a bubble, prick it with a needle or pin. And repeat the operation of hot air and smoothing with the spatula.
Benefits of waterproof self-adhesive stickers for cabinets
Contact paper for cabinets is used for both conventional as well as modular kitchens. Because you can use them on almost all flat surfaces. And also because they come in multiple options of colors and finishes.  such as glossy, matte, ultra-high gloss, and natural textures that simulate the look and feel of wood or stone.
Other benefits of contact paper for cabinets include:
Waterproof contact paper is highly durable and can easily withstand wear and tear.
contact paper is resistant to moisture, UV light, heat, and scratches.
High Chemical Resistance
Self-adhesive contact paper is very cost-effective and budget-friendly compared to other cabinet finishes.
High Fungal Resistance
The stickers are easy to maintain and can be easily cleaned by simply wiping. Dirt, stains, and greasy fingerprints are easily common in the kitchen. Therefore, contact paper finishes, which are comparatively maintenance-free, are often preferred for the kitchen.
Moderate Duty
High Bacterial Resistance
Moderate to High Corrosive Resistance
Holds up to impact and stress fractures