Description
Now that you are looking for Corporate Wall Murals, Wallpaper Kenya welcomes you.
And we assure you that we will give you exactly what you want.
Why and how do you think we are able to offer you the best corporate wall murals?
It is because all our wall murals are custom-made. And also because we do it on high tensile silk fabric that is highly durable and suitable to high traffic areas.
First of all we have premium access to over 400,000,000 Shutterstock high resolution images for you to choose from.
And from which collection you are very likely to get suitable designs for your corporate wall murals.
But incase you want something more particular to your organization, such as your corporate logo, no problem.
You are welcome.
Wallpaper Kenya is in a position to work with any design that you select from us and/or you provide us.
But on one condition, that the artwork be of a high resolution.
But we also have some vector images that can be edited to suit your needs.
For you to come up with the best corporate wall murals for you organization we would like you to take your time choosing.
And to help jog your mind, we want you to differentiate between corporate wall murals, company murals, and business murals.
And also think about the murals in restaurants, hospitals, swimming pools, the reception of hotels or leisure organizations such as gyms.
Again, the only limitation is your imagination.
With murals, you can create a surprising and unique entrance, recognizability, a certain atmosphere and the feeling of belonging.
Corporate wall murals can of course also be used as a (subtle) advertising medium, where e.g. logo, service, product or house style is incorporated in a creative way.
Silk fabric murals adhere well on all kinds of wall surfaces
And it is able to properly adhere to any kind of industrial material wall including but not limited to:
Brick Wall. For the mural to adhere in the best wall brick walls need to be plastered smooth.
Stone Wall. And you need to prepare the stone for the mural in the same way as you do for painting. The wall mural is but just a better option to painting.
Glass Wall. You will be surprised at how well silk fabric murals adhere on a smooth glass surface.
Wood Wall.
Plywood Wall.
Cinder Blocks Wall.
Metal Sheet Wall.
Your roles in the production of the corporate wall mural
You want to make corporate wall murals?
Then there are a few things you can think about.
Like what is the purpose of the mural; is this commercial or just decorative? But the main is question; what do you want to show?
Murals and murals are used more often and more widely than you may realize.
The possibilities are therefore enormous.
Here you find many options there are if you want to have a corporate wall mural done.
You will see that you can go in many directions and that much is possible.
Fortunately, Wallpaper Kenya are good at advising you on your own custom-made wall decoration.
Some action plan options available to your
You have several options to take in the production of your corporate wall murals.
You either have inhouse interior designers and or graphic designers or you don't.
If you have then we will work with them and your role will be to finance the project.
But if you don't have inhouse designers then you will either have to commission one or ask us to appoint for you.
Wallpaper Kenya are members of the Association of Designer of Kenya (ADKe). The professional association of interior designers and graphic designer of Kenya.
Alternatively you can go ahead and suggest the kind of murals you want and we will provide for your approval.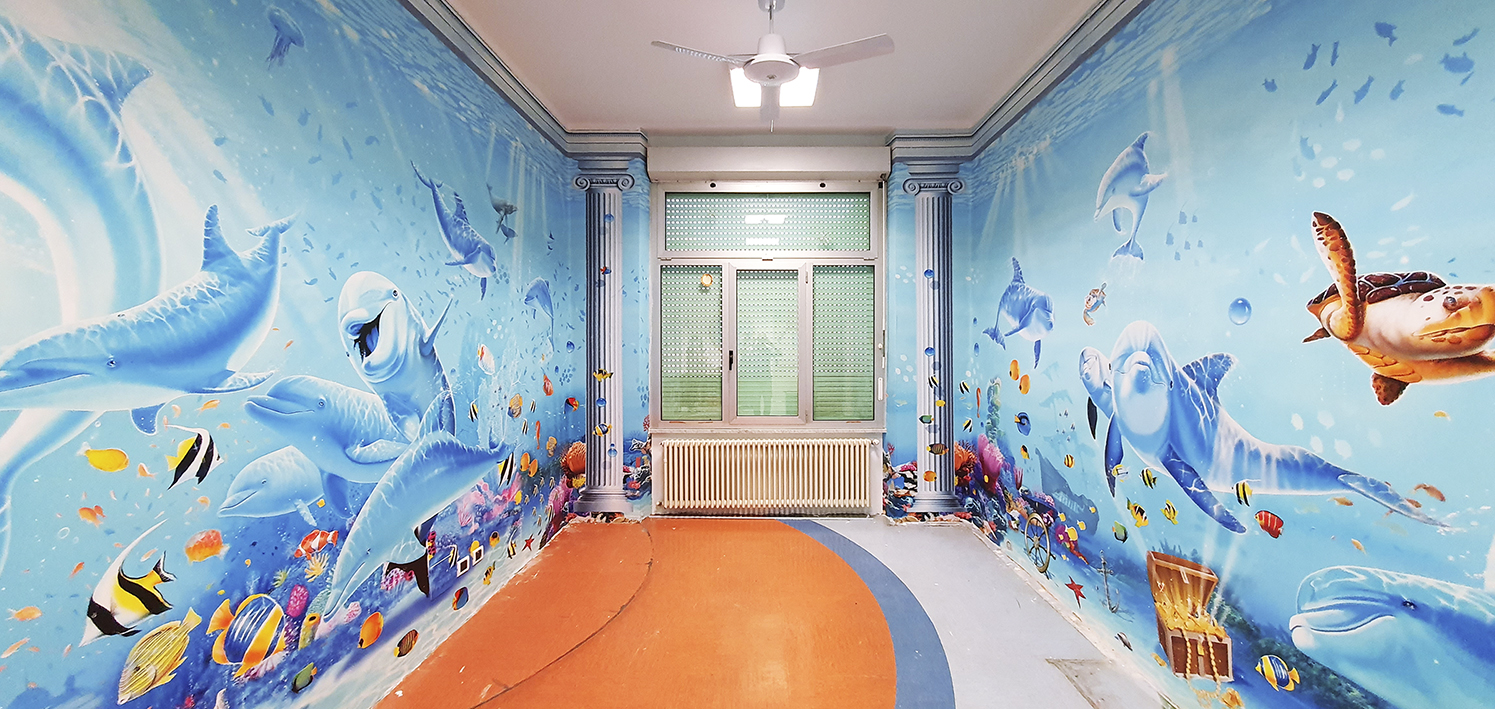 We have millions of mural artworks that might just work for you.
And they fall in all imaginable categories such as nature designs, geometric artworks, abstracts, classic and so on.
The only problem with our providing you with artworks is that they more general rather than specific to your organization.
For example they may not have your logo, or specific corporate designs.
Difference between Business and Corporate Wall Murals
The difference between business murals and corporate wall murals is what they are meant for. Let me explain.
All companies need strategies to achieve their goals and to be competitive and successful in their markets. 
Two widely used approaches are business strategies and corporate strategies.
These strategies are different from each other, but work together to increase productivity and make companies profitable. 
The corporate wall mural is one powerful tool, among others, incorporated in an organization's corporate strategy.
A corporate strategy is a blueprint that helps an organization decide which markets it wants to enter and how. 
Companies often use corporate strategies when trying to diversify or enter a new market. 
This strategy determines the growth of the company. Corporate strategy usually includes:
What market does the organization want to compete in?

How different business units can add value to an organization

How entering a new market can make a company more competitive

Terms and rates of growth of the company.
Corporate office wall decoration
You should take great care with your corporate office wall murals because the office is the face and image of any company.
The interior of the office demonstrates the status of the company and emphasizes its own corporate style.
And this is why many organizations pay great attention to the design of their office space.
In addition, psychologists have long noticed that the design of the walls and the interior environment in which people work has an impact on productivity. 
So, non-standard and bright interior office solutions contribute to the generation of productive ideas. 
And also help in developing the creative abilities of employees. 
It is within the walls of the office that most meetings with partners are held and the most important deals are concluded.
In this regard, the interior of the office is very important for the image and efficiency of the company.
It is important to create a modern unique office interior that matches the general corporate style.
To create a harmonious internal working atmosphere, it is absolutely not necessary to make repairs or repaint the walls in the office.
One of the greatest options to bring a touch of newness to the office is to use corporate wall murals.
With our custom-made wall murals, you can place any inscription or slogan on the wall that will inspire employees to labor exploits.
Or bring a positive mood to the company.
Colors and design of corporate wall murals
When it comes to choosing the right corporate wall murals, there are several factors to consider.
First, you should consider the colors and design of the murals. The colors should complement the existing décor in the offices.
And the design should be appropriate for the company's brand and values. It is also important to consider the message that the mural conveys.
Corporate wall murals should be professional and appropriate for the office environment.
Second, you should consider the size of the wall mural.
It is important to choose a mural that is the right size for the wall it will be placed on.
If the mural is too small, it will not make an impact, and if it is too large, it may overwhelm the space.
Third, you should consider the materials used to create the mural.
The materials should be of high quality and durable, so that the mural will last for many years.
Additionally, the materials should be easy to clean and maintain.
Finally, you should consider the cost of the mural. It is important to choose a mural that fits within your budget.
You should also consider the installation costs, as this can add to the overall cost of the mural.
Originality
Giving color to the your industrial warehouse, or to that of our corporate offices, will make distinguish yourselves from the rest.
Frequently, in the streets only homogeneous and muted tones are found.
Giving color to our business will capture attention, generating an attractive and original first impression. 
Therefore, it is essential to take good care of the details of the corporate wall mural in the making. Always seek to stand out.
But always making sure to offer sensations that are pleasing to the eye.
Playing with colors and shapes will help us achieve a feeling of greater space, in the event that our workplace is smaller.
Or make us feel warmer, if it is the case of a larger space. It all depends on the goals you  want your mural to achieve.
In either case, you will be able to create a unique and personal environment that will help your organization make a difference and be easily remembered.
This can be a fundamental aspect when customers choose your products and services, as well as facilitating expansion through word of mouth.
Corporate branding
The foremost use of corporate wall murals is corporate branding. Because nothing does it better than wall murals.
Corporate identity is a set of visual elements that distinguish a brand or company from others.
It helps to form the image of the company, the idea of ​​it, to make it memorable. 
Corporate identity can and should be used everywhere: in the design of business cards, product packaging, corporate documents, and most especially on corporate wall murals.
Corporate colors, fonts, logo – all this can become the basis of a corporate wall mural.
The formation of a powerful, memorable image of an organization.
This is in order to increase the trust of consumers, partners, as well as create a business reputation.
And to create loyalty on the part of customers and employees.
Corporate branding is an indispensable, powerful tool for creating an impression and conveying the company's philosophy, its objectives, and values.
With the right approach to creating creating corporate wall murals, you will create a memorable, vivid image of the enterprise in the mind of the consumer.
At the initial stage of corporate wall branding, it is necessary to conduct a market analysis.
To find out the characteristics of competitors. And to find out who the target audience of the brand is.
Based on the needs and desires of the target audience, you can develop a successful and unique corporate brand promotion strategy.
The power of imagery in corporate wall murals
Branded corporate wall murals are not only sets of visual elements. They also consist of the images and impressions that the institution evokes in visitors.
When branding, it is important to use the emotional component.
To keep old and attract new customers, you need to offer what they really need.
Misunderstanding the desires of your audience can lead to unpredictable consequences.
For example, Burger King began to lose popularity and customers.
In order to attract new consumers in 2013, Burger King decided to refocus the brand.
Instead of the usual burger, French fries were supposed to be the new symbol of the company.
The new Fries King logo and name did not sit well with consumers.
The changes caused a wave of indignation. The company abandoned the idea of ​​renaming and returned to the old concept.
Murals that transmit messages and values
A blank wall, seen by the right eyes, is a canvas on which to pour creativity. In this regard, in the case of companies and offices, murals are excellent options in every way.
And it is that, on the one hand, they allow the management of the company to transmit in a visual, intuitive and cheerful way all the information that is of interest to its workers. That way, just by reaching out to them, they can get the answers they need.
On the other hand, by including bright colors to highlight what is truly important, geometric shapes and different types of calligraphy, the content becomes much more interesting. 
Undoubtedly, these are elements capable of stimulating whoever sees them both for their message and for their coloring, which is the essential basis from which to attract attention.
Thanks to them, transforming boring and bland spaces  into places that invite you to spend time in them is a possibility within the reach of any company.
Advertising murals
Creating an eye-catching advertising corporate wall murals can be a great way to draw attention to your business or product.
A wall mural based on a large image of a a new cellphone model, sports or other brand.  These are corporate wall murals that tend towards advertisement.
However, they often have a long shelf life. When you create a design for a mural, always include the immediate environment in the whole.
And by that we mean: What kind of structures surround it, what does the environment or neighborhood look like, and how does the mural best fit into this.
This prevents it from becoming a loud noise that completely detonates with the immediate environment.
Murals are also used by shopping malls, sometimes also supported by ground murals to get people to shop.
Often the intended action is to enter a particular store or introduce a new product or service.
Advertising corporate wall murals are thus created on the basis of a product, service, brand, slogan, event or logo.
Create better work environment
It may seem inconsequential, but it has been proven that corporate wall murals do a lot to create a better work environment in corporate offices.
In fact, most employees, when it comes to saying what most influences the productivity of their task, usually refer to the space in which they perform it. 
Therefore, getting through these elements to convey inspiration and 'feeling' is essential.
For its part, the limits to this type of artistic creation are set by the imagination.
And it is that, thanks to the use of the best tools and mural creation and editing software that we use today.
We can carry out practically anything design you can imagine.
In this sense, with just a conversation between the designer and the representative  of the company.
And it is possible to determine some guidelines that, later, together with the creativity of the expert, give rise to an effective, colorful and very interesting mural.
If you are looking for a graphic design studio in Kenya that produces those corporate murals that your company requires, you have come to the right place.
Wallpaper Kenya will help you to promote communication between your different strata and, incidentally, add color and values ​​to your corporate message.
Currently, we are one of the most prestigious printing studios in this type of task.  And as founding members of the Association of Designers of Kenya (ADKe) we have a wide variety of specialized professionals.
In short, Wallpaper Kenya is waiting for you  to capture your ideas.