Description
Disney Frozen Mural Wallpaper comes in two different forms. You will get one ordinary wallpaper design and also one more of a Customized Frozen Mural.
And you can combine this wallpaper with Frozen window curtains and Frozen bedding in different complimentary colors.
There are many reasons why children love the Wallpaper. One of the reasons is the character on the mural. Children also love the colors of the wallpaper mural. And finally the fairytale behind the Walt Disney Frozen Princess. How could any baby girl not love Frozen?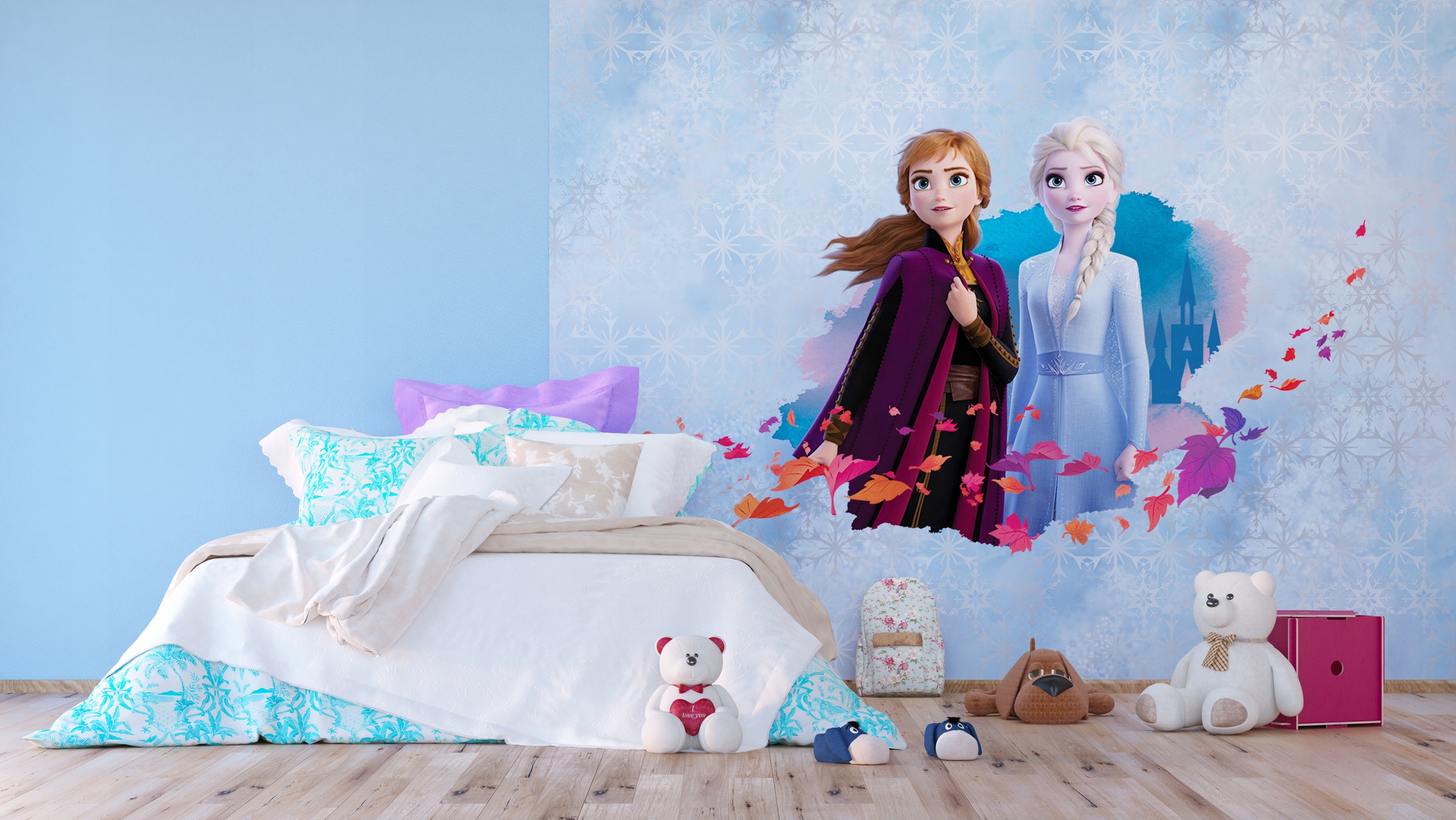 The ultimate mural for girls bedroom is now available at Wallpaper Kenya. Did you know that the story of the two sisters – Anna and Elsa – became the most successful animated Disney movie ever? No wonder – this is a story that combines true love, kindness, the magic of winter and a strong fairy from Arendell! We believe that there are adventures in the world that can literally draw you into their magical world. With our Frozen mural designs, Arendell comes into your daily life. Let it go and let yourself be led into the frozen realms.
Why Disney Frozen Mural Wallpaper is so popular
The Disney Frozen mural wallpaper is inspired by a fantasy musical film released by Walt Disney.
It tells the story of a fearless princess who sets off on a journey. Alongside a rugged Iceman, his loyal reindeer, and a naïve snowman. The mission is to find her estranged sister. Frozen sister's icy powers have inadvertently trapped their kingdom in eternal winter.
Thus is one of the numerous Disney Murals and it depicts pictures of Elsa (Frozen). Others are Queen Elsa of Arendelle. This is a fictional character who appears in the Walt Disney Animation Studios' 53rd animated film Frozen. In that very popular children's film she is voiced primarily by Broadway actress and singer Idina Menzel.
This wallpaper is now available from us in good silk fabric custom designs. We have also got Frozen curtains to match. Wallpaper really goes well with curtains.
Morals of Disney Frozen Mural Wallpaper & other Products
It's easy to see why the film, and Frozen wall Murals has proven so popular.  Aside from being pretty to watch, it's funny, well scripted, and has a banging soundtrack. Like so many great Disney movies before it, Frozen tugs at the heartstrings while delivering a series of timeless moral messages.
Here are a few lessons we learn from Frozen…
1. Sibling love trumps all
While Snow White, Sleeping Beauty, The Swan Princess and countless others rely on a handsome prince to break the spell they're bound by, Frozen goes a different way.
Anna's love interest, Hans, turns out to be an evil, conniving villain. And it's down to good old sisterly love to thaw Anna's frozen heart. For little girls counting on romantic love to get their happy ever after, this is an all-important morality.
2. Don't judge a book by its cover
As we've just pointed out, handsome Prince Hans reveals himself to be one nasty fella. Princess Elsa is unfairly branded a monster by the Duke of Weselton. And rugged, kind Kristoff is found to have been raised by (albeit loving) trolls. A recurring theme in Disney films (think Beauty and the Beast) the lesson is not to judge a book by its cover.
3. Let it go: Disney Frozen Elsa Flees to the Mountains Mural
Even if you haven't seen Frozen (again, where have you been?), you must've heard this belter of a song. When Elsa flees to the mountains she can finally realize the full extent and control of her powers, creating an ice palace for herself. Disregarding the gloves that her parents made her to wear, she's able to express herself for the first time. We're not sure exactly how this plays into real life. But we're fully behind the idea that life is to be lived with gusto. And if you don't like something, change it.
4. Get behind strong women
With two female protagonists and a kingdom ruled by women, Frozen is a feminist tale if ever there was one. Interestingly, how each male character reacts to the sisters seems to reveal their own flaws or strengths. Hans wants to murder Elsa and leave Anna to die in order to claim the throne; the Duke is afraid of Elsa, and it's only Kristoff who seeks to support and help the two women. The message? Female empowerment is definitely on the rise!
5. Feel, don't conceal
If anyone understands the negative repercussions of bottling your feelings up, it's our Elsa. Doing nothing but inadvertent damage, it's not until she breaks away and ultimately reunites with her sister that things start to improve for the pair. Offloading pent-up feelings is always a healthy idea.
6. Dream big… Like Olaf
Goofy-but-loveable Olaf the snowman harbored fantasies of experiencing spring, never quite grasping what would happen to him when faced with a balmy day. In the end, his dream came true – granted his very own snowflake flurry by Elsa, he could finally soak up some rays – no damage done. Follow Olaf's lead and dream big.
7. Learn to be selfless
Anna prioritized her sister's life over her own. And while this is an extreme, dramatized example, there is a valuable lesson in there for both kids and us adults. Whether it be giving up your seat for an elderly person. Or helping someone with a heavy bag or donating barely-worn clothing, it's always good to give back.
8. Nobody's perfect: Disney Anna's messy hair mural
Hey, if a Disney Princess isn't perfect then who the heck is? With Elsa's not inconsiderable flaws (she accidentally turns things to ice, for goodness sake) and Anna's clumsiness and quirkiness (talking to paintings…), it's reassuring that these girls are just like us. Sort of. Anna even wakes up with messy hair and drool on her face – now that we can relate to.
9. Be bold: Elsa Flees Home Mural
Perhaps the most obvious message in Frozen is that it's good to be courageous. Elsa fleeing her home to live on her own was bold; Anna following her was even more so. Having a feisty streak can be a very good thing!
10. True Love takes time
In a departure from countless other Disney movies, Frozen portrays romantic relationships in a (slightly) more realistic way. Anna's hasty engagement to Hans at the beginning of the movie isn't well received by many. When she falls head over heels for Kristoff it is only after getting to know him properly, warts and all. Refreshingly, the film doesn't end with a glitzy wedding (maybe they decided to move in together first…). We'll wait for the sequel to see if this power couple is still going strong!
Disney Snow Queen Murals
Immerse yourself in the story of the famous Disney Frozen, telling the story of Anna.
An adventurous young girl who decides to embark on an incredible journey with Kristoff and her faithful reindeer Sven as companions. The goal of this trip is to find Elsa, Anna's older sister who, because of her magical powers, plunged the whole kingdom of Arendelle into an eternal winter.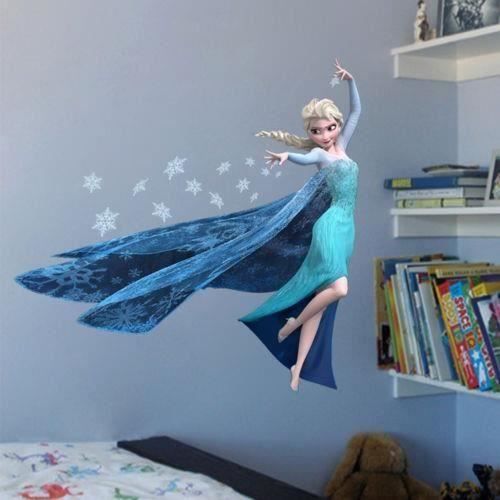 Along the way, they will meet a little snowman named Olaf who will help them find Elsa. But they will also have to face the magic that follows them everywhere.
Discover the custom wall murals bearing the images of this "Frozen" cartoon and come order from Wallpaper Kenya
The famous Disney cartoon has been a hit with young girls since 2013. Which is why we have selected for you to customize this decorative cartoon image for your walls. Choose from our wide range of pictures, whichever interests you.