Description
You can either have a mural on your interior doors or you can have faux 3d door murals on your walls. Most murals on an actual door are self-adhesive contact paper. We will come to that later on.
In other words, instead of having a blank wall, you can have a full mural with doors. Custom-made realistic 3d murals will fool your audience that you have rooms beyond the wall.  Otherwise, you can also have a mural with open doors that will fool your audience with scenery beyond the wall.
The idea of custom door murals is to let you see any scene you want through the faux door.  The murals are removable and reusable. At shutterstock.com  you will find thousands of door concepts that will harmoniously complement your living room. Our catalog is convenient and comfortable for finding the desired image. All pictures are high quality, with excellent resolution and fine detail. You can buy door and window murals with a view of nature at the best price in Kenya.
Our selection of mural artworks with a view of nature will amaze you with its extraordinary range and beauty of images. You can order the frescoes you like with delivery in Moscow or any other city in Russia. We guarantee the quality of our products. The image will not fade for a long time under the influence of direct sunlight and/or artificial lighting.
Our interiors often lack light, volume, and depth. The dullness of faceless streets and gloomy sleeping areas, now and then looking through the window opening into our rooms, apartments, and houses, hardly gives anyone pleasure, and only a few can afford to live in a beautiful mansion overlooking a lake, forest, or park. In this situation, La Stanza comes to the rescue with its stunning window-themed murals!
View from window and 3d door murals
Wallpaper Kenya's high-resolution window and door murals have magnificent scenes, each of which can dramatically transform your interior. Adding individuality, beauty, and sophistication with a faux window or door scene. All our custom-made murals are on silk fabric, and therefore are durable, removable, and reusable. You can even move house with the mural.
On top of that, the murals can be covered with a waterproof colorless varnish – for use in rooms with high humidity. And you can therefore use the window and door murals even in the bathrooms, kitchen, and other wet areas. The maximum canvas size is 3 x 60 meters!
A blooming apple, pear, or cherry orchard is perhaps one of the most fascinating and romantic phenomena of nature. With our products, you do not have to wait for the buds to open, as a blooming garden will always be with you! Mount a mural with an open door into nature. Or a blooming garden on the wall of your room, apartment, or house.
And look through a magical opening into a fantastic world of bright exotic flowers, trees, animals, and birds.
Flat surface door murals
People sometimes refer to contact paper for furniture on a door as door murals. If you want wallpaper on your doors, with a pattern then you may consider contact paper. Contact paper comes in various designs including wood grains designs. These are peel-and-stick murals that you will find suitable even on other surfaces. But like any other wallpaper, you can only use it on a flat surface. So, your door has to be flat.
Remember that the weakest point on the door is the handle. At this point, the image may wear off over time and you, therefore, need to protect it. Contact paper has a protective layer. And the layer is not afraid of water, dirt, or marker. It also does not wear out over time. Therefore a contact paper door mural will remain in its original form for many years to come.
You can use contact paper on any door, interior or exterior, because it is quite tough and 100% waterproof. And for that reason, it is ideal for bathroom doors, kitchen doors, kitchen cabinets as well as garage doors. And because it is made of vinyl you will find it cost-friendly.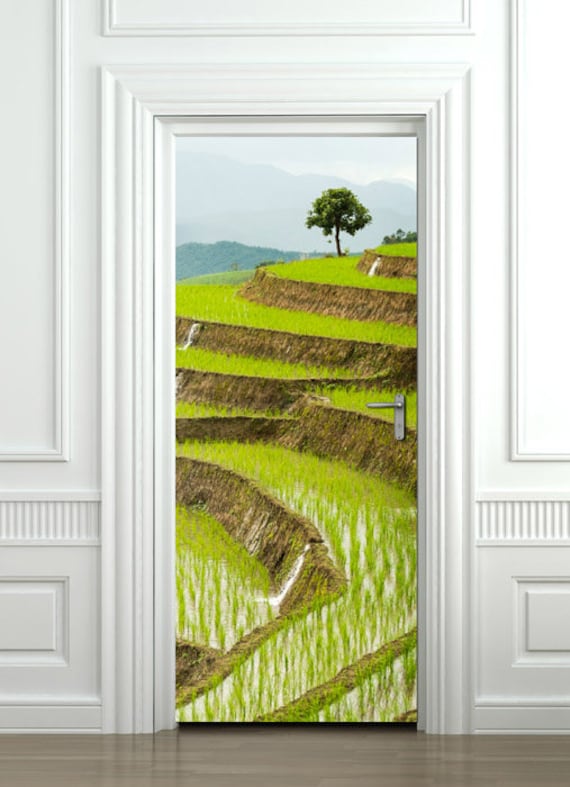 Vinyl is a low-cost solution to renovate your kitchen and give it a different look. In a few hours, you will be able to radically change its appearance.

Advantages of vinyl contact paper
Adhesive vinyl door murals perfectly resist humidity due to condensation that usually occurs in the kitchen. This humidity is the culprit that, over time, the paint on the cabinets doors flakes or cracks, or the melamine coating peels off. For this reason, renovating kitchen doors, and kitchen cabinets with adhesive vinyl is a faster and cleaner solution than with other materials.
In addition, you can easily clean it. Vinyl is waterproof which is why you can use the product on bathrooms door and walls too. Therefore you will not have problems removing dust, grease, and other dirt that usually accumulates. For this, it is recommended to use products such as cleaning alcohol.
On the other hand, if you get tired of the color, you just have to peel it off and that's it! For this reason, with adhesive vinyl, you will always have your door up to date. Perhaps the most appealing thing about contact paper—aside from their affordable price—is that they're impermanent. This makes them a great short-term solution for updating doors without making a significant financial investment. They give renters and homeowners alike the opportunity to try out a new trend.
Do it yourself installation of peel and stick door murals
Before you get started with your peel and stick door murals, it's important to prepare the surface of your existing door. This is to guarantee that the contact paper adheres correctly. Start by removing the
door handles
and latches. Then clean your flat door surface thoroughly with a degreasing cleaner. And then let it dry completely before moving on to the next steps.
Then cut the contact paper to the correct size. Remove the backing from one corner and set the contact paper in place. Smooth it out using a smoothing tool like a spatula. Working slowly, continue to peel the backing away, sticking the contact paper into place. When the entire door surface is covered, use a hairdryer to smooth out any air bubbles.
You are now done. Do I need to remind you to place back the door handles and latches? When it comes time to remove the contact paper, you might simply be able to start at the edge and peel it away. If it's still sticking, use a blow dryer to heat the surface and loosen the adhesive.