Description
3d foam brick wallpaper sticker is one of the most practical of all. Made of polyethylene foam (PE foam), it is waterproof and self-adhesive. And therefore it comes ready to stick without the need for glue. Our 3d foam brick wallpaper is 5mm thick. And this helps in sound absorption.
It comes in sizes 70cm by 77cm and it is therefore commonly referred to as a 3d brick wall panel. Its 5mm thick soft foam and elastic texture, can better play the role of children against collision.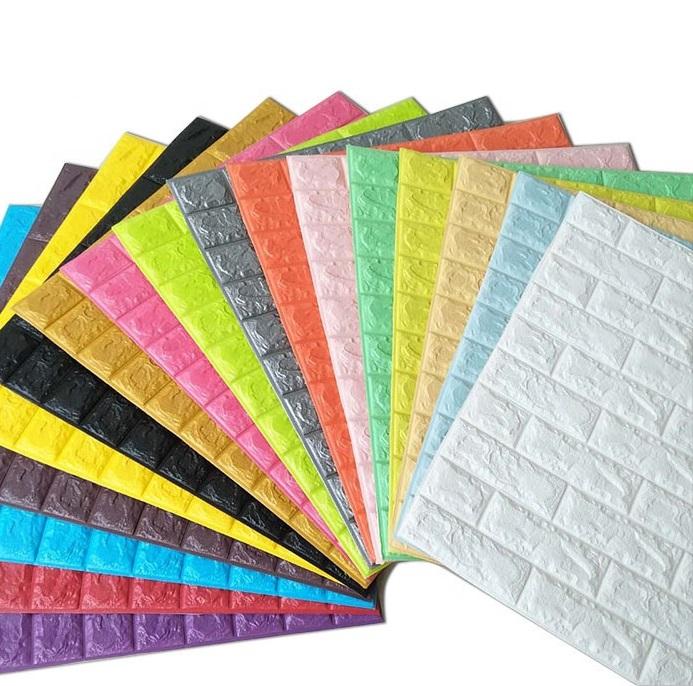 In addition, it is very easy to clean and you will find many models and textures that fit into any space. The most used foam brick wallpaper design is 3d. And it is child-friendly too, ideal for putting your child's nursery or in your study.
The surface of the wall sticker is a simulation of the 3d wall brick. And the 3d brick wallpaper is very smooth, anti-collision, it is safe for children. It is also POE film covered with waterproof and wear-resistant function. The wallpaper panel can cover the dirt and imperfections on the wall.
With all these characteristics, you will find it useful when you want to wallpaper a wall that may be close to humidity or water or can get dirty easily. For example, a beach house where many people enter wet.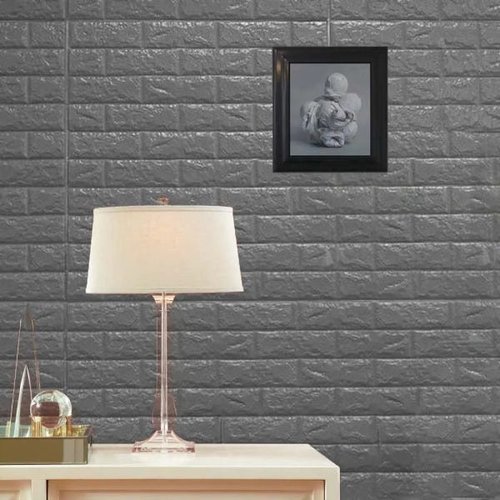 Another time waterproof 3d foam wallpaper is necessary is in a residence with high humidity levels. Likewise, in spaces such as the kitchen, a bathroom, or a children's room.
And do you know that it has real 3d dimensions and texture? 3d foam brick wallpaper will be your favorite option if you want to give a more elegant and sophisticated look. You can choose color types, such as white, grey, black and white, or even pink.
Types of walls for 3d foam wallpaper stickers
3d foam brick wallpaper will fit into almost any interior wall. Remember, one of the important factors when placing your wallpaper is the type and space where the wall is located. First, identify if it is a concrete, brick, or wood wall. Second, remember to take into account the space, whether it is a bathroom, kitchen, a busy place, or rather quiet.
Perfect, you already thought about your type of wall and your space. Also, if you have a brick wall, you can choose textured paper, giving your wall another texture and color.
Another common error with other wallpapers and one that brings more headaches is the consequence of an incorrect installation. You don't want it to take the wallpaper off after hours of installation. For this reason, we must choose the glue well. The good news is that, with 3d foam wallpaper, you will all find them easily because they are self-adhesive.
Advantages of 70cm by 77 cm 3d foam wall panels
The internal and external surfaces of the 3d foam brick wallpaper are treated with a multi-layer structure 5mm thick. And also applied nanotechnology to form a cavity microporous treatment, which can effectively eliminate resonance and absorb ambient noise. Its water-based surface is treated with surface activity to make the light softer, it can prevent eyestrain.
The brick wall panel measures 70cm by 77 cm for Kenya Shillings 550 per panel. 3d foam wallpaper is ideal if you have always dreamed of giving your wall a texture and design. And because it is also washable, it fits perfectly in that busy space. In addition, it will help you cover any imperfections or damage that your wall has.
The price of 70cm by 77cm 3d foam wallpaper panels
Even though at Kenya Shillings 550 you will be paying a little more for the 70cm by 77cm 3d foam wall panel, you get value for it. Because you can use these wall panels in areas where no other wallpaper will fit.
it is an easy change that does not require a large investment of time or money. Remember it is self-adhesive. Therefore you won't have to buy the adhesive separately. And you won't have to wallpaper all the walls if you are on a budget. 
By decorating just one area with this idea, your kitchen or bathroom will look different, renovated, and modern. With this cheap resource, you can create different environments full of personality in a single room.
Easy to clean PE foam waterproof wallpaper
Depending on the type of wallpaper you choose, it will be the cleaning that must be done. Therefore the material is a key piece and you must be aware of the maintenance it needs. This also helps make decisions about the purchase for the location, care, and durability. Luckily 3d foam can take care of itself.
The surface is smooth and waterproof, which better protects the wall. It can be cleaned with a damp cloth, which is very convenient.
Ease of installation
Peel and stick self-adhesive 3d foam brick wallpaper is the most suitable for DIY.  And you will find it easy to stick and easy to remove. Call it removable wallpaper, if you like. You can easily remove the 3d sticker from your wall without causing any damage. Slowly remove the 3d wall stickers a few inches at a time.
Waterproof wallpaper for bathrooms and kitchens
Kitchens are spaces where you and your family spend a lot of time. And the kitchen is very exposed to stains, humidity, vapors, and smoke from the stove. If you are thinking of covering any of your walls with wallpaper, it is best to choose quality, resistant and durable wallpaper. 
And it is that when we talk about kitchen waterproof foam brick wallpaper. The key is in its PE foam material, not in the design. The same thing happens in a room like your bathroom, where there may be fewer stains, but there is high humidity daily. 
For this reason, self-adhesive PE foam wallpaper becomes the most suitable for decorating the kitchen and bathroom. Because it resists humidity very well and is very easy to clean.
Safety
The thickness is 5mm, which prevents children from being injured.
Covering Stains: 3d brick sticker can cover damages and stains on the wall.
Easy to Use: Removable: Removable, waterproof.
Suitable for walls, doors, TV background panel, furniture, cabinet, flat and smooth surface of the home, living room, kitchen, bedroom, store, office, hotel, etc.