Description
Wallpaper Kenya is setting the trending with Football wall mural production in Kenya. Because we understand that football is more than just a sport.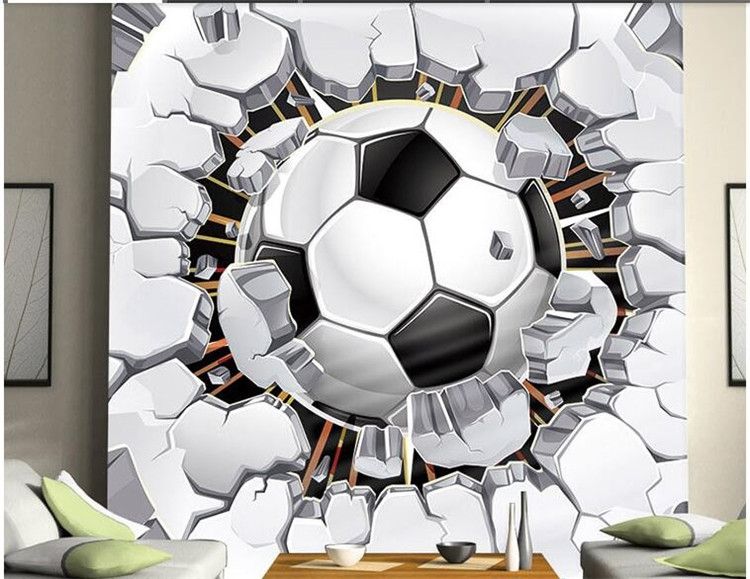 There is no wonder that football wall mural wallpaper is in such a high demand.  As this is not just about sporting competition, but above all about fun, team spirit, tolerance and passion.
Many people identify with their favorite footballer or team. And not only that: When football takes to the big stages in a competition between nations, it often brings people much closer together and hardly anyone escapes the fever of cheering together and the tension.
Experience the action and excitement of the world's most popular sport up close and whenever you want. Because with digital wallpaper murals you can now simply hang the whole world of football in your apartment or office.
Artful recordings of famous football stadiums are particularly popular: Wembley, Anfield, Camp Nou, Berlin OlympiaStadiom, Allianz Arena or De Kuip. 
We print all pictures on for football wall murals to measure in your desired size on real silk fabric. Your individual mural will be ready for delivery within one or two days.
Delivery and installation within Nairobi is free. Ask? Contact Wallpaper Kenya – we will be happy to advise you personally!
Football wallpaper murals

For your football wall mural get your teams grounds on your wall with our full wall mural wallpaper printing technology. Or go for an action shot and feel like you are part of the game.
For some of us football is more than just a sport. In Kenya football has become a way of life for many, both players and fans.
One of the most effective ways of decorating the room of a football fan is a custom football mural wallpaper. This is now possible in Nairobi from Wallpaper Kenya.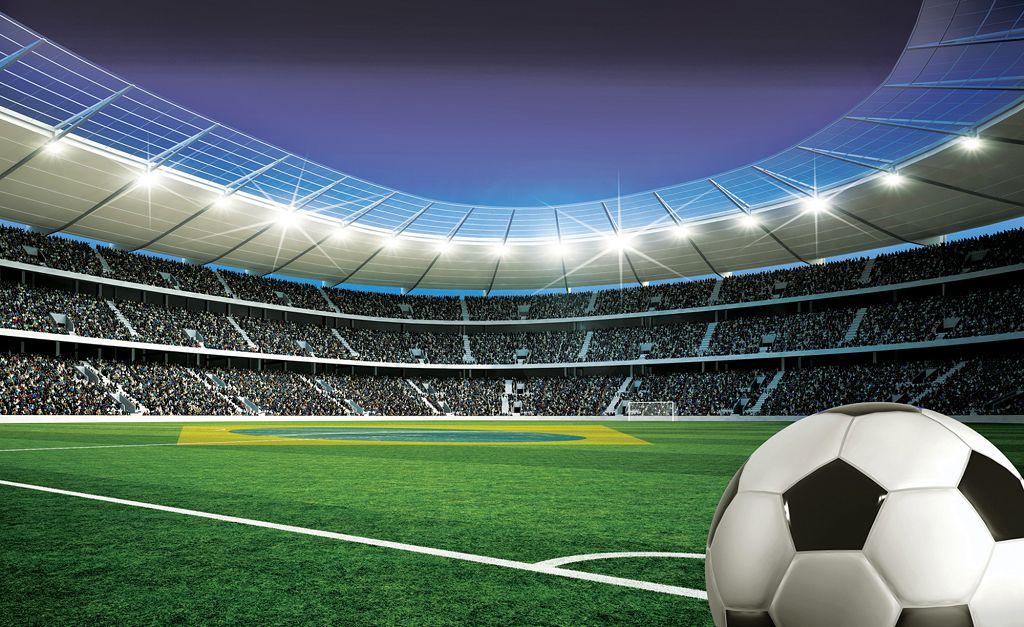 There are other ways to including football in your interior decoration. Such as  window curtains also available at Wallpaper Kenya.
All our wall murals are custom made and all you have to do is to provide us with a high resolution picture.
This picture could be one of your foot team's. Or whatever football images you want for your football wall mural. We will reproduce the same in one seamless contentious sheet of fabric that is hard to wear. It is also removable and reusable.
One interior décor idea is to mount a huge full wall image showing a scene of a football game or anything else football-related on the focal or feature wall. As for the rest of the room, a few subtle accents with color undertones of the wall mural should be enough.
Quality and durability of silk wallpaper murals
Durability, water and scratch resistant silk fabric wallpaper murals will last for more than a lifetime on the wall. But if you like, you can remove it and reuse it on another wall. 
They can be mounted in every room, even in the bathroom or kitchen. The silk fabric wallpaper, semi-matte finish covers small imperfections on the wall. Creates an insulating layer that protects you from the cold and allows the walls to have good ventilation. Waterproof prints have long durability.
High quality printing
Digital printing quality with a resolution of up to 600 dpi and unique technology with brilliant colors makes the silk wall mural decorate and enlarge your interior.
Ecological and safe
Using safe materials, we can also recommend our items to the bedroom and the nursery.
Safe packaging
The mural is rolled and packed in a cardboard tube that guarantees safety during transport. Each tube with the photomural contains the installation adhesive instruction.
Easy mounting
The mural is made up of one seamless piece of cloth with a length of 60 meters and a height of 3 meters that make mounting easy. We cut the exact size of your wall with a little allowance for trimming.
Sports bar football mural wallpaper
Some sports bars are more committed and provide football wall murals. They realize that Football is the largest excuse for joyous drinking. We all love our footy no matter the circumstances.
Sports bars are designed and decorated to allow the customers to experience something very close to the atmosphere of attending a live sports event. Including cheering for their favorite football teams and socializing with other fans.
The uniqueness of the bar's design, the food quality and level of service all contribute to a sports bar's popularity. Invest in football mural wallpaper to maximize your customers' experience and improve your bottom line.
Theme for your football sports bar
One of the most critical sports bar interior design decisions is selecting a football wall mural theme.
The theme is crucial as it suggests the colors of the wall mural décor and the memorabilia that is typically displayed on the walls.
If you decide to establish your bar near a stadium, one option for your theme would be to mimic the football teams with a display of colors and memorabilia for your décor.
Creating zones or corners for each football team at your bar could pique the interest of your potential customers upon entry. The memorabilia should exhibit a mixture of news clippings, posters of legendary players, and framed equipment.
What are you going to offer than the competition doesn't? Unless you're lucky enough to live in a magical place that doesn't already have a sports bar, you're going to have to figure out what sets you apart from the competition.
Will you keep it classic and authentic in a way that the other bars in your area don't? Or will you feature games that are hyper-local or cast a wide net and become the go-to place for all things sports?
The first, and perhaps the most important, step is figuring out what your restaurant mission statement and value proposition is—what sets you apart from everyone else?
And all these will form the basis of your selection of the football wall murals.
Televised sports events are the primary attraction in a football sports bar in Kenya.
football digital graffiti wall art
Wall mural "Football Graffiti" with an inspiring theme will be an impressive decoration to any room. Silk graffiti football wall murals are mounted with the help of ordinary wallpaper adhesive. 
Areas to Decorate with Football Wall Murals
With custom made wallpaper decorative wall murals you will offer the change that any place or area in your home requires. Whether it's the bedroom, dining room, game room or living room. And your visitors will be amazed by the football themed photo murals you of their favorite clubs.
It is very important you get a good and renewed image for the visitors you receive and for the members of your home.  And it is an easy way to make those necessary changes that those lifeless walls are asking for. Achieving a magnificent result, renewing and giving a more youthful appearance.
In the category of football wallpaper murals you will find a varied theme. Whatever your favorite football team, even your player or your favorite football stadium. Any team is within reach of your wall.
Wallpaper Kenya has images and panoramic views of the most important stadiums of the Old Trafford, United Kingdom. And also Camp Nou, Spain. Azteca – Mexico, Santiago Bernabeu, Spain, and Anfield Road, United Kingdom. Others include San Siro, Italy, The Maracanã, Rio de Janeiro, and Soccer City, South Africa. …
Therefore take a seat in your living room at the foot of these majestic fields or the aerial image of them.
Other Sports Wall Murals
On the other hand, if you are not interested in football wall murals, and if basketball is your thing, have  not a doubt that you have the best player of all time, with Michael Jordan's wall mural.
If, on the other hand, you prefer motorsports, you can decorate with a spectacular image of a formula 1 race. Intense and bright colors for an unbeatable quality while feeling the adrenaline of a motorist.
Last but not least, there are wall murals of water sports such as surfing or snow sports such as ski jumping in magnificent landscapes.
These fantastic range of sports wallpaper murals can be used for different places. All depending on the interest you sought. But mainly you can use for decoration of children's rooms in your playground.  Or in teenagers and not so young children's rooms. Also use in game rooms where sport is the main thing. And they are also ideal for companies to decorate the walls of meeting rooms, bars, and restaurants. Or any type of business with the theme of sports.