Description
Today the geometric wall mural is still at the peak of its unwavering popularity.
Because a geometric mural
 will allow you to create a real kaleidoscope with bright colors at home or
office
.
Current wallcovering trends highlight well-defined
geometric shapes
, becoming the protagonists of a completely new trend for decorating modern homes.
And this motif can be used on floors, wallpapers, fabrics, furnishing accessories, and furniture.
Give your home expressiveness and individuality with
geometric lines
and shape design on the walls.
Custom-made
geometric wallpaper filling space on the walls and creating interior ensembles is a very winning and very popular design technique.
Especially when you are decorating rooms made in
minimalism
and high-tech styles.
Under the geometric mural category, you will find
striped
, horizontal or vertical, of different sizes.
But also
hexagonal
and
triangular
, with settings that allow you to enter a multifaceted and unique world if played in the right way.
Geometric combinations are a universal solution for any interior wall.
However, they are truly irreplaceable in the following situations:
non-standard room height (too high or low);
a room with a disparity in size;
complex structure of the room;
the need to hide the architectural flaws of the room, to visually zone it.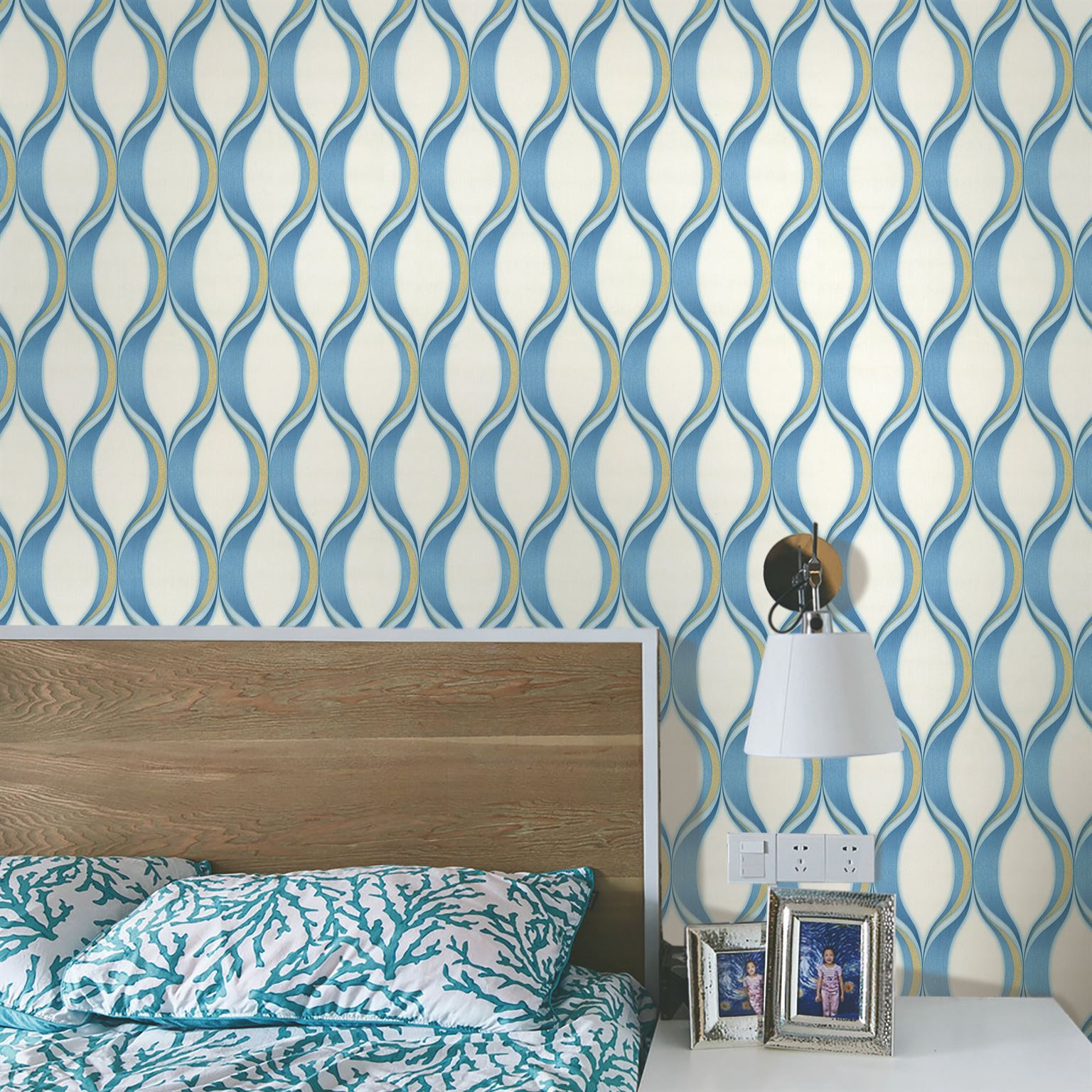 At Wallpaper Kenya you can order custom-made Geometric Wall Mural of various characteristics about the width and height of your wall.
The base material is silk fabric and the price will allow you to make a good purchase on any budget.
Photos and detailed descriptions of commodity items contribute to an easy and pleasant choice.
Popular Geometric Wall Mural Patterns
In the world of wall decoration, a geometric wall mural plays a leading role.
The geometric style wallpaper could not be missing, a true evergreen.
Colors and shapes can change, but geometrics always remains a wall covering that never sets.
Because geometric wallpaper is appreciated by a young audience with its repetitive figures, large or small.

With geometric wallpapers, you create spaces that capture the attention without tiring the eye, giving rhythm to the wall.
And the same geometries can be reproduced on the floor.
Or even in easily interchangeable coverings such as carpets, using soft and neutral colors to avoid weighing down the rooms.
All the varieties of geometric wall mural patterns can be divided into several groups.
And depending on the shape you use and its size and repetition rate, you can achieve a wide variety of visual effects.
For example:
The classic pattern is stripes. It is very popular and perfectly complements interiors in classic styles.
You can choose vertical or horizontal stripes.
Stripes should be chosen when there is a need to change the geometry of the room.
Using vertical stripes mural you will visually make the ceiling look higher.
While with horizontal stripes you will extend the surface to which you clad it.
But the diagonal direction is the most interesting.
Because it can erase borders and corners, making long and elongated rooms more square.
Be careful when choosing the width and color of the bars.
The thinner and more contrasting in shade they are among themselves, the more space they will conceal.
In addition, this finish will dominate the interior. Wider stripes of closely related shades will not diminish the room.
Rhombuses' geometrical wall murals
With a Rhombus or a triangular geometric wall mural, you can give the interior lightness and energy.
Depending on the manner you execute it, this pattern and the color scheme are also actively used for different rooms and different interior styles.
If the rhombic outline is formed by thin light lines on a muted background, you can use such wallpaper to paste over all walls.
But if the rhombuses have contrasting colors, it is better to use them as a decorative insert.
Rhombuses of different shades of the same color, made in muted, pastel colors, are suitable for classic interiors.
And the most dynamic option is Rhombuses of different sizes and different colors.
Which is also best used to decorate an accent wall.
Triangle mural
Let us now focus on Triangle geometric wall mural.
It will be a good accent that will turn any wall into a work of art.
The triangular wallpaper mural is quite simple.
But it is certainly important you be very attentive to detail and choose the right color combinations.
Go for colors that fit each other and the surrounding environment and furnishings.
Bold colors and asymmetries can look stylish. 
Throw in modern furnishings like wooden bar stools.
The result is an unusual décor and everyone will be amazed at what a talented designer has worked on your home.
Chevron
Chevron – zigzag or herringbone geometric wall mural is preferred for bold, modern interiors. But a zigzag wallpaper is a suitable print for any space. And because by itself, this pattern is very dynamic and lively, do not overuse it.
The herringbone can be either pronounced, when the color of the pattern is contrasting with the color of the base, or calmer. Therefore use the Wallpaper of the first type for finishing one wall or part of it.
If the pattern has low peaks and a pastel shade, you can use it to paste over all walls completely. At the same time, the zigzag has an interesting property – it perfectly blurs the boundaries and smooths out all irregularities or protrusions.
For example, if you have decorative niches in the walls, having pasted over their inner surfaces with such wallpaper, at first glance it will be difficult to distinguish them on the plane of the wall.
 Tartan
Tartan geometric wall mural is a pattern in the form of a small cell. And the color scheme of which is presented in deep green and red tones. And therefore you will find it very cozy and in perfect harmony with pieces of furniture made of natural wood.
The print vaguely resembles the colors of the Scottish kilt and can be used to create themed interiors. A larger cage in other colors is often used to decorate rooms in a classic style.
Squares or Rectangular geometric mural
Squares or rectangular geometric wall mural is a quieter pattern that is often used in Scandinavian interiors. It looks restrained and harmonious and does not create unnecessary dynamics.
Advantages of geometric murals
Like any other finishing material, geometric wall mural wallpaper has its advantages and disadvantages. And the benefits are many.
For one, the ability to radically change the "mood" of the room. The pattern can both give dynamics and rhythm, balance the interior and make it calm and pacifying.
Then the ability to hide the imperfections in the geometry of the room with the help of a well-chosen pattern – to stretch the walls, expand them or bring them closer to each other.
Also, any pattern on the wall hides its minor imperfections, protrusions, or irregularities.
A wide assortment makes it possible to choose the perfect ornament for each room; You therefore can see that the geometric pattern fits perfectly into the interior in any style.
Haven't you noticed that use of geometric motifs has spread almost everywhere on objects? Try and observe furnishings, coatings, and other decorations. Interior designers estimate, based on modern trends, that the year 2021 will be all about geometric balance.
The success is partial because geometric patterns help to break up the monotony.
And fill the interiors with a unique atmosphere.