Description
Among our Grey Brick Wallpaper collection, you will find rugged uneven and even bricks, different and with a blush of yesteryear. Other wallpapers feature clean, linear, uniform grey bricks that are the perfect complement to both a minimalist room and a more rustic setting. In addition, these grey brick wallpaper perfectly accept the combination with smooth or relief coverings, depending on your intention. The predominant shades of brick wallpaper are on the grey-scale. That is, from light grey to slate black. And the brown tones encompassing both light tones with blends of blues, as well as blacks and grey.
Do you know that building with bricks dates back to 7000 BC. That makes them one of the oldest known building materials. But if there is an identity of modernity and change, that is the brick. Why? Brick has always supposed the jump to a different stage. As happened with the industrial revolution. When you  understand that those grey brick apartment blocks where the innovative factories, then you begin to understand the grey brick wallpaper.
You now know that the wallpaper tries to mimic brick in an economical way to attain the aesthetics of the original building brick. Nowadays, the minimalist, feng shui and industrial elements interior decor trends are up to date. And therefore more and more people are turning to these brickwork coverings to decorate their rooms.
Grey Living Room Wallpaper
When it comes to choosing wall colors, white is traditionally a popular classic. It is true white gives our rooms more brightness and a timeless beauty. But even stronger colors can give the living room a wonderfully beautiful flair. And one of them is definitely grey wallpaper.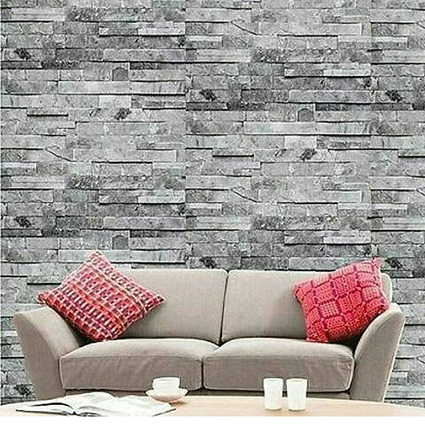 Wallpaper Kenya present you a huge collection of brick wallpapers whose shades encompass the grey-scale. You might choose the bricks to become the background to give prominence to other art. This gives your room that urban touch, casual and out of the established. The wallpaper likes this so much because it highlights the difference in styles and designs.
The living room is the place where we receive our guests or spend a relaxing time on the sofa with the family. Therefore, the facility should be calm and radiate a warm, pleasant atmosphere in which everyone feels comfortable. Certain colors, materials and furniture are known to create a cozy environment.
You can create a living room ambiance that has a simple, understated elegance, using grey. The stone wall covering gives the modern living room a wonderful, natural charm.
The interpretation of grey brick wallpaper decor in Feng Shui
In feng shui, the color gray is usually treated either as boring (dull gray) or as a sophisticated, upscale color (noble, elegant gray.) These interpretations are not necessarily contradictory. Because how you view color depends on the environment and how space is used. Grey represents the element of metal. And it is generally a calming, quieting color inherently lacking in passionate energy.
But this quieting influence can be very helpful sometimes. Sharpness, precision, clarity, and reflection are the feng shui energy properties associated with the metal element, and the color gray fully expresses these qualities.
Naturally devoid of energy, grey brick wallpaper can be either draining and enervating or calming and relaxing. These depends on the circumstances and your needs. For instance install it in a living space where the natural energy is overwhelming or out of control. Here the grey bricks can represent an important quality of detachment, calm, and intellectual clarity.
Different Textures of Brick
As the wallpaper imitates real building bricks and thus comes in the different colors of bricks. Which have to do with the type of clay used in their manufacture. In some cases, the adhesion of some mineral and the cooking temperature also play a role. It is not uncommon to find black, white, yellow or red bricks. And the same apply to wallpaper.
There are different qualities of bricks for construction, as imitated by the wallpaper. Currently the wallpaper has acquired a decorative role within the construction industry. This is due to the great variety of designs, textures, shapes and colors.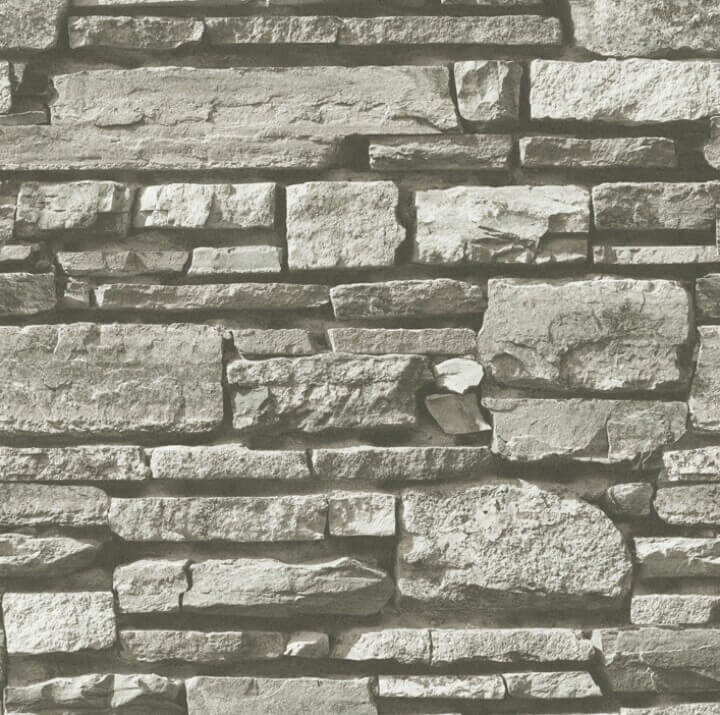 You can then see there is less complexity in installing wallpaper with the same aesthetic values as real bricks. In addition a new concept in "exposed brick wallpaper" emerges that promises to knock down the bulky costs and times of traditional pieces. Now, opting for the classic "exposed brick wallpaper" to texture facades keeps in its high aesthetic component and makes economic sense.
You eliminate the cumbersome artisan way of laying real brick. Adjusted to the constructive plasticity of the new century, by saving time and costs, a new exposed brick wallpaper system emerges. If that were not enough, it promises to be in harmony with the environment. Thanks to its ability to reduce the use of organic materials high ecological impact.