Description
Working from home became a reality in almost an instant, with Covid-19 spreading around the globe and disrupting vis-à-vis business meetings and conferences.
It caught many by surprise. Consequently, many businesses that had dismissed this work model in the past are now rethinking ways to adopt it.
Everyone knows how difficult it is to get down to work in your own home office.
But you can solve the problem with a
custom-made
home office enthusiastic working mood with the right wallpaper.
A more "earthy" wallpaper option is a workspace in a common room.
Most often, women organize a private office in the
living room
or bedroom, these rooms are easiest to divide into zones.
The workplace can be isolated with a table, shelving, and, if possible, hidden in an architectural niche.
A personal account, and especially a woman's, is not just a workspace. This is the place where you take stock, plan, and set new goals.
Therefore also dilute the interior with pleasant little things and fresh flowers. But remember, the vase in the center of the desktop looks great only until the first drop on important documents.
Basic guidelines for the best home office wallpaper
Home office wallpaper for different professionals' interiors can look different. It all depends on what kind of activity you are doing there.
The selection of wallpaper for a programmer and a photographer will be different.
Just as the wallpaper in the director's office and wallpaper in the workshop of a needlewoman will differ.
Here are the basic guidelines for choosing wallpaper for your home office:
The coatings of your home office wallpaper must be hypoallergenic and aesthetic.
You can use either premium silk highly durable custom-made wallpaper or regular cheap wallpaper.
This is because durability for home office wallpaper is not as important as for an ordinary office. Simply because the home office is not as actively exploited.
You can choose any design and almost any color combination, but take care of some tropical variegation in the finish, as it will distract you from work.
Geometric ornaments or calm patterns that set you up for a working mood and help you focus will do the trick. Ideally, such drawings should help the movement of thought.
As for materials, the best choice is our silk fabric but even vinyl and nonwoven regular wallpapers will do.
You should select the wallpaper for your home office taking into account the texture and colors. For it should not be smooth monochromatic canvases.
Yes, such solutions do not attract the eye at all, but because of them, the entire finish runs the risk of looking dull and too "office".
You need wallpaper to create important special comfort for your home office.
Therefore, it is better that the wall covering has an expressive texture " under plaster " or small unobtrusive patterns.
You can use murals to best create them. For example, images with bookshelves or folios in an old library are good wallpapers for study.
Update your home office with wallpaper
The home office wallpaper acquired a new status in 2020, the year of home offices due to coronavirus pandemic lockdowns.
Thousands of employees had to work from their homes to help companies maintain their businesses and stay open.
This shift in their work environment encouraged employees to improve their jobs.
Instead of just putting their computer or laptop on the table in the bedroom or living room, they put more effort into designing and setting up a home office to make it a more comfortable place to work.
In addition, since virtual meetings are also a part of everyone's daily life, employees should have a presentable background that they do not need to change or blur during video calls with superiors, colleagues, and others.
A well-designed workspace provides the right backdrop that can convey a corporate look and atmosphere suitable for any meeting.
Wallpaper as a decorative paper clip for the home office
A well-designed home office wallpaper will serve you well now and in the long run. Whether you work every day from home or not.
And for this reason, you will thrive on continually improving your workspace.
An easy and economical way to improve the look and feel of your home office is to update the walls with new wallpaper.
The right home office wallpaper can improve the overall look of your workplace.
It can also help increase your productivity by allowing you to get a lot of work done, even when you're in the comfort of your home.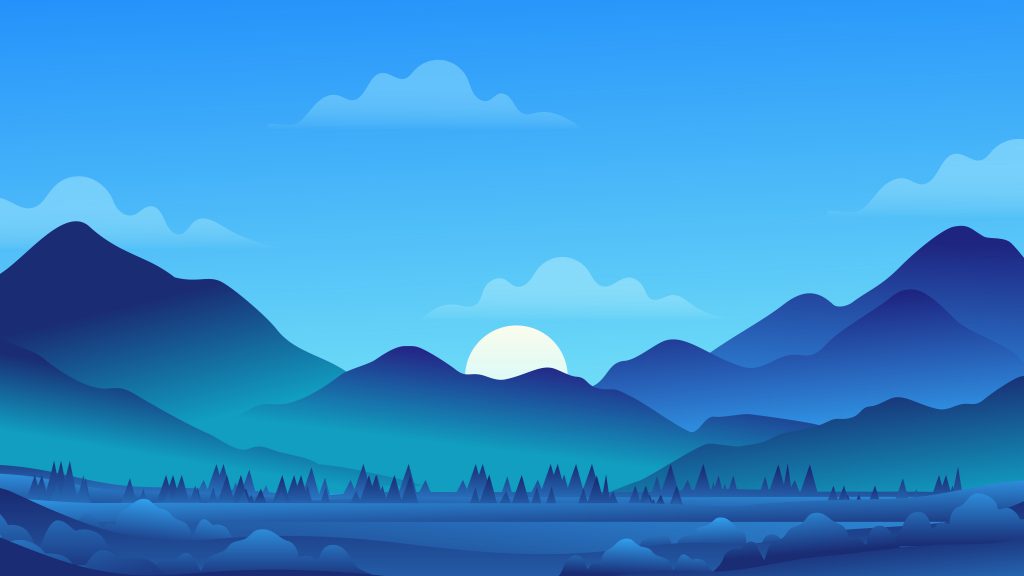 But before you rush into buying any wallpaper that catches your eye, remember that not all designs will look good in your home office.
The wrong wallpaper can distract you from your work.
Moreover, the wrong wallpaper can make your space unattractive, which can also make you uncomfortable during virtual meetings.
If you want to get the right wallpaper for your home office, you should follow these tips:
1. Consider the design of your home office.
Some home office wallpaper is best suited for open spaces. While others are best suited for individual rooms.
For this reason, the first thing you should consider when buying new wallpaper is your workspace.
If you have an open workspace, that is, it is not completely enclosed by walls and can be found in a space in the living room, kitchen, or next to a staircase, you need to consider the overall design of the area.
Since you won't cover the whole room, you only need to paste new wallpaper onto the walls behind a chair or near a table.
To prevent your workspace from standing out for the wrong reasons and making it look like it's part of it, choose a design that blends in with your existing décor.
Moreover, if the room already has an existing style or interior design theme, you will also need to consider this in your final choice.
However, if you have room for your workstation, you don't need to limit your choices too much.
Having a door closes your workplace from the rest of the house, which means you can design your office the way you want.
2. Consider the type of work you are doing.
Since your eyes will rest on your home office wallpaper as you walk, and other people may see it on video conferences, think about what kind of work you are doing when you order the wallpaper.
Whether you are a Graphic Designer, Architect, Art Director, or any job that requires you to be creative and out-of-the-box thinking, having a workspace that reflects your imagination and innovation will work to your advantage.
Bold colors and whimsical patterns can be great options as they can reflect your personality. Moreover, they can be your source of inspiration in your work.
However, if your job has strict rules and requires you to look professional all the time, you may have to lean towards a more traditional home office.
Thus, you can limit your choice of wallpaper with a more strictly structured design. Bright colors and bold designs should also be avoided.
3. Select a suitable color and pattern for the wallpaper.
No matter where you are or what you are doing, your home office wallpaper color can create the right work environment and mood.
If you want to feel and stand out in your home office, choose the right shade for your wallpaper.
Wallpaper in green tones will help refresh your eyes and mind. On the other hand, wall coverings in shades of blue can calm you down when you're feeling pressured and stressed.
These effects can increase your productivity and motivate you to keep working on your daily tasks.
If you want a home office that is enthusiastic and productive, wallpaper in shades of yellow and orange can convey a sense of enthusiasm and optimism and is therefore a great option.
Red can also stimulate your senses and is a great choice if you want a high-energy work environment.
The largest pattern of your wallpaper can also help highlight the character of the room and affect your mood.
If you want to work in a relaxed, relaxed workplace, wallpapers with trees, leaves, and flowers should be on your list at the top. Floral wallpapers in particular make your home office look glamorous.
4. Create a Zen workspace.
Even if you work from home, you can still feel nervous about what you are doing but home office wallpaper helps address this.
Moreover, when you work from home, you are often distracted. Women in labor, babies, and pets can cause a loss of attention that can be difficult to regain.
The right wallpaper design can help you reduce stress while staying calm and focused.
As already mentioned, wallpaper in blue and green colors evokes a soothing and refreshing atmosphere. So you can't go wrong with these colors if you want a Zen-style home office.
If you're aiming for a minimal home office, choose a solid color embossed wallpaper. Wallcoverings of this type add a touch of elegance to the space, but they will not fail to calm you down when you feel tired and anxious.
The right wallpaper can complement and even decorate your home office. If you follow these tips, you can identify the best opportunities in your workplace.
3d professional photos wallpaper for home office walls
When it's hard to get outside, why not bring the outside in with 3d home office wallpaper photo murals?
Even working from home at the best of times can mean missing out on interacting by using custom-made nature 3d photo mural wallpaper.
Or use regular cheap wallpaper bringing the colors of nature to your indoors. These can help you feel just that little bit closer to the world outdoors.
Small home office design ideas
Whether you're working from home, doing a few admin tasks, or doing a toddler's homework, more and more of us are looking for ways to include a study area in our home.
However, this is rarely done, most homeowners have a dedicated room where they have their small home office, so proper use of space is key. With thoughtful planning and creativity, almost any space in the home can be turned into a useful mini-home office.
If you only have a cozy nook or small area, make the best use of any vertical space available by building shelving straight up to the ceiling and purchasing step shelving to access your essentials when needed. Also, make sure recessed lighting is included, or if you plan on custom built-in shelving.
Don't be afraid to introduce decorative elements into a small space behind a desk, like an interesting wallpaper or mural. Which will deftly divert attention from a cluttered table and they can be played with the perception of space.
If wallpaper isn't your thing, you could use wall boards with small pegs to hang up inspirational letters, photos, and postcards that bring an interesting backdrop to your small home office.
The real home office trend is in the kitchen, so it's worth it right now to make a chest table in the kitchen or a fold-out table that you can put everything in the world on when not in use. This is a great place in the kitchen, which is the center of the house.
You can watch children's homework activities while preparing dinner. The mini home office is also becoming an increasingly popular solution for creating dedicated study space, providing peace away from the main rooms of the home.
How to choose the wallpaper for a small home office
Size matters – at least in the matter of a small home office wallpaper finishing.
If you correctly work out the décor, then with the help of such a design it will be possible to make the interior visually more spacious, and larger. You just need to know in advance how to choose the wallpaper for a small room.
When choosing wallpaper for a small room, you need to consider everything: from the pattern and color to the type and format of the room.
The basic principle is simple: the smaller the room, the lighter the wallpaper on the walls should be. Maximum space "gives" the white color (it is not for nothing that today it is among the main trends in bathroom design).
A good, quite universal solution will be pastel shades: blue, lilac, pink, peach, turquoise, pale variations of green and yellow, as well as beige and light gray.
It is better to avoid sharp contrasts and take into account the rules of color compatibility. The latter is important not only in wallpaper but also in their "connection" with laminate, baseboards, interior doors, ceilings, etc.
With color or a combination of certain colors, you can visually expand a small home office.
When finishing the ceiling in white, a small room will seem larger if cool colors are used for the walls.
Blue, light gray walls will add air.
Walls in shades of gold will make the room sunny and bright, but it will not increase its size.
Black and dark blue are not suitable for a small room. Walls or a ceiling of this color will make it even smaller.