Description
Photo & Color therapeutic hospital wallpaper murals
Health centers and Hospitals have a distinct atmosphere and hospital wallpaper murals can influence it for better or worse.
Modern-day hospitals are trying to change the negative atmosphere of sharp smells, perplexing pathways, scrambling staff members, and somber surroundings.
In the same spirit, Hospitals are taking up unique murals today.
Because they realize how murals and general interior decoration can influence hospitals…
Patients to return

Doctors working together and medical teamwork and health workers unity and global healthcare partnership as a group of diverse medics connected together in a 3D hospital wallpaper mural illustration.

And employee turnover: Thoughtful interior design can add to the employee experience. Hospital Wallpaper Murals can be used to intentionally create specific moods and themes through color. And to improve the ambiance for those working in the space and increase employee satisfaction.
But unique wallpaper murals and interior hospital wall decoration go beyond retention rates.
In addition to protecting the walls from the damage caused by carts, wheelchairs, and beds, Wallpaper Kenya's Silk Fabric's Wallpaper Murals' main benefit is helping with health and healing.
How A Hospital Wall Mural Aids in Healing
Chromotherapy is the study of how colors, such as on hospital murals, aid in healing.
Nowadays conventional medicine recognizes the power of the connection between mind and body.
Studies have found that people heal better if they have good emotions such as can be created using appropriate imagery of hospital murals.
Therapies using the mind may, in the same way, include, Meditation, Biofeedback, and Hypnosis.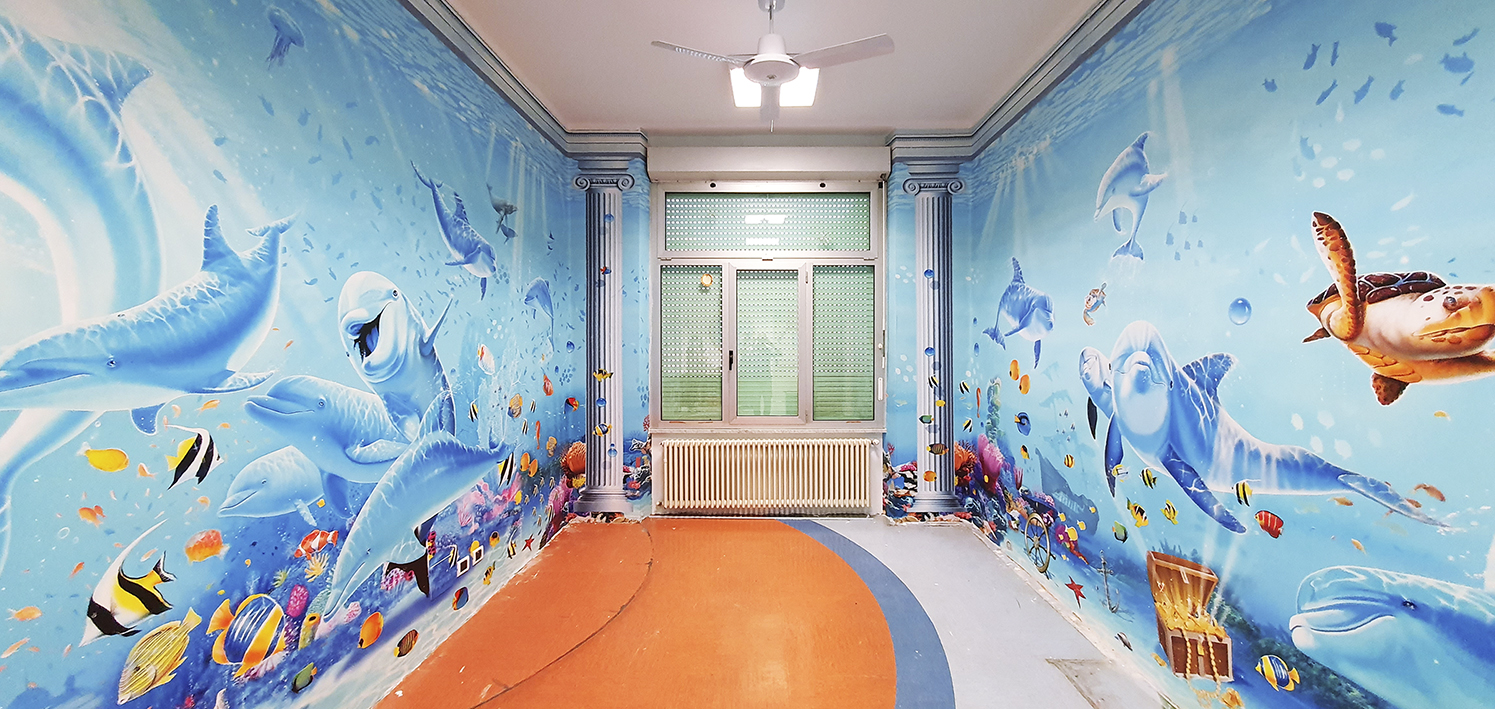 Has it not long been discovered that the common senses, of touch, sight, hearing, smell, and taste, can affect overall health?
So, you can use hospital murals to take advantage of the sense of sight in healing.  You will also find other therapies incorporating the senses in other arts, dance, and music.
But hospital murals fall under visualization and guided imagery science in alternative medicine.
The aim of wallpaper for hospital interior walls
Your aim should be to create a calmer and more relaxing environment in your dental clinic, medical center, or hospital using wallpaper murals.
If relaxation is your aim, there are certain healing colors, found in nature wallpaper photomurals, you should consider.
And the imagery you should use include outdoor landscapes, marine life murals, and field scenes.
With these, you can help create a more relaxing environment for your patients and staff.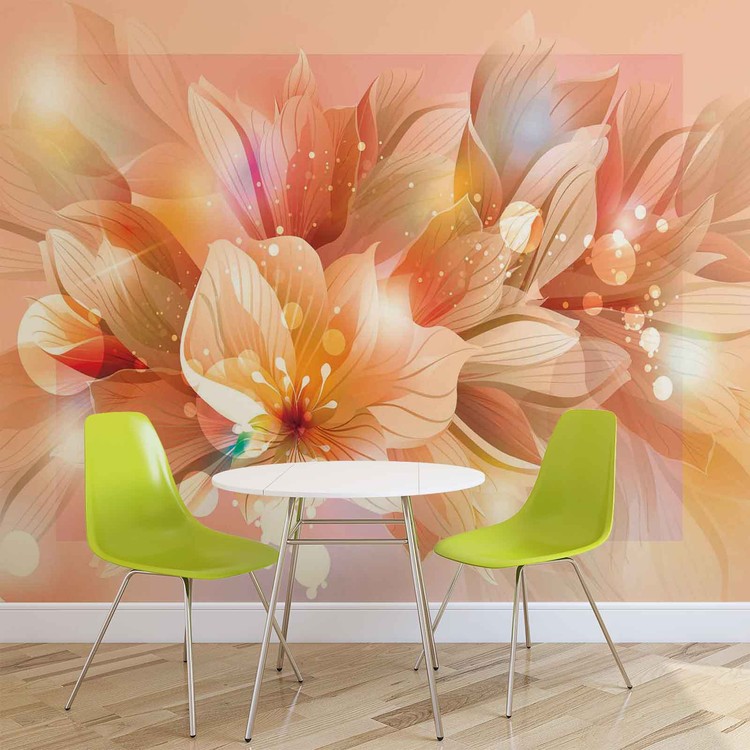 Nature hospital wallpaper murals art is Restorative
Patients will feel less stressed when looking at nature hospital wallpaper murals than if the walls are blank.
Short-term exposure to images of nature will foster impressive stress recovery. But potential wellness benefits may be greatest for patients who must spend long periods in a confined setting.
Prolonged visual contact with healing images will have profound positive effects on the psychological, physiological, and behavioral components of stress.
Until recently, insufficient attention has been given to the psychological needs of patients.
Hospital murals will serve as an effective and inexpensive antidote to the bland or bare walls that are so institutional and often unsuited to their emotional needs. Art from Healing Images will provide supportive environments at a minor cost.
According to the Healthcare Forum Journal, "Acutely stressed patients who are exposed to "serene" photographs (primarily water or other tranquil nature scenes) have a lower blood pressure than patients exposed to no art or bland posters. Sensory deprivation stemming from lack of windows in intensive-care units is associated with high levels of anxiety and depression."
Photographic Art for Health's Sake
Nature is a universally appealing subject for murals, not influenced by individual artistic tastes. Local environmental photographs often help.
Photographs of nature will help create energy and optimism, help patients redirect negative thoughts, and provide comfort for the soul. Nature wallpaper murals will help soothe the spirit of patients and families.
Much of fine art is highly subjective, and often abstracts are negatively received. Color is a powerful stimulant, which is not always desirable.
Yet the colors in nature, skillfully interpreted by photographic artists, will deliver nurturing, uplifting, and vicarious escape from the realities of the patient's room.
Benefits of hospital wallpaper murals
At a minimum, your patients, visitors, and staff looking at the right hospital wallpaper murals will experience less stress and anxiety than in a traditional visually sterile environment.
Patients viewing nature scenes indeed show decreased anxiety. And do you know that what you watch can affect your blood pressure?
Blood pressure is statistically lower in patients viewing nature images than those viewing other art or blank walls.
When you have the right hospital wallpaper murals you get higher patient satisfaction and positive perception. In other words, patient perception of healthcare visits improves when healing murals are a part of their experience.
Research supports the above and suggests that art may ultimately decrease hospital stays, thereby reducing costs.
Nature hospital murals in staff areas will be a positive factor in recruiting prospective employees. In this way, you will be enhancing job satisfaction and increasing the retention of good people.
A buoyant employee will have better patient contact as well. Although a beautiful workspace is not all that employees care about, murals can create an attractive space for professionals who value design, color, and art.
Hospital murals demonstrate that the Health Facility values the workspace atmosphere. And therefore its employees as well.
The workspace is part of the first impression given to potential new hires. It can be used as part of the recruiting process to attract (and capture) talent.
Business Advantages
Your patients and visitors will have positive attitudes about your facility, and comparatively high levels of satisfaction. There are usually choices in healthcare – how much is word-of-mouth endorsement worth to you?
Customized Hospital Wallpaper Murals
The best hospital wallpaper mural ideas come from working on it with the hospital and its employees. When we know your wishes, we can adapt and find ways to create a beautiful design for your wallpaper mural.
But you can also come up with a suitable design online or by commissioning an artist.  There are hundreds of thousands of free or for sale online stock photos. And Shutterstock is our provider.
Once you find the right photo online, which must be of high resolution, give it to us and we will reproduce it for your full wall.
Different photo themes for hospitals with different motifs to match the individual wards are suitable for;
OP/anesthesia/induction
ZNA – Central Emergency Department
radiology
Optional service room
Optional service corridors
Lounges
all other stations and areas
Wallpaper Kenya is here to help
when choosing the quality
when recording the formats – with you on-site
in the selection of topics and motifs that fit well into the individual areas
in adhering to your budget.
Colors are a major factor of hospital wallpaper murals
The Color scheme plays an important role in hospital wallpaper murals. Because it determines the feeling of comfort for the visitors.
The décor should be consistent throughout the healthcare facility. But the ambiance of the premises should be appropriate for their purpose.
When developing a design concept, it is necessary to take into account the functions of a healthcare institution and create a  feeling of a warm welcome. As well as reliability and competence in people as orientate in an unfamiliar environment.
When choosing your wallpaper mural colors, consider how long visitors will be in the room.

For example, they do not stay long on staircases and corridors,  so in such places, you can safely use bright and juicy colors. They attract attention and help you navigate the building.
But in the wards, patients are in for a long time. And therefore, in these rooms, home comfort is created with the help of calm tones.
The benefits of chromotherapy in hospital murals
Experts in holistic medicine use chromotherapy mainly to treat psychosomatic illnesses.
And indeed, the use of colors could help to treat cases of anxiety, stress, depression, immune deficiency, weakness, and localized pain in some parts of the body.
According to the principles of chromotherapy, each color has a different beneficial effect: red, for example, has a stimulating action. While blue, indigo, and violet soothe.  Green rebalances while yellow and orange invigorate and give energy.
The warm color tone of the hospital wallpaper mural creates a feeling of comfort
Psychology of  Colors: Hospital wallpaper murals in warm color tones create a feeling of comfort, while cool colors have a regenerating effect. Studies have shown that people feel best in bright rooms with warm color tones. The richer the shade, the stronger its effect on a person. And to soften it, you can resort to pastel colors.
When choosing wallpaper mural colors, you need to start from the function of the room. For example, a hospital reception room area should "radiate" calmness, relaxation, and reliability. So the color of the mural walls in it should not cut the eyes and generally distract attention.
Importance of colors of Hospital Wallpaper Murals
The use of the right colors on your hospital wallpaper murals is important because it creates in the patient and the staff, a psychological effect that allows them to feel comfortable and relaxed.
It also serves to forget about the disease that afflicts you. However, colors cannot be used arbitrarily in combination with medical equipment, since each of them has different functions according to the area of ​​the hospital.
In some, it is necessary to stimulate and cheer up, and in others to keep the patient calm.
The hospital waiting rooms wallpaper
These are some of the most critical areas needy of hospital wallpaper murals. Because no matter what you're going to the hospital for at some point you'll end up in one of their waiting rooms. Either you're going there to wait for the doctor to see you. Or to get an "okay" from the staff to visit the person you came to see.
Spending the majority of your time there wouldn't be a problem if it was enjoyable. However, that's often not the case. Over 50% of patients say that the most stressful aspect of their appointment is waiting.
So how can hospitals make an immediate, positive impact on how their patients feel while visiting? One of the most obvious and impactful answers is hospital wallpaper murals.
Corridors and stairwell wallpaper
Corridors and main thoroughfares hospital wallpaper murals are subject to a lot of potential wear and tear from trolleys, beds, and wheelchairs. To protect the walls, crash rails or bumper bars can be specified. These can be combined with handrails or kept separate.
And when it comes to murals on these walls, Wallpaper Kenya uses tough and highly durable silk fabric as the base. And this enhances the wall protection from abrasions, wear and tear.
These spaces have little lighting and therefore must be clad with soft and bright colored murals. The melon color can be a good option, to obtain greater illumination. In addition, it will serve as a warm and stimulating effect for those who do not like to use the stairs.
Patient rooms murals
The wards or patients' rooms are some of the most needed spaces for hospital murals. And here hospital wallpaper mural colors play a fundamental role for hospitalized patients and during their recovery phase. The recommended colors for these areas are soft tones. For example ivory, gray, cream, blue or light green.
All these types of shades can be combined between walls and curtains. Thus offering a refreshing sensation and helping to calm nerves or anguish. In rooms where patients have an estimated time of stay, warm colors are recommended. And for those with chronic diseases, it is advisable to use cold colors.
The 5th Wall: Ceiling wallpaper mural
It is not advisable to paint the ceiling white but better clad it with a suitable hospital mural. This is because many patients who are immobilized or bedridden in a hospital bed, tend to spend a lot of time looking at the ceiling.
And this type of color is often depressing. Ideally, the tone is the same as the walls or curtains, although in a clearer whole.
Operating rooms or surgery rooms wallpaper mural
Although the color blue is widely used on hospital wallpaper murals, it can have a discomforting effect on patients.
The ideal hospital mural color is bluish-green. And you can use this hue both on walls and curtains.  As well as in the clothing of patients, doctors and assisting personnel. Because this tone inspires a feeling of tranquility.  And it has a psychological effect especially for the surgeon helping him to rest his eyes.
Other areas of the hospital
In physiotherapy areas, it is advisable to use cold colors in hospital wallpaper murals. Even in the instruments or in the articulated arm system used in the recovery of the patient. The recommended shades are light blue, teal, or purple. Because these colors provoke in the patient a feeling of serenity and passivity. And these feelings are necessary for those moments where stress tends to dominate.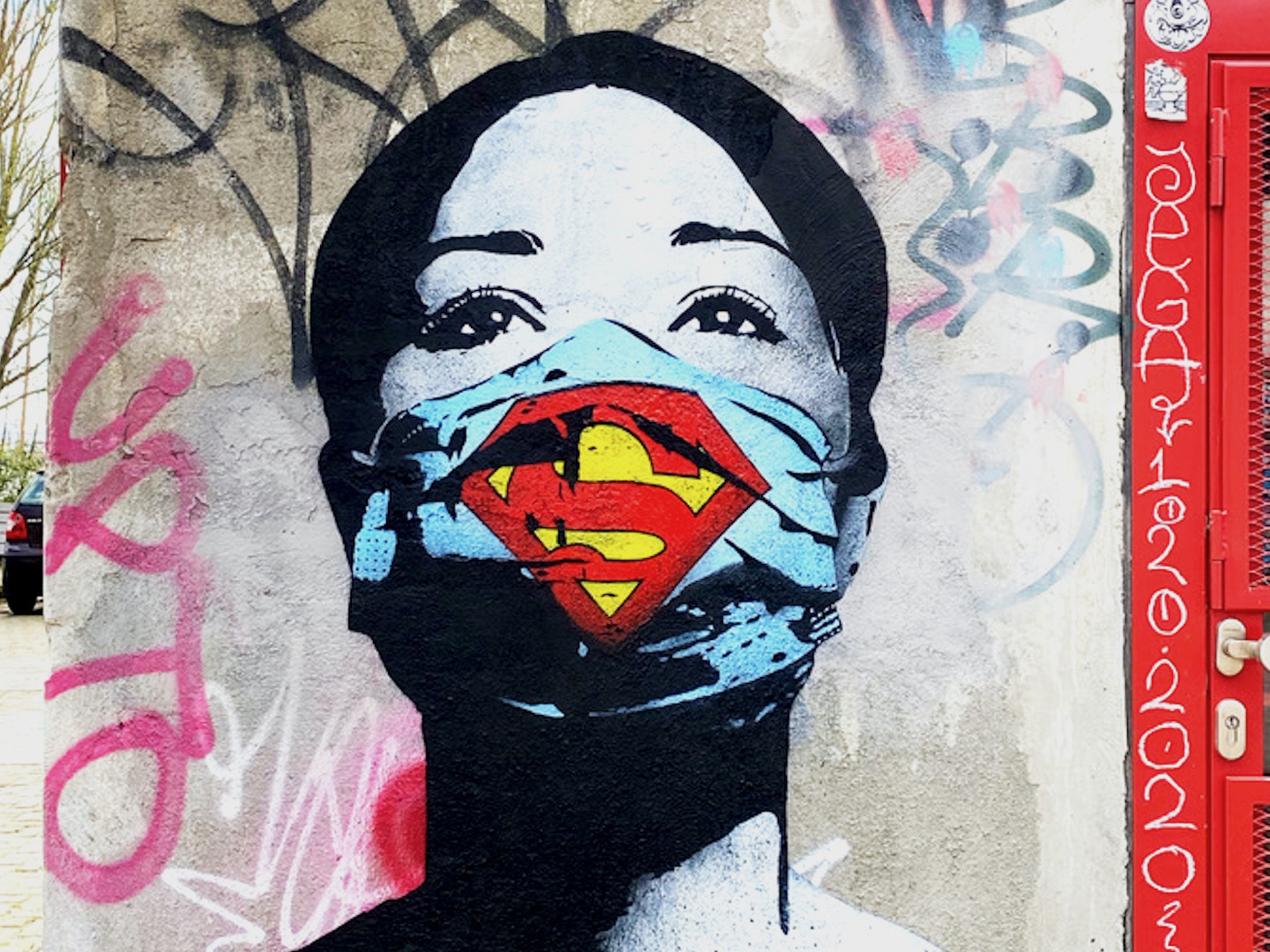 However, for those patients who work on the recovery of immobile limbs, more stimulating pigmentations such as blue or dark green murals are recommended.
For areas where there are networks of medicinal gases, which are used to care for respiratory diseases such as asthma, it is advisable to use murals with warm colors that stimulate activity and evoke the energy and joy of the patients.
You can use shades such as yellow or soft orange.
Hospital office wallpaper murals
As for the offices and laboratories, the hospital mural colors used will vary according to the type of lighting they receive.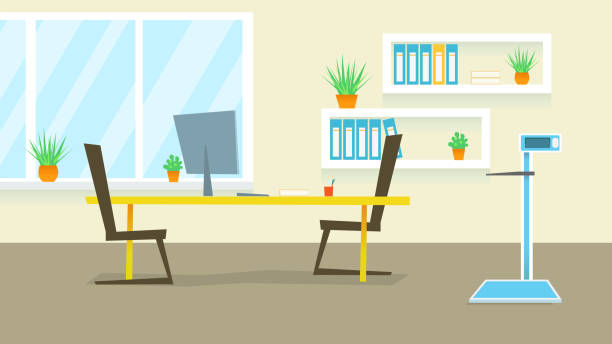 For those spaces where natural lighting occurs, the curtains and murals can be pink or ivory. And in those places with little light, green or gray is recommended.
As we have already explained, colors have different uses and different effects are obtained in each specialty hospital mural. For example, the application of colors in an artistic area such as painting is very different from how shades are perceived in hospitals or clinics. For this reason, it is very important to be aware of the ranges of colors that we can count on. Because depending on the area each shade offers a different experience for the human being.