Description
The hotel murals are an important component of a modern hotel wall. Flying has been proven to cause stress.
And this condition is aggravated by the unfamiliar atmosphere of the hotel room. 
Therefore, many owners of hotels and hotel managers are trying to do everything possible to make the guests feel at home and even better.
And one of the best ways to do this is by using appropriate hotel murals.
To create an expressive and impressive design in a hotel, you should correctly select color and lighting solutions for it. 
Also important are the materials used for the decoration of hotel premises. 
That is why professional designers, decorating halls and hotel rooms, pay attention primarily to the decoration of ceilings and walls.
But also their harmonious and effective combination with the rest of the design too.
The successful functioning of the hotel largely depends not only on the location of the building and the creation of a hotel service quality system.
But also on a thoughtful, beautiful interior.
The modern hotel design is to provide the visitor with both a comfortable place to spend the night and several additional services.
According to the functional purpose, there are a group of premises that can be distinguished.
A lobby, a residential area, restaurants for catering guests, and commercial and consumer services.
Others are halls for sports, business and entertainment, service, and technical premises.
As a rule, interior decoration begins with the ceiling, followed by the walls.  Walls in hotel rooms should be attractive, non-marking, and practical for a long time.
Therefore, the columns and panels decorating the foyers and lobbies of such hotels are often lined with natural stone.
For interior decoration of residential premises of hotels, wallpaper hotel murals are also used to decorate the walls in the rooms. 
Hotel murals: designs, styles, and ideas
There are a lot of design ideas for hotel murals you can choose from. Because reputable hotels do not just decorate rooms in the same style.
But you should try to make each of them completely special. And that is why you need custom-made wallpaper murals. 
If the hotel is located in the city's historical center or an old building, then the classic art murals look the most harmonious.
And if it is a mini-hotel in the area of ​​skyscrapers, it is more appropriate to make a more modern interior.
Rooms for guests, decorated in modern murals, as a rule, occupy a significant part of the area of ​​hotels.
Such rooms are characterized by minimalist design, high functionality, and the use of natural designs in wall decoration.
But quite often, the hotel's location dictates the style of the design of the rooms and hotel murals.
And the design of hotel murals in different styles, even within the same network, can vary dramatically.
For example, the design of hotel murals on the seashore is unlikely to be similar to those of a hotel in the center of a metropolis.
High-level hotels in the center of large cities necessarily have several presidential suites and deluxe rooms.
Here, wall décor, furniture, and accessories are often used in golden or other "rich" colors – for example, purple.
At the same time, "rooms for the elite" lift the veil of historical reconstruction – here you can feel like you are in another century.
These luxury apartments may contain several bedrooms, a spacious living room with a fireplace, several bathrooms, and, of course, a picturesque view of the city.
Nature murals
If the hotel industry is about hospitality, then nature-painting hotel murals are some of the best. Because nature is the best healer.
Murals on this subject have the ability to soothe, tune in a lyrical mood, and improve mood.
They are perfect for any room – from the reception to the guest rooms, dining rooms, offices, and even kitchens.
Our library of nature murals is a great way to choose the right option for your interior.
Images of natural details and components fit perfectly into modern design, giving apartments and houses a spectacular look.
Pictures of nature have always been fashionable for decorating. Picturesque landscapes have been used to decorate the premises since ancient times.
And the latest technologies and techniques have made it possible to create canvases that would seem fantastic to the best artists of the past.
Many tourist senior citizens spend a significant part of their time at work and only at hotels they can relax and gain energy for the season.
The hotel walls made of the "nature" photo mural help in this.
Due to the increasing demand for this type of surface wall finish, there are various mural design options, which allow the material to be used to decorate a hotel in various interior styles, from the usual classic to hi-tech.
Floral style
It is rather difficult to call floral mural compositions a universal solution. Despite this, murals with a floral theme will fit well into any hotel's interior.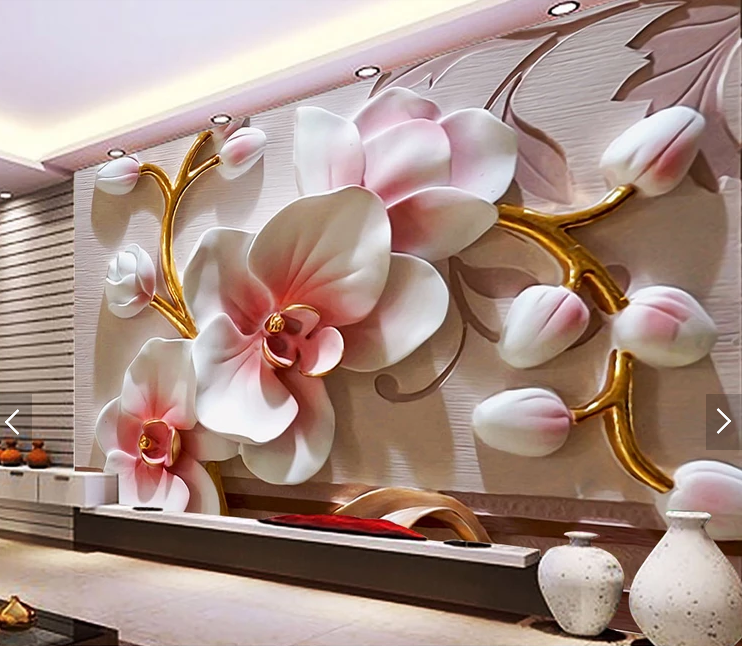 If the choice of the owner of the hotel fell on such nature wallpaper murals, then different types of images should be used in different rooms.
For example, for finishing the walls of the kitchen, designs with yellow or orange flowers (sunflowers or dandelions) are suitable.
Tip: when decorating a bedroom, choose mural designs with romantic shades (roses can be an example). Inconspicuous or neutral photo wallpaper murals of nature are suitable for the hotel lounge.
Forest murals
Many people like photo murals with a forest. But finishing with similar designs has its characteristics. The fact is that designs of this type are not suitable for small rooms or rooms with low walls.
And especially when there is insufficient natural light. Such recommendations apply to canvases on which free-standing trees are applied. But the forest theme will fit perfectly into the interior of a spacious country hotel.
Mountain ranges
The type of photo mural in question will fit perfectly into the interior of the hall. Also, beautiful mountain peaks, overgrown with forest, will decorate the hotel offices.
Small hills, falls, or sloping slopes are ideal for decorating guestroom walls. And mural with snow-capped mountain peaks has an impressive effect.
Such pictures are usually dominated by white and blue colors, which allow you to expand the space.
Desert area
The use of desert mural designs in the interior will allow your hotel guests and staff to enjoy the endless desert expanses of Africa and the American prairie. To obtain these mural designs, realistic photographs taken in the Gobi or Sahara desert are often used.
There are dunes with camel designs, sand-filled oases, and Egyptian pyramids. Along with the sand in the drawings, you can see huge stones of bizarre shapes of various shades, which are perfectly combined. 
This type of photo mural of "nature" on the wall can be of considerable size or used to decorate a small section of the walls.
Baroque style
If it is necessary to emphasize the status and high level of your hotel, it is worth making the interior in the baroque palace style – luxurious, aristocratic, and even a little theatrical.
In Baroque interior decoration, valuable materials are used, gilding abounds, expensive fabrics, ornate wood carvings, and art objects are present in large numbers.
In the interiors, bizarre curves of lines and shapes are noticeable. A baroque hotel room is a witness to the status of not only the institution but also the guests.
The palace baroque-style hotel mural prefers royal colors – burgundy and deep blue. As well as brown, terracotta, white, and muted green, as more suitable for decorating hotel room walls.
Classic style
The classic style combines unobtrusive luxury and conciseness, which is why it is often used as the main design direction for many hotel rooms.
As in the baroque, natural premium materials predominate in the classical style. But they are presented more modestly, and the space is freed from excess décor.
Less gilding, gypsum moldings, and columns are acceptable, and decorative plaster or silk wallpaper mural is used for walls.
The classic style hotel murals are characterized by a neutral color scheme – these are brown, beige, milky, and olive shades.
Art deco hotel murals
This interior style combines the past and the future, aristocracy and new technologies, luxury, and practicality.
In addition to natural wood and stone tiles, Art Deco includes leather, glass, and stainless steel. 
Characterized by an abundance of reflective glossy surfaces, which is a new way to emphasize the status of the interior.
Art Deco mural colors are still natural: grey, brown, and beige, as well as natural shades of metal, wood, and leather.
Provence-style hotel murals
The famous style of the French countryside is a fashionable interpretation of the country, which is perfect for a country family hotel.
Provence is characterized by simplicity, lightness, softness of forms, naturalness, and homeliness. For this, natural materials, textiles with floral and floral ornaments, and textured and aged surfaces are used.
For example, the decoration of the walls in a hotel room is ideal with floral silk fabric wallpaper murals, which gives the interior the proper warmth. And on the painted furniture there should be traces of time, making the room habitable.
Calm mural colors are the visiting card of the style. Provence is dominated by the delicate colors of French nature – white, blue, sand, and lavender. Pink and green are excluded.
Sea ​​style
Marine style is the most obvious solution for a coastal hotel. It can be realized using different materials, so the marine style is found in hotels and hostels of different levels.
In any interpretation of it, there are white and blue (blue) stripes, natural wood elements, as well as symbols of the sea – starfish, shells, and lifebuoys. You can add an adventurous spirit to the interior using binoculars, maps, globes, and other attributes.
For a nautical style, the base colors are blue and white, and they should always be the center of attention.
Ethnic style
This is the direction of the interior with a pronounced national character, usually, its choice is determined by the location of the hotel.
Ethnic can be considered as an exotic Indian style, Swahili, Arabic, as well as Old English or Italian. In all directions, natural materials and recognizable details of national color are used on murals.
Scandinavian style
The Scandinavian style helps to create coziness and comfort in a hotel of any level. But it shows itself especially well in guest sleeping areas.
The main principles are simplicity, comfort, functionality, and reasonable minimalism.
Typical colors of the murals are white, beige, brown, grey, and dark green.
Loft-style hotel murals
Do the windows of your hotel "look" at the industrial area?
In this case, the most suitable solution would be a loft-style interior, which manifests itself especially organically in rooms where there used to be a warehouse or a production workshop.
The loft-style interior is loved by the youth audience and creative people with non-standard views on life. It is characterized by open space, undisguised communications, and rough textures like raw concrete and brickwork.
The mural color scheme is predominantly shades of brown, grey, white, and brick red.
High tech
The modern high-tech style is most often used for business-class hotels. In this direction, the emphasis is on the latest achievements of science and technology.
The basic principle is minimalism. And so there should be nothing superfluous in a high-tech interior. Characteristic materials – glass, metal, plastic.
You can also use silk fabric wallpaper murals in combination with wood panels. And they will help bring a little home comfort to the severity of high-tech.
The mural color scheme is restrained: white, black, and metallic.
Advantages of photomurals for hotels
Just because of their large size, silk fabric custom-made hotel murals make the message that you want to display stand out above everything else.
Murals are eye-catchers and say more than a thousand words!
For this reason, their main advantage is the attention they get, both from new and old customers. But it is not the only thing!
positive impression.
If a good design is chosen for the photomural, you will be able to make a good impression of your hotel.
Transmission of values ​​or style.
It is important that the photo or image is consistent with the brand image and manages to identify with your hotel business. In this way, it will transmit exactly what you want.
Encourage sales and customer entry.
The colors and design of your wallpaper mural can affect emotions and drive sales.
          A large image will invite people in, engage their emotions, and direct them to stay and spend.
They work anywhere.
A hotel photomural will not only be useful in the reception area or commercial premises. They are also ideal for decorating a conference room, guest room, teamwork space, or reception area to enhance the hotel's brand image.
Decorative element of great weight.
Photomurals decorate any type of room by themselves. And so they are perfect for decorating large spaces to which you want to give a more original touch.