Description
Plain pink wallpaper in our Nairobi store come in different shades. These are Pale pink, pink grey, pink striped, and hot pink wallpaper. You need not take pink as for ladies only.
We have fabulous and bright pink, pretty and soft pink, there is a shade of pink for every room. Pink wallpapers are available in a wide range of designs. Both contemporary and feminine. Apart from plain pink, We stock pink flower, hot pink and pink rose wallpaper. Pick any of the pink shades for your pink bedroom. Pink need not be solid pink only, we also have polka dots and other designs too.
For a long time now, pink in interior decoration is a color that is perpetually associated with femininity. Much like blue tends to become the masculine in the world of interior design. Some interior designers believe that this stereotyping is just a marketing gimmick. While other designers point to growing scientific evidence that women are programmed to liking redder shades while men love those in the green-blue spectrum. Regardless of which stand you take, pink is generally linked with all things delicate and wonderful. But dont limit pink wallpaper with all the various shades and textures to the feminine bedroom or girls' nursery.
Different Shades of Plain Pink Wallpaper
Pink wallpaper interiors can make a statement or they can be super-calming, depending on the shade. To make a dining room or hallway pop, try a deeper hue. While very pale pink wallpaper looks lovely in a bedroom, an office, or a bathroom. In the bathroom however, you only wallpaper the area above tiles, the area which is traditionally painted. Wallpaper in the bathroom should not be hit by water directly.
You choose pink as a soothing, romantic color. The wallpaper is becoming a more popular choice among homeowners and interior designers. You might want to incorporate little bursts of pink with accents like pillows, flowers, or throw blankets. While others take a more daring approach and wallpaper their walls with the vibrant shade. If you are thinking of doing the same, you might us to help you with best color curtains for pink walls.
Some of the different designs of pink wallpaper are; Salmon, Coral, Hot pink, Fuchsia, Blush, Flush pink, and Rose pink.
Install princes pink for your girls room and baby pink designs for a baby's nursery.
You will find far from baby pink our collection of pink is deigned to appeal to anyone. From contemporary to classic feminine pink designs that are perfect for Princesses of all ages. These wallpapers can provide exactly the right look for your space. Dress these wallpapers up with formal decorative furniture to create a room that feels like it came out of a fairy tale; or dress it down with comfortable contemporary pieces, to give your space a grown-up, girly edge.
You are looking for pink for adults in damask and floral designs as well? If so, you are in the right place. And for you to understand where to use pink wallpaper let us explore the meaning of the color.
Pink Flowers Wallpaper for walls
Give a vintage, modern or country look to your room with our flower wallpaper. Our ultra-realistic floral wallpaper will create an elegant and neat style in your interiors. All designs is one way or another inspired by nature. The blooming flowers are one of the most beautiful images that nature has given us. At Wallpaper Kenya, we adopted this motif to create a collection of Floral wallpaper. These modern wall decorations can be a fashion accessory in every home. Flowers wallpapers are characterized by a wide palette of colors: from lively and dynamic to subtle pastels. Whatever the flower – they all reflect the immense wealth of nature.
Find out what colors go well with pink
It goes without saying, an easy way to decorate with pink wallpaper is to mix a lighter version with a few pops of the darker version. Better still, balance the two shades out with plenty of white. And this works well with any other plain color wallpaper. The result is a gorgeous, monochromatic color scheme that is both easy and fail-proof. A monochromatic palette also works to visually enlarge a very small space.
Pink Walls Bedroom for Adults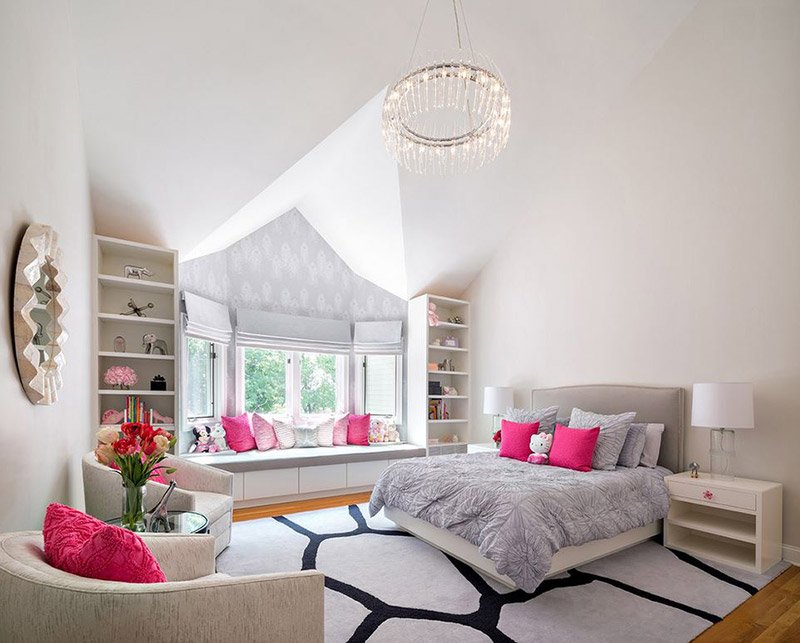 Pink, the offspring of red and white, has become a major color option in home wall decor. The wallpaper, in its various shades, is no longer limited to the nursery or little girls' bedrooms. Through the creative ideas and visions of talented interior designers, various shade of pink wallpaper have grown into adult rooms. Go all out with an all-pink room, or just use a few pink accents to spark up a neutral color scheme. Pick a Even vibrant, hot pink for the master bedroom as long as you balance it with a base of white or another soft neutral, such as pale gray, sand, or cream. Go ahead and get bright with the bedding and smaller accents throughout the room. But take care to maintain balance and harmony.
Striking Curtain Colors for Pink Wall
Red curtains and pink walls
You don't necessarily have to go for patterned curtain. It will depend on the overall room decor. We have plenty of solid-color curtains that go well with pink walls, including red curtains. The combination of pink wallpaper and red curtains is feminine and romantic. With pink walls, hanging solid red curtains creates a stunning monochromatic aesthetic.
Brown curtains and pink wallpaper
Earthy brown curtains also pair rather well with pink walls. The neutral color of the curtains creates a pleasing visual balance. Pink and brown is a very popular color combination for little girl's rooms. Elsewhere in your home, dark brown curtains provide striking contrast when hung against pale pink walls, lending an element of sophistication to any space.
Grey curtains
Grey is a neutral color. Choosing a neutral-colored curtain is always a safe bet. To the eyes of many interior decorators grey is the best color curtain for pink wallpaper. It certainly compliments every shade of pink, from bright, hot pink to delicate pale shades. Solid-colored dark grey curtains create a beautiful contrast against a light pink wall. Curtains that include some kind of grey pattern in them also make for a beautiful addition to pink walls, as do those that combine white and grey patterns.
Plain Pink Wallpaper color psychology
You will find most pink wallpaper, but not all, suitable for babies rooms. Especially little girls rooms. And also candy shops. Because the color pink is a delicate color that means sweet, nice, playful, cute, romantic, charming, feminine, and tenderness. It is a color associated with universal love of oneself and of others. A Pink Wallpaper represents friendship, affection, harmony, inner peace, and approach-ability.
Color psychologists tell us that different colors can affect our moods, our feelings, and even our behavior. In Westerners, for example, consider pink as calming and associated it with love, kindness and femininity. Let's take a closer look at what pink means in color psychology.
How does a pink wallpaper make you feel? Many people immediately associate the color with all feminine and girly things. It could also evoke romance and holidays like Valentine's Day. Some shades of pale pink are described as relaxing, while very bright and vibrant shades can be stimulating or even aggravating.
In conclusion
Western cultured people often react the same way, as aforementioned, to the color pink. But it is important to remember that in color psychology any color's meaning can depend on many factors. Past experiences, cultural influences, personal tastes and other factors can all affect how a person feels about a particular color. Including the color pink. An understanding of cultural color and symbolism is essential to anyone doing business with other communities and other societies. These associations with color have been a part of many societies for centuries and you must be aware of both the positive and the negative implications of using particular colors when dealing with different societies.