Description
Kitchen contact paper is ideal for transforming this unique space. Because besides the functional elements, the self-adhesive kitchen contact paper gives you an attractive and personal touch. As well as being resistant to kitchen fumes and dirt, and easy to wash because they are made of decorative polyethylene.
About style and design, contact paper adapts to multiple styles, such as classic, modern or retro, offering a wide variety of possibilities. Thus, you will find designs inspired by precious stones such as marble, wood grains, solid colors, and even bricks.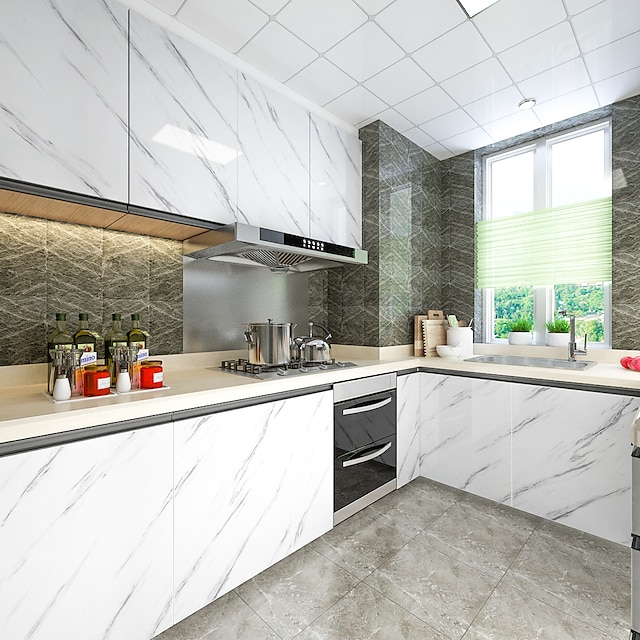 The self-adhesive sticker designed for the kitchen perfectly combines functionality with good taste, creating a distinctive and original environment.
At Wallpaper Kenya we offer a wide collection for sale. And therefore you can buy kitchen contact paper or wallpaper according to your tastes.
Our products are of the highest quality and include the main current decorative trends at an unbeatable price. Discover at Wallpaper Kenya store the latest preferences in kitchen interior design and get the decoration you've always dreamed of.
With contact paper, you can give a touch of color with pleasant accessories that accompany you when cooking. Choosing the right furniture finishes in the design of modern kitchens is key to creating your environment.
But the reality is that kitchen decoration goes much further than these temporary trends. Your keywords in kitchen interior decoration should be utility, flexibility, simplicity, ease of cooking and cleaning, and practicality. And you will find all these in contact paper, ranking it the best surface finish in any kitchen style.
Aesthetics and hygiene in the kitchen
The concept of kitchen contact paper is primarily to promote aesthetics and hygiene. So you will find it handy whether your kitchen occupies a separate room or is combined with a dining room.
The kitchen prepares food and stores food. It is usually equipped with a sink, cutting tables, stove, oven, microwave, cabinets for storing kitchen utensils. You will also have a refrigerator for the preservation of prepared meals, and storage of raw food.
If yours is a modern kitchen you have a dishwasher, and under a hinged kitchen cabinet above the cooker hoods. The purpose of the hood is to clean the air from combustion products, unpleasant odors, and fumes. But no matter how hard you try, cooking is always associated with the pollution that settles on kitchen furniture. And the fumes also settle on walls, and ceilings, forming grease deposits.
Contact paper, with which you can cover kitchen walls, furniture, and accessories provides ease of cleaning.  It is logical to assume that your ease of cleaning depends on the type of surfaces you apply. The paper adheres to the desired surface with minimal effort. Wallpaper Kenya sells it in roll form and the user cuts the material to size. While its traditional use was as a shelf or liner drawer, you can use it in many creative ways. And on kitchen walls, furniture, ceiling, and accessories.
What makes this product valuable is that you don't need to be an expert to handle it, since you just need a ruler and know where you want to use it. And if you don't like the result, you can easily remove it.
The most important features of polyethylene contact paper
PET kitchen contact paper is generally considered a safe, non-leaching plastic that is approved for food contact. Just like most of the plastics in this list, it is recyclable.
Kitchen contact paper is a material that is made up of two layers: a decorative one and an adhesive one. This sticker allows you to decorate any piece of furniture and protect those objects that are easily damaged. And it has various types of patterns.
There are two variables of contact paper, transparent and patterned. The first one is used to cover notebooks or folders and does not concern us here. On the other hand, the second is used to decorate drawers, shelves, and walls. The decorative sticker is excellent for kitchen walls, countertops, cabinets, shelves, or drawers. Because it has patterns that make each object unique. It is very easy to stick and unstick, so decorating a piece of furniture or wall with this paper will not be complicated.
When buying kitchen wallpaper, take into account the following factors: design, resistance, ease of removal, and accessories. And because it is only in contact paper that you will positively meet the above criteria, don't hesitate to buy it.
Waterproof contact paper for kitchen countertops
The 100% waterproof vinyl kitchen contact paper is a material that is designed to be highly resistant to moisture and other types of damage that water can bring. Waterproof vinyl contact paper is one of the materials most sought after by consumers, as waterproof contact offers many benefits in the kitchen.
There are several advantages to investing in waterproof vinyl contact paper. Because it is created based on your need to obtain a safe and resistant product:
Temperature: Vinyl kitchen contact paper in addition to being waterproof, also helps to maintain the temperature of the environment;
Waterproof: although the contact paper is waterproof, it is important not to keep it in conditions where it is submerged. This way you will be guaranteed of its durability;
Cleaning: On top of that, the waterproof vinyl contact paper is extremely easy to clean
Contact paper works for all surfaces in the kitchen: walls, countertops, floors – are subject to increased stress. But even with the grease and dirt that now and then try to "take over" the kitchen, it can be kept clean with kitchen contact paper. You will agree that it is better to devote a little time and money to kitchen contact paper to spend all weekend in the kitchen, making it clean.
Unlike other materials, the Polyethylene contact paper more the stain is ingrained, the more the layer of soot and grease on the surfaces, the longer it takes to remove them. Mini-cleaning every day is the main rule of preventing dirt in the kitchen
Advantages of using kitchen contact paper
The primary purpose of kitchen contact paper is to decorate and or protect surfaces. Thanks to this product, all the objects you decide to cover with such paper will never lose their quality. Not all adhesive papers come with a measurement and cutting grid, so you should be careful when using them. Remember that measuring and cutting are crucial. Because a few extra centimeters could ruin the decoration of a drawer or shelf.
But one of the biggest benefits you will get is that the self-adhesive paper is treated for water and grease resistance. And so it stops the passage of liquids and keeps the kitchen surfaces clean and dry during and after renovation.
Advantages
Can be used on various surfaces
It is easy to paste and peel
Features various colors
Regardless of the surface, you plan to use it on, endurance is an important feature of contact paper for use in the kitchen. Therefore you should check that it is flexible and somewhat thick. This will help you determine if it will be strong enough to hold its shine and not crack after a few months.
Ease of removal
The objective of a contact paper is to adhere easily to any surface. However, this must be easy to remove. Because this will give you the freedom to replace it whenever you want.
Areas you can decorate and protect with waterproof contact paper:
Kitchen and bathroom chairs
Freestanding or wall mounted bathroom furniture
Kitchen table

Faux green marble on kitchen tables

Vase and flower pots
Ceramics and sink areas
Hanging ledges and shelves
Wooden vases
Wood chopping boards
Dishwashers Kitchen table
Kitchen chairs
Kitchen bar stools, counter stools
Step-stool
Benches
Plant containers
Hanging pot rack
Refrigerator, freezer
cookbook holder
Baskets and trays
candy/nut dishes
How to apply contact paper on kitchen appliances
Kitchen contact paper is simple to install and with a little care, wonderful-looking results are simple to achieve. Remember, do not remove the backing until you're ready to stick it down. Like in any other task make sure you have the necessary tools beforehand. But the most important tool is a putty knife.
Kitchen contact paper is self-adhesive, and therefore tear off the adhesive backing and stick it on any flat and dry surface. But before you do that make sure that the surface of the appliance you want to apply on is clean. Super clean for best adhesive.
Preparation
Remove any loose particles, dust, oil, wax, or other contaminants by cleaning with a good kitchen soap. Then dry the appliance surface thoroughly before installing your decorative paper.
You can unroll and place the new liners pattern side-up in sunlight for a few minutes if needed to make them more pliable. And for large appliances, you may want to use masking small weight to hold the paper in place.
The actual application
Now you are ready for the actual application. At this stage, expose a small strip of adhesive, without disturbing the alignment. Then lift an edge of the liner and peel back a small strip of the backing and crease it back onto itself so the adhesive is exposed. Replace the lifted edge of the liner with the contact area down.
Apply pressure with your hand, cloth, or any soft material to apply exposed liner to the surface Check final alignment and then apply light pressure with your thumb or finger over the section with exposed adhesive. Use moderate pressure with the soft edge of the hand squeegee to gently smooth the contact area.
Work only from the center towards the edges. This will ensure any trapped air bubbles are expressed. If an air bubble is trapped, lift the edge of the liner and move the air bubble to the perimeter with the squeegee.
Continue to remove backing in small segments and the contact area should hold quickly. Peel back the liner to expose a new area of adhesive. Continue until all the backing is removed.
Installing on kitchen cabinets, & other furniture
At Wallpaper Kenya, you will find adhesive vinyl kitchen contact paper in solid colors, as well as different patterns suitable for furniture. For example, those that imitate wood, marble, granite, floral, etc. If you have never lined with vinyl, it is recommended to start with a solid color. Because it is easier to fit and square than a patterned one. Otherwise, ask an expert to do it for you.
As with all tasks, preparation is key to the success of your project. But it is simple, and in most cases, enough to clean the furniture with cleaning alcohol. Then peel off the protective paper and stick the vinyl on the surface. In this way, optimal adherence will be obtained.