Description
We have a kitchen wall mural you can apply to any flat surface such as walls, windows, kitchen furniture, and refrigerators.
They are very resistant so you do not have to worry about the durability and maintenance of the murals.
Just passing a damp cloth with soap is enough. Decorating a kitchen with wall murals depends a lot on your imagination and the decoration style of your house.
For that, we offer a wide variety of decorative kitchen murals so that you can customize them to your liking.
Buying a mural for the kitchen has never been so easy and so cheap.
A mural on the wall of your kitchen will be unforgettable for anyone who visits it!
How to choose the right kitchen wall mural
The kitchen wall mural is one of the most effective ways to transform the monotony of the room.
But how do you choose the right option? And what nuances should you consider before making a purchase?
When choosing wallpaper for your kitchen mural, you should pay attention to two extremely important aspects: materials and design. They should be durable and washable.
You must understand that we are talking about such a rather specific room as the kitchen.
And so you should be extremely careful in the selection process.
The design should be selected taking into account individual preferences, as well as a given interior design style.
In our library, you will find flowers, vegetables and fruits, luxurious landscapes, urban photos, and canvases with a 3D effect.
Among all these, as well as many other ideas, you will surely find one that you admire.
If you want to choose wallpaper printing that will retain its color even over time, help hide minor wall imperfections, and be easy to clean, then be sure to pay attention to its base.
High-tensile, washable, and durable kitchen wall mural
The most important feature of a kitchen wall mural is its durability and washability.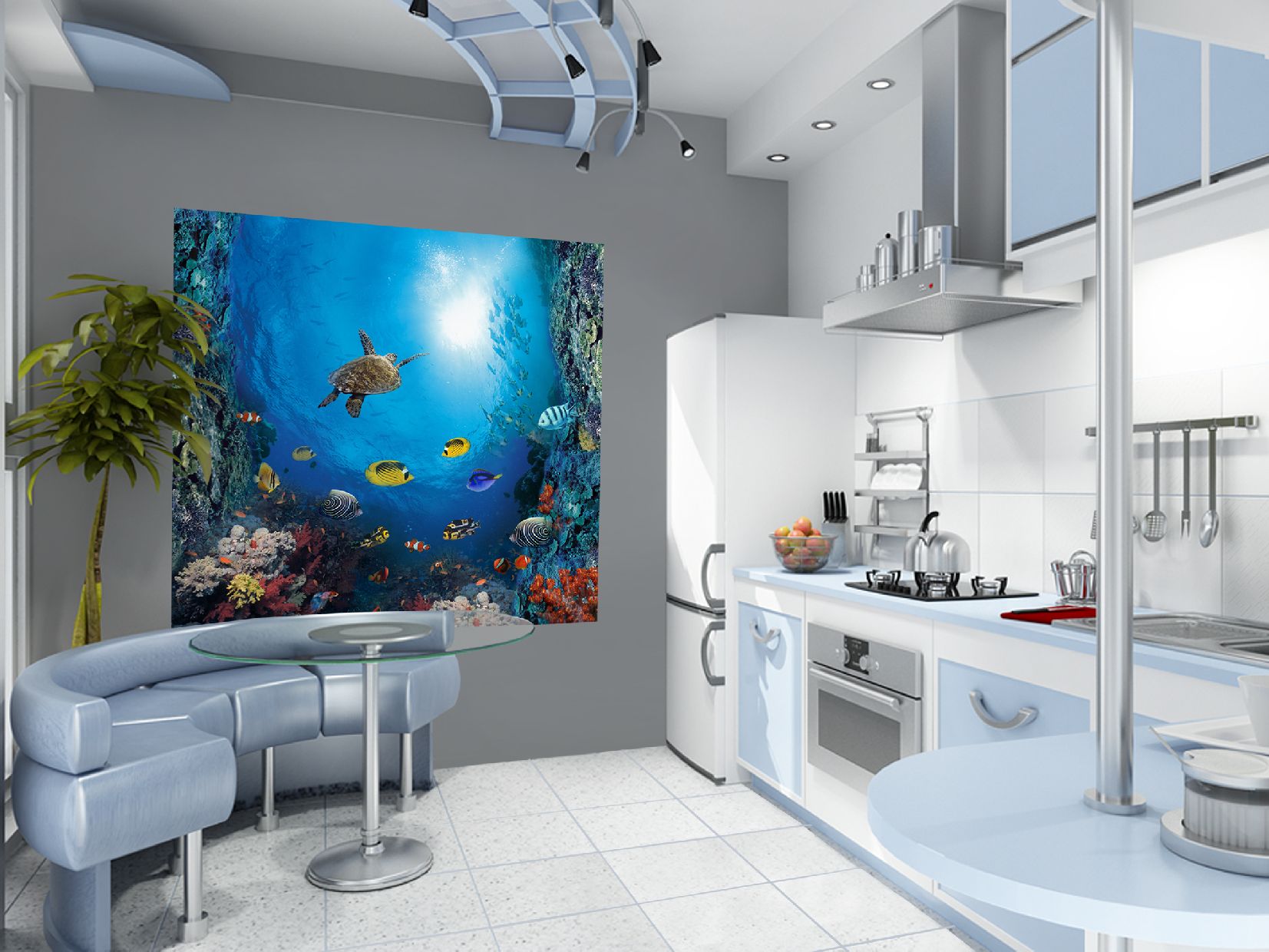 We offer washable wallpaper kitchen wall murals, being sure of the environmental friendliness, reliability, and durability of materials.
Many designs from our catalog have been used more than once for the realization of original design projects of clients.
There are other reasons to choose Wallpaper Kenya:
the widest possible range (the library is constantly expanded with options that meet the trends of interior design);
prompt delivery of goods within 36 hours (we will deliver the wallpaper at a convenient time for you in Nairobi).
We take care of you and adapt to your schedule – we work on any day of the week and time of day.
You choose the delivery date yourself, and we guarantee the punctuality of our production – order the mural and see for yourself!
There are several types of photo wallpapers on the modern market: paper, self-adhesive film, vinyl, and non-woven.
Let's consider in more detail the features of each option.
Paper
Such wallpaper for the kitchen wall mural is far from ideal.
Because the service life of such a coating in bedrooms and living rooms is no more than a couple of years and even less in the kitchen.
Alternatively, paper photo wallpapers can be used in fragments. 
Paste them over a working apron, and cover them with a protective sealant on top.
Self-adhesive contact paper
This is a good option for the kitchen mural because it can be easily washed, thereby maintaining cleanliness.
And the contact paper does not necessarily requires a perfectly flat base. But they need to be glued very carefully, excluding the appearance of folds and bubbles on the surface.
Self-adhesive, peel-and-stick, contact paper is ideal for decorating kitchen facades, cabinet doors, and work aprons. If you use it on the wall, then only as a small panel.
vinyl
They do not require special surface preparation. 
Moreover, they are able to hide small wall defects well: cracks, bumps, etc. But they are limited in design and strictly speaking are not considered murals. 
silk fabric
This is one of the most expensive, and the best option. Silk fabric wallpaper kitchen wall murals are practically not subject to fading and abrasion.
And they perfectly hide wall defects and are easy to clean.
Glue is applied to the wall itself, which greatly simplifies the work of gluing.
To maintain a presentable appearance of the kitchen wall mural for a long time, choose the silk fabric option.
Mural designs
Properly selected photo wallpaper kitchen wall mural according to the plot will help to give the interior depth and richness.
Make the borders of the kitchen more blurred, and help to visually expand the space.
We offer you the widest collection of kitchen wallpaper murals with incredible designs.
With them, you can give depth and color to your kitchen walls and create a space made in your own style.
You can spend hours and hours looking at your fantastic decoration and leave behind the classic, monotonous, and boring walls in one fell swoop.
You will not have to carry out large reforms to have the kitchen you want. And nor will you have to make large financial sacrifices.
For a small price, you will have a decoration totally made to your style.
Complete with a kitchen mural and an environment that you want, that will transmit your lifestyle and your way of being.
Now the time you spend in your kitchen can be better with one of our beautiful wallpaper mural designs for kitchen walls.
Abstract
Create the ultimate feature wall with a vibrant abstract wallpaper kitchen wall mural.
From monochrome optical illusions to color explosions in digital designs, there's an abstract mural to suit every room.
Choose from murals that add depth and adventure, or patterns.
They will add a sense of texture and create a stunning focal point in your kitchen.
Do you want to create an accent wall or add color to your kitchen?
You are sure to find an abstract design in our extensive collection.
Just tell us the dimensions of your wall and we will send you thousands of designs to choose from.
Floral kitchen wall mural
Kitchen wall mural coverings with photographs of plants and flowers are especially today. This is a fairly neutral solution that fits perfectly into any interior design style.
In modern designs, the image of one bright large flower on a laconic black and white background will look very impressive. This will give the setting a stylish look.
For classical interiors, images of a flower meadow, arbors entwined with plants, as well as small compositions with flowers in vases are suitable.
Photos of bright green vegetation and flowers will help relieve nervous tension after a hard day's work, calm your nerves, and contribute to achieving harmony with the outside world.
Vegetables and fruits
These beautiful wallpaper kitchen wall mural decorations are colorful and would add lovely attention to the kitchen place.
Pictures of vegetables and fruits are also a worthy solution for decorating one wall of the kitchen. Moreover, only for this room, the theme of food will be relevant.
It is well decorated with different fruits and vegetables in an elegant way, which makes it perfect to give a fresh and natural touch to the environment.
It is easy to apply on the wall with the use of a few tools that can also be purchased from the website.
In addition, this kitchen vinyl wallpaper is made of top-quality material, which guarantees its durability and resistance over time.
If you want to create a tonic effect, give preference to images of citrus fruits.
A slice of lemon, bright orange, ripe berries, or fruits can harmoniously fit into the interior of even a small kitchen, saturating it with colors and making it fresh.
Liven up your kitchen with a fruity wallpaper mural. The cheerful colors of strawberries, kiwis, pineapples, and lemons will brighten up any kitchen interior.
Choose a blueberry wallpaper mural in the kitchen and combine it with blue accessories.
black and white
Black and white wallpaper kitchen wall mural is often associated with retro style.
Luxurious presentable cars, a garden frozen in anticipation of winter, megacities flooded with lights – all can be recreated on the wall of your kitchen.
If you want something special yet highly adaptable, our black and white wallpaper may be exactly what you're looking for. 
An unbeatable color composition, appreciated by stylists, architects, and fashion designers around the world.
Pure happiness for all lovers of graphics and art. 
Black and white is ageless, and it is sophisticated. Use it as a mural in the kitchen or dining room for a crisp, clear graphic effect and create great contrast.
What is your favorite black-and-white design? Is it the beautiful cityscape of the New York Skyline? Perhaps an exquisite marble design? Find what you like best and take it to your walls.
If you really want to create a creative interior, then black and white photo wallpapers are perfect for this.
This design for the kitchen, in a retro style, will be especially successful. In addition, using a black-and-white image, you can adjust the entire interior of the kitchen.
But at the same time, you need to remember that for a small kitchen, an excess of black is unacceptable.
Since such a kitchen will seem just tiny. But the use of white color will visually make the room more spacious and airy.
Unique decoration with black and white contrast kitchen wall mural 
Create a captivating and extraordinary atmosphere in your home with one of our black and white wall murals.
In a world full of colors, black and white are unique. White creates a refreshing, clean look in your home, while black adds elegance and a bold look. 
The classic black and white color scheme makes any room, from bathrooms to bedrooms, refined, elegant, and timeless.
From horizontal stripes to graphic tiles, from zebra patterns to classic black-and-white movie scenes.
And from minimalist to romantic, black-and-white murals come in many different designs and styles.
Find your black-and-white wall mural and add that extra touch of personality to your home kitchen!
3d wallpaper kitchen wall murals
3D wallpaper for the kitchen wall mural is a good solution, it is interesting to solve the issue of bare walls.
If you want to decorate your kitchen with moisture-resistant silk fabric photo wallpapers, you are in the right place.
Stylish wallpaper with 3D images is the perfect decoration for the kitchen. Such an interior will delight households and acquaintances.
Wallpaper Kenya offers you beautiful 3D wallpapers for the kitchen that correspond to modern trends.
Original stereoscopic pictures create a positive aura that creates a good mood and well-being. 
A well-chosen drawing corrects the shortcomings of the premises. The photo zone can resemble an old fresco, oil painting, or watercolor.
3D wallpapers for the kitchen are printed on a paper, non-woven, vinyl base. 
 Stereoscopic wall murals for the kitchen are very popular, expanding the space, masking niches and ledges. 
Optical illusions "raise" the ceiling, and "push" the walls. This is the perfect solution for a small kitchen. Volumetric textures imitate the folds of silk, velvet, leather, and canvas.
Murals with 3D effects are at the peak of popularity today. They will make the interior more realistic and textured: from the effect of real brick and wood to geometric patterns that change before our eyes.
Landscape wall mural
For a landscape kitchen mural, it is best to choose a calm color. For example, white, yellow, brown, blue, and light purple.
Such colors will create an atmosphere of calm and comfort. But if the kitchen is already decorated in calm colors, then you can choose bright shades.
In moderation, red or another bright tone will do. To get the perfect combination of shades, bright shades can be combined with a calmer color. For example, a red flower, on a juicy green stem.
Important! When choosing photo wallpapers, you need to remember that they will become the dominant elements in any design. The rest of the concepts will be adjusted to them.
If there is a sofa or kitchen corner in the kitchen, then the wall behind this furniture can also be beautifully decorated.
It is very important that the color fits into the overall design of the entire room. You can make the area around the sofa really cozy if you choose an image with a floral print, a beautiful natural landscape, or an interesting attraction.
Ecology and respect for nature is a topic that will be actively discussed in the coming years. 
This trend can also be seen in the interiors: designs with lush vegetation, tropical motifs, animals, and birds are increasingly being used – from realistic to primitive images.
Open window wallpaper mural
If you buy photo wallpaper for your kitchen wall mural, with the image of an open window, then you can visually expand the room.
And make it more interesting, spacious, and comfortable. Cramped walls will not put pressure on you morally.
Often a small kitchen does not suit the hostess. However, there is nowhere to go and you have to be content with what you have, always dreaming of the best.
Do not despair and put an end to it, believing that nothing can be done with a small kitchen and an exclusive interior for this room is just a fantasy. It is not right.
And the view from the open window, for example, of a birch grove, a path that goes far into the distance or on the ocean coast, will create a feeling of infinity of space.
Visually, the walls of a cramped kitchen will move apart, the room will seem more spacious, free, and comfortable.
Why limit your kitchen to four walls if you can get bright, juicy photo wallpapers that show an open window framed by cotton curtains fluttering in the wind?
Photo wallpaper with picturesque views from an open window is an interesting, creative solution, ideal for small kitchen spaces that radically do not suit the hostess in size.
The views from the window will "breathe" into the cramped kitchen.