Description
Many people choose the Kitchen wallpaper design, focusing on the original colors, and interesting patterns.
Forgetting that some colors are more suitable for the kitchen than others.
Orange, red, white, yellow, and green are amongst the best colors for the kitchen as per Vastu Shastra.
They bring in a warm and welcoming vibe and are known as colors that stimulate appetite.
But when choosing kitchen wallpaper designs, you should pay attention, first of all, to their practicality and reliability.
Durability, cleanability, and low maintenance should be your driving decision-makers.
Wallpaper for the kitchen should be chosen for its moisture resistance and durability.
With the correct choice of wallpaper, you can simply wipe it clean with a damp cloth. And even use your choice of mild soap.
Just be sure to pay careful attention to the manufacturer's cleaning instructions first.
Therefore look for wallpaper that you can easily wash with detergents.
Failure to comply with the requirements for kitchen interior decoration can lead to undesirable consequences.
Materials that are not adapted to the effects of steam or ultraviolet rays can quickly become unusable.
And in a short period of time, the kitchen can lose its aesthetics and neatness.
Our high-tensile silk fabric is a natural, safe material. Custom-made silk fabric kitchen wallpapers are more reliable than wood and paper products.
Because they "breathe", and do not swell when moisture gets in. Our silk fabric wallpaper is air- and steam-permeable and can therefore also be used in damp areas and wet rooms.
These properties prevent mold in the kitchen and keep the room climate at a healthy level.
And at the same time, they perfectly hide small cracks on the wall surface, adhere well, and cover the walls tightly.
Wallpaper you should not choose for the kitchen
The regular paper preprinted wallpaper is not suitable for the kitchen walls.
Because paper wallpapers exposed to heat and moisture fade quickly and absorb various odors.
They are not moisture-resistant, they cannot be cleaned or washed. After 2-3 years, the finish needs to be changed.
Bamboo and cork are an exception. But Acrylic wallpaper with a relief image is often deformed, it can become covered with dust.
In the event that you have an open kitchen and living room combined, you can stick paper wallpapers in the living room and dining area.
But the kitchen area can be finished with high-tensile silk fabric or other moisture-resistant products.
Moisture is typically unavoidable in kitchens due to steam, washing up, and general humidity.
With a change in season, and temperatures heating and cooling quickly throughout the day and evening.
Consider how you will combat ongoing moisture issues in your kitchen.
Many wallpapers in older kitchen designs can fall victim to moisture damage, in the form of bubbling, lifting, and warping.
Most kitchen wallpaper and interiors are at risk of moisture damage, as well as the interior of pantries, and the spaces in-between ovens, dishwashers, and skirting boards.
It is often found around dishwashers with recessed handles to align with cabinetry, as there is no room for excess steam and humidity to escape.
Luckily when you design your new kitchen with our wallpaper, we utilize an innovative product that keeps moisture at bay.
And avoid any costly mistakes during your new kitchen renovation.
Choosing designs & colors of wallpaper for the kitchen
When choosing the color of the kitchen wallpaper, you need to be guided by some basic rules.
Because the kitchen wallpaper plays a leading role in the house.
An intense smell of coffee in the morning,
long Saturday chats over a glass of wine,
and creativity sessions in which to experiment with new recipes and dishes that become displays of affection make this space a place to enjoy. of the small pleasures of life.
Therefore, it is essential to design a space in which you feel comfortable. And where you can prepare the recipes that you like the most in a comfortable and relaxed way.
Therefore, kitchen wallpaper is an ingredient that cannot be missing in the decoration of your home.
You need to build on the dimensions and size of the kitchen room and walls. And thus stick a light-colored wallpaper in a small room, and a dark one in a spacious one.
It is impossible to ignore the personal preferences of family members: the colors of the wallpaper should create coziness and a comfortable psychological atmosphere for each of them.
The color palette depends on the style of the kitchen room.
If it is a Scandinavian style, cold tones are acceptable. And if it is classic, then warm, but calm.
Hi-tech "loves" a dark, deep palette that creates a contrast with the light one.
Provence is a small ornament and a general light background.
Paint versus wallpaper for the kitchen?
Individual factors such as room layout, kitchen furniture, and personal preferences determine the design options for kitchen walls:
painted walls, designer wallpaper, or a combination of both.
Painting the kitchen walls
Painting the walls is generally the best option for kitchens where the wall surface has many windows, nooks, gaps, or bay windows.
Wallpaper models are generally not suitable for these walls as their effect will be limited.
Unusual, or extravagant, kitchen cabinets with elaborately structured or highly designed fronts also call for a certain discretion when it comes to wallpaper choices.
These types of kitchens benefit from a smart choice of colors. Fruity, appetizing and fresh tones such as kiwi green, orange, raspberry red, chocolate brown, or caramel are great.
The combination of two colors that match the kitchen furniture is another popular option. In terms of paint, the focus should be on non-toxic and washable products.
Custom-made wallpaper
Patterned wallpaper can create a very special atmosphere in the room (eg themed-restaurant wallpaper).
Graphic/geometric pattern wallpaper on all walls creates a farmhouse or Scandinavian look.
Wood, stone, and tile patterns add to the authentic effects of various themes, such as an evocative Spanish kitchen.
The most important factor for kitchen paint and wallpapers is washability.
Combine paint and custom-made wallpaper
Fresh and inspiring designs of wallpaper and matching paint are a great combination in the kitchen.
A feature wall, perhaps with a large-scale statement pattern, is a great way to add interest and draw attention to a specific area.
The space for cooking, a dining room, or a bar. The remaining walls can be painted in a matching or contrasting color. Ideally, a color present in the wallpaper design should be used.
For each of your wallpaper models, we provide color codes for the matching wall paint.
If you're looking for a stunning design for your painted kitchen walls, how about replacing your tiled backsplash with an eye-catching (washable) designer wallpaper?
What colors are suitable for wall decoration in kitchens?
The colors for the kitchens must be fresh, fruity, appetizing, pleasant, and warm.
Having said that, a few items on the color scale are high on the list for creating a good atmosphere in the kitchen.
Green
Green reminds us of healthy herbs, tasty vegetables, or delicious fruits.
This association with the countless ingredients of a balanced diet is reason enough to choose this color; for example, in shades like sage or lime green.
Green represents freshness and growth, encourages creativity, and at the same time creates a sense of balance.
Yellow
Like the sun, yellow simply conveys happiness and joy.
This attractive and cheerful color fills the kitchen with the fizz of a tasty lemon while adding warmth and comfort. Lighter shades of yellow create a spacious feeling and brighten up small kitchens.
Red
The color of passion and love is perfect for kitchens with an atmosphere of pleasure and conviviality.
Appetizing tones such as tomato, cherry, burgundy, or red pepper transport us to the garden of culinary delights.
Creative cooks can explore their true potential in a kitchen adorned with red wall décor.
As long as the chosen hue isn't too intense.
Blue
The color of the sea adds a Mediterranean touch to the kitchen and creates a vacation atmosphere.
Friends of international cuisine will enjoy shades of blue as the color creates the perfect setting for trying exotic dishes. Additionally, blue has a calming and cooling effect, a great asset in hot kitchens.
Grey
Grey, often paired with white, black, and chrome, is an all-time classic for a clean, modern look in the kitchen.
It also makes any bright color stand out.
Sober, elegant, neutral, or deep, depending on the degree of brightness and the context, grey can give rise to a lot of effects. As well as unique interior design ideas in the kitchen.
Orange
Orange is an incredibly popular color for the kitchen, as it represents enjoyment and pleasure.
It is lively, fruity, and sweet, and demonstrates a penchant for unconventional whimsy.
Orange wallpaper designs encourage appetite as well as open and positive communication; they are the perfect backdrop for a hearty meal, a delicious snack, or a colorful cocktail.
Photo wallpapers in the interior
Kitchen wallpaper photo murals are a unique way to transform the room.
Photo wallpapers for the kitchen most often contain fruit and berry motifs.
Large images are not recommended to be glued to all the walls, because the room will look smaller than it actually is.
But Pastels, such as pale blue, green, or pink, and other light shades can also help to make a small room look more spacious.
It is recommended to use the panel in the working area of ​​the kitchen.
Other walls are best glued with plain or less busy wallpaper designs.
Photo wallpaper murals in the kitchen have the following advantages:
transform the room;
increase the visual space of the room;
has a long service life.
Photo wallpapers, which are stylized as paintings, look realistic and spectacular.
Textured models that resemble stone, brickwork in the loft, and country style will emphasize the style of the room.
Modern-style wallpaper for the kitchen
If you see a clear and concise kitchen wallpaper design, then it is most likely modern-style interior decor wallpaper.
Our modern kitchens have become the flagship and hub of the house. It is now not just the place you cook in, but you also dine in the modern kitchen.
To maintain the interior of the kitchen in a modern style, it is advisable you paste over the walls with plain wallpaper in discreet colors: white, gray, black, beige, or light blue.
Photo wallpapers, discreet monochrome drawings, alternating glossy and matte textures, and the effect of polished stone, wood, and metallic luster are also acceptable.
Wallpaper for the kitchen in a classic style
Silk-fabric wallpapers are perfect for a classic-style kitchen. Mother-of-pearl patterns, shimmering silver, and gold will create a unique harmony between the walls, appliances, and facades of the suite.
To give the interior more luxury, the finish can be supplemented with decorative columns, plinths, frames, or cornices in the form of plaster moldings.
Scandinavian-style kitchen 
The cool freshness of the Nordic design will be provided by the walls, the colors and textures of which are designed in the palette of the winter landscapes of Norway, Sweden, or Denmark.
It can be the sparkling purity of virgin snow, the mysterious depth of lakes and rivers, the smoky airiness of the sky, or the mystical play of sunset.
You can add warm notes to the interior of the kitchen using the textures of bleached oak, coarse wool knitting, as well as dark red ethnic patterns on a linen background.
Kitchen ceiling wallpaper
Ceiling wallpaper for the kitchen occupies a leading position among modern types of wall finishes.
Kitchen ceiling designs have managed to become popular, as it has been used in decor for a long time.
Thanks to the chic choice of colors and textures, such ceiling wallpapers can be used in the design of any room.
They allow you to create not only an atmosphere of comfort but also visually improve the perception of space, making it voluminous and unusual.
High-tech kitchen
Wallpaper for a high-tech kitchen, you can choose white, gray, black, blue, or coffee colors.
They must be uniform and glossy.
In extreme cases, it is possible to imitate iridescent mosaic tiles, silicate brickwork, and wood polished to a shine.
Wallpaper colors, and textures combination
In interior design, kitchen wallpaper can be chosen in such a way that they blend harmoniously with furniture and household appliances.
For example, vertical stripes increase the space of the room. And the transverse strip helps to "expand" the walls.
For striped walls, you can choose options with a calm image, where the shades gently blend into each other.
Combining two designs of wallpaper, it is recommended to select wallpapers from the same line.
In the event that the windows of the room face north or west, warm colors (yellow, cream, peach, apricot, orange, brown) will do.
If to the south, then blue, light green, blue, and silver products are best suited.
Wallpaper in the interior of the kitchen will look great if combined with various textures and shades.
Other suitable kitchen wallpaper designs
Coffee beans kitchen wallpaper designs are some of our nature-themed wallpaper. Our other designs include bakery confectionery wallpaper suitable for dining rooms, coffee shops, and hotels.
Occasionally we get people asking for kitchen wallpaper while what they really are looking for is 3d form wallpaper.
So-called because it is waterproof and fire resistant making it quite suitable as kitchen wallpaper.
However, the most recent innovation in wallpaper is contact paper which is also suitable for the bathroom as well as kitchen wallpaper.
Ordinary vinyl wallpaper will work very well in the kitchen on areas traditionally painted.
But 3d foam and contact paper will work well on the wet areas as well.
However 3d foam and contact paper are more expensive. For that reason, it is better to use two or all three, where possible. Each has its own advantages as well as disadvantages.
Moisture, Grime & Cooking Odors Concern with Kitchen Wallpaper
There are moisture, grime, and cooking odors concerns when hanging wallpaper in your kitchen.
 While you're trying frying eggs and bacon in a pan, grease is splattering all over the walls and everywhere.
Over time, grease splatters build up and leave a residue over all your kitchen surfaces. Ordinary wallpaper cannot withstand this. The solution that makes cleanup as easy as wiping, washing, rinsing, and done is kitchen contact paper.
Unlike ordinary wallpaper that is textured and will collect grime and absorb cooking odors, contact paper is smooth. Few other materials withstand behind cooking areas possibility of stains from cooking spatters and other damage.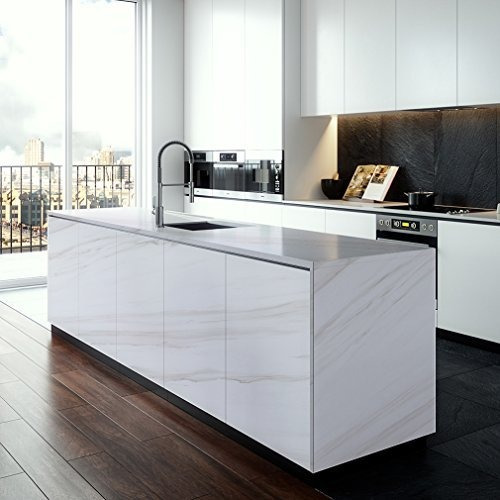 Moisture around sinks can not cause contact paper to come loose like it would with ordinary wallpaper.
When kitchen wallpaper is installed correctly, you can look forward to many years of easy-to-clean, good-looking walls.
Marble Contact Paper Kitchen Countertops
Replace timeworn ordinary kitchen wallpaper or bathroom tiles with peel-and-stick marble contact paper. Marble contact paper is so versatile it will even work on kitchen countertops.
These lightweight, self-adhesive kitchen wallpaper need no tile cutters or messy grout. And they stick to drywall or existing tile. Marble contact paper comes in a variety of colors, patterns, and sheen. They're perfect for anything from a multicolored mosaic kitchen backsplash to a black-and-white kitchen sink surround.
You will use marble kitchen contact paper in a multitude of ways. One transforms your coffee table using stylish marble contact paper and your whole living room will look different. That way you make it elegant, chic, and refined.
Use marble kitchen wallpaper or any other contact paper on kitchen walls. Whether or not there's a lot of kitchen wall space, you'll want your walls to attract. When decorating you'll be pleasantly surprised at how much of an improvement new marble kitchen wallpaper will make.
Coordinate your kitchen wallpaper color with your kitchen cabinets. Or, if you are not replacing your kitchen cabinets, consider cladding them with matching contact paper.
3D Panels as Kitchen Wallpaper
What makes the 3d panels suitable for use in the kitchen? The answer is, it is an insulation panel with in-built antimicrobial, waterproof, and flame-retardant properties.
Therefore, It is safe to use and the nature of the material provides thermal resistance and soundproofing properties too.
The 3d foam comes with pre-coated adhesive backing. This makes installation easy and fast. You can even replace your wall panel design after a period of time without messy work.
Features & Benefits of the 3d panels are many:
VOC free:

A small excerpt from Wikipedia will shed light on the advantage of 3d panels as kitchen wallpaper free of VOC. "Volatile organic compounds (VOCs) are organic chemicals that have a high vapor pressure at ordinary room temperature. Their high vapor pressure results from a low boiling point, which causes large numbers of molecules to evaporate or sublimate from the liquid or solid form of the compound and enter the surrounding air, a trait known as volatility. For example, formaldehyde, which evaporates from paint and releases materials like resin, has a boiling point of only –19 °C (–2 °F).

VOCs are numerous, varied, and ubiquitous. They include both human-made and naturally occurring chemical compounds. Most scents or odors are of VOCs."

 3D Effects:

There are many ways to make your kitchen walls very eye-catching. One of the coolest and most eye-catching is 3D wall panels or 3d form. Because these are perhaps the most chic and bold ones. They refresh and totally change any space where they are used, and they are sure to blow your mind!

Most 3d panels are geometric, so you will have a wide range to choose from. Brick effects, Squares, circles, triangles, honeycombs, and other patterns of all kinds in different sizes. And looks will refresh any kitchen and make it more modern.

Lightweight

Durable

DIY concept Fast & easy installation

Thermal insulation

Soundproofing

Flame retardant

Excellent waterproof

Antimicrobial

Non-hazardous

Low maintenance

Excellent design flexibility

Child safety

Cleanable.
Visit our shop at Wallpaper Kenya, Langata Road, Nairobi to see our hard copy kitchen wallpaper design.