Description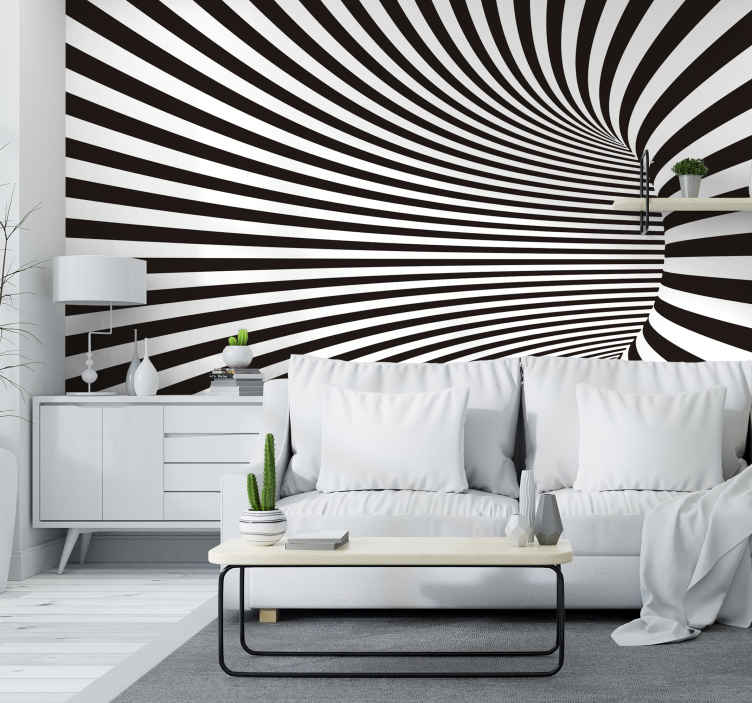 3d house wallpaper for walls from Wallpaper Kenya is a kind of wall decoration or wall covering.
It could be a custom-made one or regular and I will show you the difference in picture form.
As you can see in the 3d forest wallpaper on the living room wall above, it has no repeat patterns. And it is very realistic.
One would be forgiven to think you are seeing a real forest through a glass wall or there is no wall.
Now compare it with the picture below of regular 3d wallpaper also on a living room wall.
You can see regular house wallpaper has repeat patterns. And you can see that the best 3d wallpaper for house walls is custom-made.
One big advantage you will get from the custom-made 3d house wallpaper is that it will be unique on your house wall. Meaning it will not look like everyone else.
And although the cost is slightly higher than the regular wallpaper, it is not too expensive. 
But whether regular or custom-made, house wallpaper with a 3D effect will always come to your rescue.
Because such wallpapers do an excellent job of transforming an apartment or other houses, and will also allow you to save on budget.
3D wallpaper looks good in the living room, in the hallway, in the bedroom, as well as in the kitchen. 
Such wallpapers create a holiday atmosphere in the apartment, coziness, as well as comfort while spending time.
3d House wallpaper is exclusive and fascinating. Use them to convey a feeling of warmth and, reflect your personality through our diversity of designs.
Visit our show house to see our extraordinary wallpaper collections.
Or peruse through our 3d house wallpaper hard-copy catalog for the latest 3d interior design ideas.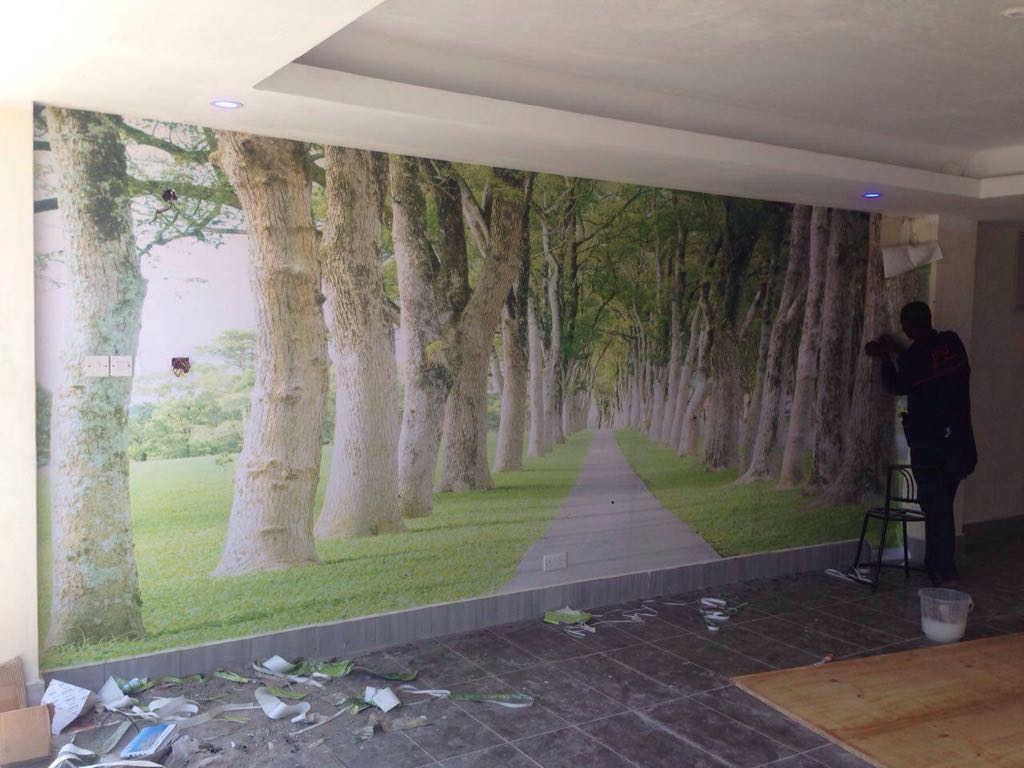 The resurgence of wallpaper for house interior walls
Wallpaper has had a resurgence and now we're sublimely spoiled t for choice.
Looking for wallpaper ideas? Try a geometric design for a feature wall in the bedroom, statement geometrics in the living room, or a carton design for a kid's nursery.
There are so many unique designs and ways to hang house wallpaper in your home.
In homes where there are children or in areas where traffic is continuous, without a doubt wallpaper is a great alternative.
This is because it is not so dirty and without major complications, it is possible to achieve unmatched designs that will steal praise without meaning a lot of work
Introduction to 3d Wallpaper Designs
The L90604 3d house wallpaper design is a very decorative covering for any interior wall in your house.
There are wallpapers designs made of many different materials that are attached to the wall with the help of glue. The most common in Kenya is vinyl wallpaper.

Wallpaper is now the in thing, trending and very popular.
You can observe this by the fact that many celebrities today design wallpaper and give it their name.
But wallpaper has been around for centuries. It was there before Christ but it wall very expensive then.
It was started in China but soon thereafter people of different cultures decorated it with wallpaper.
Historically, house wallpaper started in the Orient. In the Middle Ages, leather wallpapers also appeared, some of which were gilded and embossed.
In addition to decorative purposes, the leather house wallpaper also performed other functions. The stone walls from the Middle Ages were cold and were well insulated by leather.
Today you can also use modern house wallpaper to keep your house warm.
House Interior wall decoration in various styles 
With the help of 3d wallpaper for interior decoration of the walls of a house, you can maintain the chosen style and place accents.
Consider several styles, and clarify how to emphasize them.
Loft
If the 3d wallpaper imitates an unfinished wall surface, then you have your house walls in the loft style.
And that is the industrial direction of interior design, with its love for the texture of brick and concrete, bare boards, crumbling plaster, and other extreme manifestations of urbanism.
Loft-style 3d wallpaper is a trendy design for the living room. A variety of loft textures and the wide possibilities of their use in home design make the loft style a trend in 2023 and 2024. 
This style is suitable for any room in the apartment, but loft-style bath design has been especially popular lately.
The loft 3d wallpaper catalog offers the following solutions:
imitation of textured aged wood walls;
raw board walls;
metal textures – rusty or chrome walls
brick wall surfaces – broken or non-plastered brick;
one-color minimalist wall surfaces – white, grey, beige.
Minimalism in house wall decoration
The design 3d houses wallpaper for walls in a minimalist wallpaper style should include those designs that allow you to create a volumetric void.
It can imitate concrete, plaster, wood, metal, or various types of stone.
The design you choose should be simple, natural look, and be textured.
House wall wallpaper in the style of minimalism is popular with young homeowners because it is closely related to high-tech style.
These wallpapers do not have anything superfluous.
And their images are weighted and do not overstrain the psyche, do not clutter up the mind, allowing you to relax easily and in a collected manner. That is, without being distracted by unnecessary information.
Modern 3d house wallpaper
To keep up with the times, you can take note of the modern style 3d house wallpaper for the walls. 
Modern wallpaper for walls can be understood as a variety of interior decor styles. This concept includes both Scandinavian design and loft, minimalism, boho, or eco. 
Modern wall decor trends have several common nuances. For example, a combination of colors. 3d wallpaper's modern style is based mainly on a neutral palette with small contrasting accents.
The room's interior can be bright, but wallpaper shades should be pleasing to the eye, natural and comfortable.
The decoration is as simple as possible: and the walls are concise, without unnecessary details and complex architectural form.
Wallpaper decor adds coziness and completeness to the interior, but restraint is also important here.
Modern style does not accept too active decoration.
Classic wallpaper interior decoration
The highest level of sophistication, as well as absolute perfection – such epithets can characterize the classic 3d house wallpaper for walls from Wallpaper Kenya.
For all lovers of the classic style in the interior, we offer an extensive range, including exclusive high-quality canvases from the best manufacturers. 
The superiority of a number of performance properties of coatings is a weighty argument to buy materials in interior wallpaper stores.
Classics do not age and do not lose their relevance, exquisite interiors are always in demand and no matter what new styles appear, there will always be adherents of classical forms and images. 
Damasks, monograms, floral ornaments, strict stripes, spectacular textures – in each catalog they play with new colors and presentation.
Each designer is constantly improving the technique, experimenting with textures and colors, And completely new images are born into the world with seemingly standard initial ones.
Nordic or Scandinavian 3d house wallpaper
The Nordic-style 3d wallpaper for house interior walls is characterized by simplicity, naturalness, and unpretentiousness.
But at the same time – incredible showiness and symbolism.
The catalog of wallpapers in the Scandinavian style includes simple monochrome solutions with a barely pronounced texture.
And as well as high-quality imitations of masonry and wood panels. Wallpaper always looks like a light background and allows you to visually expand the space. 
And this is not surprising, because the style was formed in the Scandinavian countries, where the lack of sunlight is a common occurrence.
Indeed, this style was created in the Nordic countries to demonstrate the desire for the sun. And therefore spring flowers bloom on the wall canvases and interesting natural shades are used. At the same time, the wallpaper designs here show restraint. Because the colors are muted, not flashy, and the patterns are blurry, not pronounced.
Imitation of wood and natural stone is traditionally welcomed. And these are boards that have burned out in the sun, old boxes, or unprocessed stone blocks transferred by skilled craftsmen to 3d wallpaper.
Farmhouse or Provence style 3d house wallpaper
Provence style 3d house wallpaper is tenderness itself, embodied in warm colors.
Here, in floral designs, you will find sun-drenched lavender meadows and stunning tea roses, ornate weaves, and the special charm of vintage images.
Provence in wallpaper is the romanticism of memories, French charm, and sophistication.
There are many options for 3d farmhouse wallpaper for walls, depending on your style and preference. Here are some of the trends:
Bohemian wooden bedroom and bathroom in boho style in white and blue tones.
Bed, bathtub and washbasins, potted plants. Window with shutters.
Farmhouse vintage interior design, 3d illustration.
Wooden living room with fabric sofa in red and beige tones. Parquet floor, wallpaper, coffee tables, and carpets. Japanese interior design, 3d illustration.
Bohemian vintage interior design, 3d illustration,
There are different designs of house wallpapers
Wallpaper Kenya stocks different designs of wallpaper made of different materials offering different styles to design your house's interior walls.
Among the house wallpaper designs that exist today to place your order right now are:
Wallpaper can imitate a large number of building materials such as brick wallpaper, wood wallpaper, cement wallpaper, etc. So you are going to be able to give your walls and your house a quiet and incredible change.
If due to the costs of the materials you could never make a wooden wall, with the wallpaper you can have it without having to give it the annual maintenance of wood.
Currently, 3D wallpaper designs are very simple. For these, you can place images of the entrance of a pine forest or a savanna on a wall of your house. And with this, you will be able to give your house an atmosphere very different and natural.
You can create an artistic piece on your wall with 3d geometric wallpaper designs.
Of course, various designs in black and white colors can make a total transformation in the design of your house. Since you know they are elegant and make the space in your house where you place this paper unique. Black and white will never go out of style.
Contact paper
These are the latest development in the field of house wallpaper. It is an inexpensive material that has a decorative surface on one side and a highly adhesive on the other side. Contact paper sticks to the desired surface with minimal effort. It is usually sold in roll form and the material is cut to size by the user. While its traditional use was as a shelf or drawer liner, it can be used in many creative ways. It is 100% waterproof and therefore the most suitable for your wet areas, bathrooms, and kitchens.
And also, decoration self-adhesive contact paper is perfect for creating new looks and repairing existing damaged surfaces. It is designed with a measure and cut grid that makes your adhesive cover easy to cut and apply to any shelf, drawer, or cabinet of any size.
Non-woven 3d house wallpapers
And a new development, non-woven house wallpaper consists of a material made of textile fibers and cellulose. Because of their simple processing, this type of wallpaper is becoming increasingly popular. They can still use them in wet areas without any problems. The advantage of non-woven wallpaper is that it can be easily removed in one go. Due to their air permeability, non-woven wallpapers even contribute to a better living climate and, depending on the version, are not as flammable.
Vinyl or Plastic wallpaper
The most popular house wallpaper in Kenya is vinyl washable wallpaper. They are available with water- and dirt-repellent coatings and are therefore suitable for bathrooms or kitchens, but only above the areas traditionally tiled. There are now even plastic wallpapers that have an antibacterial surface. However, due to these coatings, the wallpaper is not breathable and should therefore not be used in rooms such as bedrooms or living rooms.
Customized house murals 
If a picture is worth a thousand words, is a BIG picture worth a million?
With customized mural wallpaper you give us a picture and we blow it up to the full size of any wall you choose in your house. Wall Murals are Eye Catching. The size alone of a wall is graphic trumps the ordinary graphic and makes your images pop. They demand attention from your house visitors.
Because murals are unique, they make a bold personal statement of your choice. Use murals for the greatest freedom of your house wall design. Wall Murals are More Efficient than House Paint. Painting your house can take days to complete, and let's not even talk about dry time. House murals from Wallpaper Kenya are efficiently and easily installed.
Bricks as the most popular 3d house wallpaper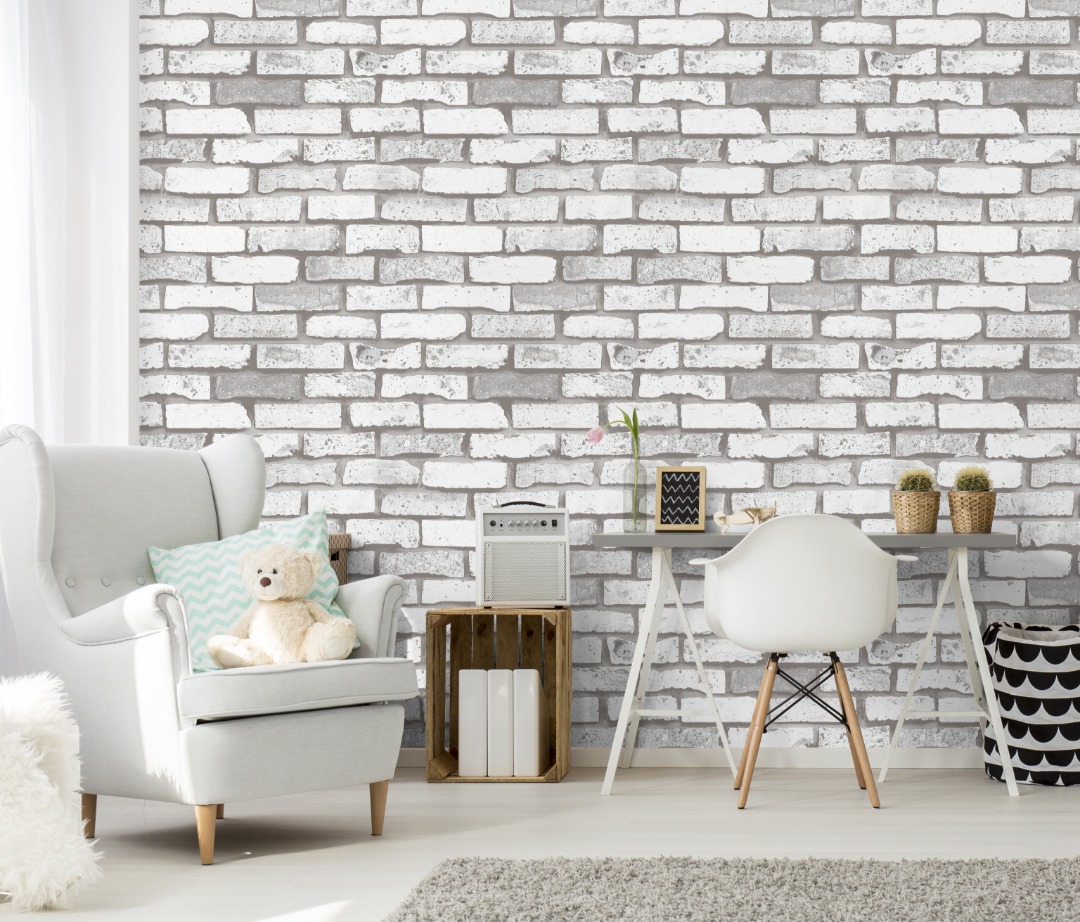 The reason why 3d brick effect wallpaper is so popular as home wallpaper is simple. Residential Interior Decorators are looking for ways to save money for homeowners owners while still achieving the aesthetics. While any other wallpaper can be used as home wallpaper, it so happens that the realistic 3d brick effect has probably all the qualities you would want for your house wall décor.
The wallpaper gives you an optical illusion of added wall depth and space to your home, one of the most important elements of interior design and interior decoration. It makes the home look less crowded with furniture.
All brick wallpaper comes in natural earth colors. This wallpaper gives your home natural colors. These colors establish an aesthetic connection between objects in your home and set the mood.
Brick wallpaper gives your otherwise two-dimensional home interior walls a beautiful texture. It transforms the surfaces of your home walls and determines how the surface looks and feels. The visual texture adds depth and interest to your home and defines the feel/appearance and consistency of the walls. While there must be a dominant texture to define a mood, brick wallpaper has a contrasting texture that kills monotony.