Description
Although it may seem that these

big flower wallpaper murals

are
not the easiest to combine, they can bring great
luminosity and life
to your home.
And not only that, but big floral wallpaper for walls will also make you face life with a certain optimism.
You can live each day with joy and enthusiasm in each of its rooms. And how does this happen- you wonder?
You are probably wondering how it is possible that a simple wallpaper design can provoke so many emotions in whoever looks at it.
This is due to the design of the huge flowers. Because they somehow manage to change our mood by providing color, vitality, and well-being.
They also add sweetness to any room, a necessary element after a hard day's work.
Another point in favor of Large scale floral wallpaper is that it can be perfectly combined with any style of interior decoration.
Thanks to the great variety of existing variants. You will find that large flower wallpapers are very different from each other.
Thus, if you want to give your apartment a more modern touch, you can choose from retro design floral patterns that are more in line with the rest of the décor.
Silk fabric large flower wallpaper murals
You will not only find variety in the colors and patterns of large flower wallpaper for walls but also in its composition. 
Regarding the materials of its surface, we can distinguish between regular small print floral wallpaper which is vinyl, and our Silk fabric for the large flower wallpaper murals.
The vinyl wallpaper type is the one that has traditionally been used in interior decoration.
However, it has become somewhat obsolete since, due to the delicacy of the material. Because you can only use it for rooms with little use.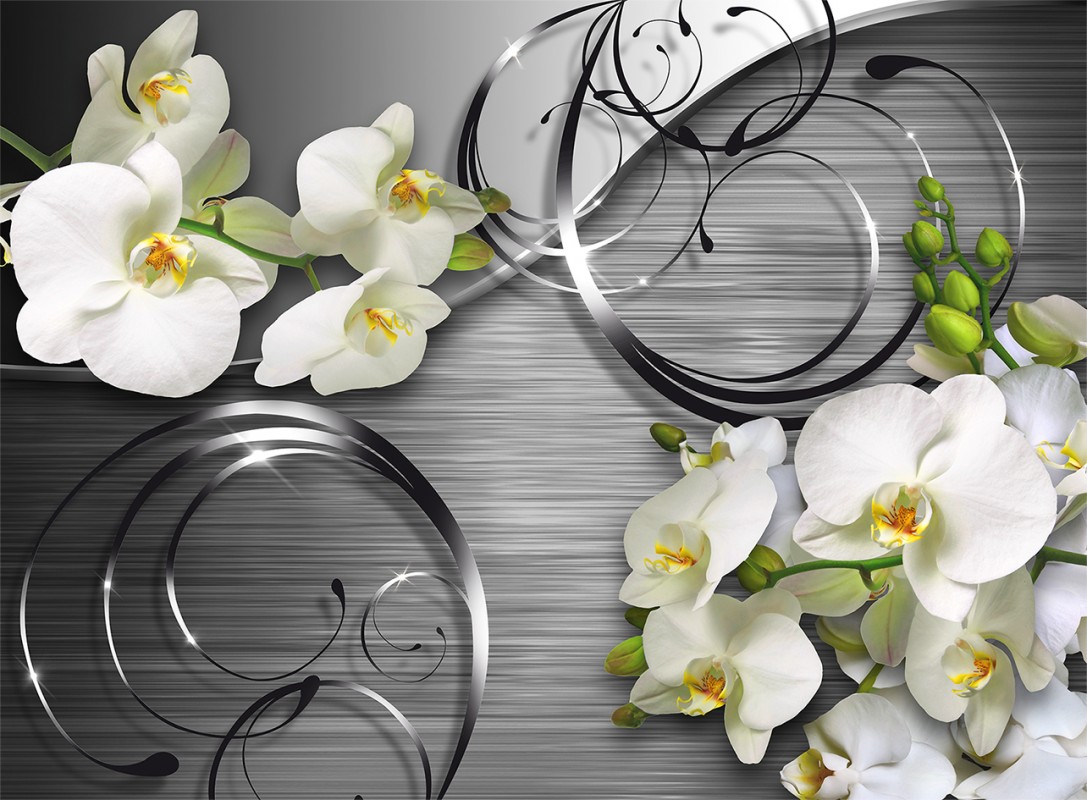 The silk fabric properties for the large print floral wallpaper have made it a great favorite. Offering more than just pretty designs and colors.
This type of wallpaper provides more than lifetime durability and insulates the wall from cold.
Among their characteristics, you find that they are resistant to light and highly washable.
And these make them the perfect wallpaper for bathrooms and kitchens. Just choose one of the exclusive designs available and let your imagination run wild!
And you will not find this material elsewhere in Nairobi other than at Wallpaper Kenya.
Variety of floral wallpaper designs and colors
The blooming large flower wallpaper for walls is one of the most beautiful nature photomurals.
Wallpaper Kenya, we have adopted this motif to create a collection of  Huge Flowers wallpapers. These modern wall decorations will be a fashion accessory in every apartment.
Big floral wallpaper for walls is characterized by a wide range of colors. From bright and dynamic roses to subtle pastels.
Regardless of the flower presented: orchid, rose, magnolia, poppy, lilies, cherry blossoms, dandelion, sunflower, tulip, daisy, azalea, gerbera – they all reflect the immense wealth of nature.
If you are having trouble choosing just one favorite flower, you can opt for a wall decoration featuring the flowering meadow or the lavender fields.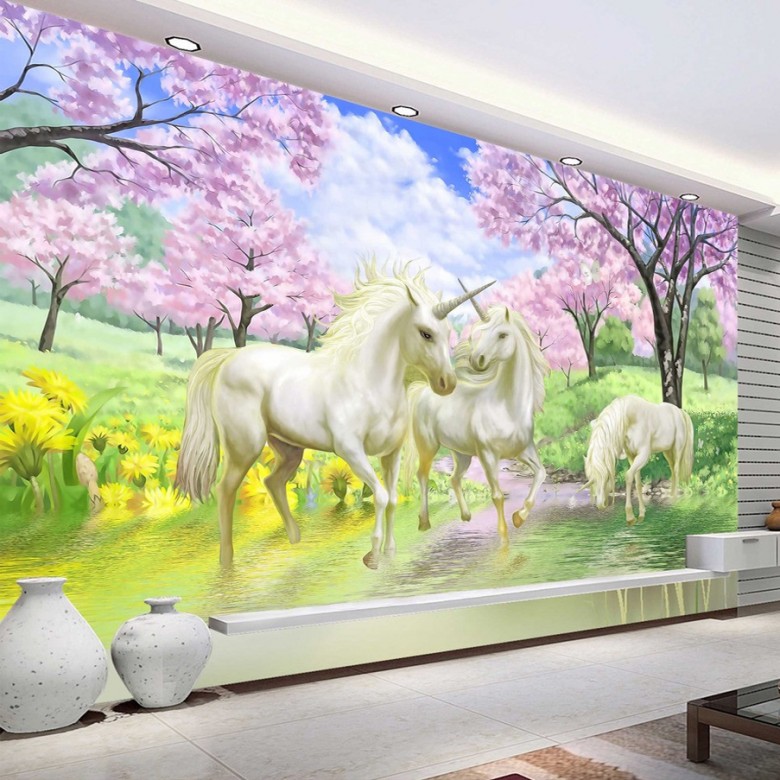 Thanks to its universality, flower wallpaper will decorate any interior with a very good result.
We invite you to discover the Flowers collection in our Shutterstock library. Get inspired!
Which, how, and where to decorate with giant wallpaper for walls
The subject of large flower wallpaper for wall decoration leaves no one indifferent.
You love it or you hate it! However,  it has been a big trend on our walls for some time now. Although among the English, it always has been, you will tell me!
With the big floral wave that has won fashion and decoration recently, even I who have never been too fond of floral patterns, am starting to be seduced by certain wallpapers.
Which giant flowers to adopt?
First of all, it must be said that not all large flower wallpaper for walls is pretty.
It is surely very subjective, but it is easy to fall into kitsch or childish. And I am aware that for some of you, the following decorations will be considered kitsch or childish. It is a matter of taste, I repeat.
Today, what is very popular are the wallpapers of giant peonies, giant roses, or dahlia, in a romantic style. But I hasten to say We have a large selection of large floral wallpapers. And the choice is yours. From delicate flowers to blooming roses, to allow you to create a fresh and elegant atmosphere.
Choose from a wide range of colors, from dark pink and lilac to striking blue and green. The large floral wallpaper is a great way to create a soft feel and soothing in your home. And we have it all. All you need is to imagine what you want. And we will provide.
From classic floral designs to modern and abstract prints, you can find a pattern that suits the wider décor of your home or office. Suitable for the bedroom, living room, and hallway.
Interior design features
When decorating a wall with large flower wallpaper for walls, several features should be taken into account.
Wallpaper with a large floral pattern visually reduces the room. And therefore it is not recommended to use them in small rooms.
When choosing a bright floral wallpaper, keep your room calm and neutral.
For nude shades of wallpaper with a small floral print, try to use them in rooms where there is contrasting, intricate furniture or interior items.
When using floral wallpapers of several colors, you need to pay attention to their harmony. If you choose the wrong flower by color and shade, you can spoil the impression of any stylish design.
When gluing wallpaper with flowers, the pattern must be joined, therefore it is important to take into account the rapport. However, you don't have this problem if you go for our custom-made large flower wallpaper. Because it comes in one seamless piece of silk cloth. Therefore, there are no joining seams and there is no pattern matching. You will find it much easier to install than regular small prints floral wallpaper.
Roses large flower wallpaper for walls
Large flower wallpaper for walls with rose colors and textures can look very beautiful and defiant.
The image of a red rose will bring a touch of elegance. White, creamy, and dusty roses are calmer and softer. And they are suitable for nurseries and bedrooms.
To create a sensual interior, an image of a bush rose on a white or red background is used.
And for a more peaceful background, pastel shades are chosen.
Big dandelions flower wallpaper
Dandelions' large flower wallpaper for walls personifies positive energy that reminds us of the most carefree time. Dandelion wallpaper is a great counterbalance in a cluttered room. They are often used to decorate the interior of the office.  Because they contribute to the creation of a benevolent mood for all employees.
Giant Poppies
Poppies' large flower wallpaper for walls are eccentric flowers with powerful energy. Giant poppies wallpaper will be able to favorably emphasize the décor of the room if they are pasted over only one accent wall.
Bid Orchids Wallpaper Murals
Orchids, small or large flower wallpaper for walls are a symbol of tenderness, romance, and love.
Photo wallpapers with orchids will help to add exclusivity and style to the room. And such a blooming plot will delight you every day.
Cherry blossoms wallpaper for walls
With Cherry blossoms, large flower wallpaper for walls Carries the transience of youth, beauty, and value of life. Sakura will create an atmosphere of spring freshness in the house.
Harmoniously combined with other elements, they can be glued, both in the living room and in the bathroom.
Eccentric flowers with powerful energy. Poppies will be able to favorably emphasize the décor of the room if they are pasted over only one accent wall.