Description
Large wall mural wallpaper is printed on special order @ shillings 2000 per square meter supply and installation. All our large mural wallpaper is custom made.
As the leading custom wallpaper large format printing company in Kenya, we're passionate about beautiful Large mural wallpaper.
And believe that our high-quality large mural wallpaper is the best way you can bring together stunning imagery and design in creative interior spaces.
The beauty of Large murals is that we print on very high-quality silk fabric that is removable and reusable. Above all wallpaper, printing is done on a continuous sheet of silk fabric as opposed to murals of small jointed pieces.
Full murals are ideal for promotional and interior decoration purposes.
Modern large murals can be abstract or 3d realistic and can be placed in public places. They work well too inside private homes and in outdoor rooms.
Foyers, hallways, children's rooms, game rooms, basements, and bedrooms areas ideal to hang large murals.
Make a permanent statement in your house with a large mural on the otherwise blank or unused walls.
Modern Large Wall Mural Wallpaper
As throughout history, large wall murals represent a mighty tool of emancipation and freedom of expression. Today, mural art is used to speak and depict communities, nations, and cultures.
At the same time, full wall mural wallpaper represents aesthetics that helps them integrate into their environments and turn them into true cultural artifacts.
Apart from their well-defined meanings, full mural wallpaper is also created for other purposes.
For instance as advertising or simply for the sake of a beautiful image on a wall. We do these on wall cloth that is removable and reusable.
Contemporary large murals printing techniques
As large wall murals cover quite large surfaces that could be of different textures, constitutions, and attributes, we have developed several techniques adaptive to the "canvases".
More recently, artists and technology have introduced digital techniques of large mural printing, wallpapers. Large advertisements are printed out on wall cloth and then attached to a surface.
All you have to do is to provide us with a high-resolution image and we will reproduce it in a day or two.
 Customized Alternative to Wall Art
Digital print large wall mural wallpaper is frequently one-of-a-kind, dramatic, and eye-catching.  A unique better alternative to ordinary wallpaper or wall art. They become part of the room rather than something hung on the wall. Showcasing the room's architectural features as well as your homeowner's personality.
Visit Wallpaper Kenya for large waterfalls murals for residential houses and hotels. Large Scenery murals for offices and real estate projects. And large nature murals for any space you like. The quality of our murals is a hundredfold better than paint.
Unlike paint which gets dull with age, our murals do not oxidize and are therefore tenfold longer lasting, they are washable, waterproof, removable, reusable, anti-fade, and anti-fungal, and do not affect the wall coat when removed.
They are of beautiful scenery e.g. waterfall, sunset, beaches, mountains, patterns, etc., and are available in limitless designs and different textures. Hurry and get yours today!
Thank you to large format mural wallpaper printing technology you can now get this priceless imagery for say Kenya shillings per sq. meter. The freehand cost of the same would cost you hundreds of thousands of Kenya Shillings and a long time to achieve the same.
Digital Print Extra Large Wall Mural Ideas
You will find XXL-size large wall mural wallpaper truly impressive. And not only for their size, but also for the realism with which they are printed.
Ordinary Wallpaper is always based on the repetition of a small motif, if not solid color. These could be, bricks, wood, some flowers or lines, or geometric shapes. But for custom large murals that I am talking about consist of decorating an entire wall with a large-format image.
They are giant high-definition photos, artworks, or images printed on silk fabric. Here you will find any image you can imagine, like any city, of musical groups, landscapes with paradisiacal beaches; or comics that will make your wall much more fun.
You will have the feeling of being transported to a heavenly place from the comfort of your living room.
In other words, you will get the advantage of the wide variety of designs and images that exist. You can choose an animal, botanical, and nature scenes that will put a special touch on your home.
Or decide on the image of a world map of the style that you like the most. Anything or idea you like is available.
Digitally Printed Extra Large Photo murals
The photomurals are photographic representations or pictorial designs on digitally printed large custom large wall mural wallpaper for decorating walls. Also, there are models for room doors and windows.
You will also find offices if you like, closets, murals for bathrooms, or living rooms. The great variety they offer allows you access to endless options to decorate your home originally.
You should note that digital print photomural wallpaper is divided into categories. And that is, for instance, you can find both landscape murals within the nature sections.
In the 3d category, you will find such photographs of large cities. Provided that they have the visual effects that give the feeling of depth or expansion.
Also in this category, you will find murals fictional doors, or window designs. And beautiful views of the sea. Other favorites of course are the forests or other incredible scenery.
At the same time, you can choose the image you want to capture in the mural by customizing it. Given all that endless choice, what more would you ask for?
Digital Printing of Extra Large Wall Mural Wallpaper
Do you know that our large format digital printing allows you Extra Large Wall Mural Wallpaper Printing? And that this is not possible with traditional standard size wallpaper. But to achieve a high-quality print you need to consider a few things.
The quality requirements of the photographs, artwork, or image
You will be able to use any photo for a large mural wallpaper as long as it has an adequate quality as you want to achieve.

It is recommended that the photograph have at least 700 pixels per meter of surface to be covered. Or what are the same 0.5 megapixels per m2?
Know that the higher the quality of the photo, the better the image print quality will look on your wall.
What is the quality of the wallpaper where the images are printed?
No other custom wallpaper printing company in Kenya uses a better material than Wallpaper. Which is why you need to come to us. The material we use for printing large wallpaper murals is not the same as that of conventional murals from other companies. But our silk fabric, is very resistant and washable, with excellent quality.
Therefore rest assured that the printing of your mural on the wallpaper is made by a specialized company. And with silk fabric, you will obtain the best results in the realization of murals.
You can use a scanned image from a magazine or book.
As we previously advised, you can use a scanned image and enlarge it for your large mural. But it must have the resolution already indicated. On the other hand, the drawback is that the printed images are made up of millions of small dots of ink. And that means when enlarging this image these dots will increase in size.
But if you consider that this is not a problem, tell us.
Advantages of Large Wall Murals
With the extensive range of custom large wall murals, we offer you a varied selection of decoration possibilities. Because we have a theme for every special place where you want to have a unique air of relaxation and well-being. And it is only custom-made large mural wallpaper that can capture varied tastes and interests. 
With large murals everything is possible. From different designs of murals that have various elements related to relaxation in their photographs. Such as Zen murals of dandelions, white roses, stones, orchids, Zen sands, gardens, stones, bamboo, oils and salts, lakes, relaxing landscapes, and many more options of decorative wall designs.
Create a relaxing atmosphere
It is in this way that with this magnificent repertoire of relaxing large wall murals you will find decoration options with a relaxation theme in a very easy and accessible way.
Therefore count on us for any setting options for all the special places that you want to decorate. And especially those where that is difficult to find such as the walls of Spas, aesthetic and beauty centers. Other themes you will find are meditation centers, waiting rooms, medical offices, home spaces such as bedrooms and living rooms. And all those places where You want to have a more relaxing and peaceful environment.
With this wonderful assortment of relaxation and yoga large murals, your walls will get a unique and very original style. So you can forget about the classic decorative objects and delve into these fantastic murals that will enchant you for their incredible decoration and simplicity.
In addition, so that your experience is more comfortable and easy at Wallpaper Kenya we allow you to configure their design according to your interests. Thus achieving an ideal decoration adjusted to your spaces and needs. Because you can select the measurements, color, and finishes you want. 
Exclusivity
One of the advantages of the large wall mural wallpapers that convinces us the most is that each allows you to create a unique and exclusive decorative combination. Something that does not happen with paint. Because paint limits you to certain colors and shades available.
The possibilities offered by a decorative large mural wallpaper are innumerable. One is you find the one that best suits you and the rest of the decoration. In addition, the image reproduction of a quality wallpaper mural is unmatched. Which allows the creation of optical and decorative effects capable of making a difference.
We can say that wallpapers have become one of the most popular decorative options today.
Among the main reasons, the enormous leap in quality that they have taken in recent years with the arrival of new technologies stands out.
Likewise, the accent should be placed on the use of better materials that offer greater durability and a more attractive image, and the enormous variety of designs with different textures and finishes.
Ease of Installation of large mural wallpaper
You can install our large mural wallpaper without professional assistance. If, until now, one of the main drawbacks that wallpaper presented concerning painting was its installation difficulty, this will no longer have to worry you. The placement of large murals has become an advantage.
Yes, and it is that large murals have advanced so much that today they are very easy to put on and also to remove and reuse. You can install them yourself easily and without complications, achieving a perfect finish.
Regarding the installation, large murals are the best option for doing it yourself. And it will be enough for you to glue the wall and apply the silk fabric wallpaper on top. In addition, the day you want to renew it, removing it will not take you more than five minutes.
Ideal nursery schools and children's spaces
The large mural wallpaper is an ideal choice for decorating children 's spaces, and you can go far beyond conventional colors, decorating a bedroom in an original and fun way.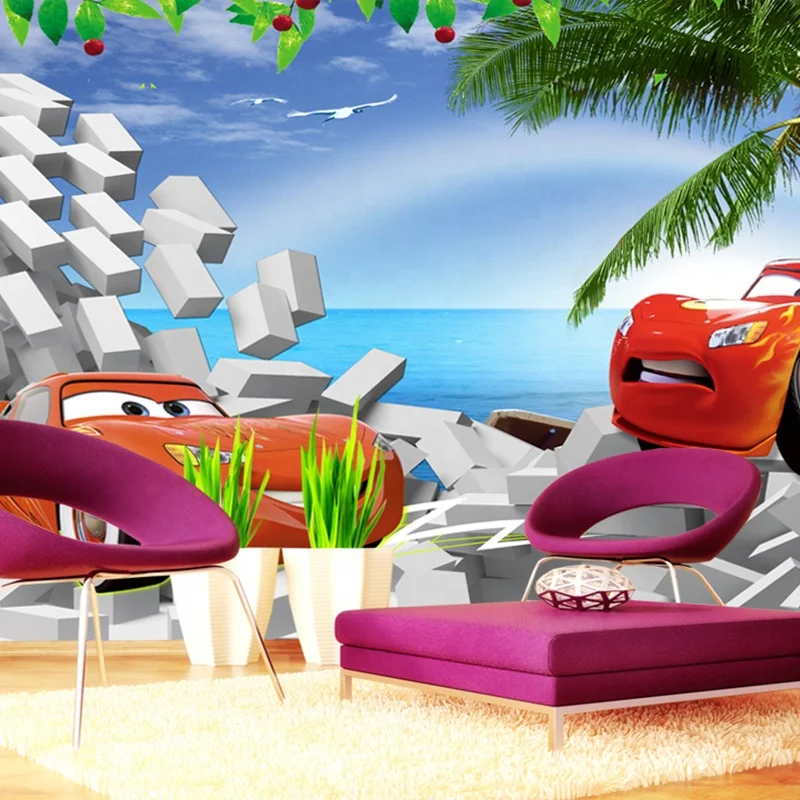 At Wallpaper Kenya we have a huge variety of children's wallpapers, with models for all ages and tastes that will adapt perfectly to what you are looking for.
We have baby wallpapers, toddler models, and a wide selection of youth wallpapers. Take a look at them and choose the one you like best to decorate the bedroom of the little one in the house. Oh, and don't lose sight of our borders and Disney papers catalog.
Create 3d and other important optical effects
If you are willing to give a twist to the decoration, few other than large mural wallpaper does that. But now you will be able to create important optical effects that will not go unnoticed.
Customization of a large mural has come a long way and has not been anchored in conventional designs and patterns only. But has evolved and has left us very innovative suggestions and surprising textures that stand out above the rest of the decorative options.
Bet on realistic wallpapers, and you will see how you can create a simply spectacular optical effect.
In a nutshell
As you can see, betting on large mural wallpaper for decoration is a safe bet. Because with it you will enjoy all these advantages. As well as many others that you will be checking from the moment you have it installed on your wall.
If you have finally convinced yourself, do not hesitate to order for today. As you will find endless models that will be perfect in your home and will fit in with the idea you had in mind.
If you have any questions, we offer you multiple ideas that will help you achieve the best results. And if you want, you can contact us without any problem. We will be delighted to assist you! Call us on 0720271544. Or visit us at Wallpaper Kenya, Mazeras Centre, Langata Road, directly opposite Nairobi West Shell Petrol Station.