Description
There are several living room Wallpaper interior decoration styles. But depending on the way you want to look at it, there are too many. And that it is perfectly normal for you to saturate yourself with information.
For this reason, Wallpaper Kenya makes things easier and presents you with some of the most popular types of living room wallpaper designs. And from which you will surely be inspired to renovate your home.
Our focus will be on the colors and patterns for living room wallpaper. And more so their contrasts, harmony, as well as the atmosphere that each style tries to reproduce.
Although there are a variety of regular wallpaper materials such as vinyl and nonwoven, I will concentrate more on custom-made silk fabric living room wallpaper.
Because it is only in custom-made wallpaper that you can easily and undoubtedly get any kind of living room wallpaper design you want.
For there are, no matter what, wallpaper designs that cannot possibly be achieved using regular preprinted wallpaper.
For instance, you can not achieve a good nature wallpaper with regular wallpaper. Why? Because regular wallpaper comes in a universal standard size roll.
And therefore, on a full wall, it must have repeated patterns. But nature does not have repeat patterns.
Take for example a forest wallpaper mural. No one tree looks like another in the forest.
Most popular living room Wallpaper Décor styles
1. Scandinavian or Nordic Interior Decoration
Nordic living room Wallpaper and Interior Decoration were born to combat the lack of light that Nordic Countries suffer during winter. But it has become a trend always in fashion worldwide and in Kenya too.
As you would expect, white wallpaper is the main protagonist in Nordic living rooms. The reason being white wallpaper multiplies the light. And also favors the luminosity of the room in which it is located.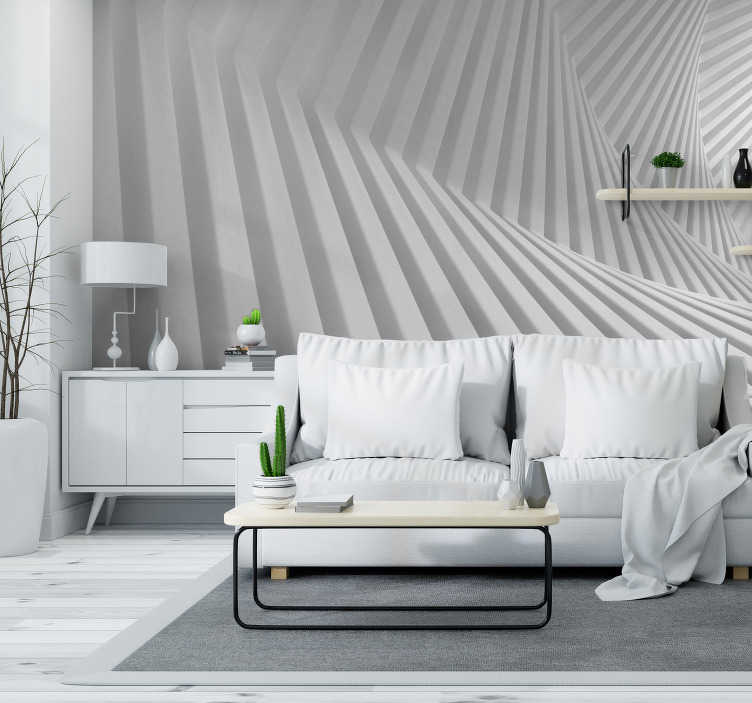 White is usually combined with colors such as grey, beige and black, creating very attractive and balanced environments.
The combination of white tones with pastel colors such as pink or light blue is also very fashionable.  Especially in environments with a children's or youth style.
On the other hand, nature is usually very present in this type of decoration. Hence the importance of plants and natural material elements such as wood, in light tones. And textile materials such as cotton, wool, or linen.
Another very characteristic detail is the use of lines and geometric elements.
Thus, the Nordic style is characterized by its functionality and simplicity, creating simple and cozy environments in which to feel comfortable.
Nordic papers, designs that illuminate
At Wallpaper Kenya we have selected an incredible range of Nordic-style Livingroom Wallpapers which fill every corner of your house with light.
In our wide selection, you will find multiple natural motifs such as leaves. And flowers, minimalist trees, as well as straight lines and geometric elements. For example, rhombus, create highly original and suggestive environments.
Likewise, you will find a great multitude of colors and designs, not only for the Livingroom but also for all rooms in the house.
Make the Nordic style your decorative style and let your walls illuminate the environment around you with charm.
2. Modern classic or eclectic living room wallpaper
Of course, Modern Classic is the most popular of all Livingroom Wallpaper Designs. This is because the classics collected in themselves all the colors, shapes, and elements of wallpaper that have appeared in different centuries. But of course, those that have remained relevant to this day.
As in many other styles, wallpaper is the basis of a classic living room interior. Correctly selected furniture, curtains, and other elements of the room can emphasize this style favorably. But do not forget that the classic style has several directions.
Two of them have a lot in common – baroque and rococo. Wallpapers of these directions will have bright and rich colors with many ornaments and patterns. Of course, for such an interior pieces of furniture should be selected corresponding to the general style of the room. Such a design will resemble the luxury of palace halls of the 17-18 centuries.
The classic style of the living room is also emphasized by wallpaper in neutral light tones. Bright furniture details, contrasting curtains, or flooring in this interior will be superfluous. If you want to highlight a separate area in such a living room, it is better to use frames, decorative moldings, and other elements.
Stylish wallpapers for the living room should emphasize the luxury and richness of the room. And so it is worth showing imagination and originality and decorating it with two types of coatings. Especially if the hall is large. Otherwise, a lot of plain wallpaper will look boring. And a large area of ​​walls with repetitive patterns will be annoying.
3. Minimalist living room Wallpaper
 The minimalist living room wallpaper concept takes notions of modern design and simplifies them further.
Color palettes are neutral and airy; simple and streamlined, and nothing is excessive or flamboyant in décor.
Minimalism is ultimately defined by a sense of functionality and ultra-clean lines.
4. Rustic or Country Farm House living room Wallpaper
If you want unity with nature in any expression, then country-style Livingroom Wallpapers will be a real godsend. The name "country" speaks for itself, because it means "rural", "rustic".  This means that the components of the wallpaper style will be of that theme.
Distinctive features of country-style wallpapers are:
– light or white background and soft floral patterns, imitation of flower fields, images of birds or autumn leaves, stripes or cages, provincial motifs: houses, farms, household items that create the effect of the tranquility of a country house;
– wallpapers convey the romance, nostalgia for childhood, for places that have not been visited for a long time;
– reflect the flavor of country estates of different world cultures;
– wallpapers convey a feeling of comfort, warmth, and serenity;
– ethnic décor elements, wicker furniture, and simple, uncomplicated curtains can become additions to the wallpaper.
There are several techniques with which you can create a cozy space for living and withstand all the requirements of style.
Wooden furniture, bright dishes, compositions of dried flowers, paintings with ingenuous subjects, black and white photographs in frames – all this will be a great addition to floral or striped wallpaper.
5. Contemporary living room wallpaper designs
Modern and contemporary living room wallpaper are two styles frequently used interchangeably. But contemporary wallpaper is different from modern. Because contemporary describes design based on the here and now.
There is a slim primary difference separating modern and contemporary wallpaper designs. And that is that modern is a strict interpretation of design that started in the 20th century. On the other, hand contemporary wallpaper is more fluid and can represent a sense of currency. As well as with less adherence to one particular style.
For example, contemporary style may include curving lines, whereas modern design does not. You can refer to modern vs contemporary articles for more information.
6. Bohemian living room wallpaper style
Bohemian living room wallpaper is a popular style for home design and fashion. It reflects a carefree lifestyle with few rules, except to follow your heart's desire.
Bohemian wallpaper may be included in homes with vintage furniture and light fixtures, globally inspired textiles, and rugs. Displays of collections, and items found in widely varied sources including flea markets and during one's travels.
You also incorporate bohemian living room wallpaper to rooms that spot floor pillows and comfortable seating spaces.
Within the Bohemian style, there's a laissez-faire attitude where anything goes as long as you love it.
7. Industrial wallpaper interior decoration
The industrial living room wallpaper style as the name implies draws inspiration from a warehouse or an urban loft.
There's a sense of unfinished rawness in many of the elements. And it's not uncommon to see exposed brick wallpaper, ductwork, and faux wood wallpaper. An iconic home with an industrial design theme would be a renovated loft from a former industrial building.
Think high ceilings, old timber, and dangling metal light fixtures with sparse functional furniture. There may be one or two pieces of abstract art or photomural wallpaper to add a dash of color to an otherwise neutral color scheme derived from the primary materials of wood and metals.
 8. Traditional living room wallpaper
Traditional living room wallpaper design style offers classic details. Because traditional interior design carries sumptuous furnishings and an abundance of accessories. It is rooted in European sensibilities.
Traditional homes often feature dark, finished wood, and rich color palettes. And a variety of textures and curved lines. Furnishings have elaborate and ornate details and fabrics. For example velvet, silk, and brocade, may include a variety of patterns and textures.
There's depth, layering, and dimensionality within most traditional designs.
9. Coastal
Coastal living room wallpaper features include light, airy color palettes with cool neutral shades paired with blues and greens. And the protagonist's wallpaper colors are often white or beige. The room can contain elements of faux wood wallpaper and accessories are often inspired by the sea.
Blue and white striped patterns for pillows, large windows, white plush sofas, and painted white wood are also common fixtures of the classic Coastal Interior Design Style.
The intention is to create a relaxed and comfortable environment that is inspired by the beach and ocean.