Description
Deciding on the best living room wallpaper can be a challenge for most people. Because the living room gets all eyes as it's a social space where you bond with your loved ones and entertain guests.
For that reason go for a shade that impresses you as it does your guests each time you enter the room. Choose wallpaper designs that can help exaggerate the size of the space while making it feel more comfortable and inviting.
When it comes to selecting the right wallpaper for your living room, there are many factors to consider. The living space is for the whole family to enjoy. It is also a place where guests come to relax and it is a room that has multiple uses.
Many small living Room Décor ideas revolve around tricking the eye into making the room appear more spacious. Such wallpaper transforms a small room that feels cramped to appear larger. Into one that feels cozy and Aesthetically Pleasing. Choose a bright colored wallpaper that reflects light. Do so by paying attention to the wallpaper color and pattern and make quite a difference.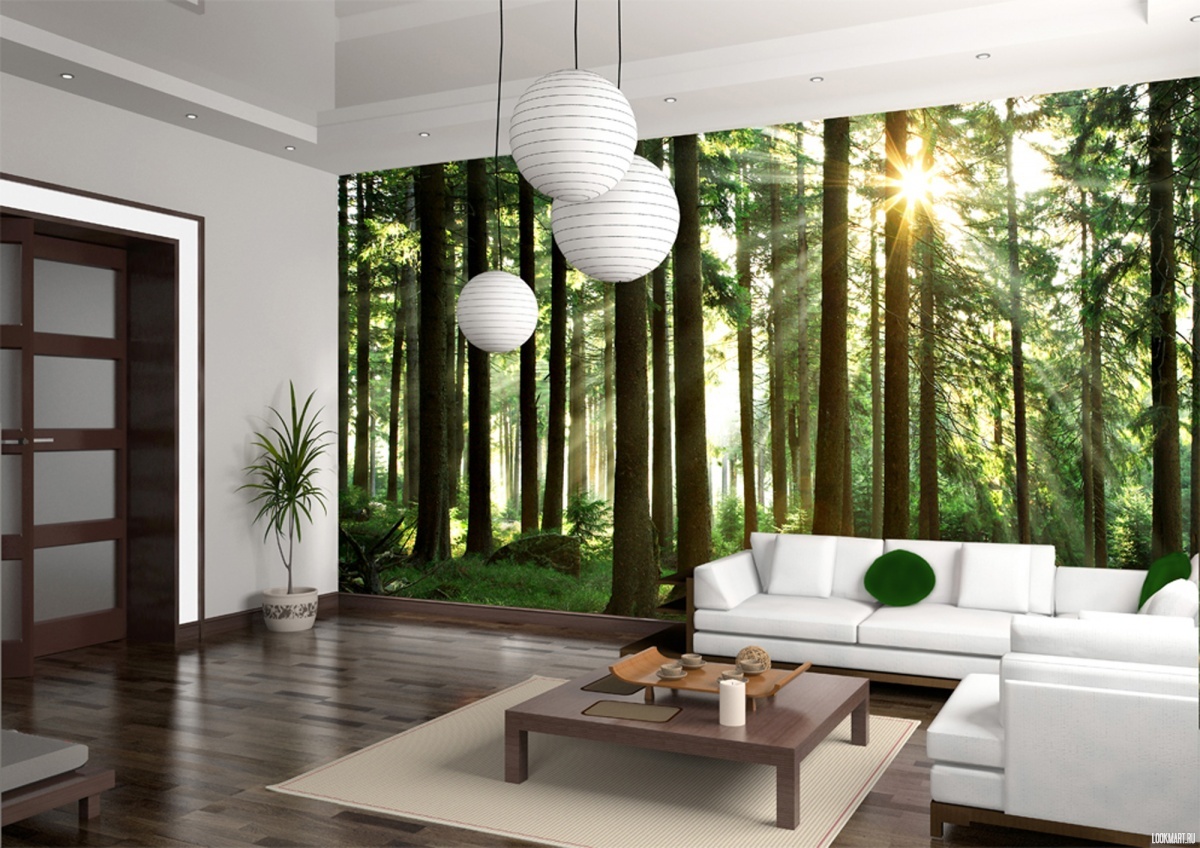 Your living room, regardless of size, should be able to function as a space for relaxation and entertaining. Here are some of our favorite ways to make it feel more spacious and cozy.
Tips choosing living room wallpaper:
Your living room wallpaper should reflect and aid the primarily function of the space. In the late nineteenth century, decorative literature suggested a  living room to be a reflection of the personality of the designer. Rather than the Victorian conventions of the day where there was a formal room designated for receiving guests.
The rise of the living room meant the end of such a room that had been common in the Victorian period.
The term 'living room' was known since the mid 19th century.  This word was mainly coined to give a name to a space where the general social activities are performed. Thus, such a space was termed as the living room.
Parlor
Before the late nineteenth century, this space of a house was called a 'parlor'. The term parlor was derived from a French verb 'Parle®' which means 'to speak'. The term was given to the space because it was mainly a place for sitting and talking to various people.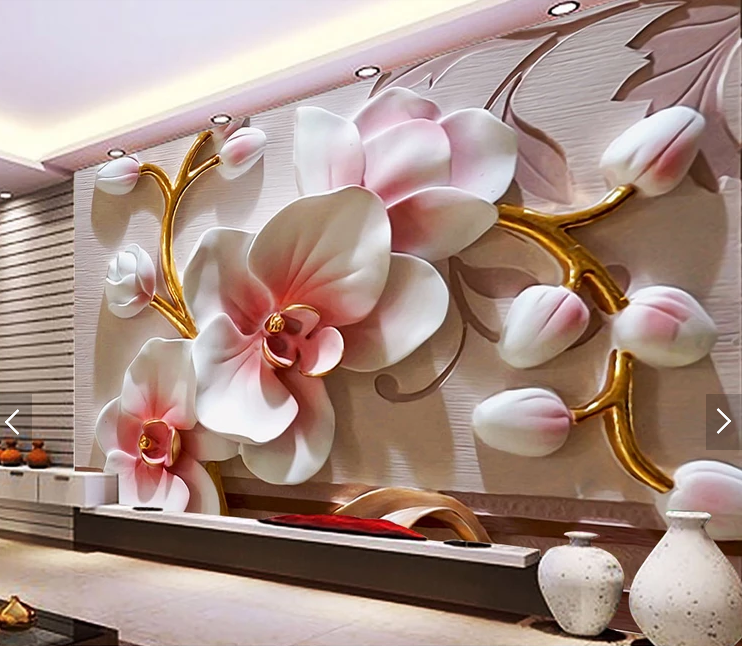 They may be the members of the family or guests. The function of this space was to carry out various formal or informal social functions of the house. With the advent of the term 'living room', the use of the term 'parlor' subsided.
There are some other terms associated with the naming of a similar space but have small differences on the basis of the functions being performed in this space.
Drawing Room
The term 'Drawing Room', can be synonymously used for 'parlor'. This is also a space which is used for entertaining visitors. And the name is derived from the sixteenth century terms 'withdrawing room or withdrawing chamber'. A withdrawing room was a room to which the owner of the house, his wife, or a distinguished guest who was occupying one of the main apartments in the house could "withdraw" for more privacy.
In larger homes, the living room may be reserved for more formal and quiet entertaining. While a separate room—such as a 'den, family room, or recreation room' is used for leisure and informal entertainment. A 'great room' combines the functions of one or more of these rooms.
Family room
A 'family room' is an informal, all-purpose room in a house similar to a living room. The family room is designed to be a place where family and guests gather for group recreation like talking, reading, watching TV, and other family activities. And here are some family room wallpaper ideas.
Recreation room
A 'recreation room'  is a room used for a variety of purposes, such as parties, games and other everyday or casual use. Often children and teenagers entertain their friends in the rec room, which is often located in the basement. Away from the main living areas of the house.
Usually it is a larger space than a living room to have the ability to serve multiple purposes and entertain moderately large groups.
Sitting room
The term 'Sitting Room' is often used in place of a living room. Although sitting room is also a space that can be seen in other public buildings such as hotels and public libraries for waiting or ideally sitting. The term living room is dedicatedly associated with residences.
Colors, Patterns and wallpaper textures
From the foregoing you can now see the need for living room wallpaper to vary according to the function of your particular use of the space.
Choose warm colors: Shades like orange, warm yellow, and soft amber are ideal if you want a living a living room wallpaper that sets the mood.

Orange and warm yellow living room wallpaper mural

Or, if you have a lot of fun and need something to liven up the party, experiment with vibrant, exciting hues instead.

Go for easy-to-see patterns: While busy patterns are beautiful to look at, a relaxing space like a living room works well with non-distracting wall designs.

Easy pattern 3d geometrical custom living room wallpaper

If you crave modern geometry, go for something soft and quiet.

Make it personal to you: Living spaces are about you and your family. So make it recognizable.

Bring in the sunset into your living room with a personalized wallpaper mural

If you like to travel, a photo mural like this beautiful Sunset wallpaper shown below is a great conversation piece.

How to choose wallpaper for small spaces

If you want to know how to choose wallpaper for a box room, here are our top 4 wallpaper tips:

Light colored 3d geometric wallpaper illusion of depth and spaciousness

Tip 1. Choose light colors: Make sure to avoid dark colors if you are fighting for space. Light and airy colors help create the illusion of a much larger room.

Tip 2. Play with light: Wallpapers that mimic reflective or shiny surfaces, such as elegant and luxurious marble can be a great way to play with natural light. Makes the room appear more spacious. Placing mirrors in front of light-colored walls also helps.

Tip 3. Don't go overboard with patterns: Choose wallpaper with a soft pattern, one that doesn't make the room feel "closed" or cluttered. This Sweet Blooms mural delicately is ideal for small home offices.

Spectacular big flowers 3d feature wall mural wallpaper

Tip 4. Go for a feature wall: Choose wallpaper for only one side of the room and use light-colored paint to finish the rest of the walls. Spectacular scenery or stage features walls are a good way to open up a narrow space through the power of illusion.
How to choose living room wallpaper colors
Choosing a wallpaper color or combination of wallpaper colors to for your living room can be most intimidating when starting to decorate. So, we are going to review different styles of living rooms. So that you may have ideas when choosing wallpaper for your room.
The wallpaper we choose for home decoration are a true reflection of our personality. And not only that, as the Zen decoration so wisely points out, the wallpaper color we choose, will influence our mood and our thoughts very powerfully.
Your living room wallpaper color has the power to change the shape and size the room. Although these are optical illusions, they affect your mood. So, let's find out more about colors and how they will influence our mood.
Keep in mind that each wallpaper color has a psychological value. Think about how certain colors make you feel; they can influence any emotion, from calm to anger.
What mood do you want to create in your living room? And therefore what colors will help you achieve that mood?
What you should know it that you can easily adapt your wallpaper colors of each room to your personal wishes, your taste and the purpose of the room:
The light colors wallpaper are bright and airy, making smaller rooms appear bigger and brighter.
While the dark colors wallpaper are sophisticated and warm; giving large rooms a more intimate appearance.
For example, If you do not want to wallpaper your living room white, but still want to maintain a bright and pleasant space, light the grey and white brick wallpaper is an excellent option. Even for small rooms. It will provide a nice backdrop for the furniture and the rest of the decoration.
Wallpaper to make a living room feel spacious & cozy
Fireplaces often have a wall that stretches out from the rest of the walls in the room that can be turned into a focal point. One easy way to improve the look & feel of your living is to turn the fireplace walls into feature walls. Use one of our various Realistic Brick Wallpaper to contrast the paint or wallpaper throughout the rest of the room.
The importance of the living room wallpaper can not be overstated. There is no better way to transform a small living room than using wallpaper. The classic combination of black and white has been one of the most enduring living room color schemes through the ages. But you can give it a refreshing twist by using rich textured wallpaper.
Bright colored wallpaper
Your living room, regardless of size, should be able to function as a space for relaxation and entertaining. Trick the eye with wallpaper to make it feel spacious and comfy. White and bright colored living room wallpaper, bright textured ceiling wallpaper all brighten up the living room. And therefore make it look bigger- so it's not like the walls are closing in on you.
Although the dominant element may change, textured trends are in full bloom. Wallpaper allows you to get the most out of it and create an interior that reflects the latest trends and suits your taste. Choose the texture, size, and even the scale and dress your walls in a unique design.
Our wallpaper can be easily applied. It is matte and made of durable and eco-friendly material. Perfectly reproduced textures are a treat for the eyes. And the non-woven material allows the wall to "breathe". Choose the perfect design in the size you need and let new energy enter your home!
Striped wallpaper for living room
Did you know that striped wallpaper can actually have a psychological effect on your living room? We use different kinds of striped wallpaper in order to create a particular mood or ambiance in the room we are decorating. Vertical stripes wallpaper will make your living room walls or ceiling look higher than they actually are. Therefore use vertical stripes if your living room has a low ceiling. Horizontal stripes suggest a solid, harmonious relationship with the earth, and offer a sense of tranquility. Long horizontal stripes can visually expand space, making the living room appear wider. But dont go overboard. A room with too many horizontal lines may become boring and lack interest.
How to Decorate the room with Stones and Bricks
Believe it or not, this type of decoration is super modern and very elegant. In addition, it is widely used to decorate the wall of a luxury living room.
Many decorators use stone and brick wallpaper because it is has a rough texture and natural colors. These helps complement any type of decoration made in a living room. So you, do not stay behind and start decorating the wall of your room with stone.
All human beings know stone, but we did not know that it is a very expensive material to decorate luxury spaces. Stone wallpaper is used because just as a natural as the real building stone and has infinite combinations in wall decoration.
Currently stone wallpaper are one of the most versatile options for decorating walls living rooms and of hallways. Mainly a stone decorated wall absolutely helps to create a natural stylish focal point in your living room.
Mostly a stone wall can work as a backdrop for your furniture and paintings or also to enhance the beauty of the fireplace . If you choose to decorate the wall of your living room with stone wallpaper, it will be much easier to reflect your style.
Living room fireplace brick wallpaper
Decorating the wall of your living room with stone is very fashionable as you can see in this picture. Because you will improve the style and elegance of the fireplace.
If your room has a fireplace and the decoration you want to make is rustic, the only solution is to decorate the wall with polished and rounded river stones. Frame the fireplace, add a stove with a smooth slate top, and extend the fireplace toward the ceiling for a high focal point.
If your living room has a small fireplace, you should wrap the fireplace with a granite wall to give a bright urban loft look.