Description
Luxury wallpaper, impressive in a way that seems expensive, designer kind of wallpaper, is best customized. You can say life in luxury is a dream for many! But with wallpaper that stand for luxury and glamour, your rooms are a lot closer to a luxurious lifestyle.
Whereas we have expensive luxury wallpaper, you can also have luxurious others and not necessarily expensive. Because luxury is a state of comfort and/or elegance that need not always have high monetary value. Luxury wallpaper can be expensive but need not to always be that expensive.
Wallpaper companies sell design. In other words, Art. Therefore a luxury wallpaper is one that carries a luxurious artwork. That being the case, you are welcome to choose and buy online Luxury Paintings created by renowned Artists. Or from one of the thousands of emerging artists from around the world. And you can have these customized for your wallpaper. At the same time, you can choose from the more affordable Wallpaper Kenya off the shelf wallpaper catalogs. And come out with a luxurious wallpaper without the need to break a bank.
Fully wallpapered rooms have made a comeback. Don't forget that not long ago any kind of wallpaper was an un-affordable luxury. That was mainly due to prohibitive installation costs then. That is why the wallpaper comeback began slowly with the feature wall but now is back on trend. This revival of wallpaper means there are now endless shades, patterns and textures available. Developments in digital printing have bought down the cost of bespoke designs too. It means you can get custom images now on your wallpaper.
Bespoke Luxury wallpaper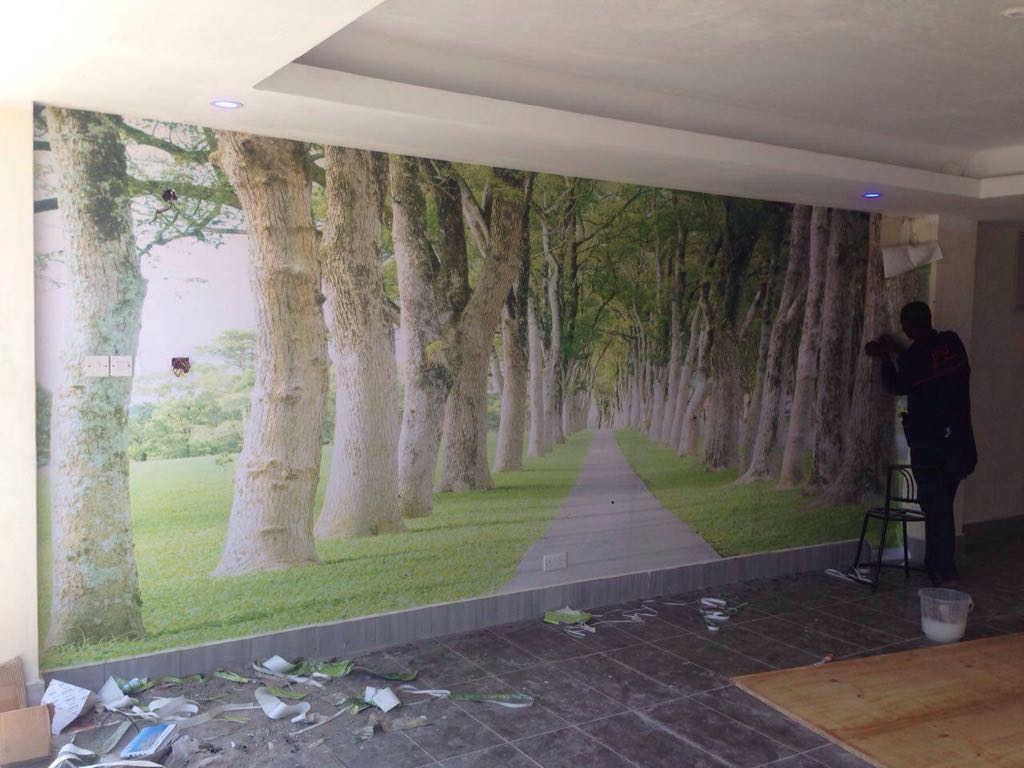 I would like to know what is luxury to you? In other words, what you treasure, or the rare moments or things that you associate with luxury. The dream vacation in Seychelles that we save for is a luxury to far too many people. Material things like chic furniture that make our life sweet and comfortable are luxurious. And not to be left out of the list are sparkling decorations and bespoke high-quality wallpaper. Because wall design plays an important role in the comfort on an interior area. Wallpaper Kenya high-quality wallpaper are not only pretty to look at. They will remain in vogue for a long time and will continue to create a noble atmosphere in the future.
Without a doubt, wallpaper is increasingly becoming a trend to impress. To impress your guests, decorate your walls with wallpapers that have attractive customized unusual patterns, color, and designs. You can opt for abstracted basic forms that are nature inspired. Or go for other colorful designs that will turn your walls into a beautiful work of art.
Again you can commission a graphics designer to come up with a befitting and bespoke design. After which we blow it up on your full wall. In case you have problems in getting a graphics designer let us know. For as founding members of the Association of Designers of Kenya we can refer you on this. We also have an excellent in house fine artist. Ask to see his original works.
Textured luxury wallpaper
The texture of a wall is an important element of interior decoration. Take texture as the spice of an interior decoration scheme. You will be pleasantly surprised by how much depth and spice wallpaper texture adds to your home.
Texture is the cinnamon of interior decoration. Interior designers use texture pleasantly to add depth and spice your walls or home. Neat textured finishes, easy installation, light-fast and washable coverings, are the high-end wallpapers to infuse your interior with grace and fantasy.
Adorning your walls with textured wallpaper allows you to complete your decoration. And you create an atmosphere to your liking. To that end, Wallpaper Kenya has Pastel colors for a cozy bedroom and damask patterns for a glamorous living room.
Wallpaper Kenya is committed to providing you with not only high-end wallpapers. But also a tailor-made service that combines listening, advice on wallpaper installation, and favorable price.
Do not be mistaken to think that a comfy and well-decorated space should feel soft, luxurious, and not bumpy. Or should not have texture. Quite the contrary. Texture is the magical ingredient that can make an interior space pop, and should not be overlooked when decorating.
Luxurious hotels wallpaper
What happens when you travel and check in to your 5 star hotel and are greeted by a beautiful, luxurious bedroom? Don't you wish that you could come home to something like that every day?
Well, you can! Too often in interior design, we see wall art treated as an afterthought. It's what gets dealt with last. Long after all of the furniture has been artfully designed and arranged. But, missing out on an amazing design opportunity. When chosen thoughtfully, the right wallpaper can provide for the entire room. Dare we say it, but we think wallpaper matters most in interior design.
Some of the world's most expensive 5 star hotel with luxurious wallpaper include MAJESTIC HOTEL & SPA (BARCELONA, SPAIN). There are one thousand works in the Majestic Hotel & Spa. Decorator Antonio Obrador selected Asian-inspired designs for the Royal Penthouse Suite. They include a red pattern with gold pagodas.
The entrance of The beloved The Colony, is dressed with decorator Carleton Varney's own Jasper Peony. And the other main rooms, including the halls, wear Dorothy Draper's Brazilliance (the famous banana-leaves pattern) wallpaper.
Luxury Wallpaper for fabulous living rooms
Choose wallpaper for your living room setting it for peaceful moments, leisure, comfort, and togetherness. Nature wallpaper is top on list for the living room. If you don't have the space for a house plants, nature wallpaper will be the splash of life your living room needs. For the plain color walls go for green textured wallpaper. Green is the color of harmony and renewal. Because it echoes the hues of the natural world. Green can be fresh and subtle at the same time; it's the perfect alternative for those who find neutrals too boring.
Alternatively you may go for light gray wallpaper for the plain color walls. It looks particularly sophisticated in the living. For it will make your living room feel more spacious, elegant and serene. Grey wallpaper suits both modernist décor as well as vintage ensembles. It also provides a nice backdrop for your artistry.
Beige wallpaper is the go-to neutral for interior decorators. It evokes the simplicity of raw fabrics. Go for it if you love the minimalist look. The hottest design trends involve populating your living room with different shades of white. Subtle beige walls set the scene for this stunning, classic effect. Beige wallpaper is one of the living room wallpaper that people return to again and again.
Expensive Looking Embossed Wallpaper
One of the major elements of interior design is texture. Because texture is beauty. It refers to the surface quality of a wallpaper. Have no doubt an embossed wallpaper looks luxurious.  Because embossed wallpaper implies that someone went out of their way to take their time and do a good job. Sort of the opposite of something half baked. Embossing is the process of creating either raised or recessed relief images and designs in paper. An embossed wallpaper sumptuous patterns raised against the background. What you may call a rough texture.
To ensure your wallpaper is visually appealing, elements of interior design of color, patterns, and texture come into play. These elements of interior design work together to create a seamless space that ignites the senses.
By raising images above the wallpaper, we create a classy attraction that captures more attention than traditional wallpaper. This type wallpaper is especially popular ceilings. Embossing provides a look of high quality and elegance.  So you will often see embossed wallpaper in places that aim to impress.
Luxurious Damask Wallpaper
The designs and motifs of Luxury Damask Wallpaper are stunning beauty and eye-catching. It is undoubtedly one of the best ways you can achieve sophisticated splendor and opulence in your interior decoration.
Damask patterns draw on a rich cultural design heritage and create a feeling of timeless elegance, luxury and sophistication.
Remember damask is well time tested and one of the classic wallpapers. You can use it perfectly well in ultramodern spaces as well as in interiors with authentic historical elements.
Combine damask wallpaper with a harmonizing plain wallpaper to make the decoration interesting and to immediately attract attention. The retro style provides a surprise element. Perfectly combining the art with the modern avant-garde.
Our collection of luxurious damask wallpaper contains a wide variety of designs. Paying attention to details, loops, flowers, and inexhaustible number of decor elements. These invites you to day dream, build castles in the air, and get lost in intense colors and designs.
Don't forget that the damask wallpaper takes after the rich damask fabric. A task that has hardly been correctly addressed because of its complexity and intrinsic difficulty. And remember too these was affordable only to the Royals and the ruling class.