Description
This is an embossed textured maroon plain wallpaper. But we have a couple more of different textures and shades. Maroon as a color  is a dark, brownish-red color, duskier than burgundy and not as powerful as the color red. It can be created by mixing the colors red and violet/blue until the desired color is reached. Maroon plain wallpaper can be used to represent intense and passionate things. Like confidence, creative thoughts, excitement, power, passion, love, ambition, courage, strength, warmth, and beauty.
If you have a liking for maroon, then it means that most likely you have encountered a lot of harsh experiences in life. These has transformed you into a generous, matured and likable person.
A maroon wallpaper can increase appetite, boost adrenaline, and raise blood pressure and heart rate. Use maroon inside your home to set mood and create food craving. When you use maroon wallpaper in classrooms you make the students passionate about their lessons.
Where to use Maroon Plain Color Wallpaper
Going by color psychology color maroon is best used in schools, on restaurants walls, on clothing, and home interiors. Maroon is the school color used by numerous  educational institutions all over the world. And they normally wear on school uniforms to draw attention and show sensuality.
Being similar to red, in Christian context, maroon means spiritual awakening and the blood of Christ.
The color can trigger appetite which is why it is good to use on restaurant interior walls. Also use maroon wallpaper on home walls and creates an atmosphere of sophistication and expertise.  Plus there are different designs of maroon wallpaper. Such as the 3d wallpaper. The 3d is best to use if your walls have blemishes. It will hide dents and small cracks perfectly well. Besides, it gives an optical illusion of depth. Adding an important element of beauty in interior decoration.
You will not want to use one color on all the walls in your room. Since maroon is opposite yellowish green on the color wheel, those colors go well together. Use the color wheel to determine matching colors. For instance, an equilateral triangle connects colors that complement each other. So a maroon wallpaper  harmonizes with blue-green or orange-yellow.
You will also find that maroon goes well with navy blue and yellow. Depending on the other colors in your house, maroon pairs well with neutrals such as white, gray, black and khaki. In addition, different shades of maroon match. Dark, deep and lighter versions of maroon fit together well.
Fantastic Interior Ideas with the Maroon
The maroon color wallpaper is becoming an increasingly popular shade. And many are people deciding on this saturated color. Although it is quite demanding, you will find it also very universal. And therefore perfect for living rooms, bedrooms, kitchens and even bathrooms. Wondering how to make the maroon color look good in the interiors of the house? We have prepared a few interesting ideas to get you inspired and choose the maroon wallpaper for your house or apartment.
What color matches Maroon?
The color maroon is very demanding, and cannot and you have to think carefully about the desired look of your interior. But there are certain universal combinations that always look good, regardless of whether you design a small or large interior.
Plain maroon wallpaper and white is a very classic combination, but also a bit cold. It is perfect if you want to achieve a simple and a little "sterile" effect.
Maroon and beige – it is perfect for interiors such as a bedroom. Bright, warm beige enhances the burgundy color and makes the interior look cozy.
Maroon and gold : it is a very daring combination for elegant interiors. You can use it in an Art Deco style living room.
Many homeowners combine maroon and grey. In this case, however, bright shades work best, and they are the safest options. Although you can use such colors as charcoal grey or navy, a lot of knowledge is required not to make the interior appear too dark.
Ideas with Burgundy & Maroon Plain Wallpaper Shades
I don't know whether like many people you can differentiate between Burgundy and Maroon Plain Wallpaper Shades. All colors are derived by mixing different amounts of three primary colors – red, yellow and blue. Maroon and Burgundy are two shades of red, which often confuse many people.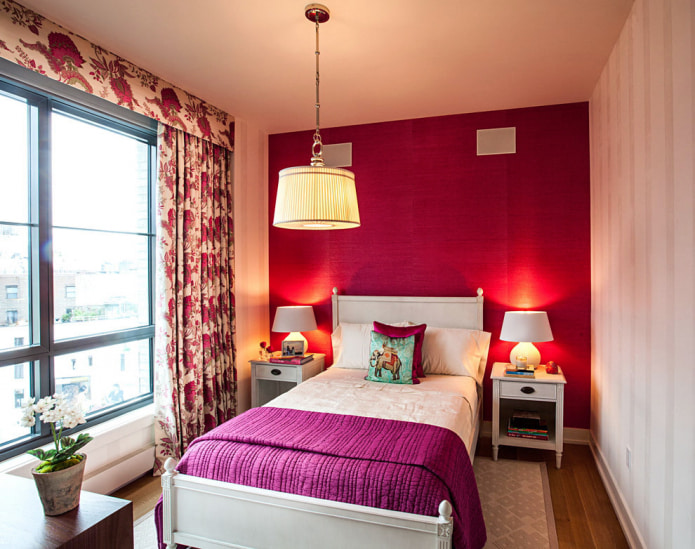 The main difference between Maroon and Burgundy is that maroon is made by adding brown to red. But burgundy is made by adding purple to red.
Since ancient times, burgundy was considered the imperial color. It was widely used in heraldry and symbolized strength, domination, power, generosity and piety. Now shades of burgundy color wallpaper are used in the design of apartments and houses.
When mixing decorating your house, you can choose different shades of burgundy wallpaper. They are capable of being cold and warm, lighter and darker. Here are the basic burgundy tones:
Marsala. Pastel burgundy, is very fashionable in clothing and interior wall decoration. Because carries nobility, grace, and luxury.
Sangria. The name comes from the wine drink of the same name (sangria – Spanish wine with pieces of fruit). It is a soft burgundy with a reflection of violet and lilac and you can use in girls rooms.
Burgundy. 

This is a maroon color, very intense, and looks incredibly impressive.

Carmine. This shade is red-purple, light, also widely used in interior design and art.
Falun red. Another variation of maroon. A paint with this name is used in Scandinavia for painting houses.
And then here below find shades of plain maroon wallpapers:
dark maroon wallpaper

maroon wallpaper for walls
light maroon wallpaper
maroon red wallpaper
maroon wallpaper for bedroom
burgundy color wallpaper
maroon textured wallpaper